Appreciation of different wine regions is part and parcel of an ecommerce vintners life. In this Rhône wines guide for ecommerce retailers we aim to celebrate that appreciation. The Rhône is divided into two unequal parts, north and south, separated by a twenty mile stretch of rather green country where there are no vines. The north is responsible for the most prestigious wines while the south is most important in terms of volume.
The Appellation Contrôlée system was created in Châteauneuf-du-Pape to improve quality and guarantee provenance and it was instrumental in getting the Rhône better recognised. Though created over seventy years ago, when most of the south was planted with olive trees and many northern vineyards semi-abandoned, the appellations do give a clue to what is in the bottle. But like most classification systems, it is not perfect and the name of the producer is just as important.
The Rhône may be eclipsed by the two fine wine heavy weights, Bordeaux and Burgundy, but it has steadily risen to become the third most represented region at auction. Its increasing presence and significance on the fine wine auction market is thanks to news of its exceptional terroir spreading across the border: the proportion of non-French buyers reaches 60% in the Rhône top 20.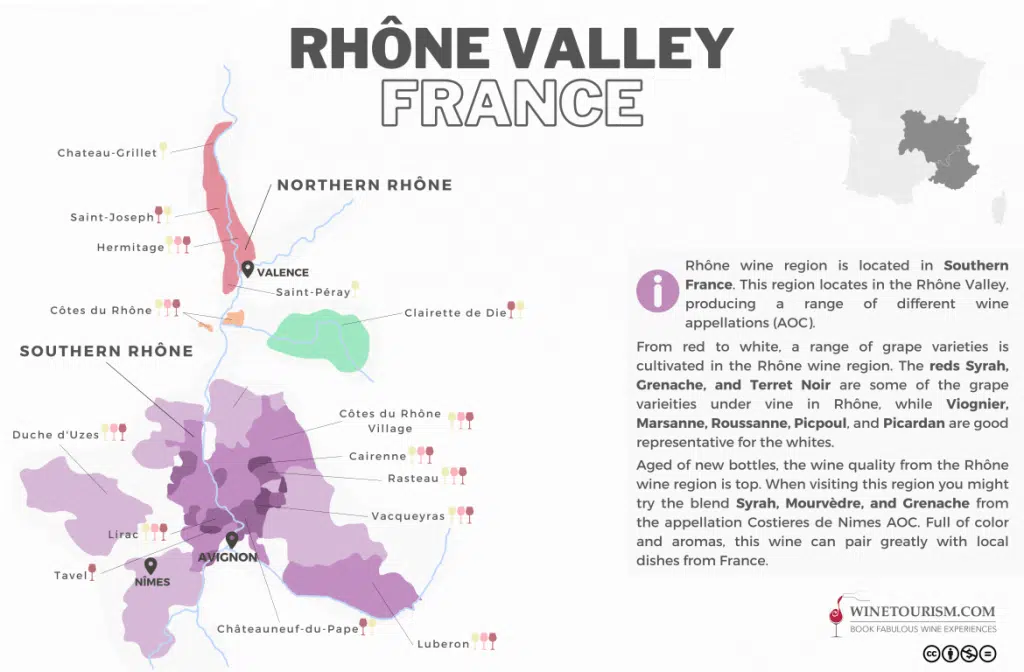 Rhône wines guide for ecommerce retail
Rhône wines start with red grapes! White wines are rare in the Rhône wine region. Over 95% of the valley's vineyards produce flavorful and aromatic red wines.
The Northern Rhône Reds are bold and spicy wines with rigid tannic construction. Syrah and Grenache dominate Rhône red wines. Grenache inspires the Southern Rhône red blends that have warm, red fruit flavours.
North Rhône
The northern region of Rhône has a cooler climate because of the mistral wind that blows through the area. This region accounts for a very small percentage of total Rhône wine production. However, the Northern Rhône produces the most exclusive wines.
Syrah is the only allowed grape variety here. But, most of the AOCs allow a small amount of Marsanne or Rousanne in the blend. Cornas AOC is the exception, where any red wine must be 100% Syrah.
South Rhône
The Southern Rhône wine region benefits from a modern Mediterranean climate. It has warmer summers and milder winters. The south region boasts an amazing variety of grapes. Two categories of wine are 'Left' and 'Right', which actually refer to the banks of the Rhône River.
The left category features bigger wines with fuller and fruitier flavors. The Southern boasts a wealth of appellations that stretch from either side of the river into the mountains and valleys.
Crozes-Hermitage
Reds from syrah and whites from marsanne and roussanne. Crozes-Hermitage accounts for more than half of the northern Rhône and its wines are plentiful and accessible. Both delicious vibrant quaffing wine and more reserved, finer, complex wines are made. Reds better than whites. Crozes-Hermitage comes in two parts. The largest is on the flat, close to the river and what would have been a river bed. It produces deeply coloured reds that are soft and fruity and without question a perfect introduction to the syrah of the north.
Hermitage
Syrah for reds, marsanne with a little roussanne for whites. This amazing southfacing slope has the greatest pedigree of any wine in the Rhône Valley. Its complex geology ensures added interest and complexity and in good years, Hermitage may sit at the highest tables.
The Drôme Valley
This is a major tributary of the Rhône that rises in the Alps and joins up with the Rhône to the south of Valence. At its western end there are a few vineyards, mostly of syrah and sold as Côtes-du-Rhône Brézème. This is a rare, very little known and amazingly good-value source for Crozes-like reds. Further east, the landscape becomes more mountainous and the grapes mostly white, clairette and muscat and wines are mostly sparkling. Clairette de Die is light and sweet, a bit like Italian Asti, while Crémant de Die is dry and full-flavoured.
Châteauneuf-du-Pape
This large area to the north of Avignon makes the best wines of the south. Reds tend to be grenache-based with syrah, mourvèdre and counoise also used. Few wines combine immense strength with perfect elegance quite so convincingly.
Right bank
Villages include Tavel (rosé only) Lirac, Saint-Gervais and Laudun. There is more rain here but it is also hot and grapes are therefore early ripening. Most of the area lies in the département of the Gard and stretches from the river westwards towards Nîmes where at some ill-defined line in the soil, the Rhône becomes the Languedoc. This is an area that has much improved over the years and has become a valuable source for very fine, concentrated syrah wines in particular.
Consumers choices are personal, so should your marketing
Everyone is different as are the individual taste of each wine buyer. Vintners and vineyards alike, to maximise their returns, must ensure that the wine offered is of specific interest to each individual. This is impossible to do manually, as delighted as it might be to stand and witness the appreciation of all the elements, culminating in the expression of that first taste. You can't do it for several thousand people, let alone tens of thousands. Now there is a simple, and highly profitable cost efficient means to achieve it.
You can however install PPS software, predictive personalisation solution which uses both the buying history of each individual by their impressions as they roam about your site, to identify their preferred grape, bottler, chateau, year and price that causes each individual consumer to prefer to buy from you. PPS software installed as a plugin to your platform, then populates an email stylesheet with these delights, at exactly the most likely time, sends each their unique selection.
You have had to do nothing, as it is completely autonomous, and the world's leading research companies all agree it delivers the highest return in wine marketing. Take a free trial of PPS software today, and give your customers what they want every time.
More article on wine ecommerce here.
Article Classification: