Consumers now expect you to cater to their needs and anticipate what they might want next, total personalisation of your marketing . When we look at the major trends like clean beauty, multicultural, age-inclusive and gender-neutral, the common thread is that they are social-led, targeted, focused on niche needs, and offer personalised product selections to meet the needs of each individual consumers.  
As media outlet NPR explains, "People's identities rarely fall neatly into boxes," a fact that applies to ethnic composition and gender. Celebrity beauty lines like Machine Gun Kelly's Un/DN LQR and Harry Styles' Pleasing dismantle gender conforming bias within beauty. These breaking-bias themes helped foster a very strong rebound in total beauty with $88.7 billion in total beauty sales across omnichannel, according to NielsenIQ Omnishopper.  
Beauty growth is increasingly being driven by indie brands, which often have the eyes and ears of trendsetting members of Gen Z and Millennials.  
Beauty companies are implementing personalisation already
In fact, the top 10 major beauty manufacturers have collectively lost over 6 points of omnisales share over the past two years. Indie and direct-to-consumer (DTC) beauty brands like Supergoop clean sunscreen have risen in their share by +138%.
There are other shakeups in the industry with brand Incubator Maesa growing products like Kristen Ess Hair and Drew Barrymore's FLOWER Beauty, while retailer private labels earned +1196% dollar change compared to 2020 and tech trailblazer Dyson earning 25% year-over-year through their innovative hair tools.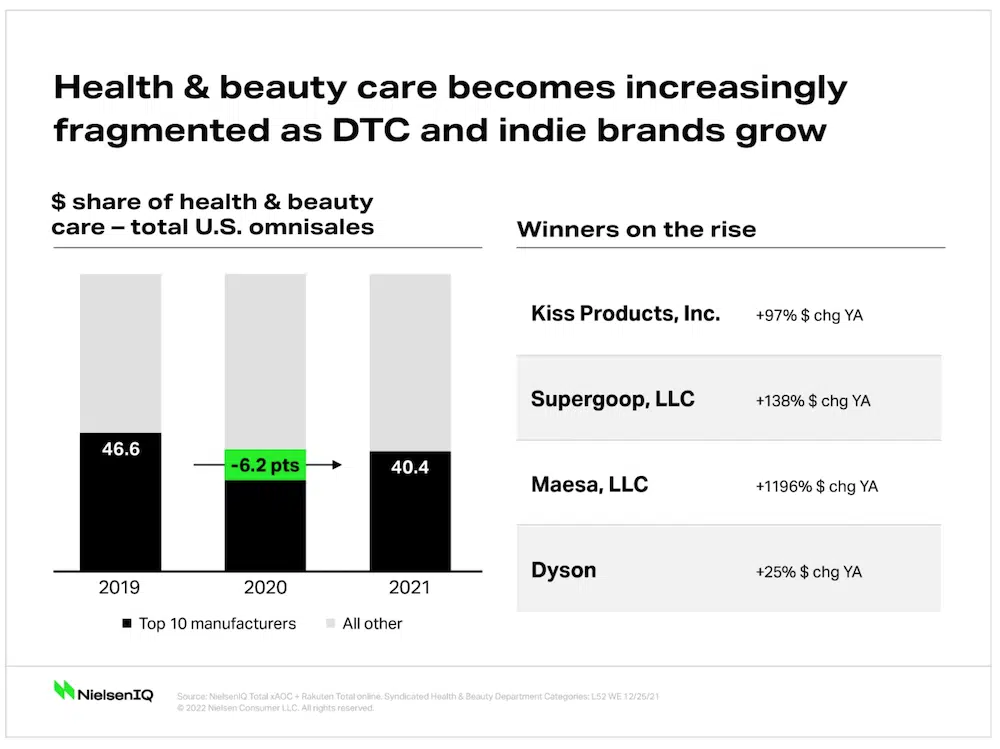 Nowadays, we are no stranger to Instagram comment clapbacks and Twitter trending topics dictating news cycles. Consumers want products that go beyond "made for you" marketing speak.
They want:
The convenience and flexibility they get from Amazon customer service guarantees.
Companies to practice what they preach with complete transparency.
Products and where they shop to allow them to fully express themselves.  
What technology offers an immediate personalisation solution
Technology helps enable customer personalisation. Predictive personalisation solutions (PPS) like SwiftERM help brands like CM Hair & Beauty have thrown out the cookie-cutter approach to consumer issues with algorithm-powered individual consumer product selection solutions that beauty shoppers love. Delivering unique selections chosen exclusively for each individual consumer, based on their own previous purchases, impressions and navigation deliver a phenomenal 1500% average ROI. That relates to an approximate £15,000pm additional t/o for a £500 monthly spend.
Luxury house Yves Saint Laurent rethought how they offer a personalised tech-enabled approach with an at-home lipstick tech tool that helps the customer get a custom shade from whatever sparks their fancy. Autonomous artificial intelligence is not limited to robots or the sci-fi genre—it is a beauty industry tool too. 
Consumers have endless choices so it's important that brands and retailers stay relevant and speak to the consumer directly. There's major opportunity in using deep learning to glean insights into the consumer psyche; after all, we have entire teams devoted to analysis. As a society, we've have seen the power of authenticity and support for what was formerly known as "niche" or a mere section of the beauty aisle.
Corporations cannot cave into social media pressures for a quick soundbite; diversity and inclusion is not a goal, it is a practice. Brands and retailers need to ensure each shopper is treated like an individual, not just a number.  
Resources:
Bureau, US Census. "Census Bureau Releases Estimates of Undercount and Overcount in the 2020 Census." Census.gov, 10 Mar. 2022, https://www.census.gov/newsroom/press-releases/2022/2020-census-estimates-of-undercount-and-overcount.html. 
Escobar, Natalie, and Leah Donnella. "Who Are We? We're Finding out Together." NPR, NPR, 31 Mar. 2020, https://www.npr.org/sections/codeswitch/2020/03/31/823881121/who-are-we-were-finding-out-together. 
"15 Percent Pledge." 15 Percent Pledge, https://15percentpledge.org/. 
Hou, Kathleen. "The Beauty Executive Asking Companies to 'Pull up or Shut up'." The Cut, The Cut, 17 June 2020, https://www.thecut.com/2020/06/interview-with-sharon-chuter-creator-of-pull-up-or-shut-up.html. 
Kosik, Alison. "Sephora Will Dedicate 15% of Shelf Space for Black-Owned Brands." CNN, Cable News Network, 10 June 2020, https://www.cnn.com/2020/06/10/business/sephora-15-percent-pledge/index.html. 
Further Beauty articles available here.
Article Classification: