Burgundy has built its winemaking traditions throughout the centuries and still presents the benchmark of excellence. It is where the understanding and the respect towards the terroir is taken to a completely different level. The division of the land that was done centuries ago by local monks into small plots of vineyards or Climat is still present and produces some of the best wine in the world.
Because of its cultural significance, Climat and terroirs are protected by UNESCO. Visiting the region is a great experience for wine lovers. Meeting passionate winegrowers and awakening your taste buds with these fabulous Bourgogne wines will be unforgettable experiences.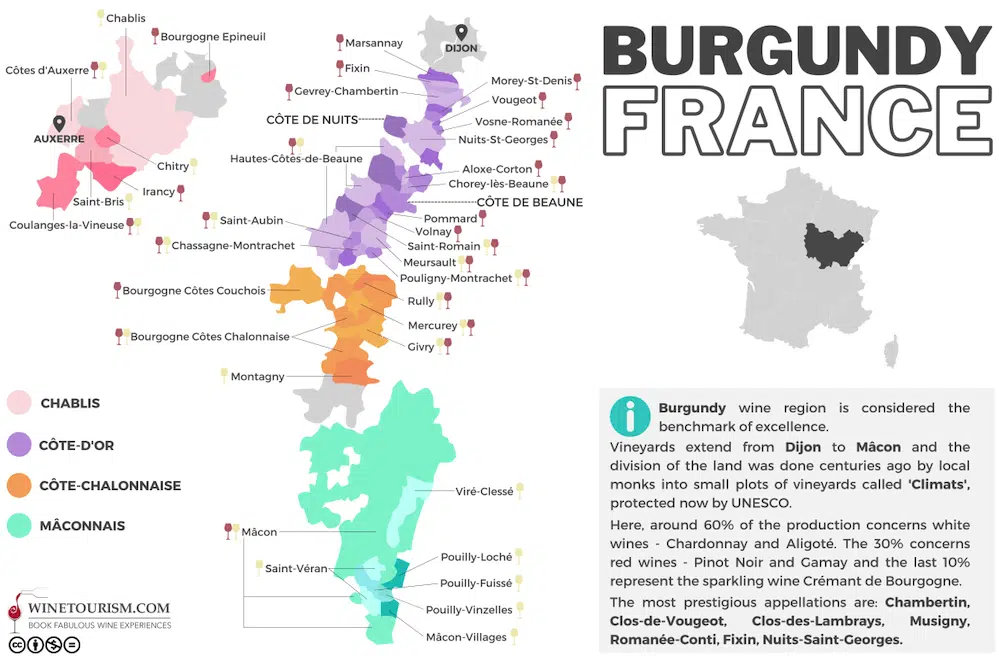 Internationally renowned vineyard extends from Dijon to Mâcon, in France. It owns prestigious appellations like Romanée-Conti, Aloxe-Corton, Nuits-Saint-Georges, Gevrey-Chambertin, Pommard, Meursault and many others. Bourgogne wines are known to be one of the most aromatic and of high quality in the world.
Learn about Burgundy wines and vineyards
Around 60% of the production concerns white wines in Burgundy region, from the grape varieties of Chardonnay and Aligoté. 30% of red bourgogne wines produce from Pinot Noir and Gamay and around 10% represent the sparkling wine Crémant de Bourgogne. These grape varieties produce legendary wines from the prestigious appellations: Chambertin, Clos-de-Vougeot, Clos-des-Lambrays, Musigny, Romanée-Conti, Fixin, Nuits-Saint-Georges.
Vineyards of Burgundy wine region
The region gathered legendary vineyards. All of these are made up of Climats. Each Climat corresponds to a delimited plot of vines which owns its specific terroir, history, and climatic conditions.
Winegrowers in Burgundy give significant meaning to their terroir. It is known that monks, who started wine production in the middle ages, have divided and established boundaries of different terroirs that still exist today under the names of Grand Crus.
Division of the land happened after careful evaluation of the influences each and every piece of land has on the wine it produces. Consequently, Burgundy is made up of several distinct sub-regions.
Chablis – Appellation of Burgundy wine region
Chablis is the northernmost village appellation of region that lies in the valley of River Serein. Due to its terroir, Chablis wines are drier and fresher than the other Burgundy.
The best vineyards of Chablis that produce Premier Cru and Grand Cru Burgundy are normally planted on south-facing slopes, Whereas basic village-level appellations can also be located on the north-facing slopes and flatlands. Burgundy wines from the Premier Cru and Grand Cru vineyards show more ripeness and concentration with the aromas of citrus and well-balanced acidity.
Côte d'Or – From the heartland of Burgundy wine region
Côte d'Or in the heartland of Burgundy is home to the best Pinot Noir vineyards in Burgundy. This is where Pinot Noir finds the most favorable conditions and produces wines with the best expression of the local terroir.
Côte d'Or is split into two: Côte de Nuits, where you find more full-bodied Pinot Noirs and Côte de Beaune that produce softer red wines and sensational white wines from Chardonnay. As you see two sides of Côte d'Or where the majority of the vineyards are planted on south-east facing slopes produce some of the top Chardonnays and Pinot Noirs from the region.
The finesses and aromatic complexity of these wines mainly come from marly limestone soils.
Concerning the appellations, Côte de Nuit is famous for Gevrey-Chambertin, Vosne Romanee and Nuits Saint-Georges. When in Côte de Beaune important villages are Aloxe-Corton, Beaune, Pommard, Mersault, Puligny-Montrachet and Chassange-Montrachet.
Côte Chalonnaise
The vineyard extends from Bouzeron to Sercy on 4.000 hectares. Wines of this territory keep their own character through the limestone-clay soils. Certainly, this type of soil is the best for growing Pinot Noir grape variety. Also, Chardonnay, Aligoté, and Gamay are the main grape varieties of this region.
Five excellent appellations, producing white or red wines, composed the Côte Chalonnaise vineyard: Givry, Montangy, Mercurey, Rully, Bouzeron.
Mâconnais
Mâconnais is the most southerly sub-region. It stretches 50 kilometers between Sennecey-le-Grand and Saint-Véran to the Beaujolais boundary. Renowned for its white wines mainly produced by Chardonnay.
Mâconnais also produces some red wines from Pinot Noir and Gamay. Among the prestigious appellations are, the five area of Mâconnais: Pouilly-Fuissé, Pouilly-Vinzelles, Pouilly-Loché, Saint-Véran and Viré-Clessé.
The best way to explore the diversity of soils and climate of each Climat is to visit the wineries of the region, figuratively of course via your preferred vintner.
Remember, if this is how detailed just one wine region merits, imagine the depth of personalisation necessary for offering exactly the perfect product selection to each consumer. Free personalisation software trial here.
How to maximise each consumer's choice
If this guide has suggested anything, it is the individual taste of each wine buyer. Vintners and vineyards alike, to maximise their returns, must ensure that the wine offered is of specific interest to each individual. This is impossible to do manually, as delighted as it might be to stand and witness the appreciation of all the elements, culminating in the expression of that first taste. You can't do it for several thousand people, let alone tens of thousands.
You can however install PPS software, predictive personalisation solution which uses both the buying history of each individual by their impressions as they roam about your site, to identify their preferred grape, bottler, chateau, year and price that causes each individual consumer to prefer to buy from you. PPS software installed as a plugin to your platform, then populates an email stylesheet with these delights, at exactly the most likely time, sends each their unique selection.
You have had to do nothing, as it is completely autonomous, and the world's leading research companies all agree it delivers the highest return in wine marketing. Take a free trial of PPS software today, and give your customers what they want every time.
More article on wine ecommerce here.

Article Classification: