Sell wine successfully online in the US. Since the late '90s, wine sales in the U.S. have steadily increased. And according to research by the Wine Institute, the U.S. has been the highest consumer of wine in the world since 2014.
When you look at the stats below, it makes sense why this is the case:
But the sector of the wine industry with the largest growth is direct-to-consumer sales (D2C).
Why is this the case?
According to the 2021 Direct-to-Consumer Wine Shipping Report, there are two primary reasons for this growth.
The first is that not only are new states entering the world of legal wine shipping, but they're also thriving right out of the gate. For example, Pennsylvania received its first direct shipping permits in August 2016. And in terms of shipment volume, it is now among the top 10 states in the U.S.
The second reason is the growing ecommerce market. Last year, online sales of beer, liquor, and wine increased by more than ⅓ year-over-year (YoY). Wine was the most popular kind of alcohol, accounting for 65% of those sales. Taking a look at ecommerce in general, Forrester reports that 17% of all retail sales will be conducted online in less than five years.
In this guide, we'll focus on the latter factor — the increase of online wine sales — and how ecommerce merchants can take advantage of this expansion.
Wine Ecommerce is Growing Rapidly
Thanks to apps like Uber Eats, Postmates, and Instacart, today's consumers can have nearly any food or drink delivered directly to their door. But what consistently remains missing from the list of these available products is alcohol.
Now, considering the regulations they have to contend with, it's understandable for the average wine retailer to be slower to adopt D2C sales. However, this isn't to say that only a handful of wine sellers are embracing ecommerce. In fact, it's quite the opposite. Clearly, there are plenty of brands who recognize the potential of wine ecommerce and have begun taking advantage of this selling channel.
One of the major benefits of selling online is the ability to reach a much broader audience.
Not only that, wine ecommerce can also help companies increase the loyalty of their existing customers.
Traditional advertising — for example, TV commercials, print ads, and on-site events — substantially limit the number of wine drinkers you can market to. For the most part, the only people you can reach are local consumers.
Plus, ecommerce software enables wine merchants to capture data about wine consumers that they can use to create hyper-targeted, customized emails and ads across multiple online channels. And personalized marketing is much more likely to attract new customers than generic content.
Just as personalized marketing can bring in new customers, it can also encourage past customers to buy from you again.
Many different types of software, when integrated with an ecommerce platform, gives you the power to get a complete profile of every customer. And with this profile, you can offer product recommendations and exclusive discounts based on the specific bottles of wine that each customer has previously purchased.
These marketing strategies simply aren't possible for brick-and-mortar wine retailers.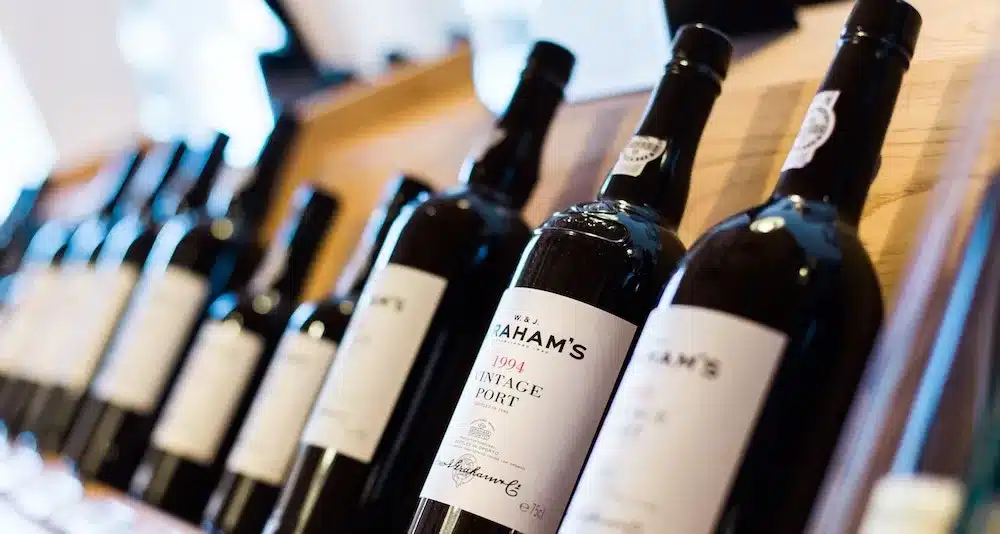 Which States Allow You to Buy and Sell Wine Online?
Navigating each state's specific laws can be challenging.
Every state has its own rules and regulations regarding the shipment of wine, and some are more strict than others.
For example, in some states, only wineries are allowed to offer D2C shipping. But in other states, retailers can engage in DtC shipping, as well. Additionally, some states have limits on the quantity of alcohol that can be shipped.
To help make it easier, we put together the chart below which specifies which states allow or prohibit winery direct shipping and retailer direct shipping. It also lists volume limitations as well as any special rules about D2C shipping.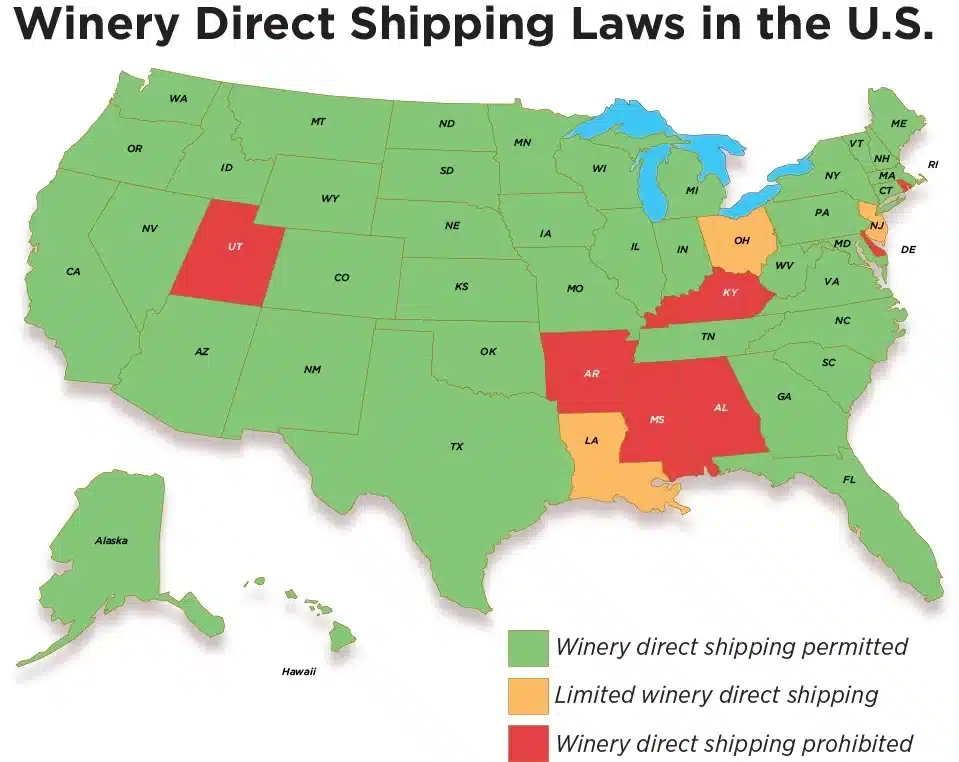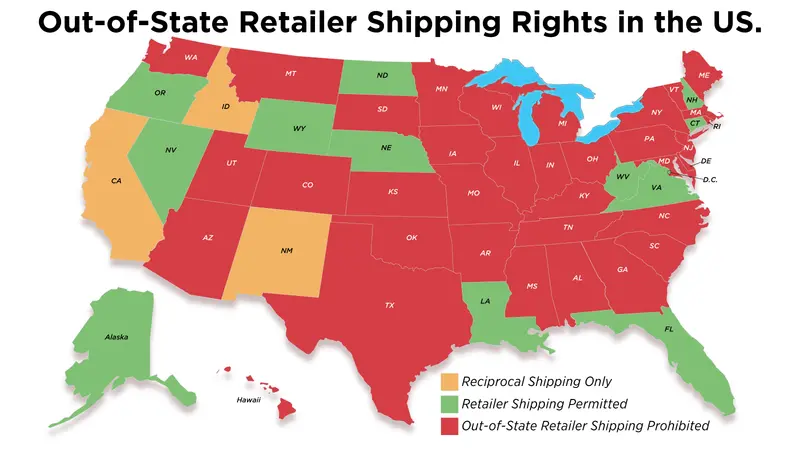 Wine Spectator have a comprehensive article on this, well worth reading.
Can I Sell Wine Internationally?
Expanding your online sales to include the global wine market can be a great way to grow your business and increase your revenue flow.
However, there are a few things you need to consider before you go down that road:
1. Confirm product shippability.
While you may know the package restrictions for your domestic shipments, when it comes to shipping overseas, weight and size limits will often vary by the destination.
And just as every state in the U.S. has its own restrictions, so does every country.
Therefore, you need to make sure you understand the exact shipping requirements for each country you want to ship to.
2. Prepare packages.
Your international shipments will go through multiple processing centers as well as travel in several different types of vehicles.
This means you need to be extra careful about how you package your cross-border shipments in order to reduce the risk of damage.
3. Become familiar with customs documentation.
There are several different certifications and documents you must complete in order to export wine. The TTB website lists the following:
Certificate of Free Sale.
Certificate of Origin and/or Age.
Certificate of Health.
Certificate of Sanitation.
Certificate of Authenticity.
Sanitary Statement/Certificate.
Certificate of Manufacturing Process.
It's the responsibility of the seller to confirm which of the above certificates are required for the country to which they want to import wine.
Selling wine internationally definitely represents a great opportunity for established businesses. But it's important to know for sure whether or not the investment will justify the return.
How to Incentivise Customers to Buy Wine Online
Engaging in wine ecommerce can offer a lot of benefits for sellers. But in order to reap those benefits, you need to convince customers to buy from you.
Here are a few ideas:
Allow customers to return online orders to your brick-and-mortar wine store.
Provide free or flat-rate shipping — whichever makes the most sense for your wine business.
Send loyal customers exclusive coupons and invites for early access to special online sales.
Email customers personalised recommendations for related products based on their past purchases. Automatic predictive personalisation software, which offers exactly the perfect purchase to each consumer for you, makes life far easier than second guessing, and finding the time.
Connect with customers on your social media accounts and ask for their feedback about products, sales, and your brand in general.
Encourage customers to place an online order for wine they'd previously bought at the store or tried in your tasting room by offering them a discount.
Create educational content about wine — for example, a how-to guide that helps novice wine drinkers choose between red wine and white wine or a blog a wine enthusiast can use to find similar wines they might like.