The Bordeaux wine region of France is located on both the right and left, bank of the Gironde. The location and the climate means these vineyards produce some of, if not the finest wines in the world. Consequently, Bordeaux is a major player in the international wine market.
It is a vast region with a great range of wines among the lesser-known appellations as well as among the crus classés. The diversity in character and style is due to the varied soils and climate and to the care and ability of the people who make the wine.
Bordeaux can be divided into five categories. Red wines from the left bank of the Garonne and the Gironde estuary embracing the Médoc and Graves; red wines from the right bank of the Gironde and the Dordogne, including St Emilion and Pomerol and their satellites; the hill vineyards (côtes) of Bourg, Fronsac and the Côtes de Bordeaux; red and white wines from the Entre-Deux-Mers region between the Garonne and Dordogne; and the great white wines from Graves and Sauternes.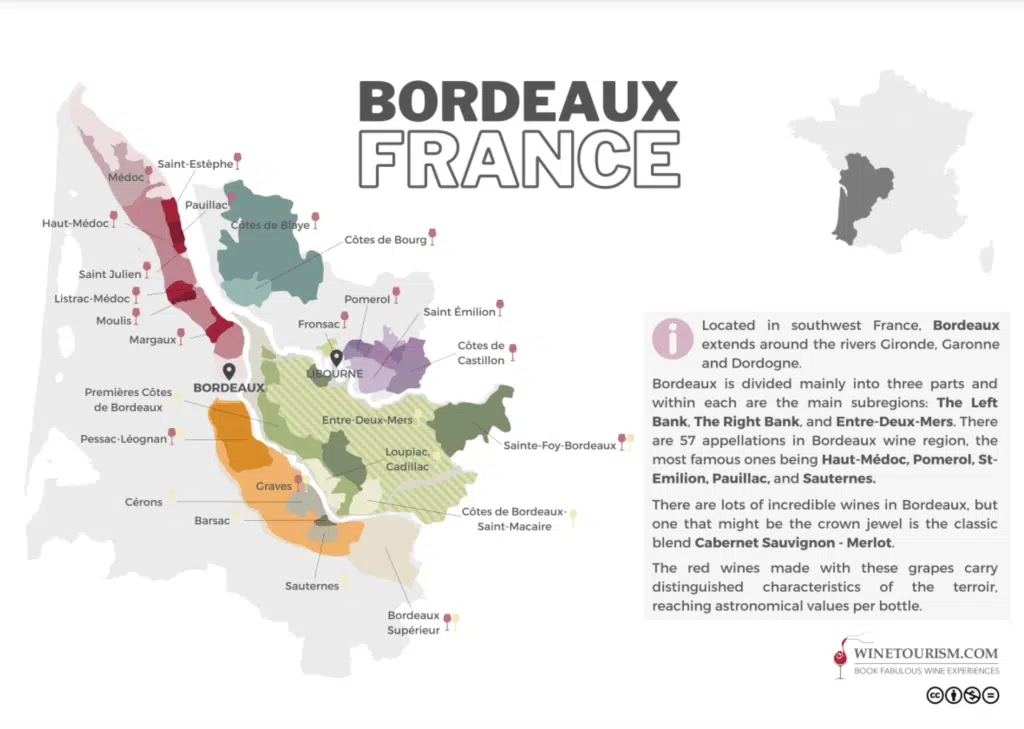 The region division also defines the style of Bordeaux blends and splits Bordeaux into distinctive territories that are must-visit while you are traveling in the region. The Left bank area includes famous appellations such as Médoc, Graves, Margaux, and Pauillac, where Cabernet Sauvignon is the predominant grape variety whereas on the Right bank you will find Saint-Émilion, Pomerol, Libournais, and Bourg and Blaye with the dominance of Merlot.
Each appellation tends to have a certain characteristic, which we describe below, but this is only part of the story. Shrewd Bordeaux buyers have learned that it is more important to follow the property and grower than the appellation and this is true year in year out. With hard work and good equipment, good producers make excellent wine in what used to be thought of as difficult vintages 20 years ago, and sadly, careless and idle producers make poor wine from potentially good vineyards in years that the vintage charts rate highly.
The lighter years have the advantage of maturing earlier, costing less and often giving quite as much pleasure. For the same reason, second wines of top châteaux can be an attractive buy often at a third of the price of the first wine.
The Most exclusive wines in the world – Grand Crus of Médoc
Château Latour – Historical wine estate rated as a premium cru under the 1855 Bordeaux classification. Château Latour terroir is expressed in the elegance and depth of its wines. That's why it is rated as one of the most expensive wines from Médoc.
Château Haut-Brion is one of the oldest wine estates of this area, located in the town of Pessac, a few kilometers away from Bordeaux. Estate produces some of the best white Bordeaux blends in the world. Haut Brion Blanc wine is the world's most expensive dry white wines.

Château Haut-Brion is one of the oldest wine estates of this area, located in the town of Pessac, a few kilometers away from Bordeaux. Estate produces some of the best white Bordeaux blends in the world. Haut Brion Blanc wine is the world's most expensive dry white wines.

Château Margaux has been bringing excellence with its Bordeaux wines for hundreds of years already. Wines that are meant to be aged and to be enjoyed with food. What makes these wines so special is a special sophisticated character of Margaux terroir expressed in wines.

Château Lafite Rothschild has a fascinating history that goes back to 1234. The wine estate is an honourable member of the five châteaux referred to as the 'first growths'. And they produce Bordeaux wines that with exceptional finesse and elegance that are great as young but also have significant ageing potential.

Château Mouton Rothschild – Since 1924 estate brings Artists such as Salvador Dalí, Francis Bacon, Picasso and Miró designed labels for bottles. Château Mouton Rothschild gives complete freedom of creation around the theme of the vine and the pleasure of drinking. The project underlines the exclusivity of each and every bottle produced here.
A guide to the flavours of Bordeaux
Red Bordeaux is a blend of different varieties of grape, namely Cabernet Sauvignon and Merlot, with a touch of Cabernet Franc (especially on the Right Bank), Petit Verdot and sometimes a dash of Malbec. The blend used by each château will vary from year to year depending on the vintage. Left Bank wines are generally dominated by Cabernet Sauvignon, whereas wines from the Right Bank tend to feature more Merlot.
Cabernet Sauvignon: Grown in nearly every major wine-producing country across the globe, Cabernet Sauvignon adds tannins and structure, acidity, deep colour, blackcurrant and cassis fruit flavours, and significant ability to age.
Merlot: The most widely planted grape in Bordeaux develops faster with age than Cabernet Sauvignon, and adds softness and fleshiness. It offers moderate tannins and less acidity, with plummy, blueberry and blackberry flavours. It dominates wines in the northern parts of the Médoc.
Cabernet Franc: Similar to Cabernet Sauvignon, Cabernet Franc ripens more easily — about a week earlier than Cabernet Sauvignon — and so is planted in the cooler clay soils of St-Emilion and Pomerol. Cabernet Franc adds perfume, opulence and smooth texture (and acidity to compensate for the domination of Merlot on the Right Bank).
Petit Verdot: The small, thick-skinned Petit Verdot ripens late and provides dark colour, structure and tannin, spice and violet perfume. It grows best in the gravel-based soils of the Left Bank, and its tannins make it a good fit with rich meat dishes and lightly spicy food.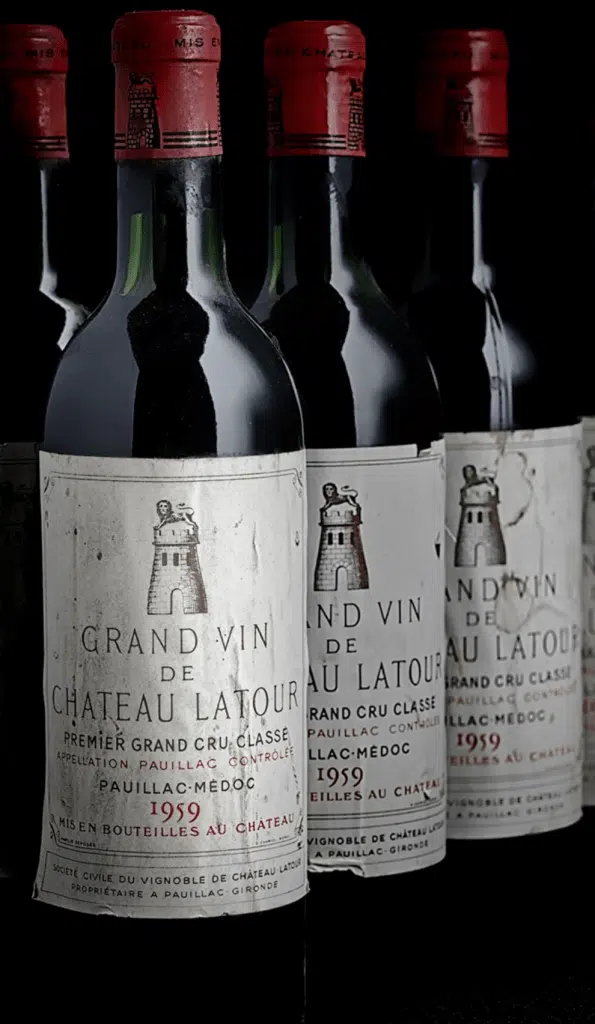 Saint-Estèphe is famed for an austere minerality and high acidity, and wines that have a very long ageing potential. The Second Growths Cos d'Estournel and Montrose are located here. Cabernet Sauvignon dominates, but some Merlot is added to soften the wines.
Pauillac is renowned for powerful wines dominated by Cabernet Sauvignon. Taste characteristics include lead pencil, green bell pepper, cedar (with age) and cassis. These wines are famed for their richness and for being muscular and tannic and spicy, and very long-lived wines.
St. Julien is also dominated by Cabernet Sauvignon, with some Merlot. Similar in style to Pauillac with cedar and cigar-box perfumes. These tend to be middle-weight, elegant, slightly less concentrated and tannic than Pauillac, but with less austerity than St-Estèphe while combining some of the finesse of Margaux.
Margaux is celebrated for wines that are opulent, elegant, delicate, silky-textured and intensely aromatic with violet fragrant perfumes and raspberry, cherry and redcurrant fruits. Cabernet Sauvignon dominates, with some use of Petit Verdot.
Pessac–Léognan & Graves wines are also dominated by Cabernet Sauvignon but have higher proportions of Merlot. Wines are minerally, smoky and earthy with hints of 'red bricks'. The famed Château Haut-Brion and Château La Mission Haut-Brion are located here.
Pomerol and St-Emilion wines are dominated by Merlot (especially in Pomerol) with Cabernet Franc. Pomerol wines tend to be more opulent, richer and warmer, fleshier and velvety-textured wines compared to St-Emilion. They may have deeper colour, more intense and rich plummy black fruit flavours and develop exotic spice and truffle with age.
St Emilion wines tend to be more tannic than Pomerol and more similar in structure to the Left Bank. They mature and evolve more quickly, however, and are dominated by red fruits over black fruits.
How to maximise each consumer's choice
If this guide has suggested anything, it is the individual taste of each wine buyer. Vintners and vineyards alike, to maximise their returns, must ensure that the wine offered is of specific interest to each individual. This is impossible to do manually, as delighted as it might be to stand and witness the appreciation of all the elements, culminating in the expression of that first taste. You can't do it for several thousand people, let alone tens of thousands.
You can however install PPS software, predictive personalisation solution which uses both the buying history of each individual by their impressions as they roam about your site, to identify their preferred grape, bottler, chateau, year and price that causes each individual consumer to prefer to buy from you. PPS software installed as a plugin to your platform, (Woocommerce Magento Opencart) then populates an email stylesheet with these delights, at exactly the most likely time, sends each their unique selection.
You have had to do nothing, as it is completely autonomous, and the world's leading research companies all agree it delivers the highest return in wine marketing. Take a free trial of PPS software today, and give your customers what they want every time.
You may enjoy reading more article on wine ecommerce.
This article: