It is a well-known fact that digital platforms are changing the fundamental workings of many businesses, but are you evaluating the right ecommerce metrics. Music and television have undergone radical changes in just a few years as mobile devices are empowering consumers and forever changing their habits in terms of how they listen and how they watch.
A similar, but less apparent, revolution is underway in retail – and the speed of the change is far greater than anything analysts predicted just a couple of years ago. The influence of digital devices on the shopping journey, a dynamic Deloitte calls the 'digital influence factor,' is not only shaping how customers shop and make decisions in- store. It is setting new digital expectations of retailers in terms of how they help their customers gather pertinent information to make shopping decisions and purchases.
Today there is a need to measure the success of digital investments against a new set of key performance indicators to encourage retailers to rethink their digital strategies and offerings in the marketplace. The positive impact to store traffic, conversion, order size, and loyalty is clear and retailers have a tremendous opportunity to harness the power of digital.
To appreciate the impact of the digital influence factor, you must be able to assess the effect of digital on the right measures of retail success. Here are some of the key indicators you should consider.
Ecommerce metrics -Traffic
How do you measure the relationship between digital usage and the traffic in your store? How significant is it? Our survey indicates that 84 percent of shoppers used some type of digital device for shopping-related activities before or during their most recent store trip.
Ecommerce metrics – Conversion rates
A great digital experience has the biggest impact when used both before and during the shopping experience. It can make all the difference between converting to a sale or not.
In fact, conversions increase 40 percent when customers use digital before and during shopping. The below figures show the use of digital devices during the different phases of the shopping journey and their incremental positive impact, or "lift," on conversion rates.
An effective digital experience has to be pertinent to the moment – whether at home or in the shopping aisle. The more the digital experience and information match the shopper's needs at a given moment, the more likely she is to buy and the higher the conversion rate. This is why personalisation is so critical, and we define that as personal ro each individual not a segment.
Digital's impact on conversion during the shopping process

Order size
Retailers' digital offerings can persuade customers to spend more. In fact, shoppers who bought more – while using digital – said they spent 25 percent more than what they had originally budgeted.
How specifically can retailers reach shoppers and influence them to buy more? Personalisation is vital to cross-selling and provides an important platform to drive order size. By deploying functionality like digital personalisation, retailers can provide customers with product suggestions that have been calculated as those with the highest prospective buying propensity that anything else. What's more predictive personalisation software (PPS) puts these items into an email at exactly the perfect time.
Most leading research companies Forrester, McKinsey, Bain and Statista, all agree that it delivers 20x the ROI than all other forms of marketing combined.
Loyalty – CLV / CLTV
Digitally-savvy shoppers who come to your store frequently are more likely to use digital devices and do so at an increasing rate. This is true across all store types.
Your best customers are using digital more frequently and systematically. In a nutshell, "getting it right" with your best customers is vital. To bridge the digital divide, consider how you can create an integrated digital platform that allows access to user-specific data across multiple devices. This will enable users to access their information anywhere, anytime.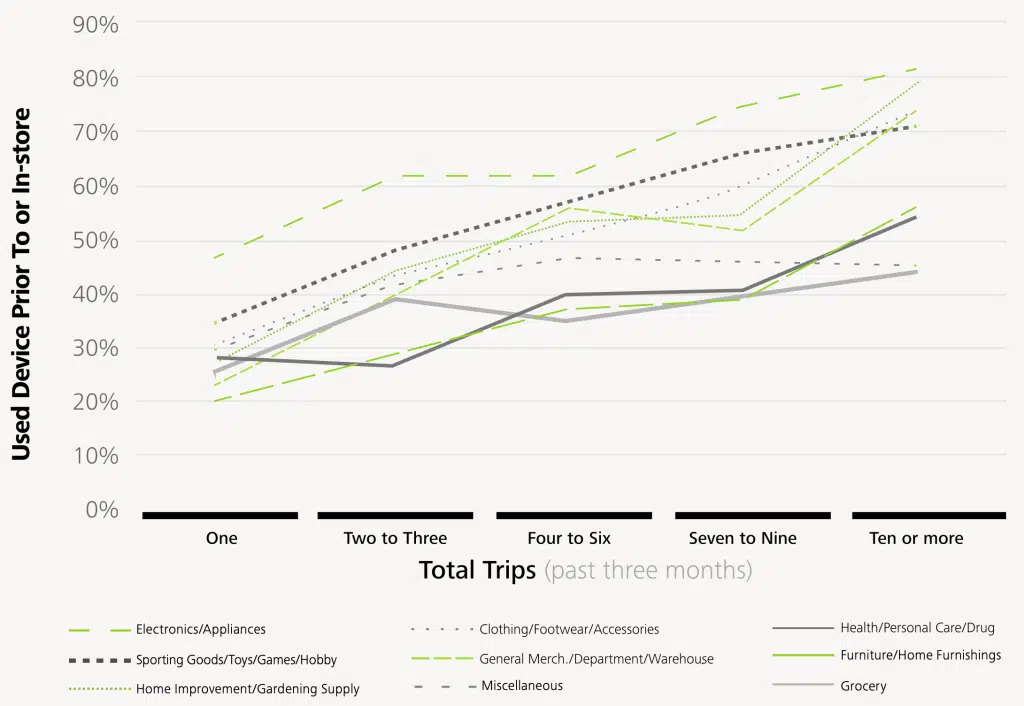 Return on digital investments
The current intense focus on customer relationship management and analytics to gauge the return on digital-related investments has created a tunnel vision among some retailers: they expect each individual investment to yield an incremental return.
Digital investments should not be evaluated individually, but instead measured holistically across the enterprise as a means to influence consumer purchase decisions. This represents a better way to accurately understand the net benefit and overall competitive advantage brought to the organisation.
Moreover, retail leaders will realise that return on investment (ROI) in the digital world tapers off as the overall investment grows. The reason is simple: there is more "cannibalism" going on than many realise. As shopping behaviors change, customers are adopting digital forms of communications. In many cases, the effectiveness of the more traditional forms of media are declining.
This reality changes the investment equation. In addition, digital features and functionality are rapidly becoming table stakes in the retail industry, and the mere deployment of a digital platform is insufficient. It should be tailored to the needs of customers and in fact, generic platforms may only widen the digital divide.
SwiftERM is a Microsoft Partner company. A free PPS trial is available here.