Data analytics in ecommerce can help you to provide a working strategy for your business. It is the process of extracting and processing data into usable metrics. It is particularly beneficial in the realm of online consumer behaviour.
The information will help you stay competitive. Your business can identify bottlenecks in the selling processes which provides an opportunity to refine your strategy.
Why data analytics its so important
Data analytics reveals how customers interact with your website, what their preferences are, their favourite brands and most importantly their buying process. Because data analytics are so involved behind the scenes, they can even tell you about impending changes so you can better plan for sales.


Data analytics can reduce your costs. Because the metrics give you a greater awareness of what's profitable and what's not, you will not waste your budget on dead-end endeavours.


New doors open when data is analyzed Consumers' needs and wishes are hidden behind numbers, so you have tangible proof of what they really want. When you are equipped with the facts, transformation occurs in the form of new product launches and building a brand around market demands.


Trends that emerge through data analytics help you manage your inventory better. Before the technology existed, it was difficult to predict how much of each product would be needed at a specific time – such as the holiday season. Measured data also reveals a clear supply and demand formula so you can price items right.


Loyal clients are often the result of a well-thought-out data analytics strategy. Because data sets help you get to know your customers better, you will be able to cater to their needs more efficiently. You can also get a feel for why carts are abandoned and work to resolve those issues.

Types of data analysis
Descriptive Analysis
It is the foundation of data analysis that serves as the backbone of dashboards and business intelligence tools. It also takes a close look at the times that something happened and when and where it happened. The importance of this type of analysis is that it allows you to see all the features of the object.
For example, an analysis of the users' experience can discover that they stick on the banner. So, ecommerce data analysis can help you to increase the conversion.
Ecommerce applications of descriptive analysis:
Key Performance Indicator (KPI) dashboards. It's the biggest use that describes how a business is performing based on chosen benchmarks.

Monthly revenue reports. It's needed to analyse streaming income and forecasting.

Overview of sales leads. It is provided in order not to lose the lead and to bring it to sale.

Diagnostic Analysis
This type provides a deeper understanding of business processes. It helps companies to create clear connections between data and behavior patterns. By using it, your team can create a better strategy, which will be based on the experience of the previous actions.
For example, you can determine how to increase the efficiency of your team; compare how much time they spend on different tasks. You will realize that the routine job can be automated and it will improve the team's working hours.
Ecommerce applications of diagnostic analysis:
Investigating the dip of revenue. For example, if your website showed significantly fewer revenue last month, you may implement a drill-down exercise. It will help to remind you about a server failure or more days off than usual due to holidays.


Determining which marketing activities increased purchase activity. You will use this point in the future whilst planning other marketing strategies for a product or service
Predictive Analysis
It's required when AI and big data join forces to help predict outcomes in complicated circumstances. This method involves special software. It's vital for planning and anticipating the next stage without risks for the business.
For example, you create a strategy for email marketing. Based on one of the types of data analysis in ecommerce, you predict how many people will open the letter, click on the link, etc. Your next email marketing will be more targeted and will bring a higher number of potential buyers greater return, reduce returned goods, stop churn, build loyalty and increase customer lifetime value.
Ecommerce applications of prescriptive analysis:
Scheduling. Planning will not allow you to miss important points – some predictive analytics systems even allow this to be done autonomously for you too.


Optimisation of the customer experience. Customer loyalty boosts revenue.


Production lines optimisation. You will know which products are more profitable and which can be removed.

Predictive analytics instant implementation
Predictive analytics greatest benefit is personalisation, which delivers the highest ROI in ecommerce marketing, but we don't mean segmentation. The correct software will help you sell more, improve your customer retention rate, generate more loyal customers, grow your average order value, and kick a huge hole in the value of product returns.
Customers expect you to know who they are when they return to your website. Accenture surveyed over 8,000 consumers about personalisation, and 91% answered that they are more likely to shop with brands who recognise, remember, and provide them with relevant offers and recommendations.
This is important because most ecommerce brands are trying to catch the same fish as everyone else. The standard ecommerce playbook is made up of email and influencer marketing, affiliate programs, and Facebook, Instagram, and Google advertisement.
Attention is already a precious commodity. And contrary to popular belief, our attention spans are not declining. We are just becoming better at filtering out — and quicker to dismiss — what's not interesting to us. This is where personalisation comes into play.
A system called predictive personalisation software (PPS), can be implemented instantly on your site as a plugin. This does all the above for you autonomously. Zero human involvement selects what products each consumer is most likely to buy next and send the consumer an email of those items at precisely the right time. It delivers a 20x increase in ROI.
The difference between KPIs, Analytics, Metrics and Reporting
Reporting is for successful analytics, you need to understand the four key terms. They may seem deceptively similar, but in their differences lies the crucial point to comprehensive analysis. Let's analyse each one of them closer.
KPI
Key Performance Indicator is a measure of the success of your product or service. With this point you can evaluate the effectiveness of your business strategy and growth. It's used for various systems, such as marketing or finance.
Analytics
Analytics stands for the predicting of decisions and actions. This metric can be used to improve all the processes or strategy. It's important to note that the analytics also include advanced planning and not just the reviewing of the current situation.
Metrics
Metrics allow you to accurately measure the success of the processes, for example: ads. It's not about numbers, it's about the value of each point in the large mechanism. By using them you can predict various scenarios for your business.
Reports
Reports stand for the results, or in other words, KPIs. Counting all the data allows you to understand what was done and how effectively. It will further be used to improve the performance.
Consider PowerSync Your Trusted Partner
Importance of ecommerce analytics is measured by your development goals. The faster and with less effort you want to achieve them, the deeper your analysis should be. Make sense of your ecommerce analytics data and get dashboards you would understand and use in your business daily.
If you need help with this aspect of your business one of our team would be delighted to advise, contact us here.
Conclusion – The Proof
As customer expectations continue to shift, today's consumers require businesses to understand their unique personal needs, objectives and circumstances. Statistics have shown that putting a customer's needs first can have a positive impact on your bottom line.

80% of customers said the experience a company provides is as important as their product or service. And you can only offer the desired experience if you know who your customers are.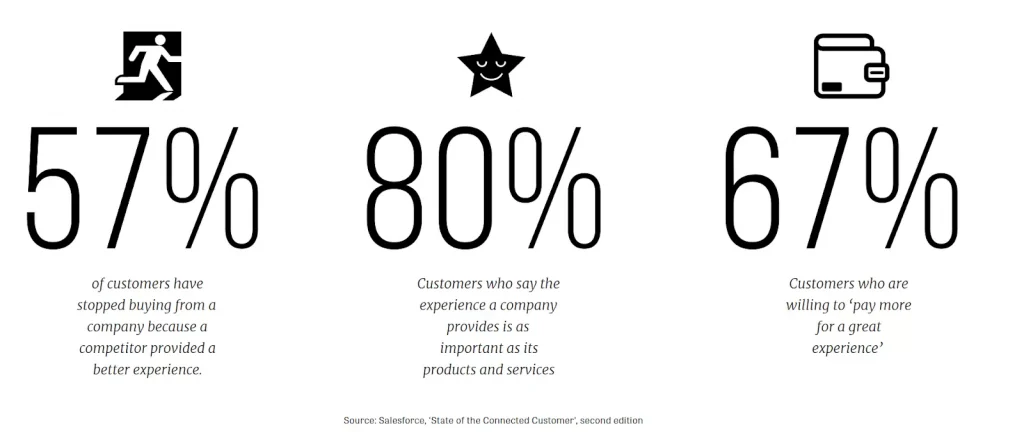 The Numbers Don't Lie
Marketers see an average increase of 20% in sales when using personalised experiences. ( Source)
We hope you enjoyed this article, intended to help improve your ecommerce profits. Please leave us a comment below, it helps us grow. If you need help please just ask.

To enjoy a FREE month's trial of predictive personalisation software, to see how powerful it truly is. Here