Essential social media metrics. Metrics are arguably the most important part of your social media reports. They're figures that you can't argue about, showing the real impact your social strategy is having on other areas of your business–such as sales or content marketing.
But which KPIs do you need to keep an eye on? And which do stakeholders actually care about?
1. Impressions
"When it comes to reporting on your social media marketing efforts, I believe one of the most important metrics to touch on is Impressions," writes Tim Brown of Hook Agency.
"While likes, comments, and shares are very important, and often take the stage in social media reports, impressions are quite valuable in and of themselves. While they are difficult to measure, and really are much less tangible in terms of proved value – people simply seeing your brand has immense value."
"Marketing is all about touchpoints. And while someone scrolling past your post may not be optimal, it is still an impression which may convert down the road," Brown adds.
2. Reach
Another metric that shows how much of your content is being viewed is reach, as Colin Mosier of JSL Marketing & Web Design adds: "One thing that should be included in your social media report is the reach of your posts."
"This is an important metric to track because it gives you a better idea of how many people actually saw your post. Through shares, likes, and more, additional people actually can see your post without actually interacting with the post themselves."
"However, even if people have simply seen your post, they have a chance of remembering your business or logo in the future. Increasing your brand recognition can lead to many new leads in the future!"
3. Engagement
If followers aren't engaging with your posts, what's the point? Social is to build communities, give fans a place to interact, and have conversations.
But what does "engagement" look like? Project Management Institute's Kristin Jones says: "Engagement rate is calculated by measuring the number of interactions with your content relative to the unique number of users who had the opportunity to engage (the content's reach)."
"Engagement rate is the key to knowing what your audience cares about, what type of content they are interested in, how they want to be communicated with, and how your content is resonating with them. High engagement rate is a sign of great content in the eyes of your audience."
"Knowing this data is of value to your business because an engaged audience is a more loyal, emotionally-connected audience who is likely to continue to engage with you in the future, as well as recommend you to others."
Jones continues: "Be sure to keep track of your engagement rates over time so that you can benchmark against not only your industry but also yourself. Your audience is unique, which is why it is crucial to track your own channel and post performance over time."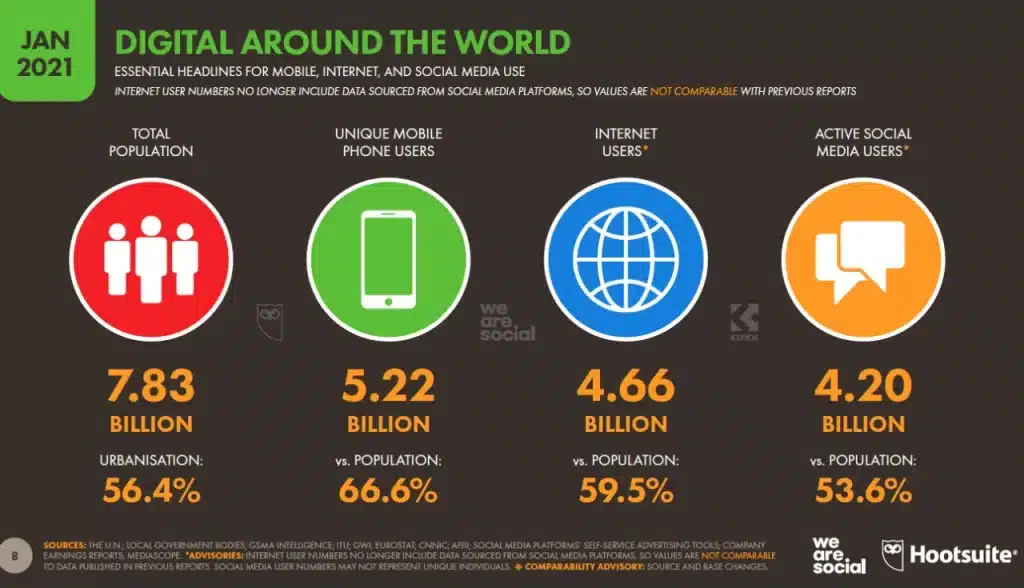 4. Link Clicks
"Social media reports should include engagement across all platforms," says Synthesio's Carmen Yeung. "However, you often post links to other content, I'd argue that clicks on the links are more important than engagement."
SyncShow's Bri Curran explains: "Clicks on your social posts are a way to see what your audience is truly interested in. Are they drawn in by blog content or maybe videos? If it's blogs, what are they about? You can gauge what content your viewers resonate with by the posts they click on."
James Pollard of The Advisor Coach summarises: "A lot of people focus on reach, impressions, engagement, etc. but I've found that the most profitable metric is the number of people who visit your site."
"After all, your site is likely where the magic happens. The more people you can get there, the better off you will be."
5. Click-through Rate (CTR)
Jay Simms thinks "Click-Through-Rate (CTR) is an important metric to include in your social media report. It shows whether or not your followers are interacting with–clicking–and landing where your post intended them to be."
"CTR is the number of people who viewed AND clicked a link in a post compared to the total number of people who viewed the post aka total impressions."
"It is better to have low total impressions and a high CTR because it shows your post was impactful enough for followers to interact with it the moment they viewed it," Simms explains.
6. Number of Leads Generated
"The number of leads generated should always be included in a social media report," says Shannon Lavenia of Brand Builder Design Studios.
"The purpose of social media should be to generate new business for a company and to stimulate more business from the existing audience. Therefore, it's important to measure the number of leads generated from campaigns to ensure that social media posts are producing actual revenue for the company."
7. Social Media ROI
The 'ROI of social media' can mean different things, as Marie Belsten of Bootcamp Media explains: "ROI can direct sales, revenue, and even, generation versus money spent. It can also be something like new leads acquired."
"Come up with an estimated value of a lead based on what your lead conversion rate looks like, then see if you're making a positive ROI in terms of money spent and estimated value of a lead."
Belsten adds: "Growing a following and driving engagement is great and worth measuring, but that's not going to tell you if your efforts are paying off or not."
8. On-Site Performance from Social
Luke Wester of Miva Inc explains that "as marketers, we get a lot of pressure, sometimes misplaced, to earn big numbers from social."
"Every business should evaluate the quality of their social traffic. Metrics like Time On Page, Pages Per Session, and Bounce Rate will give insight as to whether your social channel is performing well."
9. Assisted Conversions from Social Media
Google Analytics allows you to find the paths people take before making a purchase.
Pauline Sell of 10x Studio explains: "Whatever you want to achieve with your social media strategy – if you can showcase the (often not direct) effect of social media on conversion – your life gets easier in terms of justifying budget/spent."
"Outside of the performance side of social media (bought ads), the real value of a company's social media strategy is often subtle or indirect. So: build a reliable attribution model and display the real role/value of social media within it."
Kevin Olson of Capitol Tech Solutions agrees: "Every single campaign that we have ran has had some sort of end goal (item purchased, form filled out, phone calls, buttons clicked, etc).
"In order to track this we either setup Facebook Pixel events or Google Tag events. These conversions are included in every single social media report because that helps us measure the overall success of the campaign."
10. Branded Search Queries
"Sometimes people use social media for social media's sake. And whilst social is an incredible tool for building a brand, it's important you never lose sight of value," says Alice Corner of Venngage.
"Tracking your branded search queries after social campaigns alongside direct conversions can really help paint the bigger picture."