Laying the foundations for successful ecommerce. Starting your own ecommerce business is an exciting venture with endless possibilities thanks to billions of people using the internet around the world. Many ecommerce businesses have gone viral and exploded in scale thanks to the right types of content and strategies and the more your business scales, the more recognisable it becomes and the easier it is to make sales.
Scaling a business is a major step for any ecommerce business and can prove to be a difficult task. Even if your business is growing on its own, there are many things you need to be doing to keep up with this growth, as failure to keep working on growth can lead to the loss of any growth your business has already done. Costs are always rising for a business, so profits need to be growing with them, which means more leads and more conversions for your business.
An easy analogy for understanding the fundamentals of scaling your ecommerce business is to imagine your business as a building. To build a solid building, or ecommerce business, you will first need to have a strong foundation. Next, you will need building materials and labour to help gain momentum and complete the project. Then you can spend time implementing the finishing touches and design details.
When Is It Time to Scale?
Deciding to scale your business is a big decision and an immensely important undertaking. It is important that you do not attempt to scale your business too early in the business lifecycle. Attempting to scale your business before you have built a solid foundation is a common mistake that can often prove fatal. it can be extremely difficult to achieve a positive return on investment (ROI) without the ability to maximise revenue.
It is important to understand that you will never be 100% done scaling your business. You will be constantly remodelling, tweaking, expanding and building on your work to ensure the longevity of your business.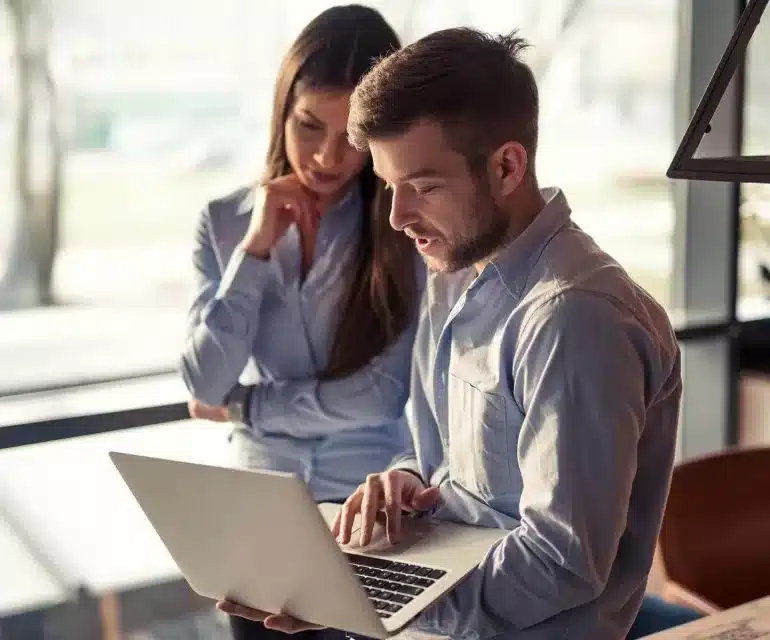 Step 1: Building an ecommerce business foundation
The first step to successfully scaling your ecommerce business is ensuring you have a strong foundation. Like a house, a poor foundation will just end in disaster with any growth sinking into the ground. It is never too late to reassess your business' foundation to make sure you have the right infrastructure in place, even if you have already opened your business and are generating profit.
In addition, if you have reached a plateau in profit, going back to the foundation of your business could be vital in sparking change and increasing those sales. Here are the top areas to look at to ensure your ecommerce business foundation is solid and ready for growth.
Understand Your Customer's Journey
With so many social media sites available online, any number of them could serve as a sales funnel for your business, depending on what products or services you provide. It is important that you understand what these are and how your customers interact with them.

This is known as the customer journey. It is vital for your business success that you know how your ideal customer will discover your product or service through social media advertisement and what compels them to click on the advertisement.
A common mistake many ecommerce businesses make is treating all social media sites as the same and assuming that potential customers are the same across all of them.

The way people behave and buy is unique to each platform and you need to be taking this into account. In addition, the competition on these markets will be fierce. Each social media platform has its own customer journey and brands that fail to cater to these customers won't compete.
Optimise Your Site For SEO
Increased traffic from good SEO doesn't happen overnight. In fact, it can take up to a year for your SEO efforts to start paying off. This means it is vital that you start putting an SEO optimisation plan into action as soon as possible.

If you are already operating a business and have neglected your SEO so far, there is a good chance it will take at least six months to start repairing the damage and start getting the results you want. To optimise your content for SEO the first thing you need to do is research your business' niche and find what keywords you need to rank well for.

Many businesses make the mistake of relaxing when their site ranks 1st for their business name, forgetting the only people searching for that keyword will already be looking for them. Instead, find keywords that are relevant to your business and optimise content to meet Google's expectations.

The advantage of putting effort into SEO is that you will also be making your site more user-friendly to your shoppers, which will also help with conversions.
Create A Strong Marketing Campaign
It is impossible to grow your business without marketing. Even if people are buying your products, you will still need a strong marketing strategy. Without sustained marketing, you will lose momentum once your word-of-mouth advertising runs out and you need continued momentum to sustain growth.

In addition, a strong understanding of inbound marketing best practices is important to the growth and success of your ecommerce business. Ecommerce businesses require a strong digital presence, however, they also need to be able to close the sale with any potential customers. Marketing and SEO are considered two sides of the same coin, as an SEO strategy can get more people to your website, but marketing will convince them to buy.
Some of the top marketing methods for ecommerce businesses include social media as well as email marketing. Two-thirds of people abandon shopping cart purchase. Email marketing can remind people of abandoned shopping carts and incentivise them to buy.
From day one, you should be working on your email marketing pool. This means including email collection pop-ups and opt-ins in place on your site to add to your email database, which will then be vital in your wider marketing strategy and enable you to convert first-time traffic into customers.

You should make sure your emails are personalised for each consumer, and we all know segmentation is not personalisation. Regardless of the size of the company it is essential that each team member learns the psychology of personalisation, and what's really going on.
Create An Excellent Customer Service Strategy
Every business knows how necessary customer service is to create loyal shoppers, gaining good reviews and building trust. It is important to scale your customer service while you scale your business with a system in place to deal with any issues that may come up from the start.
As your business grows, you will be serving more customers. This means your number of complaints will statistically increase as well. The more you sell, the more problems you are going to have. Planning and strategising how you will handle this before it happens could be the make-or-break for an ecommerce business.
You will need to get in front of customer service before you get buried in complaints. It is unlikely you will never have any issues and you will need to learn to handle any complaints when they come in. With social media being the most likely place someone will complain about you, taking care of your customers should be your number one priority.
Have A Well Planned Sales Funnel
A good ecommerce sales funnel can be divided into two major objectives, firstly, attracting new customers to your store and secondly, retaining existing shoppers. There are three main stages to attracting new customers; awareness, interest and decision.
Awareness: This is the top of your sales funnel and is where you introduce new shoppers to your ecommerce brand by acknowledging your customer's pain points that your product can solve.
Interest: This is the middle of your sales funnel where you bring customers who have engaged with your store. This is where you remarket with your email newsletters and PPC campaigns with Google Ads or Facebook Ads.
Decision: This is the final part of your sales funnel and is where you turn a browsing customer into a buyer. This includes on-site optimisation to increase conversions, automatic abandoned cart email promotions or other remarketing campaigns. The important thing is to create a sales funnel that catches shoppers at every stage and allows you to grow cohesively as you scale.
Boost Traffic With Google
A significant part of your ecommerce business' foundation is setting up ways to drive traffic to your store. SEO takes a long time and you can't only rely on social media campaigns. If you want to scale your traffic with your business then you need a good Google Ads strategy in place. At the very least, this should include Google Shopping and search campaigns that not only attract new shoppers but also remarket previous online store traffic.
Maximise The Algorithm
Of course, you also have to make sure your brand is reaching your target customer on Google Search results, too. In order to rank well and become visible to your customers, you have to "please" the algorithm. Google only wants to show people results that are relevant to them. If traffic is coming to your website through your keyword then not purchasing anything, the algorithm doesn't think it's relevant.
There are several ways you can please the algorithm by increasing conversions. Try offering coupon codes to encourage people to convert, which will increase the relevance between your website and the keyword. A combination of good SEO and brand building will help you rank first in search results for relevant keywords.
Revisit Software
The software you use is as essential for scaling your business as it is for running it in the first place. As such, you will likely need to revisit the software you are using and ensure it is fit for growth. You will need to look at everything, from customer relationship management (CRM) software or accounting software to predictive personalisation software.
With an ecommerce business, scaling will require you to utilise a capable inventory management system that will keep track with you as you move to a higher-volume business. Another consideration is warehouse management if scaling your business requires more inventory storage space.
Software can also facilitate the streamlining of your shipping process. After all, scaling a business means shipping more orders. To offer the best customer experience possible, the shipping process needs to be as seamless as possible. There are also technologies for boosting sales, such as reducing cart abandonment or creating a customer loyalty program that incentivises customers to purchase more.
Step 2: Create Momentum-driving and Automation Strategies
While having a strong foundation is important, it is vital that ecommerce entrepreneurs understand that you need to be able to change and adjust as your business grows. As your business grows, your team and technology will need to grow with it.
Take Your Customer Service To The Next Level
Besides the expected automated emails and live support, you should be investing in ways to improve your customer service that will help set yourself apart from the competition and take your business to the next level. A great way to grow your customer base is by creating a loyalty program that encourages constant customer growth while still rewarding existing customers.
Gather Customer Reviews
As you grow your business, your reviews should also grow. Reviews are a vital part of increasing conversions and building brand trust. In fact, it is estimated that as many as 69% of shoppers want to see more reviews on online stores, which means adding them to your store is essential to increasing the number of new shoppers you convert.
Harness User Generated Content
User-generated content (USG), is a combination of word-of-mouth advertising and customer reviews that play a big part in scaling an ecommerce business. To take advantage of UGC you will need to encourage or incentivise your shoppers to share UGC via competitions, promotions or hashtag campaigns on social media. This will get your brand front and centre on shoppers' social accounts.
Make Use Of Remarketing
If you want to scale your ecommerce business you will need to make use of remarketing campaigns, such as Google Facebook and email remarketing campaigns.
Third-party Sales Channels
As you scale your business, consider making your products or services available on other platforms like the Amazon Marketplace or eBay. By leveraging other sales channels, you extend your reach and by extension, can earn more sales. However, be careful about the platforms you choose and pick those that work with your product or service.
Consider Outsourcing
While many ecommerce business owners try to keep their business as lean as possible there is a limit when you are trying to scale your business. As the saying goes, you have to spend money to make money. With your orders increasing as you grow you will need support to complete the work or you will find yourself unable to keep the momentum going.
One thing that holds back many people in the ecommerce world are the aspects of picking, packing and shipping. Consider making use of a third-party shipping and fulfilment solution, leaving you to concentrate on product development and your marketing efforts.
A fulfilment service is a company that will store your product, such as Amazon Fulfillment, and handle all the picking, packaging and shipping duties whenever a customer places an order. A fulfilment service is a great way to scale your business without overwhelming yourself or having to hire more people directly. It will also save your business money on shipping costs and packaging.
Automate As Much As Possible
If you are looking to scale your ecommerce business while staying as lean as possible then you will need to automate as much as possible. There are many ways you can automate to help you deal with increasing orders in a way that doesn't slow down fulfilment.
This can include automated emails to more complicated systems, like automating your PPC campaign. Every business is different, so the key is finding as many areas in your business as you can that you can automate to help grow your business. SwiftERM is a 100% automated predictive personalisation SaaS, intended to form the foundation of all ecommerce consumer centric strategies.
Expand Your Workforce
While outsourcing and automation can help with scaling your business, it is likely that as you grow you will need a bigger workforce. Many ecommerce businesses begin with a very small team with team members juggling multiple roles.
The issue is having multiple roles split focus and keep your team from doing what they do best. As your business grows you should look to split these roles, or create new ones, and hire more people to perform them. This allows each member of your team to focus on what they do best and, in turn, be more productive.
Laying The Groundwork For A Greater Turnover
Once you have momentum and the vital systems in place, it is time to lay the groundwork to grow your ecommerce business to the size you have always dreamt of. This stage in the process is all about planning for inevitable challenges that might arise while also thinking and planning about what is next for your business. In short, prepare for the worst and hope for the best!
Prepare For Supplier Issues
As your business grows it becomes increasingly possible that you will run into supplier issues. As your orders grow, you could be dealing with capacity or quality issues from your suppliers. A way to mitigate this is by building good, solid partnerships with your suppliers so that they are as invested in your growth and success as you are. In addition, it is always a good idea to have a backup plan.
Plan For Sales Plateaus and Declines
Declines and sale plateaus are common in an ecommerce business lifespan and are almost always unavoidable. However, this doesn't mean you shouldn't have a strategy in place that anticipates these declines in sales. Always be looking at how you can expand or adapt your product lines to ensure your business stays one step ahead of stagnation. In addition, expanding to other sales channels can also help with this.
Engage Influencers To Market Your Product
Love it or hate it, influencer marketing is here to stay and is a great way to get your product in front of a large audience. The power of influencer marketing is trust. If a customer follows someone they trust, and that person tells them to buy something, they likely will. It's essentially an endorsement of your product. So, make sure to allocate a portion of your marketing budget to get some influencers to post about your product.
Make Use Of The Google Display Network
In addition to making use of social media marketing and SEO to drive traffic to your site, you can utilise free traffic from niche websites through the Google display network. This allows you to retarget those that didn't convert to increase sales as well as displaying new products for customers.
Fraud Management
With an increase in orders, you are likely going to see more fraud. This means good fraud management software is essential to scaling. Many fraud management tools rely on machine learning, geolocation, and advanced authentication methods to ensure that your incoming orders are real. Fortunately, it's not as difficult to implement fraud management as it may sound. There are a number of effective and easy to use fraud management systems available on ecommerce platforms.
Track, Evaluate, Adjust
After putting in the effort to scale your ecommerce business it is important that you track, evaluate and adjust. In other words, take a look at your progress and gauge your business scaling strategy. Has it been effective? Are you seeing the results you'd hoped to see in a reasonable amount of time? What has worked for you? What hasn't worked for you? How can you tweak your plan to make it better?
Be sure to track how your revenue is changing over time. Scaling your business is a substantial investment, so you need your revenue to be increasing commensurately. Similarly, you also want to be increasing customer retention and acquisition. As you assess your scaling strategy and its results, you can find ways to tweak your plan so you achieve your scaling goals.
Final thoughts on scaling your ecommerce business
Keep in mind that these are not the only things you need to do in order to scale your ecommerce business. However, these are some of the most important things to consider to ensure you scale your ecommerce business the right way.
While it takes a lot of work and investment, if you put the right systems in place now to help you reach your future goals, you will be well on your way to create the type of business you want. Keep the momentum going to drive more sales and free up your time by automating or outsourcing things like picking, packing and shipping.
Every business is different, but to scale your business you will need to be able to adapt to your target audience and make changes when needed. Building an e-commerce brand can seem like an uphill battle, but as long as you're continuing to generate traffic and converting to sales, you're doing a great job.