The 2022 fashion industry report. After nearly two years of disruption, the global fashion industry is once again finding its feet. Companies are adapting to new consumer priorities, and digital is providing a nexus for growth. Still, the industry faces significant challenges amid supply-chain disruption, patchy demand, and persistent pressure on the bottom line. With the majority of companies struggling to turn a profit, growth will be a key priority in the year ahead.
The fashion industry posted a 20 percent decline in revenues in 2019–20, as earnings before interest, taxes, and amortization (EBITA) margins declined by 3.4 percentage points to 6.8 percent. As the pandemic continued to run its course, the performance inequalities that have become a challenge over recent years were more in evidence than ever.
A record 69 percent of companies were value destroyers in 2020, according to the latest reading of the McKinsey Global Fashion Index (MGFI), compared with 61 percent in 2019 and just 28 percent in 2011. About 7 percent of companies left the market entirely, either due to financial distress or because they were bought by rivals.
Discount and luxury outperform
Despite a dip in margins, discount and luxury outperformed the wider market in 2020, while the midmarket continued to be squeezed. However, performance was uneven, as countries with strong healthcare systems and economic resilience fared better than others. Among product categories, it was a breakout year for sportswear, with 42 percent of positive economic profit in the MGFI index coming from sportswear companies, amid strong growth for Chinese players.
In last year's report, they did not publish an annual list of "super winners," due to distortions and reporting gaps caused by the pandemic. This year, they return to an analysis but with an adapted approach: smoothing pandemic-induced distortions by calculating the average economic profit over both 2019 and 2020.
Over that period, the top five performers by economic profit were Nike, Inditex, Kering, LVMH (including Tiffany), and Hermes. The prominence of luxury brands among the top performers was attributable to the economic resilience of wealthier demographics, leading to a continuing demand for bags, luxury jewellery, and ready-to-wear.
Ten themes for 2022
We kick off our ten key themes for this year by taking the temperature of the global economy and analysing the complex impacts of the pandemic as it continues its unpredictable progress. Amid these challenging dynamics, the imperative for brands will be to secure their recovery. At the same time, they must adapt to evolving consumer demand and ensure they take the opportunities offered by new digital frontiers.
As sustainability becomes a more urgent concern, brands need to ramp up their efforts to reflect customer values in their assortments, supply chains, and ways of working. Finally, amid rising competition for talent—particularly tech talent—brands need to find new ways to attract the best and brightest, with cybersecurity likely to be near the top of the agenda.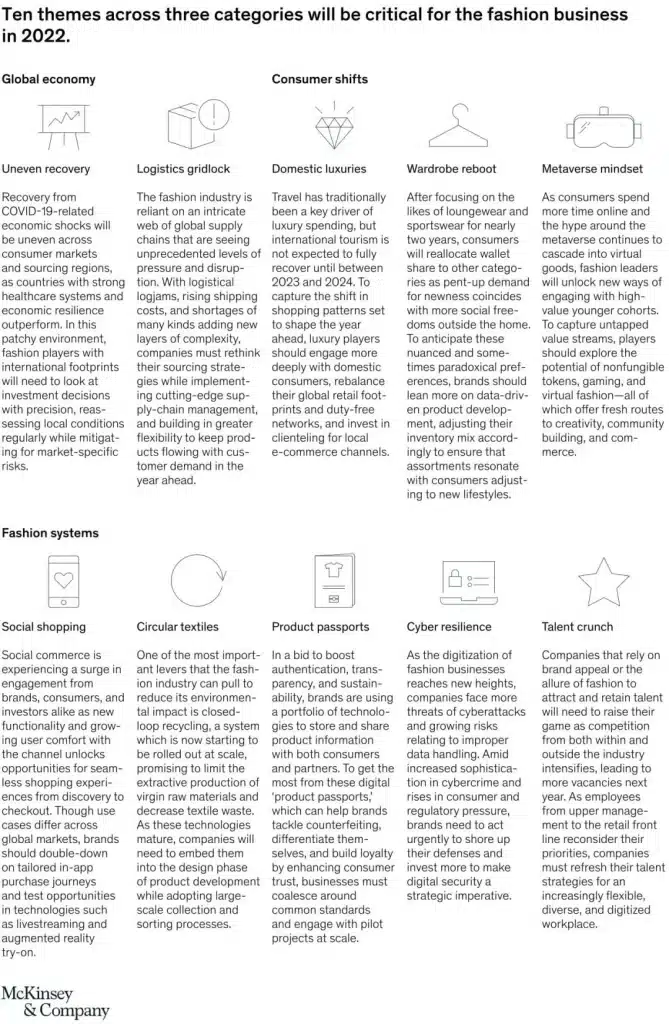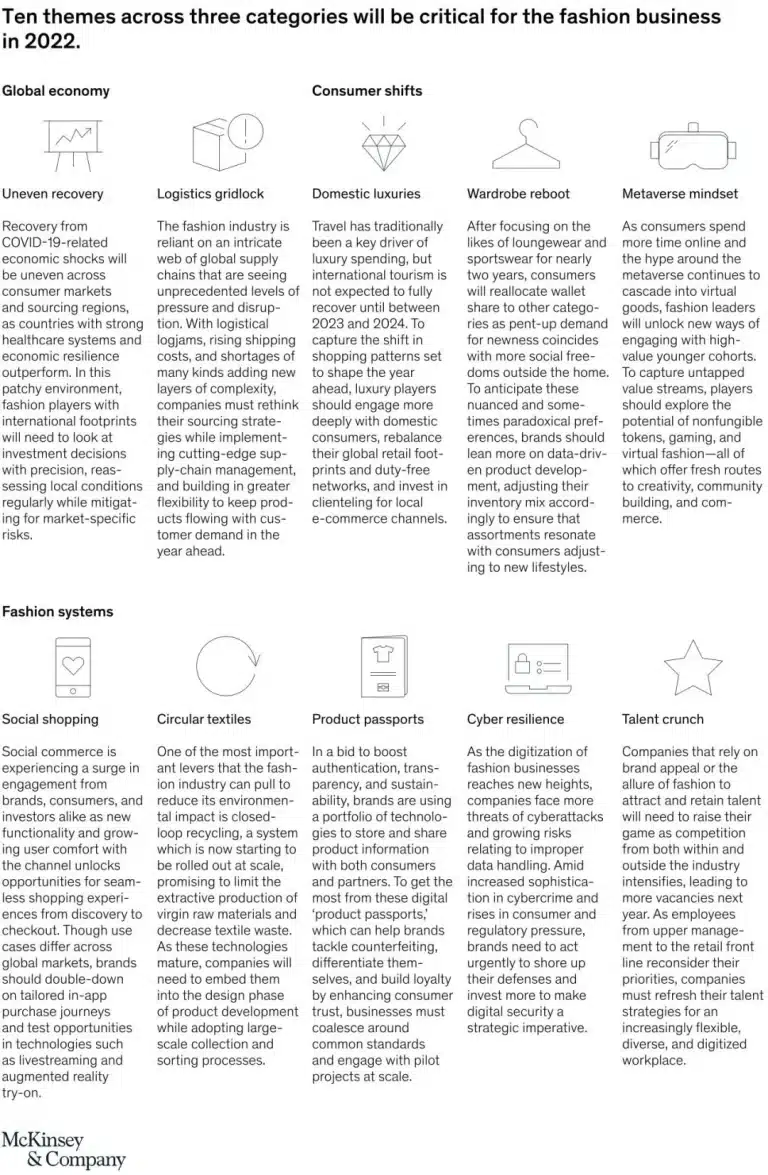 In many global regions, the business of fashion is set to pick up momentum in 2022, as consumers unleash pent-up buying power and dress to impress (where the pandemic allows). Indeed, recovery is at the top of executives' minds for the coming year, with 75 percent of luxury-segment executives, 61 percent of midmarket executives, and 50 percent of value executives expecting better trading conditions.
However, as they pivot toward growth, a significant challenge is potential shortages of products and resources, as choked supply chains and rising shipping costs undermine operations. Over recent months, numerous companies reported struggles to manage inventory flows or tied lower sales forecasts to supply-chain blockages. In response, many have turned to remedies that include more nearshoring, in-store supply stocking, and agile operating models designed to respond flexibly to change.
Among the standout themes of the past year has been the continuing flourishing of online business models, reflecting a longer-term trend that accelerated during the pandemic. Hyper-interactive digital environments and investment in e-commerce are increasingly the leitmotifs of brands that are pushing on fashion frontiers.
We expect in 2022 that companies will seek fresh approaches to online creativity and commerce, with nonfungible tokens, gaming "skins," and virtual fashion edging closer to the mainstream. Some brands over the past year expanded into the digital "metaverse," rolling out virtual stores, gaming, and digital events. In the coming 12 months, these efforts will gather pace, as in-app social commerce plays an increasingly important role.
More than ever, sustainability is dominating consumer priorities and the fashion agenda. Consumers want to know where materials come from, how products are made, and whether the people involved are treated fairly. In response, more and more companies are expanding their sustainable assortments and working to boost the sustainability of their supply chains. As part of those efforts, some are leveraging digital product passports.
These can be embedded in items to support after-use activities such as resale and recycling. Brands are also turning to passports, married with distributed-ledger technologies, in the battle against counterfeiting. Hard on its heels is personalisation, and identifying each individual consumer's own personal taste, interest and predelections are essential for nurturing customer loyalty and maintaining loyalty perpetually going forward.
As fashion brands invest in new digital applications, they must work harder than ever to protect their systems, partners, and customers. Amid intense competition, cybertalent will be at a premium. And more broadly, all-time-high vacancy rates mean brands must find novel ways to attract and retain employees—as other industries compete hard on salaries, sustainability, and job security. Authenticity and employee well-being will be more important than ever.
The bottom line going into 2022 is that the fashion industry faces a complex mix of challenges and opportunities, in which there is little room for missteps. Decision makers have their work cut out to manage the demands of digital, sustainability, and the supply chain. That said, the past year's experience shows that consumers are resilient and that as economies recover, demand will follow suit. Therefore, the task for companies will be to unlock growth, align with changing customer needs, and focus intently on the bottom line.
Download The State of Fashion 2022, the full report on which this article is based (PDF–14MB).