Ecommerce has grown tremendously over the last decade producing $5.7 trillion worldwide in sales for 2022. It is projected to reach $1.7 trillion by 2027 in the US alone, with global retail ecommerce sales reaching $8.1 trillion by 2026. As sales grow, so does the number of online stores, with estimated 24 million ecommerce sites worldwide in 2022 catering to 2 billion digital buyers.
Ecommerce is growing without a doubt, but the growth also leads to a wide range of choices that causes consumer fatigue. Customers with thousands of options eventually choose nothing, causing 70% of shopping carts to be abandoned.
Furthermore, the highly competitive ecommerce industry compels brands to offer better shopping experiences if they want consumers to pick them among a sea of similar competing products.
To address both fronts, ecommerce stores turn to personalised shopping experiences. Personalisation is the key to capturing new users and driving repeat purchases. And with the advancement of AI solutions, ecommerce stores are poised more than ever to offer an exceptional shopper experience.
Importance of personalisation in ecommerce
Personalisation is crucial for engaging shoppers, increasing repeat purchases, and boosting conversions. It's a tried and tested strategy to drive sales and comes in many forms, such as personalised product recommendations and onboarding quizzes.
Personalisation provides tailored experiences to shoppers that are relevant to their needs and better suited to their tastes. Instead of asking shoppers to mindlessly scroll through thousands of products to find the perfect match, personalisation uses customer data to predict the most likely item they'd buy based on past purchases, browsing behaviour, demographic data, and other data points.
Personalisation has the potential to create brand loyalty if executed properly, but if done poorly, it can harm a brand's reputation. Therefore, it is essential to implement well-planned and effective personalisation strategies. However, with an overwhelming amount of customer data to process and analyse, knowing where to begin can be difficult, unless an autonomous solution is available which does it all for you.
This is where the benefits and capacities of AI come into play. By leveraging AI technology, businesses can analyse large amounts of data to gain valuable insights into customer preferences and behaviour. This allows companies to create more personalised and relevant shopping experiences to increase customer satisfaction and loyalty and drive business growth.
The role of AI personalisation in ecommerce
AI is no longer the stuff of sci-fi movies and books. It's becoming ubiquitous in our daily lives, with applications affecting every major industry, including online retail. With millions of customer data points, ecommerce is a ripe candidate for AI technology.
Using artificial intelligence, brands can give customers personalised shopping experiences in seconds with little human intervention. But that is dependent on the consumer coming to you, often a loser wait than you want. therefore AI personalisation is communication, which takes personalised AI generated product selections direct to each individual consumer, is massively more productive.
AI personalisation uses machine learning, natural language processing (NLP), and deep learning to create personalised brand messaging, content, products, and services resulting in profitable customer journeys. Think of it as providing every customer with a personal sales attendant throughout their lifetime, both on your site or off it. And let's face it another the reason the communication (email) personalisation is more important is that they spend thousands of hours more not on your site than they do on it.
In a brick-and-mortar retail store, sales staff attend to every customer and recommend products based on the customer's request and their analysis of the person. We all love it when they remember you name and what you bought before. For example, if an older man enters a store to purchase a pair of jeans , the attendant is unlikely to recommend the latest heavy-torn drainpipes.
AI personalisation accomplishes this for every customer instantaneously. As a result, each customer is unique, and each one offered only relevant products.
Advantages of using AI personalisation
AI-powered personalisation has several advantages over using basic personalisation methods in ecommerce.
AI mines and reads vast volumes of data so brands can access deeper insights leading to better and more accurate personalised product selections.
AI improved selection leads to more efficient offerings that massively reduces return rate (fashion average currently 30 – 50%) marketing spend and increase revenue.
AI generates smarter personalised recommendations for products that will go well with a customer's current purchase leading to higher upsell revenues, AOV and CLV.
AI-powered chatbots go beyond robotic, scripted responses and use NLP, sentiment analysis, and other AI techniques to provide shoppers with a better customer support experience.
AI creates a better search experience by understanding the nuances of human language so it can display relevant results even if customers don't type the exact keywords.
AI provides important customer data that helps brands refine their offers and processes to solve customer pain points and deliver an optimal customer experience.


While personalisation has been around for a long time, artificial intelligence has elevated it to a new level, delighting customers and brands. Customers will find online shopping engaging once more rather than stressful, and brands will deliver a better shopping experience that boosts revenue.
AI Personalisation Tools for eCommerce
Multiple AI personalisation tools in the market are designed to help you provide a personalised shopping experience. Here are the best of them.

Insider provides individualised, cross-channel experiences that help marketers connect multiple customer data from different channels and predict their behaviour using an AI-powered engine. This enables them to create personalised shopping experiences that carry on to various customer touchpoints such as the website, social media channels, and messaging apps.
Top brands like IKEA, MAC Cosmetics, Estee Lauder, Burger King, Toyota, and Samsung use Insider, making them the leading personalisation platform with a global presence across five continents.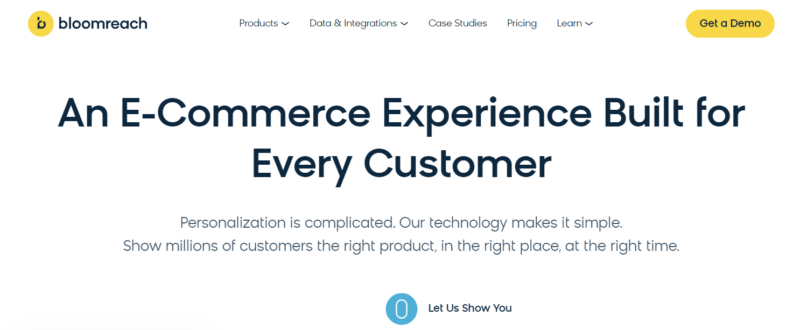 Bloomreach is an ecommerce experience cloud that creates unique customer journeys for millions of customers at the same time. It has an AI-powered Discovery feature that makes personalised search and merchandising, a robust content management system, and marketing automation solutions.
Using the tool, ecommerce companies can grow and scale through lightning-speed AI optimisations and revenue-driven customer journeys. Brands using Bloomreach include Bosch, Puma, and Marks & Spencer.

SwiftERM delivers arguably the highest ROI above all these peers, being wholly autonomous as it is, and exclusively addressing communication personalisation. Figures in excess of 10,000% ROI are commonplace, and as a plug and play installation makes it enormously accessible to retailers of all sizes.
This machine learning AI solution offers possible the highest returning figures in ecommerce marketing. Uniquely this phenomenal SaaS can run alongside all the others solutions listed, as an additional add on, and is used by over 1,700 leading brands.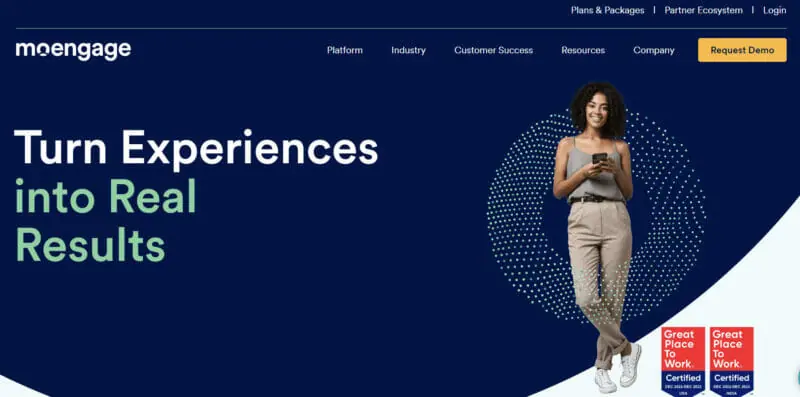 MoEngage is an award-winning platform that uses AI-driven insights to provide customers with relevant and engaging cross-channel experiences. It helps marketers create customer-centric campaigns that leverage customer data to determine the best content, channel, and time to reach a customer.
This creates a winning formula that guarantees increased reach and conversions leading to explosive ecommerce growth. MoEngage delivers 2.2 billion omnichannel experiences monthly and is used by over 1,200 brands.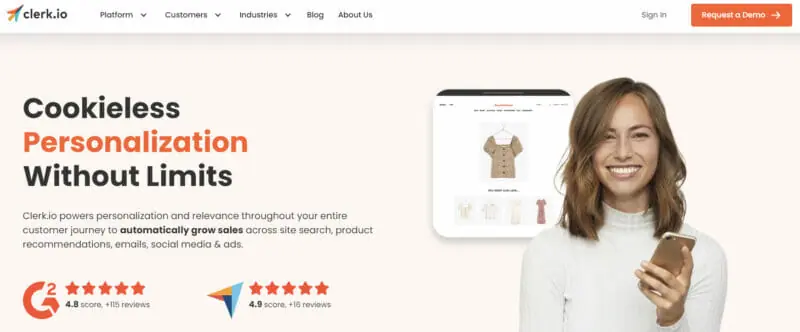 Clerk.io is an ecommerce personalisation software that uses AI-driven technology to acquire, convert, and retain customers. Through AI, it can automatically analyse customer behaviour, determine trends, and review past transactions to show current shoppers relevant product recommendations and search results.
It also powers email marketing and cross-channel experiences to generate a 15-30% sales uplift. Brands like Jeep, Carlsberg, Stylepit, and Unisport trust Clerk.io to power their ecommerce personalisation strategies.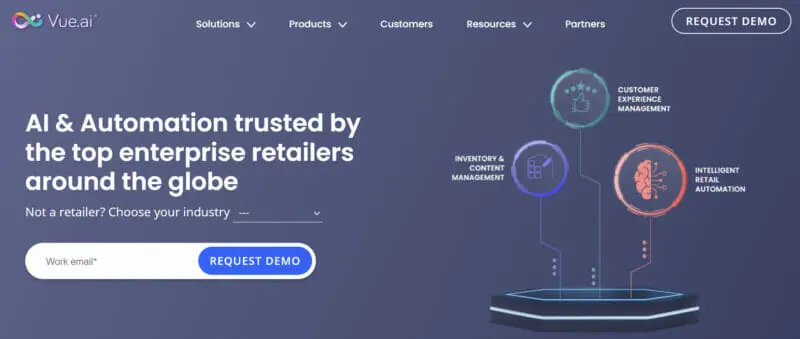 Vue.ai is an end-to-end ecommerce personalisation platform that uses AI for catalogue management, image moderation, model imagery, styling, dynamic 1:1 personalisation, and shopper journeys. It helps retailers run efficient online stores and provide unique customer journeys that increase sales and drive profitability.
Notable brands that use Vue.ai include Diesel, Nordstrom, Columbia, and Johnson & Johnson. The platform also lets you create customised AI models to match your business goals and needs.
Final Thoughts
Artificial intelligence is the future, and it's enhancing every aspect of our digital world. It's the solution to the overwhelming choices now possible with ecommerce technology and the key to delivering an exceptional customer experience that drives revenues.
As the industry gets more competitive, ecommerce personalisation becomes even more crucial in acquiring and retaining customers. With AI personalisation tools, brands can tailor-fit their products, promotions, and content for the that exact individual at the perfect time time, strengthening brand loyalty and increasing brand relevance.