The complete guide to open rates. The open rate is a measure of how many people on an email list open a particular email campaign. The open rate is normally expressed as a percentage calculated as the total of opened emails divided by delivered emails (sent emails minus any bounces). The bottom line is that you should never treat your open rate as your cornerstone. Looking at open rate instead as a way of measuring trends in your email campaigns will help shape your view of success.
What's a typical open rate?
Really, there's no typical open rate. The rate obtained for any list will depend on how it was measured, when it was sent, the size of the list, and many other potential variables. There's no shortage of benchmark numbers out there, but, even between benchmark figures, you'll find big variations in the reported open rates.
There are certainly some broad trends in open rates.
As list size goes up, the open rate tends to fall.
Companies and organisations that are focusing on enthusiasts and supporters, like churches, sports teams, and nonprofits see higher open rates.
Typically, more specific niche topics—like some manufacturing areas—also have higher open rates than emails on broader topics.
Based on everything we've seen here at SwiftERM, and on the other research out there, the takeaway is this: If you're getting an open rate between 20% and 40%, you're at least around average. But an Open Rate is just that, the amount of emails that are getting opened from your campaign. It means absolutely nothing, if your CTR is dire, or worse still if the consequence of all these things it delivers poor basket size and indeed ultimately poor sales. However we appreciate it is a generalised benchmark – of something!
Very few databases of reasonable size are getting much above 50% open rates from standard email campaigns. But before email marketers rush around patting themselves on the back, your list may have some specific factors that give you higher rates. If so, well done! However, don't expect to be getting 80% open rates. At least, not from your general audience.

How can I increase my open rate?
You can make changes to a handful of different variables to drive higher open rates. Here are a few steps you can go through to test your campaigns.
Step 1: improve your subject lines.
The number one way to improve your open rates is to enhance your subject line. This, along with your header text and sender name, is the first thing your recipient will see before deciding to open your email.
Try including the most interesting piece of your email's content right in the subject line. If it's eye-catching enough, it might inspire someone to open the email and read on.
There are other tactics to try out, like testing between longer and shorter subject lines, questions versus statements, etc., which we'll touch on below. Test out whatever you can brainstorm to make your subject lines inspire more opens.
Step 2: test, test, test.
It's so easy to test elements of your email. Utilise your email service provider's A/B testing features to try out different approaches. Or try out an idea with one campaign, then send a similar type of email with a changed variable after a few days or weeks and measure the difference in engagement.
Not sure what to test? Try out these ideas to improve open rates:
Subject line length
Subject line tone
Subject line content
Preheader text
Sender name (e.g., company name vs. CEO's name)
Sender email (e.g., [email protected] vs. [email protected])
Send day
Send time
Send cadence (e.g., daily vs. weekly)
Step 3: optimise for previews.
There are two big factors here. First, most inboxes show preheader text next to or below the subject line. This was originally implemented to let you see what the first line of the email is, helping you decide whether you should open it or not. With many email service providers (ESP), you can change the preheader text to influence what the reader sees about your content before they open.
Here's an example of preheader text.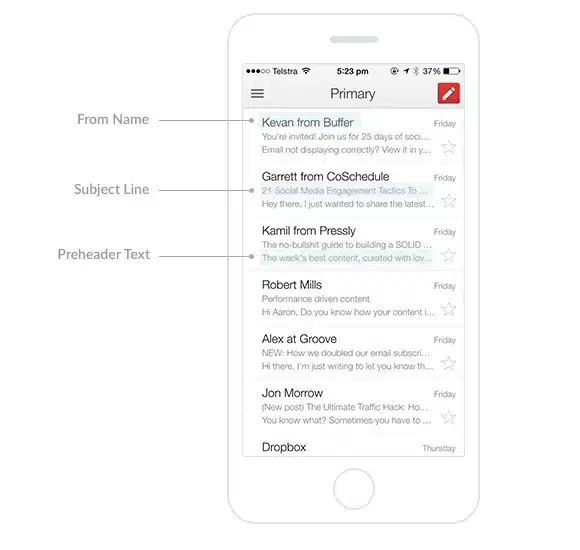 Other ESPs show entire email previews in the inbox. Use this to your advantage by putting the exciting content at the beginning. A preview will show the good stuff, inspiring your recipient to open the email, where they'll hopefully look through the remaining body, or click through to that piece of content.
Step 4: deliver relevant content.
Still looking to improve your open rate? After you've optimised all the face-value elements of your campaigns, the remaining contributor to low open rates is relevancy. Pure and simple, your audience wants to see things they're interested in, personal to them. Opening even just a few irrelevant or trivial emails from a company can make a recipient lose interest. And it's exponentially harder to inspire an email open from someone disinterested in your content.
To address this issue (in the case that you're ready to ramp up your content relevancy), it might be time to send a re-engagement campaign. Once you can hook parts of your audience back into the fold, it's time to go through the first three steps again, continuing to improve your open rates.
SwiftERM personalisation SaaS employ all these principals to achieve the greatest open rate possible for our clients. We appreciate that open rates are not as important as the sales potential being maximised. The stylesheet layout adopted is the culmination of over 10 years, and billions if not trillions, of emails delivered, having tested, tested, tested to the nth degree.
It is a big-data solution, and being 100% automatic, means never needing to incur the cost of employing anyone to work on it, and therefore maximising GP. It is perpetually updated for every individual visiting your site, opening or clicking on an email. We partner many ESPs and work to complement their promotional and marketing emails, taking advantage of their UTM data, so you can reliably adopt it's functionality immediately to maximise your return, while continuing to improve your own campaigns.
The critical element here is individual personalisation. By only ever showing each individual consumer, products specifically selected and relevant for them, using a predictive personalisation algorithm, maximises basket size, generates the highest CTR and reduces ROR .
SwiftERM is a Microsoft Partner Company: MPN ID 6197468