Agility a fashion supply chain dilemma. Global industry experts explore the key trends shaping consumer preferences that drive fashion and luxury, using timely insights to stay one step ahead of the latest innovations and business strategies
The pandemic continues to create uncertainty through new variants and multiple waves, thereby disrupting the global supply chain of fashion retailers over the last two years. Fashion retailers must now shift focus and bring permanent changes to their supply chain strategies to build resilience, avoid inventory pile-up and streamline operations.
Challenges in the supply chain triggered by COVID-19
Reliance on Asian countries
In 2020, the COVID-19 pandemic triggered lockdowns and mobility restrictions at various times around the world, which led to a halt of production and sales activities of discretionary products, including apparel and footwear. Fashion retailers were forced to cease operations and were left with large unliquidated inventory. This sudden disruption exposed the cracks in the global supply chain which were built by prioritising the cost model. Pre-pandemic, apparel companies focused on profitability for which they relied heavily on low-cost Asian countries in terms of outsourcing their manufacturing.
However, these countries were severely affected by COVID-19 during the first wave, forcing some factories to close or to operate at lower capacity due to staff sickness and social distancing measures, while international borders were closed for trade with these markets, resulting in supply shortages. This production model, which focused solely/mostly on cost advantages was heavily penalised due to its low adaptive attribute during the pandemic.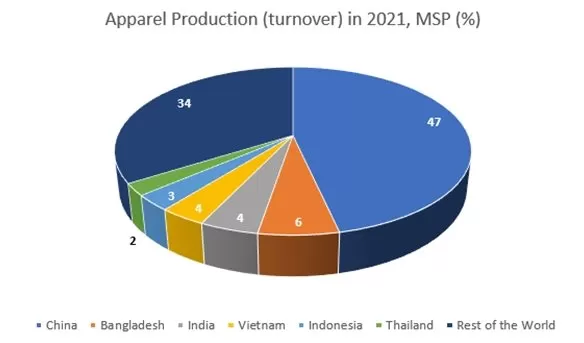 Source: Euromonitor International Passport Industrial Edition 2021
Complex supply chains impair fashion retailers' ability to forecast demand
Forecasting inventory has always been amongst the greatest challenges for fashion retailers due to fast changing trends. The challenge grew exponentially during the pandemic when consumer demand for apparel became even more unpredictable and retail restrictions added to the challenge. When countries first announced lockdowns, consumers reduced their discretionary spending, while fashion players had to quickly find a way to strengthen their online operations as sales through physical stores could no longer take place.
After lockdowns ended, footfall remained substantially lower compared to pre-pandemic levels because some form of restrictions remained in place, some consumers remained reluctant to go shopping, and most of them had become used to the ease and convenience of e-commerce and continued to spend time at home.
Home seclusion during the pandemic also led to a sudden surge in demand for comfort wear options such as pyjamas and t-shirts as opposed to restrictive denim jeans and shirts, which were in demand pre-pandemic, and hence remained in stock.
All these factors combined resulted in large unsold inventory, a discounting dilemma and an unpredictable demand scenario. As Omicron and Delta remind us that uncertainty around new variants can trigger different sets of restrictions and measures around the world, fashion players are now rethinking their inventory management strategies, and their entire supply chains to be more resilient in the face of constant change.
Need of the hour: How are retailers managing supply chain challenges?
A Euromonitor lifestyles survey confirmed that new technology and cost reduction remain key priorities for fashion professionals, highlighting the need for agility and flexibility in current manufacturing and inventory models which supersede cost benefits as the sole attribute.
This can be achieved through different approaches such as demand-driven inventory models and the creation of localised and regional manufacturing hubs, which will offer companies strategic advantages and allow them to avoid long-term impact on profitability.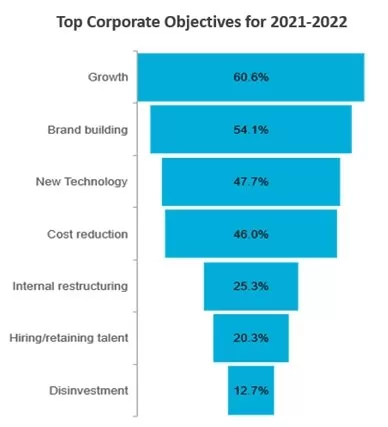 Source: Euromonitor International Voice of the Industry
Moving from large volumes to demand-driven smaller orders
Euromonitor's Voice of industry Survey showed that 40.4% respondents suggest that "Investment in automation and new supply chain technologies" is a key measure to prevent similar future risks. In accordance, and to avoid over exposure of inventory, retailers are shifting their focus towards the Vendor Managed Inventory (VMI) model.
This inventory management technique aims to increase collaboration between vendors and retailers, whereby vendors gain real-time access to the inventory and point-of-sales data of a fashion retailer. This data is leveraged by the vendor who then focuses on a flexible production schedule depending on the inventory available with the retailer. This means that fashion retailers minimise time spent supervising which stock needs replenishment due to real-time data available with the vendor.
The result is that retailers can adjust inventory in line with demand, reducing instances of inventory pile-up. The VMI model harbours a deeper vendor-retailer relationship, from sole supplier to key stakeholder in the forecasting process. Indian fashion company "Page Industries" is one such retailer that has adopted this model following the outbreak of the pandemic to forecast demand.Gaining agility through vendor proximity
As fashion retailers aim to be more flexible and refresh their stock more quickly in reaction to the weather and the trending demand, the development of localised or regional supply hubs are increasingly considered to help achieve this. Initiatives such as localised supply hubs help reduce dependency on a single manufacturing zone, allowing diversification of risk, reducing shipment costs and allowing for shorter lead times from the production lines to the shelves.
A key example is offered by Turkey, which post-pandemic, has gained a stronger foothold over suppliers of apparel in Europe. Global fashion labels such as Ralph Lauren, Banana Republic and PVH's Tommy Hilfiger and Calvin Klein, have shifted part of their production activities to Turkey due to its proximity to European markets and the country's manufacturing abilities offering fashion retailers a strategic advantage.
Other players can take cues from these shifts in production activities as many major fashion retailers are known to depend on fewer production facilities to meet global demand. As per Euromonitor's Voice of Industry Survey, 36.5% of respondents suggest that "Investment in localised production" is a key measure to prevent similar future risks (such as COVID-19).
Banking on on-demand manufacturing and virtual garments
Some manufacturers are going one step further in taking back control of their supply chain by trialling on-demand manufacturing such as Xunxi by Alibaba or Amazon Made for You in the US, which only start producing the garments once the order has been placed and paid for. Such on-demand manufacturing systems not only allow greater personalisation, but they also address overproduction and inventory issues. It is essential adopt best practises for your supply chain. If they can be scaled up in the future, they could also help address the fashion industry's waste problem, which was highlighted and worsened by the pandemic and has come to the fore in consumers' minds.
The survey also showed that 15% of global consumers stated that they would purchase apparel and footwear products that are sustainably produced, with this being amongst the key attributes that they seek when making a purchasing decision.
Last but not least, there has been the rapid proliferation of fashion NFTs and virtual garments by fashion players from Adidas x Animal Crossing to Gucci Virtual 25 sneakers, or Zara x Ader Error or Nike launching its Nikeland in Roblox. As consumers' lives move further towards their home and online post-pandemic, fashion players aim to remain relevant by developing products which are perfectly suited to gaming and social media, whilst enabling brands to bypass traditional physical supply chains and generate a new revenue stream.
Conclusion
Historically, profitability has had the better of agility, flexibility and resilience in terms of supply chain within the fashion industry. However, as COVID-19 significantly changed consumers' lifestyles and priorities, fashion players must rethink their supply chains to develop greater resilience and adaptability as uncertainty prevails. In this context, investments by fashion players in digitalising and streamlining their supply chains will continue to soar as flexible operating models have become critical to survive and thrive in a post-pandemic era.