Mounting digital marketing costs and ecommerce readjustments have put the viability of pure direct-to-consumer business models into question. The State of Fashion 2023 reveals that most brands will need to diversify their channel mix beyond DTC to generate growth.
Ecommerce grew at an unprecedented rate during the pandemic, but the days of heady growth now appear short-lived. After online purchases surged 30 percent year on year in 2020 in the US and Europe, a new reality is settling in.
Between 2022 and 2025, ecommerce is expected to grow at a compound annual rate of 10 percent in the US and 11 percent in Europe — much closer to pre-pandemic levels seen between 2016 and 2019, where ecommerce grew 14 percent in the US and 15 percent in Europe. In China, online retail sales have grown less than 10 percent since the end of 2021, after having risen more than 16 percent year on year in 2019.
Regardless of the extent to which fashion brands have built their businesses around selling direct to consumers online, the deceleration of ecommerce growth requires a careful recalibration of channel strategies. Pure-play DTC brands themselves may offer lessons for others about how to manage the change ahead.
DTC fashion ecommerce darlings
When a new generation of DTC labels arrived online over the last decade, the fashion industry was ripe for innovation. These DTC start-ups, backed by millions of dollars of venture capital, captivated consumers with an alluring premise.
By avoiding third-party retailers, they posited that they could break free of traditional merchandising constraints to offer more innovative products, wider assortments and higher levels of customer service than other brands. To get the word out about their products and services, they benefited from earlier waves of low-cost, highly accurate targeting in digital marketing.
"DTC" soon became the buzzy acronym in the industry, as digital-first brands across categories scaled fast. Canadian jeweller Mejuri, Brazilian brand Farm Rio, French contemporary label Sézane and Chinese beauty brand Perfect Diary are among the companies that soared in popularity with consumers.
The DTC model was further validated when the pandemic hit and most physical retailers were forced to shut, either temporarily or permanently. Department stores that were already under financial pressure, like Debenhams in the UK, filed for bankruptcy.
Meanwhile, established global brands, such as Prada and a number of sportswear players, had been shifting their focus towards DTC channels, in a strategic move to gain first-party customer data amid increased ecommerce adoption and ongoing challenges to wholesale channels.
But in 2022, cracks appeared in the digital pure-play model. As DTC brands began going public, their stock prices began to suffer. The share prices of 10 apparel DTC brands fell by around 70 percent in the first three quarters of 2022, compared with the MSCI World Consumer Discretionary Goods Index's decline of 32 percent over the same period.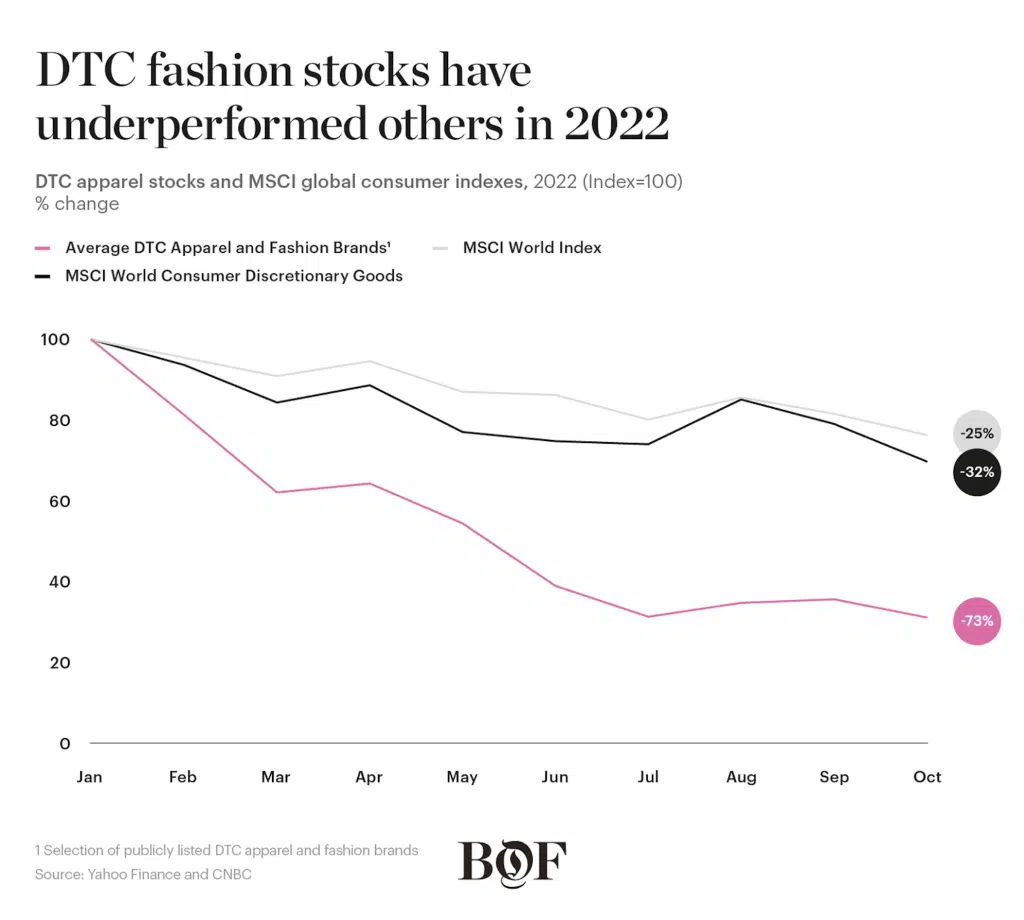 For many digitally focused brands, profitability has proved elusive. A structural challenge that many of these brands face is their narrow assortments: Brands like Warby Parker and Allbirds have been looking for ways to expand their offerings in a bid to generate repeat purchases for limited assortments.
Another major, and growing, challenge is the rising costs of digital marketing as social media platforms become more crowded and competitive and new privacy regulations restrict customer targeting across digital channels.
Ecommerce brands are also contending with high, margin-eroding return rates. Retailers are paying between $21 and $46 per returned product on average when taking shipping, processing and other costs into account. In the US, return rates across all sales channels increased to 16.6 percent in 2021 from 10.6 percent the year before, with the average return rate for online orders even higher at 20.8 percent. US multi-brand online retailer Revolve reported a 54 percent return rate in the first quarter of 2022, while Boohoo's UK return rate hit 33.7 percent in April, up nearly 10 percentage points from the prior year.
The Evolving Role of Physical Retail
Though brick-and-mortar chains were pushed to reduce their footprints or shutter completely as much of the fashion's industry investment went online in recent years, the contraction in physical retail looks to be stabilising. In 2022, US store openings outpaced closures for the first time in at least three years. Though retail foot traffic remains between 10 percent to 20 percent lower than in 2019, the productivity of stores has risen: in the US, sales per square foot increased 13 percent year on year in 2021.
A range of digital-first brands have invested in opening their own physical stores, finding it difficult to generate a profit through online DTC channels alone. Everlane opened its first permanent physical store in 2017 and now operates 10 stores across the US, despite its founder famously claiming in 2012 he would "shut the company down" before opening a physical store. Allbirds operates 54 stores globally as of September 2022, while Warby Parker has announced plans to expand its footprint to 900 stores.
Brands exploring brick-and-mortar may find that rents are more favourable in many key urban markets than they were before the pandemic. Leases in shopping centres and high streets in the UK have declined between 20 percent and 30 percent compared to 2019 levels. In the US, store vacancy rates in 2022 exceeded 2019 levels.
Landlords have become more favourable retail partners by offering special terms such as rent escalation, in which the brand pays a low rate at the start of its lease followed by increases over time in accordance with performance, thereby sharing the risk of opening a new store with the landlord. Menswear brand Drake's has benefitted from such terms at its New York location, so that if the brand performs well, it pays more to the landlord in rent.
At the same time, the role of brick-and-mortar is evolving. To generate higher revenue, stores should be digitally enabled and fit seamlessly into the overall physical-digital multichannel strategy. Strategies like integrating mobile apps to optimise in-store experiences for customers can drive greater sales in each store, while Radio-Frequency Identification (RFID) product tags allow brands to track and maintain appropriate inventory levels.
With one store already in Los Angeles, Amazon Fashion opened its second physical store in Colombus, Ohio, in October 2022 with a range of technologies, including enabling customers to scan QR codes with the company's shopping app and add products to a fitting room.
Stores also provide marketing value, enabling brands to bring their aesthetics to life, like Balenciaga's fake fur-lined pop-up for the launch of its Le Cagole bag in central London, or Uniqlo's flagship store — also in the UK capital — that showcases the restored art-deco design of a 1920s barber shop that previously occupied the space. Others offer spaces exclusively to top-tier customers, such as Chanel's plan to open boutiques that will only be available to top-spending clients, starting in key cities in Asia.
"The retail store is the last point where you actually can solidify the connection that you have already built through wholesale and through DTC [online]," said Andrea Baldo, chief executive of Ganni, which has expanded from digital channels and wholesale partnerships to mono-brand stores.
The Benefits of Partners
Much in the same way that brands (and their landlords) are rethinking physical stores, department stores are shifting their approach to partnerships with the brands. This can create opportunities for brands even if department stores are continuing to face their own challenges around inventory and foot traffic, and have historically required that the brands they carry agree to less advantageous terms around delivery schedules and discounting.
"Before, the retailers were dictating terms; now, it's a collaboration, a partnership between brands and retailers," said Domi Szabó, group wholesale director at European fashion holding company Vanguards.
Carefully selected partnerships with high-quality wholesalers and multi-brand retailers can generate value for brands. DTC unicorn Glossier, for example, announced its first wholesale deal for its makeup and skin care with Sephora in 2022, significantly expanding the brand's distribution. In 2022, analysts credited sportswear brand Puma's 20 percent sales increase in the first quarter of 2022 to a newly expanded wholesale strategy.
Increasingly, department stores and boutiques are willing partners on special retail installations, which can benefit both retailer and brand. Such tie-ups can help multi-brand stores attract new customers and allow brands to understand where and how to open their own physical stores. French designer label Jacquemus, for example, opened high-concept, surrealist pop-ups at UK department store Selfridges in spring 2022 before experimenting with its own temporary sites in other cities in the months that followed.
Multichannel Playbook
Even as ecommerce is losing its pandemic-era allure, brands are exploring ways to reach new customers online outside of social media and their own websites. In China, where platforms like Tmall, Taobao and JD.com are well established, third-party marketplaces account for as much as 80 percent of luxury ecommerce spending.
Beyond China, many brands are considering new or expanded partnerships with marketplaces like Zalando and Farfetch, which offer access to large customer groups and can allow brands to control their own shipping and logistics. In the US, brick-and-mortar retailers such as Macy's and Walmart have launched their own marketplaces to compete online.
At this juncture, only a handful of companies with the highest levels of brand loyalty — such as Chanel or Nike — or sheer scale— like Zara, H&M and Uniqlo — have shown that they can drive growth through a DTC-first model.
With this, the playbook for physical stores and wholesale has evolved. Today's customers expect brands and retailers to interweave digital conveniences with physical services, like the ability to pick up or return online orders in stores. As such, a physical presence is increasingly critical for scaling, and innovative store formats are essential.
To be sure, direct digital channels will remain a fundamental part of a multichannel mix in the years to come — especially for brands' repeat customers. But direct sales can be complemented by a diverse channel strategy that attracts new customers and provides a strong foundation for growth.
This article first appeared in The State of Fashion 2023, an in-depth report on the global fashion industry, co-published by BoF and McKinsey & Company.