You'd be forgiven for thinking a year ago that 2023 would be a time to relax, recover and re‑energise. Nope, instead 2022 brought a ground war in Europe, sky‑high inflation, rocketing fuel prices, rapidly rising operation costs, labour shortages, supply chain disruptions and a cost of living crisis.
But, the future of ecommerce is now. We bring you this State of Commerce report from our network of thousands of merchants, partners and proprietary consumer sentiment survey.
The scramble to accommodate pandemic-inspired consumer expectations and habits is over. Now is the time for merchants to build sustainable systems and marketplace strategies for an emerging era of ecommerce left in the pandemic's wake. 
This new chapter comes at a time when customer acquisition and fulfillment costs are on the rise, inflation is climbing, supply chains are in disarray and ecommerce has become a much bigger piece of the retail pie.
Based on insights from our network of thousands of merchants, partners and a proprietary consumer sentiment survey, we're here to shed light on several emerging ecommerce trends to help your business succeed in a post‑pandemic economy.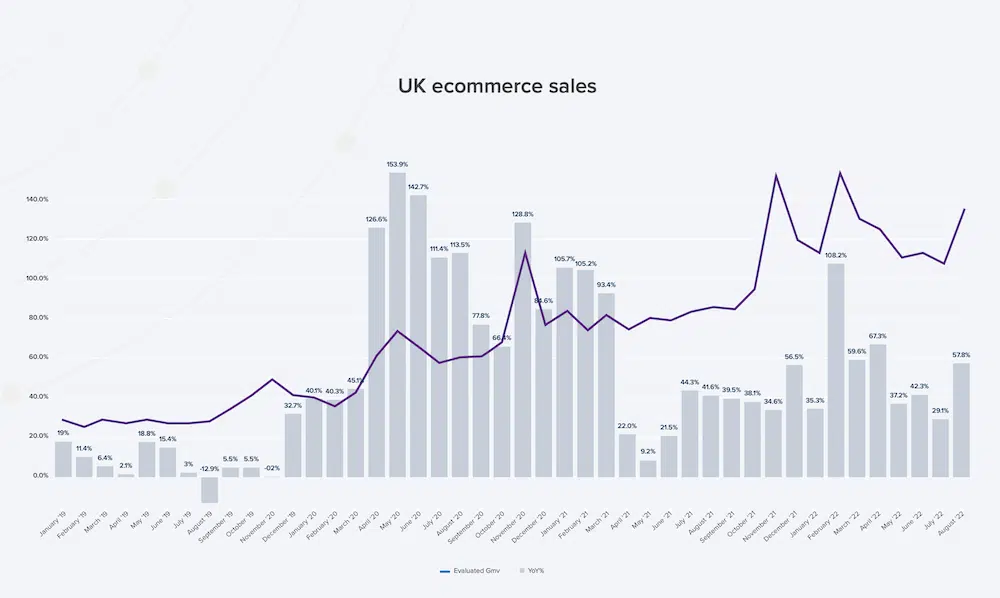 The transformation of online payments
Payments have been center stage in the UK and European Union for years as PSD2 (Payment Services Directive 2) and its strong customer authentication (SCA) requirements were on again, off again, on again, delayed and finally enforced. Today the new payment requirements, meant to make online commerce more secure for consumers, are the regulation of the land across the European Economic Area.
Payments are undergoing a rapid and dramatic transformation. Consumers look to pay in different ways for different purchases and leave retail sites disappointed when their payment method of choice isn't available.
In fact, Europe is leading the world in BNPL, according to FIS Worldpay. 8% of ecommerce sales in Europe rely on the instant-loan option, more than twice any other region, according to the FIS Worldpay Global Payments Report.
CONSUMERS SEE RETURNS AS A PART OF THE SHOPPING PROCESS
Ecommerce in Europe, like the rest of the world, is experiencing a returns reckoning. COVID‑19 lockdowns pushed more consumers online more often. Consumers have grown more comfortable with returns, they now see returns as a part of the shopping process.
We can't deny that consumers have returned to in-store shopping, but ecommerce sales result in returns far more often than in-store purchases, which allow for close inspection of a customer's desired item. Meanwhile, returns of a more sinister variety also increased.
The surge in returns has retailers like Zara and Boohoo adding return fees for online returns. Asos is warning investors that returns spurred by inflation are eating into annual profits — which will come in anywhere from at £50 to £120 billion lower than earlier projected.
But beware, with more returns, a darker side emerges. Some will claim an item that arrived, never arrived. Or that what did arrive was not the item described on the website or was damaged on the way. Looking at a relevant subset of Signifyd data shows a 35% increase this year in false claims that an item never arrived. False claims about the condition of a product were up 68% in the region.
International expansion opens new markets
Whatever the current economic headwinds, global ecommerce is in for substantial growth in the years ahead. eMarketer says the worldwide opportunity for digital commerce will reach $6.17 trillion by next year. Online sales have continued their robust growth — up 33% year over year in 2021 — even as shoppers return to stores in larger numbers, if not at quite pre‑pandemic numbers.
One significant part of this growth is the increase in cross-border sales — up 45% this year compared to pre-pandemic figures, Signifyd data shows. As a growth opportunity, ecommerce presents a unique retail opportunity. Just as online consumers can buy from nearly anywhere in the world while nearly anywhere in the world, online merchants can set up shop nearly anywhere from wherever they are.
CROSS-BORDER PURCHASES AREN'T FOREIGN TO EUROPEAN CONSUMERS
Online shoppers in the UK, France and Italy have demonstrated that they will buy from merchants outside their home countries. In fact, 87% of UK consumers say they shop cross-border, while 90% of consumers in EU members France and Italy say they shop cross-border. Between 1/5 and just over 1/4 of shoppers surveyed make more than 30% of their online purchases cross-border.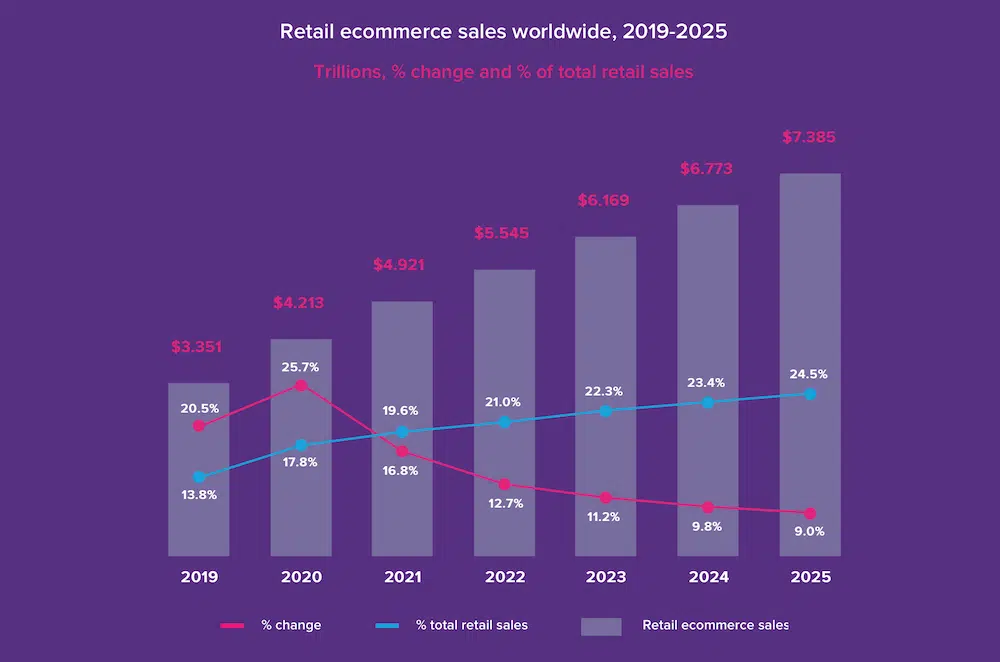 European consumers are cutting back on spending — shifting to bargain brands, trying lower-priced stores and worrying about high prices, according to a recent McKinsey & Company report. As of the summer, in fact, inflation was the region's No. 1 worry for those living in Europe's largest economies, considerably outpacing the war in Ukraine.
Nearly 60% of Europeans say their country's economy is in bad shape and more Europeans (36%) expressed doubts in June about a successful economic recovery than did at the height of the pandemic, McKinsey said.
SCA's new payment path is one bumpy road
The new SCA landscape has piled disruption on top of disruption for UK and European Union merchants. Getting SCA right by turning to intelligent solutions for maximum efficiency and protection from malicious actors transforms SCA into a competitive advantage.
In those cases, SCA was bad news for consumers. It was also bad news for merchants — and not just in that case. It turns out a frustrating experience can turn a consumer against a merchant for good. In Italy, France and the UK, 56%, 46% and 33% of consumers respectively said two or fewer bad online checkout experience would cost a merchant their business for good.
Merchants need to adjust to the new reality
The growing economic uncertainty and rapidly changing consumer preferences mean merchants need to be relentless in finding ways to leave no revenue behind. The answer comes down to giving consumers what they want. Hardly new advice, but advice that takes on new meaning in the current state of affairs.
Data paves the way to a friction-free checkout experience
Merchants who are successfully navigating the new era of payments are turning to data. Not just more data, but better use of the data that is available. They've dismantled data silos that existed along the payment chain, from authorisation, through the Candy-Land-like path of acquirers, processors, issuers and merchants to unleash tons of data and open a clear line of sight from beginning to end of the payment process. More importantly, they understand that payments can unlock revenue that has been left behind historically.
"Payments is kind of like a utility," says Nicole Jass, senior vice president, growth solution product at FIS said, introducing Guaranteed Payments at Signifyd's FLOW Summit. "By leveraging payments, we actually have a ton of data that can help our customers create higher approval rates, drive more loyalty and help them understand who their best customers are.
An analysis by technology research firm 451 Research found that merchants who considered payments to be a highly strategic area of their business saw their sales increase at a considerably higher rate than others during the pandemic. More than half of those (55%) in 451's study who agreed that payments were highly strategic saw their sales increase. Only 25% who said payments were somewhat or not-at-all strategic experienced a rise in revenue.
"As the digital economy accelerates, the impact of payment technology is being felt across the business," 451 analyst Jordan McKee concluded. "Merchants that had scalable payments infrastructure, accepted a diverse mix of payment methods, and put automated fraud-prevention processes in place weathered the storm. Many even thrived.
At the heart of the transformation was data — data derived from a vast network of billions of transactions that allow merchants to determine the identity and intent behind each order.
Personalisation critical to ecommerce success
The easiest and simplest way for ecommerce retailers to introduce personalisation into their marketing is through predictive personalisation software (PPS), requires zero staff to run it, yet it can run alongside all other marketing software including ESP.
It's widely appreciated that personalising product selection for each consumer encourages an enormous level of additional income. Their loyalty delivers a hike in basket size (AOV), immediately, which converts as they now stay with you because you're showing them what they want, into customer lifetime value (CLV). What is less appreciate is how much more powerful it is over automatic solutions, which still need some degree of human input., while PPS is completely autonomous.

Behind the scenes there are other PPS benefits. The rate of return (RoR) falls enormously, as it's what they want rather than impulsive, or the wrong size, colour, fabric, cut, style etc. A machine learning algorithm doesn't get the product selection wrong. It's unique and personal to each individual consumer!
PPS achieves the highest ROI in ecommerce marketing according to Forrester, McKinsey, Bain and Statista. Advanced email marketers using PPS know it will be presenting the exact image of each product with the highest buying propensity for that individual and unique customer, at precisely the right moment.
The great returns reckoning
Ecommerce in Europe, like the rest of the world, is experiencing a returns reckoning. COVID lockdowns pushed more consumers online more often. Even as consumers return to routine in-store shopping, ecommerce accounts for a significantly larger share of retail sales than it did in pre-pandemic days. In large markets, the UK for instance, ecommerce makes up 26.3% of retail sales — up from less than 20% pre-pandemic, according to the region's Office of National Statistics.
The big shift in shopping habits brought with it a big rise in online returns. Ecommerce sales result in returns far more often than in-store purchases, which allow for close inspection of a customer's desired item. Meanwhile, returns of a more sinister variety also increased.
A review of return rates by category also shows a relatively typical split, with womenswear seeing a returns rate of 23%. Footwear was the next highest at 20%. Health & Beauty looks like an outlier here with a returns rate of only 4% however, we should remember that there are restrictions on what products can be returned in this sector.
Whilst the figures represented here represent multichannel and pureplay combined product categories, they reflect the trend across digital sales.
What does the future hold for commerce?
Retail and online commerce are constantly evolving. In the new era of ecommerce, the
rate of change is accelerating. While a savvy consumer class with high expectations presents challenges for those who serve them, it also presents an opportunity.
As we look forward to 2023, it's clearer than ever that retailers who embrace speed, agility and an innovative approach to growing their businesses and building customer experiences will seize the opportunity that rapid transformation provides.
SwiftERM is a Microsoft Solution partner. For immediate installation of PPS software, follow this link.