Wine and spirits thrive online. The wine and spirits industry was hard hit by on-trade closures, but ecommerce came to its rescue. Now brands are determined to keep these new retail converts onside as bars and restaurants open up again. The pandemic has done little to dampen consumers' thirst; indeed, the category's retail sales have soared.
When the on‐trade was ordered to close, 'home entainment' became the dominant mode of consuming alcohol, with fewer options to socialise and travel, consumers were looking to treat themselves with affordable luxuries, and switch off from home working. This allowed the retail environment for wines and spirits to thrive.
According to Kantar's latest data set, growth has continued and Off‐trade spirits sales grew by almost 30% between the end of December and the start of November, outperforming wine and cider, but marginally tailing beer and RTDs. However, wines and spirits sales grew, attracting 1.1 million shoppers.
For many years, wine has had the lion's share of BWS in the grocery channel. This remains the case, but over the course of the pandemic, some of wine's value has transferred into spirits and beer. Kantar figures put wine's BWS market share at 36%, but this has declined by 1.4 percentage points since the end of 2019. At the same time, spirits' share has grown by 0.7 percentage points to 30%, and beer's share has increased by 0.9 percentage points to 19.3%.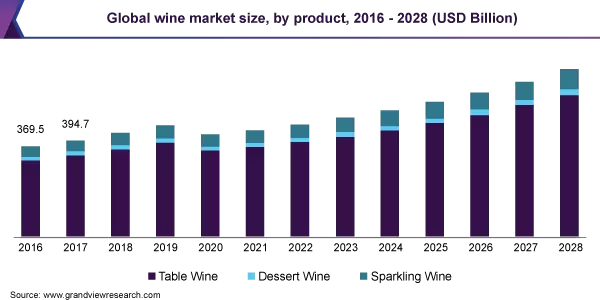 Wine sales on the rise
Dawn Davies, head buyer at The Whisky Exchange, notes the company's growth has continued through the second half of 2021, albeit at a slower rate compared with earlier in the pandemic. In particular, The Whisky Exchange has experienced a "huge increase in wine sales", and, as such, has doubled the size of its wine range.
"The consumer has become more informed and more discerning; they are less brand‐led and more willing to experiment," says Davies.
"For a buyer like me this is music to my ears as it allows me to diversify the range and bring new and exciting brands to the market. Wine has become more important to us as the customer who wants good spirits will also want good wine, so why not talk to them about both? This is potentially a really exciting time for us as we have more scope to play with."
Both pure‐play e‐commerce platforms and omni-channel retailers are aiming to further evolve the digital sphere by creating more interactive and informative spaces for spirits consumers to search, learn and, ultimately, buy. "The thing bricks and mortar has always had over e‐commerce is experience and personality," says Davies. "As a company we will continue to drive that experience and content online as it is vital to the future of those that will be the leaders in e‐commerce."
Waitrose's John Vine claims the supermarket's webinar events have continued to gain momentum despite the lifting of lockdown restrictions. Going forward, the retailer will be "looking at how we can evolve the online platform, how we can have more editorial and creative content", says Vine.
"It's becoming more of an educational piece rather than just somewhere you can go and buy a bottle of whisky."
In the shorter term, there are more immediate pressures for retailers to weather. Davies describes the many logistical challenges arising from both the pandemic and Brexit as a "nightmare" for retailers. "We have seen price rises across the board – from the costs to import due to taxes, lack of transport, to the cost of goods and of course increases due to lack of staffing out there," she adds.
"The government needs to start doing something fast. We need support as it is not going to get better quickly. I predict there will be big price increases over the next year or so as it is not looking like it will get easier."
James Hayman, co‐owner of London gin Hayman's, also highlights supply‐chain challenges and "unprecedented" price increases. "The supply chain issues and subsequent cost increases, as well as labour shortages across the board, are as challenging, if not more challenging, than the original lockdown," he says.
At Pernod Ricard UK, heightened consumer demand, disrupted international sea freight, port congestion, shortages of raw materials, and a lack of delivery drivers are unsurprisingly causing logistical challenges. "The environment will remain challenging for the foreseeable future, and we have already taken several actions to adapt our logistics capacity, such as scaling up production, alternative sourcing, and better agility and communication," says Peart.
The recent duty freeze on spirits was therefore welcome news for both suppliers and retailers, though there is some uncertainty in the trade over the government's plans to overhaul the duty system for alcohol. Simplification is needed, they say, but there is a risk the current proposals will put higher strength product at a competitive disadvantage.
The market has a broadly positive outlook thanks to beneficial changes to shopper behaviour arising from the pandemic that are set to last in the longer term. There will be, however, near‐term choppy waters for retailers and suppliers to navigate, with inflation and supply challenges muddying an otherwise rosy picture.