Subscription – marketing tactics revealed
At times of financial discomfort, subscriptions and memberships can seem like easy and obvious targets to cut back on. But when subscription models have recently triggered such a significant and likely irreversible shift in how we shop for beauty, but does it offer decent value for money. No one needs a beauty subscription but for many, they are a way of enjoying cosmetics while saving on products
The most popular is Beauty Pie, and with good reason. A subscriber, pays £59 a year for access to what is in effect a "buyers' club", selling high quality haircare, makeup, skincare and fragrance made by many of the same formulators and manufacturers as luxury brands, only direct to consumer, at a more affordable "members' price". Another is Superluminous.

But the true value correlates directly with a member's shopping habits – consumers that shop lots for beauty and don't mind sticking mostly to one brand, love it.
Regular-use toiletries subscriptions are a safer bet, since you know you'll always get the use out of, say, Razorblades. Flamingo (from £5.95, and sister brand to Harry's) kicks things off with a starter razor, then sends fresh, great quality blades as frequently as you get through them. They're handy and less expensive than comparable blades. Similar schemes exist for refillable deodorant.
The most frivolous but value for money subscription comes from Liberty. The department store's Beauty Drop is a fantastic deal for hardcore beauty fans, since subscribers don't technically spend a penny for membership. the price is a £20 a month subscription into a beauty savings account, and in exchange shoppers enjoy four free Beauty Discovery boxes a year (imagine the sorts of items you find in a luxury beauty advent calendar).

Each allegedly worth more than £300, plus member benefits like free postage and loyalty points. Your £20 sub sits in your account, untouched until you decide to spend it online or in-store, on any beauty you like (Bobbi Brown's wildly successful Jones Road line is exclusive to Liberty).
It's a no-brainer for those who'd already be buying a handful of luxury beauty bits during the year.
Personalised of beauty product selection is now critical
Far from being a nice-to-have bonus, personalisation has become ingrained in customer expectations. According to McKinsey & Company, 71% of consumers expect companies to deliver personalised interactions and 76% get frustrated when this doesn't happen.
Mckinsey's study also found that personalisation fuels performance and better customer outcomes. Companies that grow faster drive 40% more of their revenue from personalisation than their slower-growing counterparts.
In beauty, personalisation can boost conversions too––consumers who get personalised recommendations are 75% more likely to make a purchase.
Beauty brands that don't deliver tailored experiences to individuals risk leaving money on the table and losing out on customers.
According to a recent Optimizely survey, 63% of consumers are more likely to do holiday shopping with brands that customise the experience to their needs.
Increasingly customers demand that brands understand and anticipate their needs––88% of shoppers feel the experience a brand provides is just as important as its product.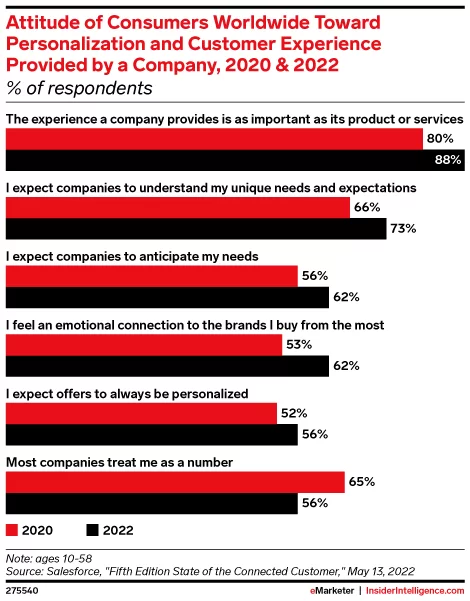 So how can ecommerce beauty brands tap into consumer preferences for personalisation in 2023 and beyond?
Beauty brand Sephora has nailed personalisation, thanks to its approach to customer experience.
For the fifth year in a row, with a score of 65 out of a possible 80, Sephora claimed the top spot in Sailthru's Retail Personalisation Index.
Sephora's mobile app is one of the best retail apps out there. The brand's in-app messaging is personalized to match user profiles, which include options like hair and skin type.
Its high-touch loyalty program is well-organized across all channels too. Everything from customer answers to quizzes and regular buying habits are all stored and used to personalize interactions.
Every interaction on each of Sephora's different platforms displays the customer's loyalty points. Store associates can also see a customer's profile in-store and track recent purchases and items that were sampled, making it easier to find and buy them either in-store or online.
Necessary inclusion of predictive personalisation in strategy
Beauty marketers are turning to predictive personalisation software (PPS) which autonomously tracks website and application activity perpetually. It is an autonomous personalisation system, that requires zero human input whatsoever, and it makes returns 20x greater in comparison to email marketing and omnichannel marketing combined according to McKinsey. It removes not only the cost of human involvement, but their errors and omissions too.
Dynamic content (the brands, skin tones, ingredients) becomes an integral element in all predictive personalised product selections for each consumer, which smashes ROI. Using dynamic content with personalised emails packs a powerful punch. For those researching PPS it is essential you choose autonomous software with zero human interaction involvement to achieve the greatest returns or you could spend time and money, wasted on an inferior solution.
Context should be always and perpetually relevant to the email recipient. Context is the future of email personalisation. Dynamic content has the ability to change or update with every action made by the consumer interacting with both your site and your emails. It includes not only these but price, time of day viewed, when purchased, those actions compared and in relation to previous purchases and the pattern made to deliver this purchase to you.
Multiple surveys say that using dynamic email content achieves the highest ROI – including Forrester, McKinsey, Bain and Statista. Advanced email marketers using PPS know it will be presenting the exact image of each product with the highest buying propensity for that individual and unique customer, at precisely the right moment. follow the link.

SwiftERM is a Microsoft Partner company. For immediate adoption of PPS software for your ecommerce store click here.