With everything else happening in the world this year, the heat-wave, the Ukrainian war etc it is no less important to keep an eye on what matters most to the vintner, the wine harvest, and none more so that the stalwart to wine ecommerce specifically the French wine harvest. So how is it doing, and what has it got in store for us?
It is fair to say that the longer-term damage of the oppressive heat is yet to be fully measured, but in previous years the maxim what is lost in moisture is made up for in ripening, usually applies. The result is less quantity but greater quality, we'll have to wait and see.
First estimates suggest the harvest will be between 13-21% larger than last year and more or less in line with the five year average.
Vintage was 29% down on the year before and 25% below the five year average. Last year did not make up for the shortfall; there's still going to be pressure on price, particularly for whites, and Pinot Noir where demand remains very high and there is no remaining stock.
Across many areas in France, it is a vintage marked by the early start to harvest, in some cases earlier or similar to 2003.
Most regions were spared severe frosts apart from vineyards in the South West and Charentes, which were badly affected with spring frosts.
Over the summer, there was a severe deficit of water, and very high temperatures that was a limiting factor on the juice in the berries, reducing yields.
Wine harvest report by region
Bordeaux
Hail and frost impacted nearly 10,000ha of vines in the spring months followed by extended periods of drought. Three leading AOPs – Péssac-Leognan, Pomerol and St Émilion – allowed irrigation for the first time until 15 August.
Château Figeac
A superb vintage
Despite the climatic challenges, this is promising an exceptional vintage. "There is only one word for 2022 at Château Figeac: unprecedented," reported Alexa Boulton, Commercial Manager at Château Figeac. "Even our cellarmaster since 1982, Jean Albino, has never seen such weather patterns leading to such a qualitative harvest. While vinification has just finished, tastings of the first lots already portend a superb vintage."
"We can attribute the resistance of the vines to several factors. First, the heat and drought arrived very early in the season, acclimatising the vegetation from an early stage rather than shocking it later in the season. Secondly, despite the high day-time temperatures, there was significant diurnal swing, with night-time temperatures falling by 20 degrees during the summer. Finally, Château Figeac's outstanding terroir played an important role, as our sub-soil of blue clay provided a constant source of water and coolness for the vines."
Château Lynch-Bages
An exceptional vintage
"In a nutshell, Pauillac saw an early vintage – two weeks ahead of time, compared to the past decade's average," said Pierre-Louis Arraud, Commercial Director at Château Lynch-Bages. "We had warm, sunny, and dry weather conditions from April to September. The result was small and very healthy berries, which achieved perfect maturity." Low yields have been reported, as well as exceptional phenolic richness, velvety tannins and a great acidity. "We expect the year to be an exceptional vintage."
Burgundy
Reasonable outlook for both Chardonnay and Pinot Noir, although reds affected by lack of water in particular, reducing volume. The last full harvest was 2018.
Beaujolais harvest is around 30% down due to some isolated hailstorms and very dry summer, which reduced yields particularly for Beaujolais and Beaujolais-Villages.
Rhône
An early year ahead by at least 10 days, particularly towards the south, where there was a lack of water, but very good sanitary conditions for the vines. Some pressure on volumes of whites due to lack of juice in the berries.
Yields are looking to sit a little above the five-year average for the region in general, but around 10% down for Châteauneuf-du-Pape, largely driven by drought.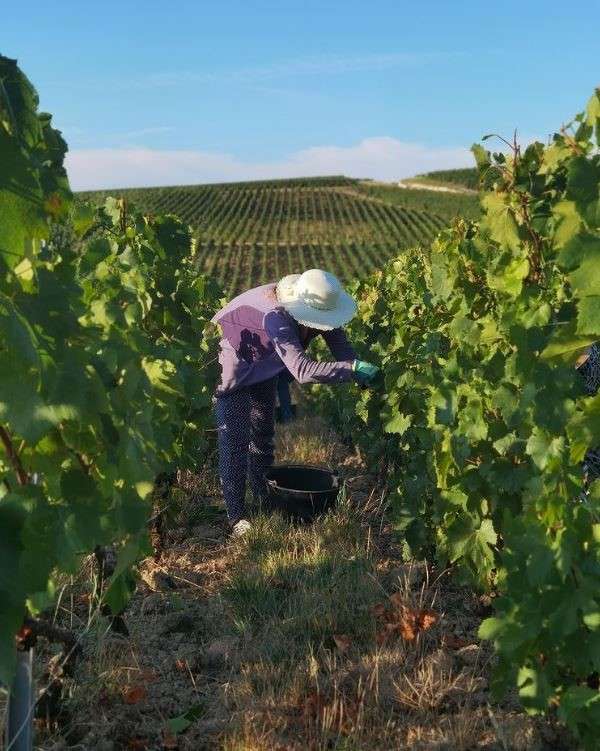 Jaboulet
A beautiful vintage in perspective, in a unique climatic context
"This year, the heat and the lack of rain have accelerated the beginning of this historically early harvest," says Caroline Frey. "Indeed, we started the harvest on August 11 with our Roussannes from Les Rocoules in Hermitage. After this particularly dry year, the few rains before and during the harvest were beneficial for the maturity of our grapes."
"On August 26, our Syrahs entered the winery. We harvested our Cornas village plot before continuing with our Hermitage. On August 30th, we climbed to the top of the Méal, a majestic hillside, giving birth to our Hermitage La Chapelle. An exceptional year in terms of drought and heat to finish with a harvest alternating good weather and rain without causing any sanitary problems. A beautiful vintage in perspective, in a unique climatic context."
Provence
Reasonable outlook for Provence, but still an evolving picture – harvest should be in line with 5-year average.
Drought pressure, as with other regions, and some thunderstorms during harvest caused some challenges.
Ultimate Provence
Low yields, good crops
With the vines in perfect condition, the Ultimate Provence team has reported that harvest this year began in the latter part of August and continued until mid-September – a few days earlier compared to 2021. But unlike the previous year, the extreme drought and heat waves did not affect the quality of the wines in any way. According to them, the vintage is a very pleasant surprise and could be described as 'super Mediterranean'. This vintage is round, generous, pale and nicely aromatic, but unfortunately and on the other hand, the quantities harvested were affected this year.
Champagne
Palmer & Co
A promising vintage
The harvest obeying around the 25 August in Champagne, the team behind Champagne Palmer waited an additional week before picking. The absence of disease pressure, the favourable weather and the good sanitary state of the grapes encouraged Xavier to be patient, and wait for the fruit to reach optimal phenolic and aromatic maturity.
"The years ending with a '2' continue to thrill us, after 2002 and 2012 we will have another great vintage! Rainfall at the right time has allowed for excellent ripening, while maintaining perfect sanitary conditions," reports Xavier Berdin, Cellar Master at Champagne Palmer & Co. "The musts can present a rather low acidity in certain regions, a sign of a sunny year (the hottest year since 1961, with 20°C on average)."
But as always, their Montagne de Reims vintages stand out by offering a remarkable balance with a good acidity. "It's still too early to make a judgement as tastings will really start in January, but I'm confident that this harvest will produce wines of very high quality."
Champagne Bruno Paillard
A smooth cycle
For Champagne Bruno Paillard, vintage has been shaped by a mild winter with little rainfall, followed by what is deemed as a 'typical spring'. Bud burst started mid-April, while flowering began in early June. Despite a few spells of drought during the summer, the rain was well-timed, especially in the Aube, allowing the vegetative cycle to run its course smoothly, allowing the grapes to reach optimum maturation in perfect condition.
"Thanks to the location of our vineyards on moisture-retaining chalky soils, the vines were able to seek the water and nutrients they needed to flourish," explains Alice Paillard.
Bruno Paillard's current vintage forecast relies on the fact that the distinctive characteristics of the different crus remains, despite the dominant impression of heat. Their tanks of varying size and 400 aged barrels will allow them, once again, to distinctly refine the unique character of each village, and grasp the potential of the vintage.
Many more articles for Wine merchants area available.