There are some great articles available online regarding email marketing. It is however so niche that it can be both complicated, and frankly irritating, trying to find exactly the right one to suit your needs, and yet appreciate the depth of your existing knowledge, abilities and opportunity available to satiate your personal needs.
Here are a couple that we found worthy of note:
i. https://bloggingwizard.com/email-marketing-101/
ii. https://sendgrid.com/resource/how-to-create-a-successful-email-marketing-campaign/
iii. https://www.campaignmonitor.com/resources/guides/getting-started-with-email-marketing/
iv https://swifterm.com/email-marketing-made-simple-a-step-by-step-guide-with-examples/
v. https://swifterm.com/guide-to-e-commerce-fashion-email-marketing/

The purpose of this article is to address two extremes, the first, the experienced marketing stalwart, been there, seen it and done it all before, consequently employed by a market leading retailer. The other the impoverished start-up business owner, looking for the easiest way to make the most money possible, immediately and without risk, yet with very little time either.
Marketing aficionados will tell you that multichannel campaigns are today's best practice, and that's true. Savvy marketers will use every combination of social media, direct mail, chat, display ads, SMS, web landing pages, and even the metaverse to get their messages in front of consumers. But it may surprise you to learn just how central email is to many successful digital campaigns.
According to recent research by HubSpot, a, full 64% of small businesses use email to reach customers—a higher rate than for any other digital channels save social media and websites. And whether it was due to isolation during the global pandemic or for some other reason, 77% of marketers saw increased customer engagement with email in 2021 versus 2020. Little surprise, then, that four out of five survey respondents said they'd rather give up on social media than on email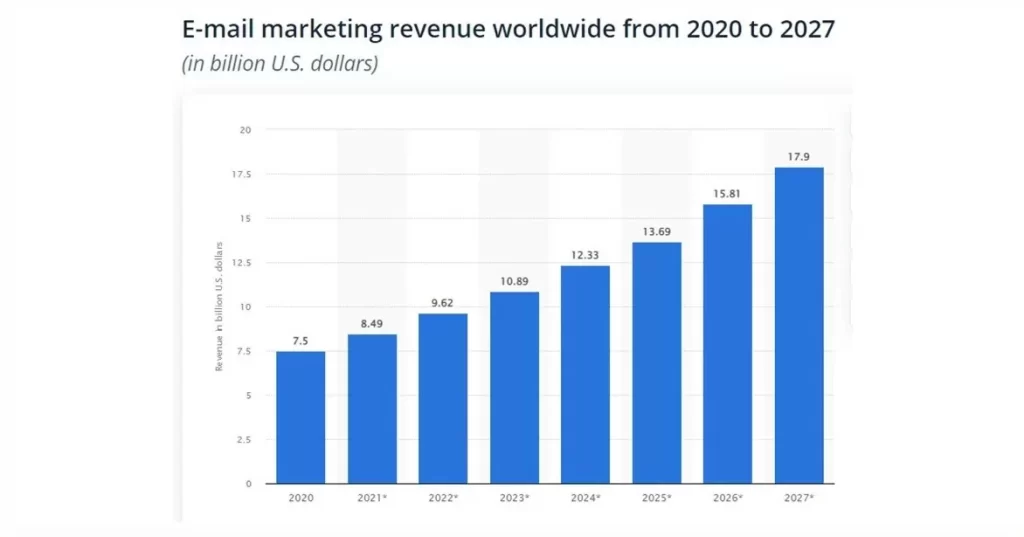 Email remains the most pervasively used communications channel in the world outside of verbal communication. According to the market research firm, Statista, the number of global email users will grow to about 4.5 billion in 2022, up from around 4 billion in 2021. That trend is reflected in Statista's forecast of email marketing's global market valuation through 2027. That forecast projects email marketing to grow to almost $18 billion by 2027. So let's put thoughts of email's demise behind us.
However, one important change for email marketing has been the increase in engagement on mobile devices, rather than PCs. Mobile users access emails throughout the day and wherever they are. Thanks to Apple Pay and Google Pay services, smartphones have also evolved as mobile payment solutions. This can make mobile email a one-stop shop allowing customers to go from marketing to purchase in a single session.
The increasing importance of mobile means you should pay special attention to the email designer and analytics sections of any email marketing service. The designer should provide at least a preview of how your email will look on a typical mobile device, and better yet, on several screens of varying sizes. Even better, the designer should also automatically render your email in a responsive format, meaning the HTML will correctly size images and other elements depending on the device used to view them.
That leads us to another modern trend in email marketing tools, which is integration with other systems, most notably CRM. Some of the more advanced email marketing services have even begun to resemble CRM systems. It makes sense, because both types of software deal with managing and communicating with customers. Other email marketing systems will be able to plug directly into your existing CRM.
AI and Email Marketing
Artificial intelligence (AI) has become a big part of many digital marketing efforts, especially email. AI improves email marketing mechanics such as A/B testing and more intelligent audience segmentation. This can help you almost immediately since it quickly improves efficiency and lets you make better strategic decisions around building the right campaign for different customers.
AI can also help personalise email content right down to the individual customer level, depending on how much information you can feed it from your CRM and sales systems. With the correct data, AI can choose different content, modify customer experiences on the fly, and even interact directly with customers via an AI-enabled natural-language chatbot. If any of that sounds attractive, you need to look very closely at how a prospective email marketing service has implemented AI and what kinds of features it offers.
Another area where AI can help is with the marketing automation capabilities that most of these email suites offer to some degree. Automation technology is best suited for prolonged, email-based interactions or drip campaigns. But an important aspect here is tracking the customer journey and the various touchpoints customers face from initial contact to closing the sale. AI excels in these scenarios since it can drill down to an individual customer and process the exact data for the vast customer volumes that top global retailers might get.
SwiftERM offer advanced AI for email marketing with out personalise product selection software, delivering each individual consumer products selected that are the highest likely to be purchased SKU that consumer's using both their buying history and impressions. Perpetually ranking imminent product buying propensity. This is self-populated into a stylesheet and delivered, without any human being needing to touch it ever. Ideal for the start-up who can't afford staff yet, and is working all the hours god sends.

Perfect for the hardened marketeer capturing additional revenues that segmenting doesn't afford due to its limited personalisation capability. The knock-on is an increase in AOV (average order value) which rolls on to CLV (customer lifetime value). One final benefit is the high drop off in RoR (rate of return) as offering goods to people that they want without the speculation, delivers a massive amount of goods on your loading bay-returned unwanted.

That's a huge margin, in addition. No wonder it leads the Martech solution ROI tables. It convienently runs alongside any ESP to deliver added value for the marketer.
Getting Started at the Right Price
For most business, the real good news is that the cost to reach prospective customers via email is generally low, while the potential for profit is high. Estimates of the typical return on investment (ROI) for email campaigns vary, but most suggest it is somewhere around $40 per dollar spent. That's one of the highest rates of return of any digital marketing.
The email marketing contenders we review here have a vast price range. They start at about $3 per month to send out 500 emails per month in Zoho Campaigns and they range to as much as $1,250 per month for up to 10,000 contacts in Salesforce Pardot. SwiftERM offer £100pm for up to 20,000 consumers emailed a couple of times with individually personalised product selections, and £1000 pm for 100k, using SendGrid to avoid issues with app filters.
Many email marketing plans include unlimited emails each month and bill you based on subscribers. If you have a small list, then look for a company that offers a free plan, a low-cost plan for several hundred subscribers, or even a pay-as-you-go plan. On the flip side, many of these services also offer high-volume plans with up to 100,000 or more contacts. Sometimes this requires a custom plan that has to be arranged directly with a sales rep. If you're willing to commit, look for the companies that offer discounts if you pay yearly rather than monthly. A few also offer money-back guarantees.
Getting started shouldn't be daunting. Generally, you'll know right away whether you like a user interface (UI) or not, and most of the contenders we reviewed offer free trials so you can poke around before dropping any cash. Luckily, most of these services have modern-looking graphics and uncluttered layouts. These are not the complex business software UIs of yesterday.
Be sure to look at the tech support details, too, since several vendors don't make support as available as we would have liked. You'll find that some offer 24/7 phone support, live chat, and email help, while others leave you to rely on online documentation and limited live support hours. The best services offer a combination of self-serve help resources—where you can search FAQs and articles to find your answers—as well as live support via chat or phone when you can't solve an issue yourself. We cover all of these concerns in our reviews, plus you can get an overview in the feature chart.
Email Responders and Automation
Beyond sending newsletters, the best email marketing services offer custom autoresponders. These help you stay in touch with your contacts with automatically generated emails based on special occasions (such as their birthday or anniversary), welcome emails for new subscribers, or thank-you emails for recent purchases, to give some examples.
The most advanced email marketing services offer custom workflows to specify triggers based on actions (such as opening an email or making a purchase) or on inaction (such as ignoring emails). With these services, you can also set up a series of emails (such as tutorials) to send to segments of users, and you can pause or stop a campaign at any time. You can also move contacts into new segments once they've completed their tutorials.
This kind of email marketing automation trick is mapping out what marketers call "the customer journey." That journey amounts to the sequence and conditions your email marketing app must consider before sending out an automatic email. Depending on the app, this can be as easy or as complex as you'd like, but planning is critical.
A small retail business, for example, might want to send an automatic blanket email to all its customers before every holiday sale. They might also extend that to specific brands too. Suppose a customer bought an item from Vendor X, for example. In that case, the business might want to automatically send that customer an email if there's a new product from the same vendor, especially if it's on sale.
Those are basic examples. More complex possibilities include crafting several emails with the same message but optimised for specific subsets of your customer list. These optimisations could be around the products they've purchased, their location, or whether they've ever called your product support line, to name just a few. Whatever information you've collected about them can be relevant.
This level of customisation can get very complex, so it's important not to get overwhelmed at the start. Building a map to help automate your email marketing starts with what you want to tell customers, when you want to say to it, and why. Follow that plan, and you'll quickly build a journey that might start with a welcome email post-purchase and gradually drill down to ever more targeted offers as your relationship with that customer grows.
As you're planning that journey, you'll come across all the details you need as you go, like which customer segments should be on different journeys, what those journeys need to look like, and mainly how to track your automated campaigns.
Personalisation matters
The perceived image of any professional robust email marketing scenario starts at the bottom with an exhausted individual business owner, scrambling to exist, aware that all the stats have reassured them that email marketing delivers one of if not the highest ROI of every alternative where they spend their money. This of course after establishing their website, and achieved sufficient SEO to get it seen by the search engines and social media alike. The more powerful corporates among us has the alternate perception of a room full of highly skilled marketing minds, eager to eek the next dollar from every audience participant they can.
So the biggest buzz currently is the rise of personalisation, obliterating segmentation, it's old hat. This has become possible by ever greater appreciation of the data being captured online, and how powerful it is in comparison to audience segments determined by antiquated systems. Just how powerful the distinction was quantified by McKinsey and Statista in a variety of reports, concluding in as much as 20x (twenty times) the return from traditional email marketing, triggered, and omnichannel campaigns combined. Putting that into perspective is like offering your company 20x the gross profit for the whole of last year! No wonder the dawning realisation of this prowess is causing shock-waves among traditionalists.
So beware the software that gaslights the truth offered to you, about their solution. Segmentation is not personalisation, it never was nor will ever be. You can't lump people together because of some nefarious reason and agree they they are the ones most likely to buy a specific product. Instead imagine the ability to have solutions offer you individuals (the ultimate segmented audience #1) that not only have a high prevalence to purchase a specific item, but then actually offers that product to them on the day and time that data offers the highest probability of them making that purchase.