Reuters breaking news predicts that ecommerce success is about to explode on social media. This corroborates the Bank of England prediction that ecommerce growth in 2023 will be 6.4%, (that's in the positive), contrary to all the gloom and despondency about recessions being widespread.

One of China's biggest exports in 2023 will be its social ecommerce phenomenon. TikTok, YouTube and Amazon are among the companies rolling out features that blend online sharing and shopping. The latest craze also is destined to run into some limitations.
There's early evidence that selling goods over live social networking works beyond the People's Republic. Viewers enjoy interacting with celebrities and so-called influencers, but the ultimate goal is clicks to buy. Social sensation Nisrin, for one, has attracted 500,000 TikTok followers, while selling as much as 10,000 pounds ($12,313) of makeup and other products in a single video session.
ByteDance-owned TikTok introduced the concept in the United States and the UK to replicate the success of Douyin, its Chinese sister app, which enabled goods valued at $119 billion to be sold in 2021. Amazon recently unveiled its own copycat, Inspire. OnlyFans, a video service known for its sexual content, also allows creators to sell personalised merchandise to subscribers.

Live online shopping revenue will help offset shrinking marketing budgets. U.S. social media advertising spending, which had been growing at around 30% a year, is set to slow to about 12% on average over the next three years, to reach $114 billion in 2025, according to data portal Statista. By contrast, consultancy McKinsey projects U.S. social media ecommerce sales will increase 20% annually over the same span, to $80 billion.
The appeal makes sense. Retailers want to attract and keep shoppers online. With customers able to learn more about products from interactive live streams, it should reduce returns, a costly aspect of the ecommerce trade.
Many products won't suit the medium, however. Cosmetics work better than, say, electronics. Social-media services also may struggle to charge influencers and retailers extra fees. Amazon and others are offering shopping features at no additional cost. And competitors may ultimately be their clients. Venture capitalists have invested $700 million, per research outfit Pitchbook, into startups such as Firework that provide such technology to brick-and-mortar retailers.
Network effects will be powerful. On TikTok, a two-hour live shopping event helped one small beauty brand generate the equivalent of a week's worth of sales at its flagship store. Such anecdotes are what will make ecommerce go viral on Western social media.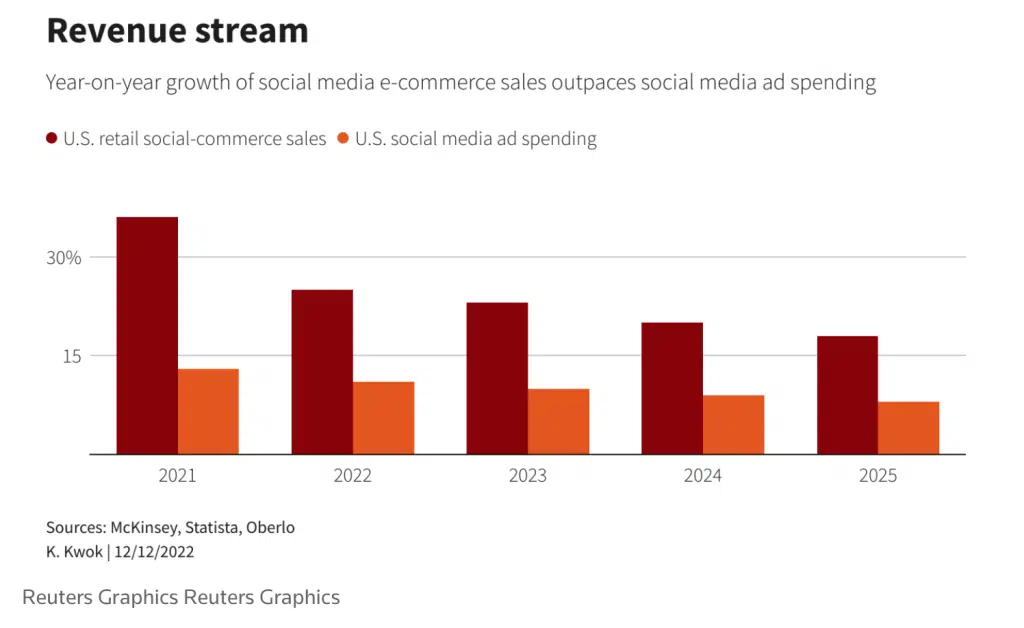 Ecommerce success requires essential data capture to implement personalisation
As all the established retailers readily demonstrate that the value of new customers is their lifetime value to guarantee the viability of your marketing. To do that you need to ensure that you have on-boarded them properly, namely doing everything you possibly can to ensure you get repeat business from that individual. You secure that foothold as early as possible to minimise the greatest risk of churn, which happens at the time you get their first order.

All-day, across all channels, consumers are being served experiences that are precision-targeted to meet their needs and preferences. Some of those experiences might be being served by your competitors. If you're not personalising experiences for your visitors, you're leaving money on the table.

Personalisation means automatically delivering the most relevant experience to an individual customer at any stage of their journey, on any channel. The possibilities are virtually endless. But this, you might say, is merely scratching the surface.

Predictive personalisation software (PPS) is an AI driver machine learning algorithm that identifies exactly what each individual consumer wants, needs or desires at this precise moment. It's immediate monetising marketing software you add to your stack. It ensures each individual is being shown products that they, as a unique individual on your database, has identified by their actions, are most likely to buy next.
If through the data being captured by your site, you to know, even before the consumer did, exactly what they wanted to buy and when, not only have you got a massive head start over your competition, but you have obliterated the need for the cost to get it in front of them. If they look at the same product across multiple sites, but doesn't buy, and then you are the first to put those products in front of them subsequently, you can see why it is so powerful.

It is fair to say that it is the perfect vehicle to drive success, beyond anyone's wildest expectations. Smaller independent retailers need to appreciate what it brings to the party and grab it with both hands! McKinsey, Statista, Forrester and Bain all agree that it delivers 20x the return from all other forms of marketing implementation combined.

This is great news for the big retail players already executing a personalisation strategy, already enjoying the distinction, but we appreciate why it is tricky for SMEs to evaluate the ROI if you've never seen it in action.

For astute retailers and marketers, PPS software, installed as a plugin, is available on immediate trial here.
SwiftERM is a Microsoft Partner company.