Gucci remains the most popular luxury brand online. This year more than any other year before, the online popularity of the best luxury brands in the world is a dependable predictor of future sales but also a lifesaver for many luxury brands. Even the most digitally averse brands are now embracing online channels to reach and engage with their affluent consumers.
It is the fourth consecutive year that Luxe Digital publishes a list of the top luxury brands online ordered by popularity. Their ranking has, over the years, become an important and reliable indicator of future performances for the world's best luxury brands. Every luxury brand on the list is enjoying significant customer attention. They each drive substantial online conversations across social media channels and search. They are at the centre of what matters to modern affluent consumers and influencers.
The digital transformation of luxury is accelerating in 2021. Changes that were already underway are now at the forefront of every brand's strategy: profound shifts in consumption and consumer preferences. Relevancy is the new legacy.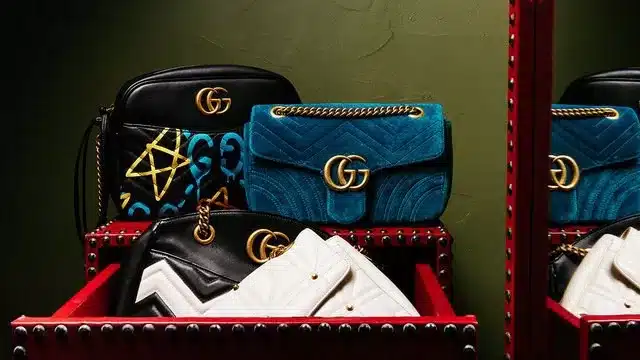 Online luxury sales reached €49 billion at the end of 2020 (up from €33 billion in 2019) according to estimates by Bain & Company. More interestingly, the share of purchases made online for luxury goods nearly doubled to reach 23 percent of total sales in 2020 (up from 12 percent in 2019).
As a result, we're now expecting nearly a third of global luxury sales to take place online by 2025. (5 percentage points higher than previous estimations.)
As luxury ecommerce sales grow and affluent consumers increasingly turn online to make purchase decisions, a luxury brand's digital acumen is more critical than ever.
So if you're wondering if and how the finest luxury brands in the world performed online, ponder no longer. We lift the lid on all the juicy data and details in our brand-new ranking of the best luxury brands online in 2021.
The top 15 most popular luxury brands online in 2021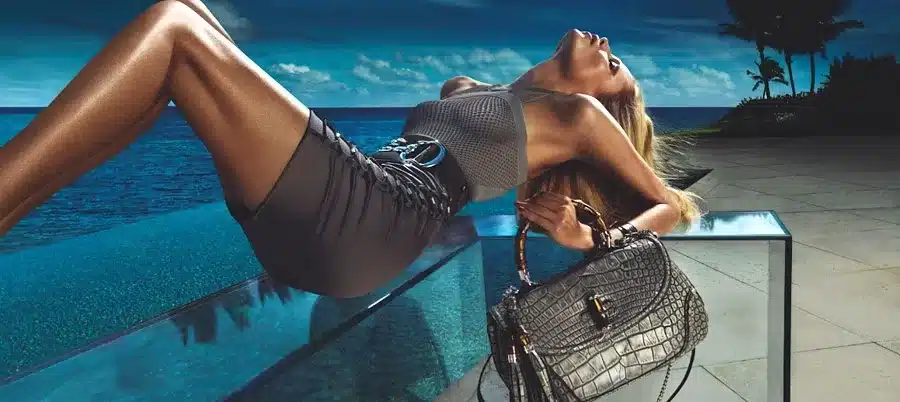 In what might be of little surprise to many, Italian luxury fashion house Gucci maintains the top spot on the 2021 edition of the most popular luxury brands online, well ahead of all its competitors and for four consecutive years. The popularity of the Kering-owned brand continues to decline in 2021, however — Online searches for Gucci dropped by 13% year over year.
This 'Gucci fatigue' became visible in the brand's latest sales figures, with a 22.7% drop in revenue in 2020. Online sales however continued to enjoy fast-paced growth, up nearly 70%.
Nevertheless, Gucci remains one of the industry's best in class digital performers, by leveraging digital storytelling, elevated ecommerce, and a constant drive to experiment and innovate online. From digital gifting with split payments to AR-powered try-on features on Snapchat and the Gucci App, the brand is constantly experimenting online.
Gucci also embraces genderless fashion and sustainable supply chain, two important values, especially for the coveted younger generations of luxury shoppers. For example, Gucci launched its first sustainable collection Off The Grid in mid-2020, and introduced eco-packaging.
The brand with the capital G's also doubled down on the Chinese market by selling products on Tmall's Luxury Pavilion, China's largest ecommerce platform, to reach new digitally savvy affluent consumers.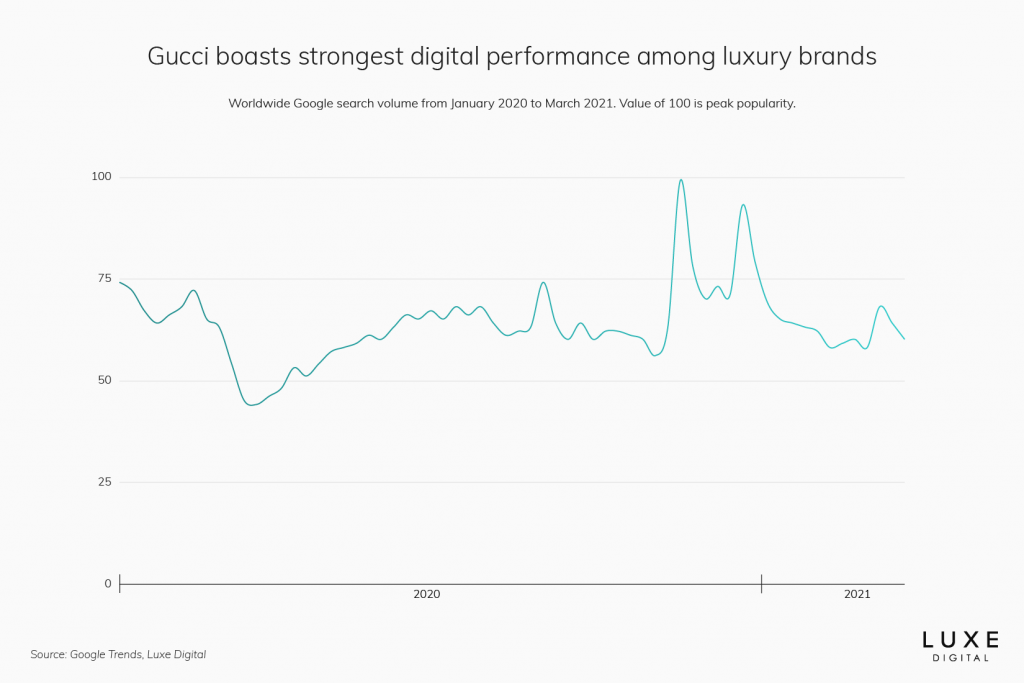 Best luxury brands: Key takeaways to be popular online
Some key factors seem to support online popularity.
1. Beyond digital, the omnipotence of omnipresence
The best performing brands have all invested in strengthening their online retail channels and offering a seamless experience across devices and geographies. Even the most conservative legacy luxury brands are ramping up their digital transformation efforts this year to embrace ecommerce.
Leading luxury brands pivot to omnichannel shopping behaviours.
The most popular luxury brands are all experimenting with new tools and marketing formats to drive their visibility and facilitate (online) shopping.
Luxury brands offer virtual appointments and personalised support through live chat assistance for their customers. Omnichannel services such as click-and-collect, return-in-store, click-from-store, and in-store appointments are also available to online shoppers.
Furthermore, brands continue to experiment with augmented reality and immersive experiences, from virtual showrooms and shows (in lieu of IRL audiences) to live streaming, virtual fitting and 3D viewing of products.
2. Orient Express: Luxury brands ride east
Many of the popular luxury brands are expanding their offering to the Middle East and China.
China, in particular, is set to become the world's largest luxury market by 2025, leading luxury brands across the globe to seriously look East.
But if China appears to be the growth engine for many luxury brands in the current climate, what will be most important long term will be their ability to be locally relevant. In every country they venture in. The experiments on Tmall and WeChat are just the beginning.
3. Palpable polarisation: Casual luxury vs investment pieces
Luxury continues its polarisation. The most popular luxury brands are leveraging at least one side of the balance. The rise of loungewear and the casualisation of luxury fashion with lower-priced streetwear styles continues. Demand for the cosy, comfortable and comforting skyrocketed this year and premium brands happily answered this demand with renewed loungewear collections.
But affluent consumers are also increasingly aspiring to fewer but better luxury goods: High-ticket investment pieces with longer use potential and higher resale value. Luxury handbags, high-end watches and hard luxury are performing well in many cases thanks to their appeal as investment pieces and the general trend in self-gifting.
4. Brand-entertainment is the new luxury game
The convergence of gaming and luxury continues as luxury brands realise the power of immersing consumers in participatory worlds, especially to connect with Gen Z and Millennial consumers.
From gaming-inspired merchandise to in-game fashion designs (called "skins" in gaming) and brands creating their own video games on social media or within dedicated brand apps – the most popular luxury brands are investing in gaming.
Valentino released in-game clothes for Animal Crossing: New Horizons's millions of players to wear.
Gucci partnered with Esports entertainment brand Fnatic to release a collection of limited-edition dive watches available exclusively online. Gucci also developed various games all accessible from The 'Gucci Arcade' – the gaming vertical found on Gucci's own retail app.
Luxury fashion brand Balenciaga unveiled their new Autumn/Winter 2021 collection through Afterworld: The Age of Tomorrow, an online video game.
If some gamification initiatives may seem gimmicky, gaming and esports have proven effective for luxury brand storytelling and consumer engagement, but also a creative channel that can drive new monetisation opportunities.
5. Cool-laborations make luxury brands hotter
Collaborations are not a novelty anymore for luxury brands, but they haven't reached oversaturation yet if the latest collaborations in the luxury sneaker-world are anything to go by.
Several of the most popular luxury brands like Dior, Prada, Louis Vuitton and Gucci are releasing buzzy collaborations, driving a great amount of hype online.
When Dior and Nike revealed their limited edition Air Dior sneaker designed by creative director Kim Jones, five million people registered online for a chance to purchase the coveted sneaker.
Gucci teamed up with iconic outdoor brand The North Face to offer a collection of ready-to-wear, accessories, footwear and equipment for men and women.
Prada launched yet another sneaker with Adidas and Louis Vuitton launched a capsule collection featuring the NBA.
6. Social media is still trending (for now)
From engagement to a full marketing capability, social media is playing an important role for the most popular luxury brands.
It will be interesting to see how social media presence or absence (in the case of Bottega Veneta who created a media buzz around deleting their social media accounts) will continue to impact the online popularity of luxury brands moving forward.
For now, being fluent in social media is key for the most popular luxury brands to connect and engage with the next generations of luxury consumers.
Instagram maintains its social media lead in the number of luxury followers. In China, WeChat and Weibo dominate social conversations while fast-growing channels like RED and Douyin (Tik Tok) are becoming increasingly relevant for younger generations. New social media channels present new opportunities for luxury brands.
7. Sustainability is non-negotiable for sustainable growth
Modern luxury consumers are increasingly conscientious. For luxury brands, the ability to speak to this new mindset and live those responsible values is non-negotiable.
The luxury industry's sustainable efforts are under heavier scrutiny – reinforcing the need for the world's best luxury brands to become more trustworthy by providing transparent information about their processes and products.
The pressure seems to be working. The most popular luxury brands online have launched notable sustainable initiatives.
Prada successfully expanded its Re-Nylon collection with a full conversion to regenerated nylon on track by the end of 2021.
In June 2020, Gucci launched its first line of accessories and streetwear made from recycled, organic, bio-based and sustainably sourced materials, followed by an official partnership with resale site TheRealReal later in the year.
Hermès, known for using luxurious materials like ostrich and crocodile leather, announced in March 2021 its first attempt at a vegan-friendly leather bag – the result of an exclusive collaboration with California-based start-up MycoWorks to reimagine their popular Victoria bag using Sylvania, a new material made from Fine Mycelium (essentially mushroom roots).
Final thoughts
This year will be a year of transition, ushering out conspicuous consumption in favour of conscious, elevated living.
Future-proofing opportunities lie in resiliency, agility and nimbleness in the face of changing consumer behaviours and an unpredictable environment. To remain relevant, luxury brands will need to increase their online brand visibility, nurture desirability and engage with their customers on their own terms.
That means focusing on an omnichannel approach, of course, but also highlighting the quality and timelessness of their products and delivering sustainability through the value chain.
Luxury brands must lean in and transform themselves from a brand-centric, controlled and confidential model to a more transparent, engaging and customer-centric organisation. Delivering a timely and timeless form of meaningful value and empowering expressions of individual identities will widen the lead of the best performing luxury brands against the poor digital performers.
In 5 words: Convenience, craftsmanship, core values, conversations and consumer-centricity.