Leading accountants KPMG recently published a report to help businesses understand and prepare for the upcoming economic challenges and opportunities of 2023. We have taken the salient ecommerce aspects of that report to concentrate on those influences only.
The greatest influencing factor this coming year for most is inflation, which is expected to gradually ease during 2023, but not before leading to a sharp rise in interest rates and a cooling of the housing market. Despite the protracted recession, unemployment could remain relatively low, providing an important support to incomes.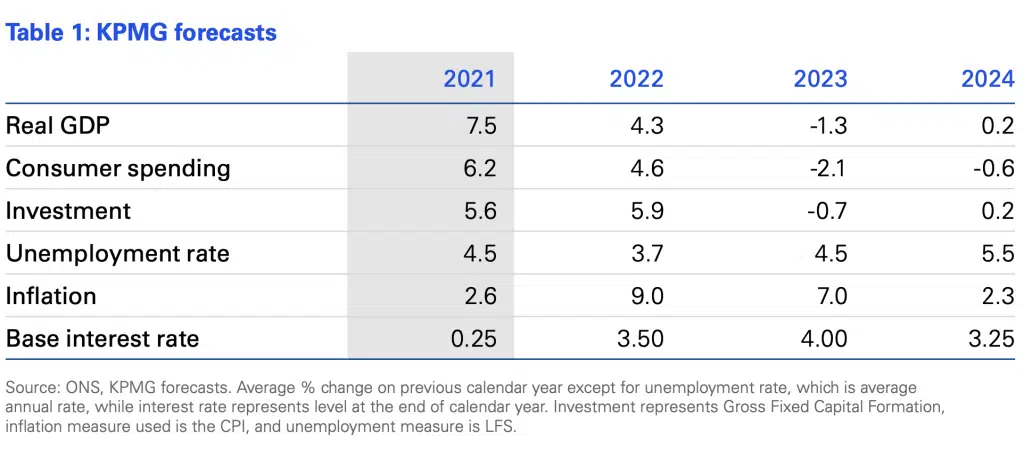 Economic challenges – headwinds dominate sectoral outlook
Survey indicators point to a broad-based slowdown affecting both manufacturing and services. Purchasing Managers' Indices have recorded values below 50 since October for services and August for manufacturing, indicating contraction in output, while the value for construction continues to point to modest growth.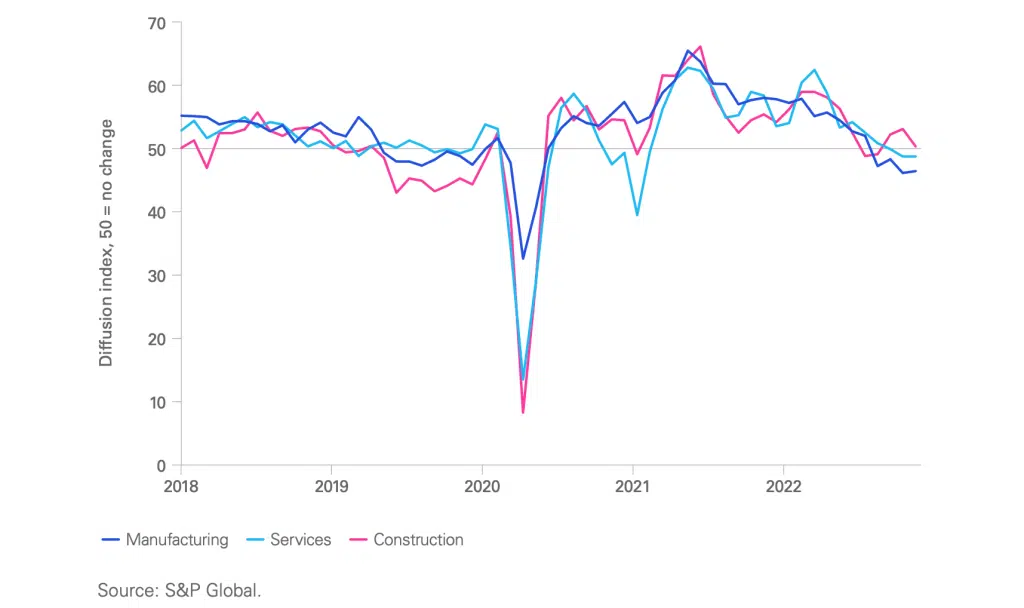 The manufacturing sector faces further potential disruptions from global supply chains, as well as more acute cost pressures arising from the more intensive use of energy. While supply chain pressures have eased through the course of 2022, they remain historically elevated, and it is anticipated that further disruptions will arise as global energy shortages and rising Covid cases affect production in some parts of the world.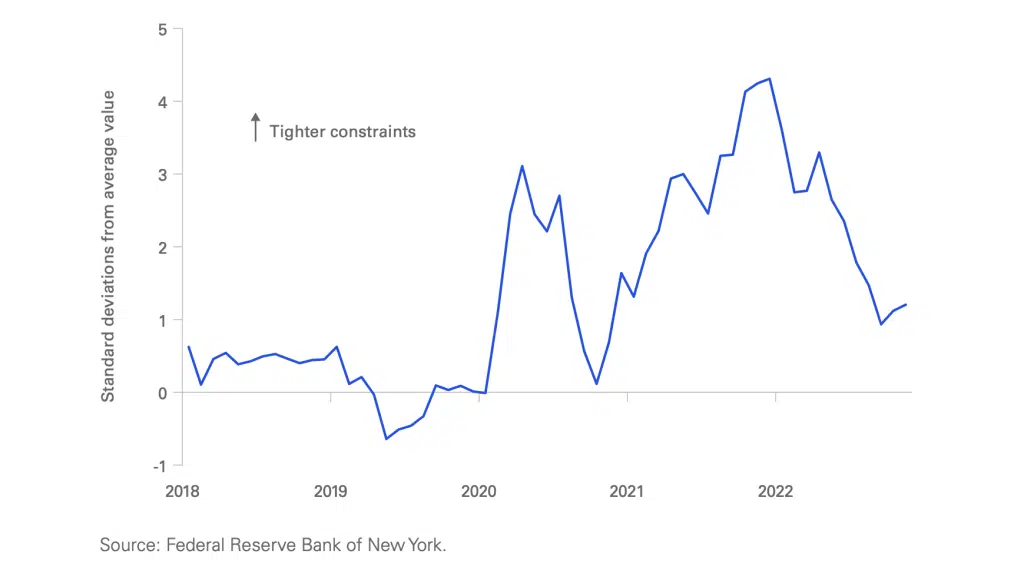 Economic Challenges – weaker consumer discretionary spending could impact a wide range of retail and service sectors
Households are expected to rein in spending on discretionary items in response to the squeeze on income. As consumers cut back on spending, we anticipate a sharp reduction in non-essential categories of spend by those households most affected by the rise in energy and food costs, including spending on eating out and entertainment.

This could lead to falls in the output of the hospitality and entertainment sectors, which could contract by 1.3% and 5.6%, respectively, in 2023.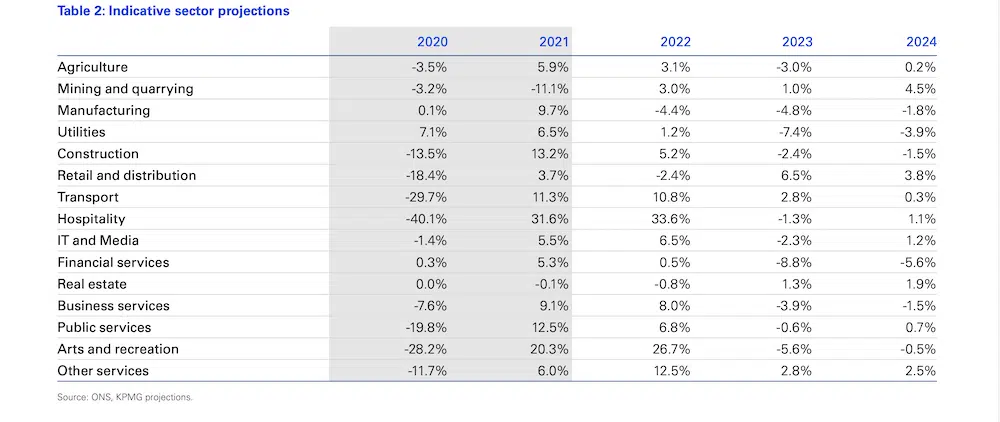 Inflation: Downward bound
UK inflation is set to fall from a peak of over 11% in October, to under 4% by the end of 2023 and reach its 2% target by mid-2024. The expected fall in the headline rate of CPI inflation partly reflects the dropping out of price increases from the 12-month period that is used to calculate inflation, as well as potential falls in the price of foods and other traded commodities.

The path of inflation remains uncertain, however, and there are risks to the outlook of both higher and lower inflation. Higher inflation could arise from a combination of further supply shocks and more persistent domestic price pressures, while more significant falls in the price of energy alongside other price reductions as the global economy slows, could push inflation below the Bank of England's 2% target.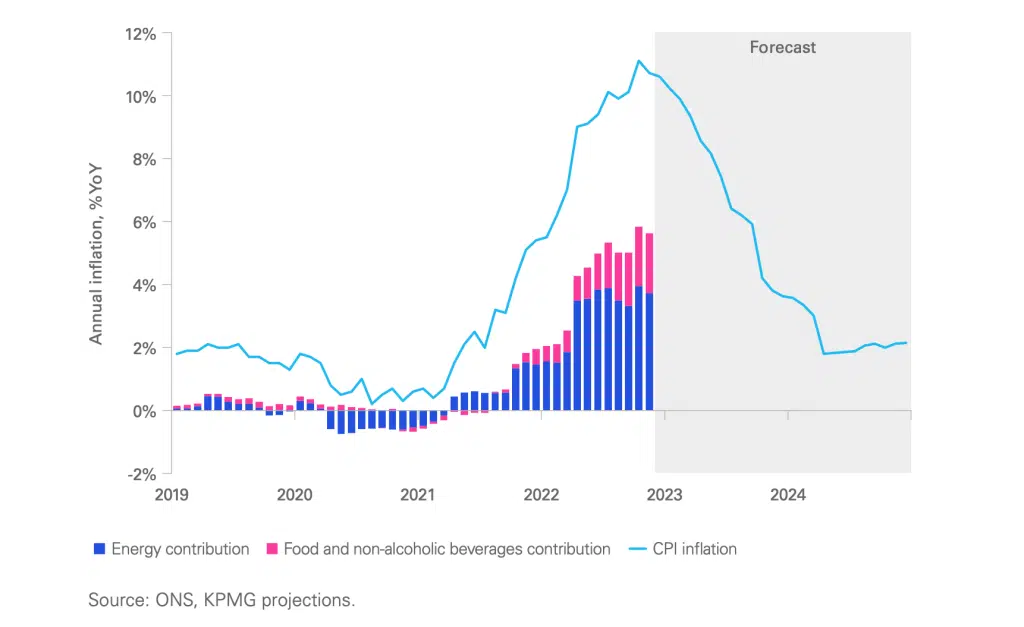 Higher energy costs and food prices continue to put upward
Energy, including the cost of road fuels, together with food made up over half of the 10.7% CPI inflation in November 2022. There is still more to come before we see the easing of the impact of higher energy costs.

The level of the government's Energy Price Guarantee – which currently caps the energy expenditure of the average household to £2,500 – is set to rise to £3,000 from April 2023. This, alongside an increased weight of energy in the consumption basket, is expected to add an extra one percentage point to CPI inflation from April 2023.

Global food prices fell from their recent highs in mid-2022, and the falls are expected to be passed through to UK consumer prices during the course of 2023. However, food prices could remain at relatively elevated levels, partly as a result of the continuing high cost of fertilisers.

In addition, the weaker value of the pound, which fell by 10% against the US dollar and by 3% against the euro since the start of 2022, will provide a mild upwards pressure on UK inflation through higher import prices.
Higher interest rates to put pressure on households and businesses
The current hiking cycle is the largest since the 1980s.
The Monetary Policy Committee (MPC) has raised base interest rate by 340 basis points since December 2021, to 3.5%. Market rates have followed suit. At 75% loan-to-value (LTV), renewing a 2-year fixed-rate mortgage today would cost over 4 percentage points more than five years ago, while a 5-year fixed-rate now costs around 3.5 percentage points more than five years ago.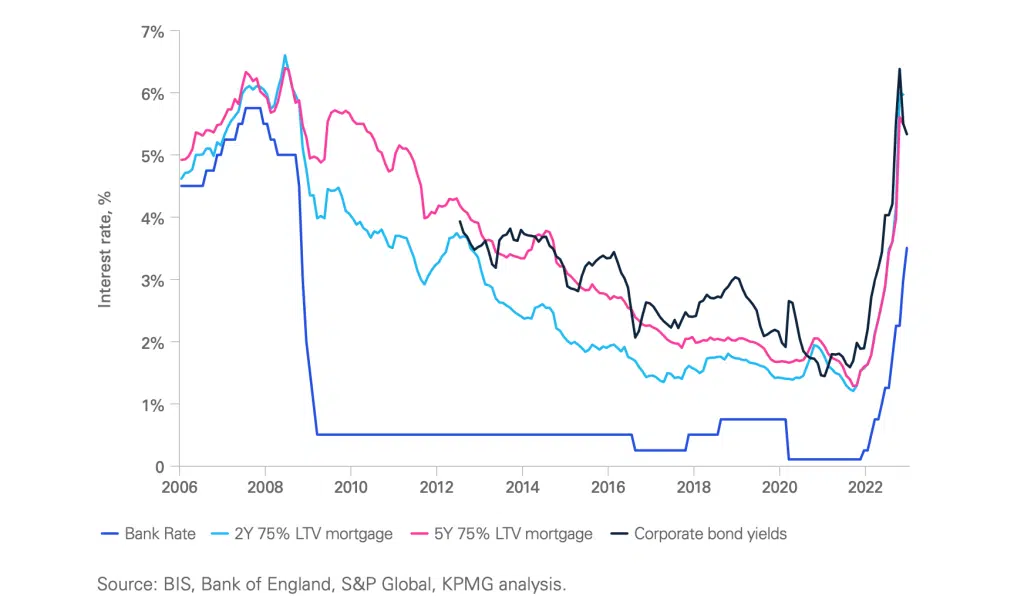 The UK economy is relatively more vulnerable to sharp rises in mortgage rates than its peers.
Mortgages are the largest component of household debt in the UK, constituting three-quarters of total financial liabilities, and 32% of households have a mortgage, which is higher than the EU (17.3%) and OECD (23.3%) average.
However, households may feel less pressure from higher rates at the current downturn.
Two-thirds of mortgage debt are held by the top half of the wealth distribution, which is also where excess savings accumulated during the pandemic are concentrated. With households paying around £14bn in interest (on mortgages and other debt) every quarter, and
the stock of excess savings around £86bn, it would in aggregate be enough to cover a doubling of interest payments over six quarters, effectively getting households through the recession.

Unemployment is expected to peak at a relatively lower level during the current recession (see page 9) meaning more households are likely to retain their main source of income. In addition, households are likely to be less leveraged due to more conservative lending criteria, which saw a fall in the share of high LTV mortgages (at a loan-to-value ratio of 90% and above) to 4.5% by 2022 Q3 compared to a peak of nearly 15% in 2007.
Conclusion
In case you missed it, among all this gloom and despondency, is a 6.4% growth projection in the retail sector during 2023, (see Indicative sector projections above). It would be a retrograde step to pull in your horns and assume the worst, when in actual fact, given the dominance of retail and the growth of ecommerce in recent years, you are instead being offered an opportunity as a springboard to major growth.
SwiftERM is a Microsoft Partner company.
See our full index to all articles to help you develop your ecommerce business.