Cosmetics marketing and ecommerce. Long controlled by legacy conglomerates, the beauty industry has been rocked by having to turn online. Once "challenger" brands like IPSY, Glossier, and Fenty Beauty are now household names — spanning geographies and demographics alike. Entrepreneurs rush to greet a new wave of consumers seeking fresh norms and niche products. Clinging to enterprise status, large-scale manufactures responded by acquiring their independent, trendier counterparts.
Did the pandemic negatively affect cosmetics and personal care sales? Yes. Does retail still dominate? Also, yes. But Is the beauty industry growing? Especially ecommerce cosmetics in 2021 and beyond? Absolutely.
Beauty Industry Statistics and Market Research
Globally, the industry is strong and only getting stronger.
How big is the beauty industry? Up from $483B in 2020 to $511B in 2021 — and with an annual compounded growth rate of 4.75% worldwide — it's predicted to exceed $716B by 2025. And $784.6B by 2027.
Trends: Insight from the Top Cosmetics Brands & Companies
Each vertical can be differentiated further, both by distribution channel and brand. Cosmetics occupy a unique segment as they're available in a wide range of retail locations — from luxury spas and department stores to home-television shopping and airport vending machines.
According to a survey from Pymnts, the most important factor influencing consumer behavior in the beauty market — beyond price or location — were special sales, unique products, and rewards programs.
Much like ecommerce fashion and even the online pet industry, brands can lean on digital marketing strategies with the exclusivity of the online shopping experience to challenge the upper-hand of in-store retailers.
Because of rising incomes, consumers are more considerate of both product effectiveness and ingredients rather than price. As a result, retailers are more focused on advertising the quality of products as better than competitors, instead of undercutting prices.
As consumers become increasingly wary of potential toxicity in cosmetics, Market segments offering fragrance-free products made using natural ingredients and essential oils are likely to record strong growth in the future.
Beauty Products by Market Share and Growth
Across product categories, skincare made up 40% of the global cosmetic market last year.
It follows that this trend will continue as consumers become more educated about sun damage — indicating potential for growth within the subcategories of sun protection and anti-aging skincare products.
While the beauty and personal care industry will remain strong globally, the cosmetics and skincare verticals specifically will experience the most revenue growth at a rate of 3.5% this year.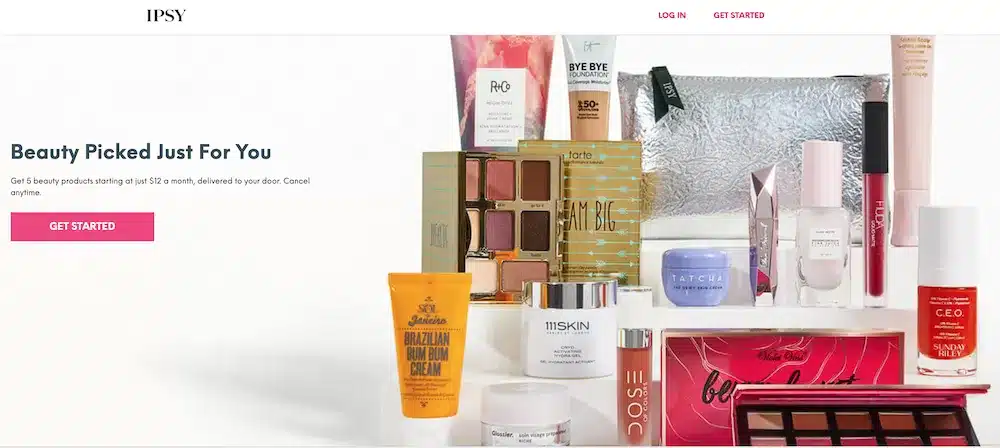 Direct-to-Consumer: Top 25
The old guard of makeup brands — like L'Oréal, Estée Lauder, and Chanel — though revered for their revenue and legacy, aren't by all. As a new generation of consumers grows up, they're more empowered to purchase "quick-to-market" products found via social media from brands that are growing right alongside them.
IPSY
Fenty Beauty
Morphe
Kylie Cosmetics
Glossier
Curology
Ouia
Function of Beauty
Vanity Planet
Drunk Elephant
Tula
MILK Makeup
Prose Hair
Supergoop!
True Botanicals
The Honest Company
Frank Body
Oui the People
Kopari Beauty
Topicals
Goop
Volition Beauty
Blume
Birchbox
Alleyoop
The rise of social shopping coupled with more consumer packaged goods offerings online, lends itself to new ecommerce penetration opportunities for DTC brands.
What's more, beauty products make up the second-largest product category for engagement across Instagram, Twitter, and Facebook. So how then to take advantage of the level-playing field of opportunity that is ecommerce? There are many articles available on this just on our site alone, let alone everywhere else see our Index Page here. If you new to it, then we offer Email Marketing made simple, a beginner guide, and at the other extreme Ecommerce marketing tactics for advanced retailers. Specialist articles of interest include ecommerce trending practises good to know,
Email Marketing is without doubt the champion of all the go-to marketing channels available.
Email marketing is critical to improving your Lifetime Value of each consumer (LTV or CLV) and maximising revenue. The average quoted statistic of the effectiveness of this medium is 26% of all online turnover being achieved by adopting a comprehensive and sophisticated email marketing programme.

If you're new to ecommerce, or looking to improve your return in this area then it should be an high priority. Email marketers are perpetually improving their sophistication, and therein highest returns coming from individualisation and personalisation. Consumers are getting smarter too, and it is a perpetual retail challenge to secure profitable customers.
Turning to an immediate win, the great news is, we've already devised bulletproof software for you to install immediately which generates enormous revenue from personalising product selection for each consumer, treating them as unique individuals rather then lumped together as part of a segmentation process.

This rockets your profits from the get-go. It uses each individual consumer's unique impressions to your advantage. After-all, if you know what they want and when and can offer it to them at the perfect time, you are one-step ahead of all the competition.

After all one persons Westman Atelier's unique lip suede palettes another's Mac Velvet Teddy. Encouraging subscription enables growth, by getting them to enjoy receiving your emails. Even if they don't buy this time the perpetually learning algorithm will drive purchases further down the line.
Drivers like loyalty or subscription programs are tactics that build a community around your brand and lead to upsells further down the line.