The State of Fashion: the next 12 months. Fashion executives are planning for a range of scenarios and hoping for a speedy global recovery. However, amid increasing pressure on performance, shifting consumer behaviour, and accelerating demand for digital, there is an imperative to act decisively to prepare for the next normal.
After a year in which the fashion industry posted record-low economic profits, business leaders are on the front foot, seeking to innovate while continuing to engage their core constituencies. Given the disruptions of recent months, many companies are reconnecting with their supply chains, making tough decisions—for example, about ROI at store level—and ramping up omnichannel services.
The beauty segment, covered has remained relatively insulated from the pandemic, offering consumers a comforting pick-me-up in challenging times. As we move toward recovery, companies in the beauty segment have a chance to align with shifting category and regional opportunities.
Reflecting with industry leaders over recent months, we have examined the ten key trends likely to shape the business over the coming year. Our latest reading of the our global fashion index, meanwhile, reveals new insights into company performance by category, segment, and region.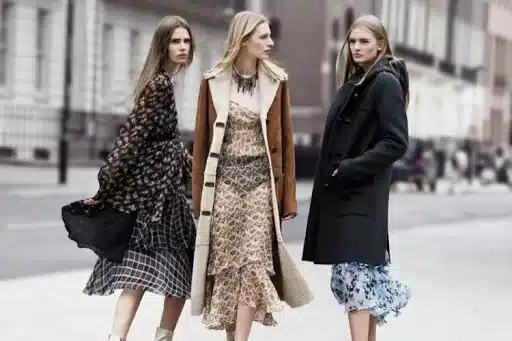 Silver linings
The sober mood among fashion executives surveyed in last year's report has evolved over recent months into a strong determination to manage the industry through troubled times. Our calculations, based on the changes in market capitalisations over time in our index on global fashion, suggest that the industry's economic profit that fell by 93 percent in 2020 after rising 4 percent in 2019. That translates into a significant increase in the number of companies that are "value destroyers," which we expect will rise to 73 percent of those in the index in 2020, compared with 60 percent in 2019.
Still, there are silver linings among the clouds. While the crisis has visited a devastating impact on businesses and jobs, it may also have accelerated responses that can lead to positive outcomes. Indeed, many fashion companies have taken time during the crisis to reshape their business models, streamline their operations, and sharpen their customer propositions.
last yearLooking forward, our base case is cautiously optimistic, with the virus more effectively controlled over the coming year, thanks to a strong public-health response. At the same time, government interventions will partially offset economic impacts, and global travel will pick up, alongside the possibility of larger social gatherings. In that scenario, we would see markets such as China recovering strongly.
We predict a 5 to 10 percent sales growth in China in 2021 compared with 2019. Europe, on the other hand, will probably continue to feel the effects of subdued tourist arrivals, leading in 2021 to a 2 to 7 percent sales decline from 2019. Moreover, precrisis levels of activity are unlikely to return before the third quarter of 2022. We expect a similar trajectory in the United States, with sales down 7 to 12 percent next year compared with 2019, and only a modest recovery before the first quarter of 2023.
lWhere there is positive momentum, the primary driver will continue to be digital channels, reflecting the trend established before the COVID-19 crisis and the reluctance of people in many countries to gather in crowded environments. Indeed, recent data show that we have vaulted five years forward in consumer and business adoption of digital in a matter of months.
Around the globe, there is an expect more than 20 percent annual digital growth in 2021 (with 30 percent in Europe and the United States) compared with ast year. Other positive trajectories will include the growing influence of platform propositions as customers warm to marketplace experiences and renewed appetite among both brands and consumers for local engagement—the personal touch that reflects the priorities of many. 
Companies that have performed the best over recent months tended to share at least one of two key characteristics. Many have had a strong Asia–Pacific focus, reflecting the economic strength of the region and the relatively lower impact of the pandemic there, and many have offered a compelling digital proposition.
Ecommerce players, such as ASOS, FARFETCH UK, Revolve, and Zalando, have consistently outperformed last year, as locked-down customers turned to digital devices to shop. By August, such digital-first players were trading 35 percent higher, on average.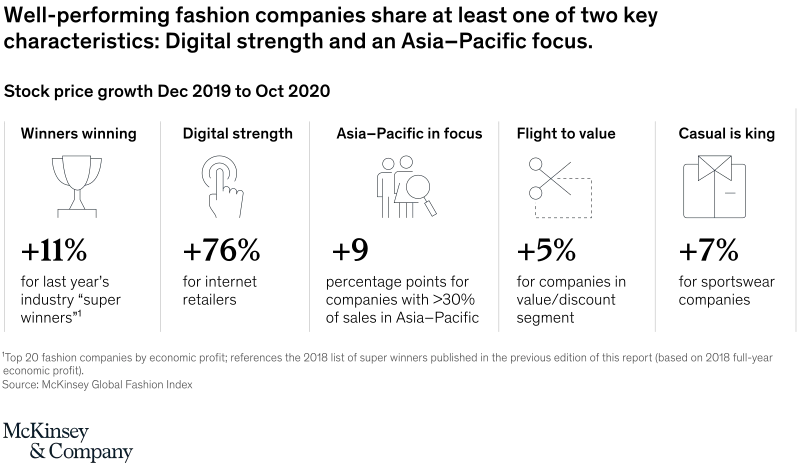 Given the standout performance of digital channels in the current environment, we expect digital to remain king in 2021. Indeed, some 22 percent of executives say it will be the key momentum driver in the coming year—a percentage point less than the proportion that cites "uncertainty" and slightly more than the 20 percent that pick "challenging."3
Ten themes for the next 12 months
The defining themes in the business of fashion? Our discussions with industry executives suggest that the key drivers will include shifting consumer behaviours (in relation to digital channels, social-justice concerns, and a reluctance to travel), opportunistic investment, and the need to build more efficient, simple, and demand-focused operating models.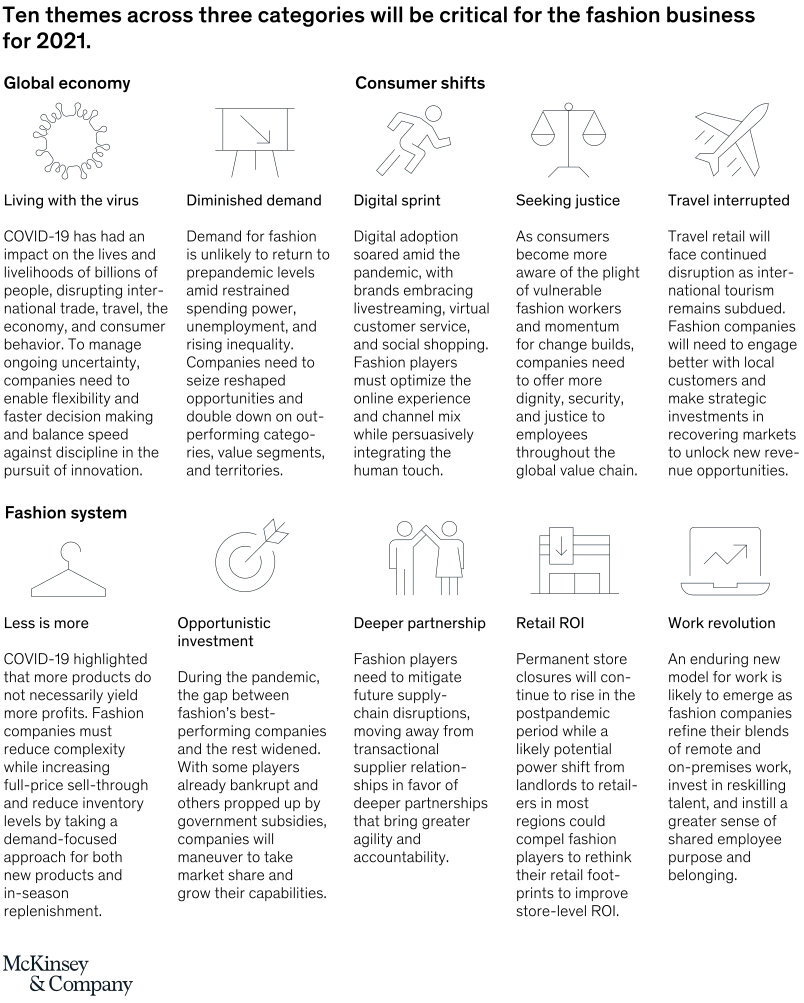 Physical retail has been under historic levels of pressure. In the United States alone, some 20,000 to 25,000 stores were expected to close last year, more than double the number that did so the year before. With the pandemic adding to the segment's woes, many brands have embarked on strategic reviews or have compressed multiyear transformations into just a few months.
In 2020, Nike announced the acceleration of its digital strategy and investment in its highest potential areas, which it said would lead to job cuts in stores. Zara said that it plans to cut 1,200 stores over two years and invest €2.7 billion in store-based digital. Still, we do not believe the curtain is falling on physical channels. Instead, from the wreckage of last year, a sleeker, more focused offering will emerge. That offering will combine the best of human and automated services—the beginning of a truly "bionic" customer experience.
We see brands rethinking store formats and leveraging data and analytics to predict footfall, manage assortments, and built personalised offerings. Flagship stores will be branded as discovery zones and tasked with creating emotional connections with customers. We have already seen Burberry and Nike, as well as digitally native ARIAS New York, invest in hybrid spaces and deploy technologies such as apps and body scans to create more compelling experiences.
At the same time, we are likely to see more nuanced assessments of store ROI based on a combination of digital and physical lenses. With companies in China leading the way, brands will engage even more closely with social media to offer shoppers exclusive content and personalized experiences.
Strategically, there will be an imperative in 2021 to manage commercial opportunities actively and to be acute in picking winning segments, markets, and channel combinations. With tourism in the doldrums, domestic outlets will become more important than ever. We also expect to see a rise in M&A activity as companies take advantage of low valuations and grab share in fast-growing markets.