A new Gartner survey finds 79% of Corporate Strategists see AI and Analytics as critical to their success over the next two years
Seventy-nine percent of corporate strategists said that technologies such as analytics, artificial intelligence (AI) and autonomy will be critical to their success over the next two years, according to a survey by Gartner, Inc.
Strategists said that, on average, 50% of strategic planning and execution activities could be partially or fully automated; currently only 15% are.
The survey was conducted from October 2022 – April 2023 among 200 corporate strategy leaders in Europe, North America, Western Europe, Asia/Pacific, and Australia/New Zealand, across different industries, revenue and company sizes.
"Leveraging AI and Analytics for more efficient, insightful strategy decisions is one of the biggest challenges, and opportunities, corporate strategists face this year," said David Akers, Director, Research at Gartner. "For years, strategists have told their businesses: If you want to stay competitive and effective, you need to go digital. Now, they appear ready to apply that guidance to their own workflows."
While most corporate strategists said that they are using descriptive and diagnostic analytics, less than half said they are using more advanced tools such as predictive, prescriptive or graph analytics (see Figure 1). Similarly, only 20% of strategists reported using AI-related tools, such as machine learning or natural language processing, for their function. However, a large percentage of strategy leaders said they are either piloting these tools or exploring use options. For example, 51% said they are investigating machine learning and 45% said the same for predictive analytics.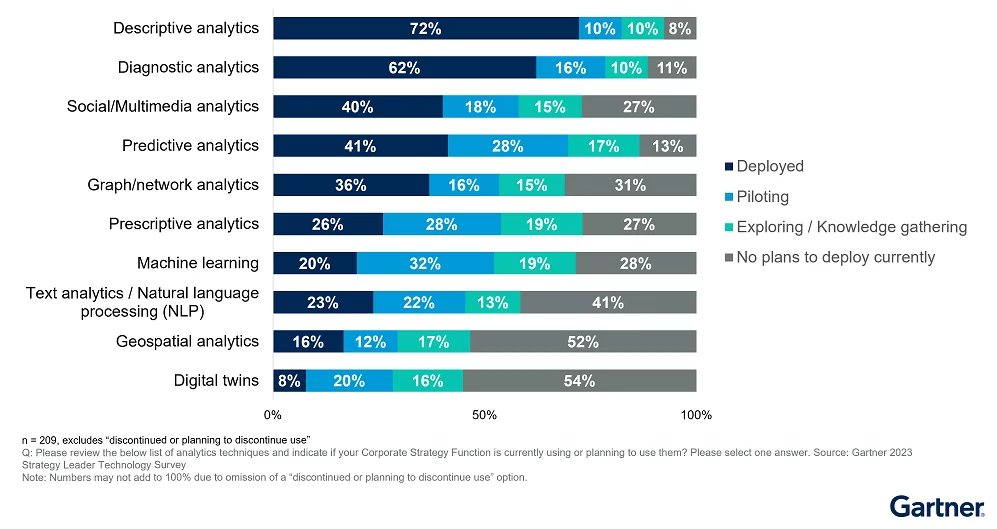 Build a Use Case Strategy
One of the biggest obstacles to implementation is establishing a clear use case for new technologies. Fifty-two percent of strategists report that this is a top-three challenge — the most selected response.
"There are several reasons for this," said Akers. "Strategists face an unfamiliar vendor market, have too many options to choose from and have little precedent to build upon."
Much of the advanced technology that strategists said they are aiming to implement is already being used successfully elsewhere. To build a strong business case, Gartner recommends first mapping existing functionality to specific needs, then consider how to prioritise the different use cases that advanced technology could offer by asking questions about the purpose, impact and suitability of the new tools.
SwiftERM clients can read more reports: index to all Swifterm blogs and news
Why AI predictive personalisation so important
Inboxes are busy places, and it's not always easy to cut through the noise. If you want readers to open, read, and engage with your emails, you need to do something to stand out — and personalisation is one method of doing so, but make sure you understand the the distinction between that, the milder form, and the much more successful AI predictive personalisation alternative.
Marketers who employ personalisation in their emails report 27% higher unique click rates and 11% higher open rates than those who do not. Meanwhile, 52% of consumers say they'll look elsewhere for their shopping needs if a brand sends an email that's not personalised.
Email personalisation isn't a guaranteed ticket to success. But on the flip side, a lack of it is a quick way to ensure less engagement with your message. If more opens, more clicks, and more conversions are the goal, then personalisation is an essential tool to make it all happen.