Tools offering artificial Intelligence are on the rise, accelerated by the phenomenal growth and adoption of ChatGPT. AI uses machine learning to automatically learn and improve from experience and can be applied in various ways to help your businesses grow. There are several tools available for ecommerce retailers that can help maximise sales, retain customers, and add value to their services to help. Here we've selected some of the most highly respected ones, worthy of your consideration.
It shouldn't be lost on you that AI is in the news everywhere, some scarily so. but the rank and file applications are far from taking over the world and enslaving humanity tomorrow. Why it is so powerful and noteworthy, is the returns it delivers are unprecedented. So much so, where a short a tome ago as just a couple of years we would have been talking in the 10% ROI level as a healthy return, AI explodes this number in the 10,000+% level. Staying warm and cosy blissfully unaware or reticent to change is no longer an option, the train is leaving the station, it's time to step up.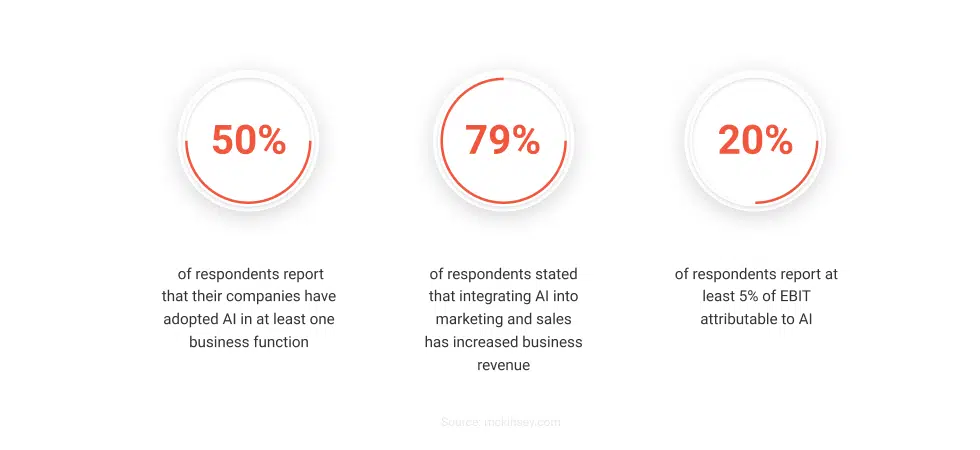 What are the best AI tools to grow your ecommerce business?
There are AI platforms designed to help in various areas of ecommerce. From website design and build through to listing optimisation and marketing, predictive modelling and analytics. We've carefully hand-picked some of the best AI tools available to help grow your eCommerce business.
What are the best AI tools for website building?
Zyro – A website builder with AI components including content creation, blog title generators, heatmaps, and design support. Zyro helps to take the workload out of website creation through it's roster of AI tools allowing individuals to create customisable websites and online stores.
Wix ADI – Wix ADI (Artificial Design Intelligence) is an AI website-building platform, creating custom websites for every user. The builder works by asking you about your business and your goals, and what tools you would like, and uses these answers to shape a website. You can also select design preferences to create a website in the style that you want.
What are the best AI tools for personalisation?
Amazon Personalize – A machine learning service that provides personalisation and recommendations for customers. It works by using AI to quickly build and deploy curated recommendations and intelligent user segmentation at scale, helping to deliver the right customer experience at the right time and in the right place. This means that recommendations are optimised leading to more effective customer targeting utilising your own data.
Clerk.io – In Clerk.io's product suite is ClerkCore, which is their proprietary personalisation technology that uses an algorithm designed and tailored to the needs of a modern eCommerce store by connecting people with products. It can instantly index entire product ranges and works across both off and online channels to provide data on customers and products to deliver outstanding user experience.
Clarifai – This powerful AI personalisation platform helps to optimise product search and discovery to deliver personalised product recommendations. Through similar product recommendations eCommerce sellers can improve conversion rates, reducing bounce rates, increase basket size and drive sales. It also leverages sentiment analysis to improve the whole customer experience. Clarifai offer one of the most compelling and complete AI eCommerce solutions on the market.
Vue.AI – Providing an AI-driven abandoned cart solution, Vue.AI help eCommerce sellers use personalised content to engage shoppers, increase return visits, and conversions. Using on-site recommendations and personalised omnichannel retargeting campaigns can help increase basket size and conversion, and this is where Vue.AI can prove to be a very powerful AI tool for eCommerce businesses.
Persado – An AI-powered platform that generates personalised language for eCommerce marketing campaigns. It leverages a vast, proprietary marketing communications knowledge base, advanced AI, deep learning models, and a decision engine to deliver precise language designed to motivate individuals to engage and act.
Albert – This is a platform driven by AI that helps eCommerce companies optimise their advertising campaigns and measure their performance. It does so by self-optimising cross-channel campaign design and management providing holistic and agile channel strategies and execution. Predominantly this tool operates in your paid, social, and programmatic accounts.
Ocoya – Ocoya's technology is an AI-powered content marketing platform that creates, auto-generates and schedules content for social media and blogs. It integrates with all of the top social media platforms and also eCommerce platforms such as Shopify and WooCommerce.
Adzooma – this is a tool created to help simplify your online marketing by managing your local listings, reviews, SEO, paid ads and more in one single platform. You'll also access a comprehensive holistic dashboard for reporting, helping you to measure performance and campaign success.
What are the best AI tools for email marketing campaigns?
SwiftERM – This is an AI predictive personalisation tool for ecommerce email marketing. Instead of waiting for consumers to visit your site, enjoying the CRO AI you have prepared there, it autonomously takes products predicted to be most likely to be purchased by that individual, to them at the perfect time. Nurturing loyalty, consumers appreciate that you know them like never before. This in turn is reflected in massive hikes in AOV and CLV. But by far the greatest explosion is seen in ROI, as figures in excess of 15,000% are experienced for the first time.
Bluecore – A marketing automation platform utilising AI that helps ecommerce businesses personalise email campaigns and product recommendations. It's solution takes retail data and turns it into powerful one-to-one campaigns. This platform allows you to communicate with shoppers as soon as they land on your site which runs off a broad set of behavioural and product triggers using a retail-specific trigger library.
Flowrite – This AI email writer uses your instructions (normally a couple of short sentences) to generate unique personalised messages. It's one-click generator creates emails in seconds with the added functionality of creating your own smart templates too. You can also toggle the tone of your email from casual to formal, friendly to polite and respectful with just one click.
What are the best AI tools for customer service?
Inbenta – An AI-powered platform that provides natural language processing, machine learning, and chatbot capabilities for customer service. Their patented Neuro-Symbolic AI 4-in-1 platform powers interactions with customers to give the best answers to even the most complex questions. Combining machine learning with symbolic reasoning, the platform seeks to provide the best experience for customers to keep them happy, automate responses to repetitive queries and deliver engaging and efficient support.
Watson Assistant – Designed to deliver consistent and intelligent customer care across all channels and touchpoints with conversational AI. This is a conversational AI platform that removes the friction of traditional support and delivers exceptional customer care at scale. This combination helps boost customer satisfaction while reducing costs, a powerful duo.
What are the best AI tools for eCommerce analytics and predictive modelling?
DataRobot -DataRobot have developed an AI-powered platform aimed at retailers called AI Cloud for Retail. It automates the process of building, deploying, and maintaining predictive models for eCommerce businesses. AI Cloud for Retail delivers data-driven solutions to optimise operational efficiency such as forecasting demand for staffing using consumer buyer habits.
Salesforce Einstein – An AI platform that provides predictive analytics, natural language processing, and machine learning capabilities. Salesforce Einstein enables you to get rich insights and data for past customer interaction, which you can use to strengthen relationships, prioritise leads, cases and campaigns to boost sales and revenue.
What are the best AI tools for optimising listings and product discovery?
InData Labs – An AI-powered image recognition tool that allows ecommerce businesses to tag and organize product images, and improve search functionality. Using custom image recognition InData Labs can create bespoke solutions to detect, recognise and identify objects from raw images and amplify product classification.
Klevu – An AI-driven search platform that provides natural language processing, machine learning, and search capabilities for eCommerce websites. Klevu's AI eCommerce solution connects shoppers with products they want to buy, enhancing your search and product discovery journey by using customer intent data and improving conversion rates and increasing revenue.
Syte – AI tagging and merchandising. Syte uses visual AI to automatically tag products with unique, accurate, and consistent attributes. This platform really comes into its own on marketplaces working with multiple brands, so it is perfect for marketplace sellers. The AI tagging solution standardises product date for a better customer experience.
What are the best AI tools for creating videos?
Smartzer – An AI-powered video platform that allows eCommerce retailers to create interactive and shoppable videos. Smartzer has integrations in place with Shopify, Magento, BigCommerce and WooCommerce and enables eCommerce businesses to create highly engaging live shopping events via eCommerce and social commerce channels.
Is AI taking over the eCommerce world?
Whilst embracing and introducing AI platforms can help streamline your operations and boost your ecommerce business, humans still are at the very heart of ecommerce. Ai is a phenomenally tool that empowers your ecommerce business like never before. You will integrate it eventually, you'll have to as each of your peers does in turn, they shrewd retailers will be the ones that adopt it early enough to survive and thrive.