What marketing methods have the highest ROI? Marketing can be done through many different vehicles and mediums. Not every medium will have the same result or cost. As such mediums need to be compared and evaluated in order to learn what is best for your business. So we are going to look at a report from Neilsen Research which analyses which mediums are most effective for marketing:
Promotions/Price Discounts
Magazines
TV advertising
Outdoor ads
Newspapers
The chart to the below lists the major marketing methods that the vast majority of businesses will consider utilizing. We have also added the following mediums to review:
Direct mail marketing
Trade shows
LinkedIn Ad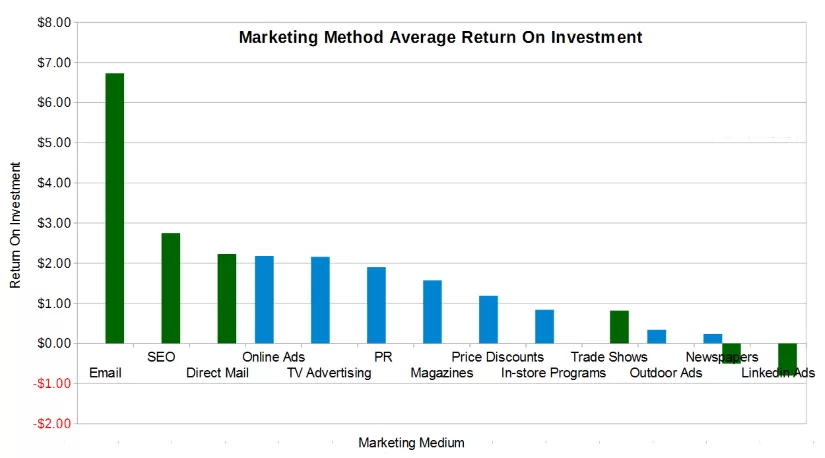 Comparing Marketing Methods
The Nielsen Company has done a great deal of research comparing different marketing methods in relation to the ROI that can be expected from them.
Search engine optimisation is not included (it is unique from online ads). Many companies, you can Google, monitor the ROI our SEO services every week in order to ensure clients are getting the best value for their marketing budget.
The average for SEO services is £2.75 ROI means that for every £1 spent, the company generates £3.75 (for a profit of £2.75). In percentage terms, this would be a 275% return on investment. When looking at the chart above you can see that Email marketing, SEO, and direct mail all have a much higher ROI.
How to Measure the ROI of Your Own Marketing Activities
The first step to calculating the ROI of your own marketing activities is to start attributing a marketing method to each sale. This can be done by giving customers a choice of marketing methods at the checkout page or if you don't sell on-line it can be done by asking the customer how they found you and why they decided to buy at the time of purchase. Once you have this information you can calculate the sales and contribution margin attributed to each marketing method and calculate the return on investment for each method. To complete this calculation, you can use the formula below.
Marketing ROI = (Additional Profit From Marketing – Cost of Marketing)/Cost Of Marketing
Where Additional profit From marketing = Revenue from marketing – Variable costs of that marketing
And where Variable costs of that marketing = Revenue x Contribution Margin or Revenue – variable costs
For example
If we assume that £10,000 in sales were brought from magazine advertising and that the company has contribution margins of 40%, that gives an ROI of: [(10,000 x 40%)-500]/500 = 700% (Every £1 spent returned £7 pounds in profit after the cost of the marketing).
Different marketing methods excel in different campaign lengths. Some methods will take a few months to reach peak effectiveness while other will hit a peak immediately. Ensure you run and measure the campaigns for the right length time, erroring on the side of measuring for too long a time period.
Increasing the ROI of Existing Plans
The same Nielsen report found that marketing effectiveness could be increased by 30-40% by taking a closer look at the specifics of each marketing method and adapting the strategy to focus on strengths and minimize weaknesses. Their guiding principles for maximizing ROI are:
Consider both the short and long term impact of a marketing campaign
Different marketing methods excel in different campaign lengths. Some methods will take a few months to reach peak effectiveness while other will hit a peak immediately. Ensure you run and measure the campaigns for the right length time, erroring on the side of measuring for too long a time period.
Choose the right portals and campaigns for online success
Understand your target market on the web and focus on creating content and advertising to attract that specific demographic to your site.
Influence target groups with magazine advertising
Magazines have a clearly segmented target group (unlike newspapers, which are read by a wide range of readers). If a magazine's target group overlaps with your businesses target group consider advertising with that magazine.
Focus on campaigns that generate the greatest halo effect
Marketing methods that increase sales are what really matter at the end of the day. Focus on methods that increase sales the most across the highest number of product lines.
Drive brand loyalty with TV advertising
TV/video ads are the best way to communicate brand information and build brand loyalty. For small or very targeted budgets try Youtube video ads.
Create synergies across media to produce additional uplift
The messages that your marketing is deploying must be consistent across all mediums. Implementing multiple media at the same time can cause a higher ROI.
Create brand awareness through in-store advertisements
An excess of discounts and promotions erodes a brand's quality over time. Focus on advertising your brand within your own store or website in order to continue to grow brand awareness instead of using discounts to drive sales
Invest in your customers with premium gift packs
Investing in your most valued customers has a short term cost but can have a long-term gain. Increasing the perceived value of your services to your long term customers is essential to keeping those customers. This can be done easily by offering additional services for free with a purchase or just giving them a small gift like a box of chocolates just to say thanks for being a customer.
The Marketing Method with the Best ROI: Email Marketing
In the Neilson study email marketing has the highest ROI of 675% when compared with any of the other major marketing methods. An email marketing campaign with a businesses website can be utilised to great success in order to increase sales and profits.

With this as a base-line figure, and remember this number the highest compared to everything else. Thereafter within email marketing as a stand-alone science, there are entirely different applications to consider, which achieve varying degrees of success, starting at the lower end – all be it – of the highest returning sector.
Within these, by a country mile personalisation dominates marketing ROI. Published last month, personalisation technology, what's the big deal, offers supporting verification that it not only obliterates all other forms of email marketing, specifically variants such as triggered email marketing – (if the customer does this, they get an appropriate email etc overtaken by a ration of 5:1.) and omni-channel variants by 3:1
Free trial of predictive personalisation software here.