Beauty products online analytics. A fascinating piece of research carried out by Salience highlighted the winners and losers in the online beauty market in the UK, the annual insight report recently published.
"We believe in publishing free insights to bring us closer to our favourite brands. If this is the first time you've seen our annual market report, we're a UK search marketing agency who specialise in SEO, Paid Media & Content.
This report highlights your brand's successes & shortcomings compared to your industry's biggest names across ten key digital metrics, from your market share of organic visibility to social prowess and consumer search trends." said Richard Waters Sales and Marketing Director.
The key SEO metric. Visibility is all about how easily your brand can be found online. It's a little like the footfall of the internet. The greater your brand's, visibility the more likely you can be found by your target market.
The top 5 brands are the ones to watch. They're on the rise with the biggest growth in the market. Whatever they're doing, search engines are loving it and you'll want to work out what that is and emulate their strategies, fast.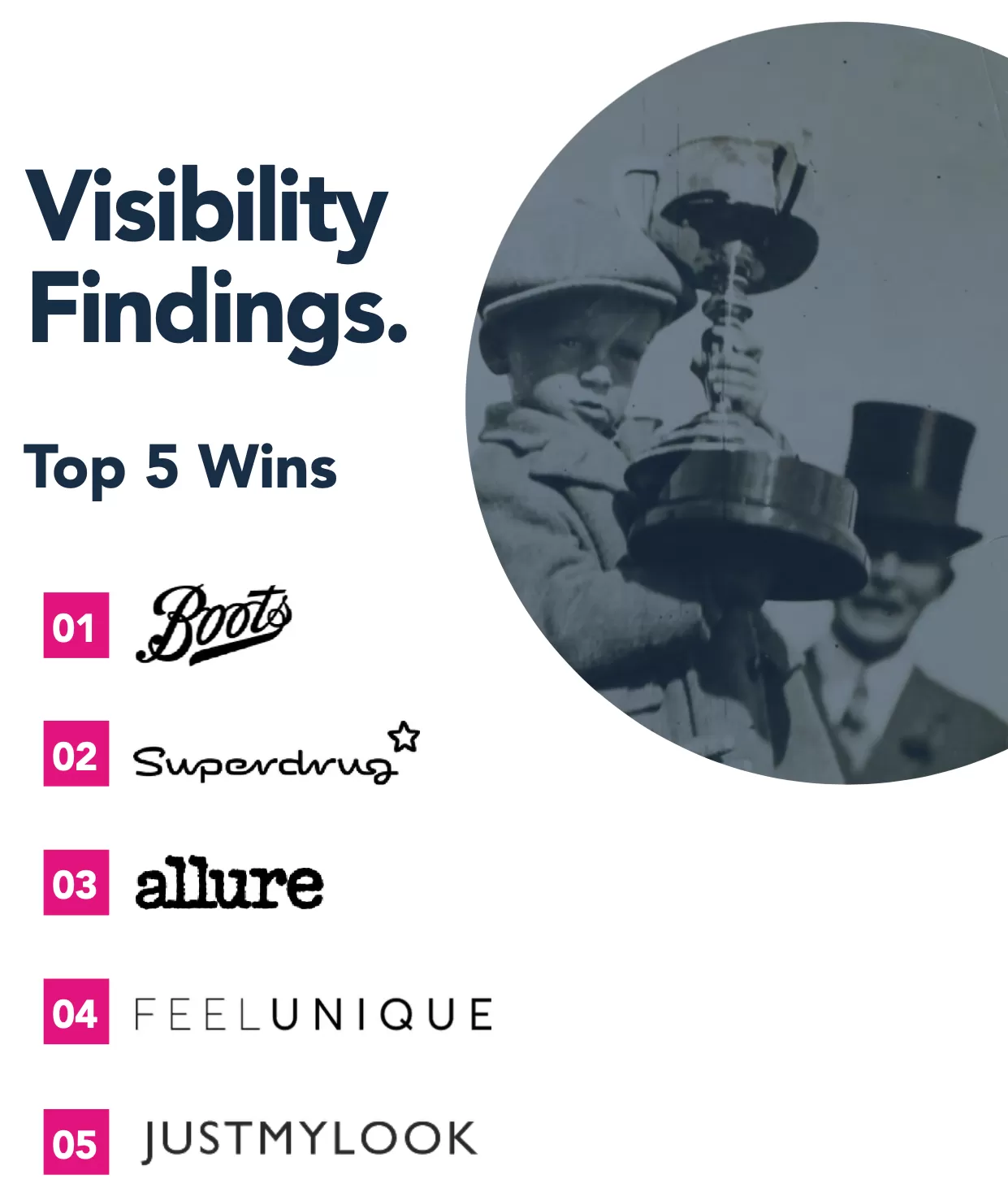 On the opposite end of the spectrum, these brands have had the biggest visibility drops. They're likely to have been punished by a search algorithm update or have let things slide over the course of the year. Either way, learn from their mistakes.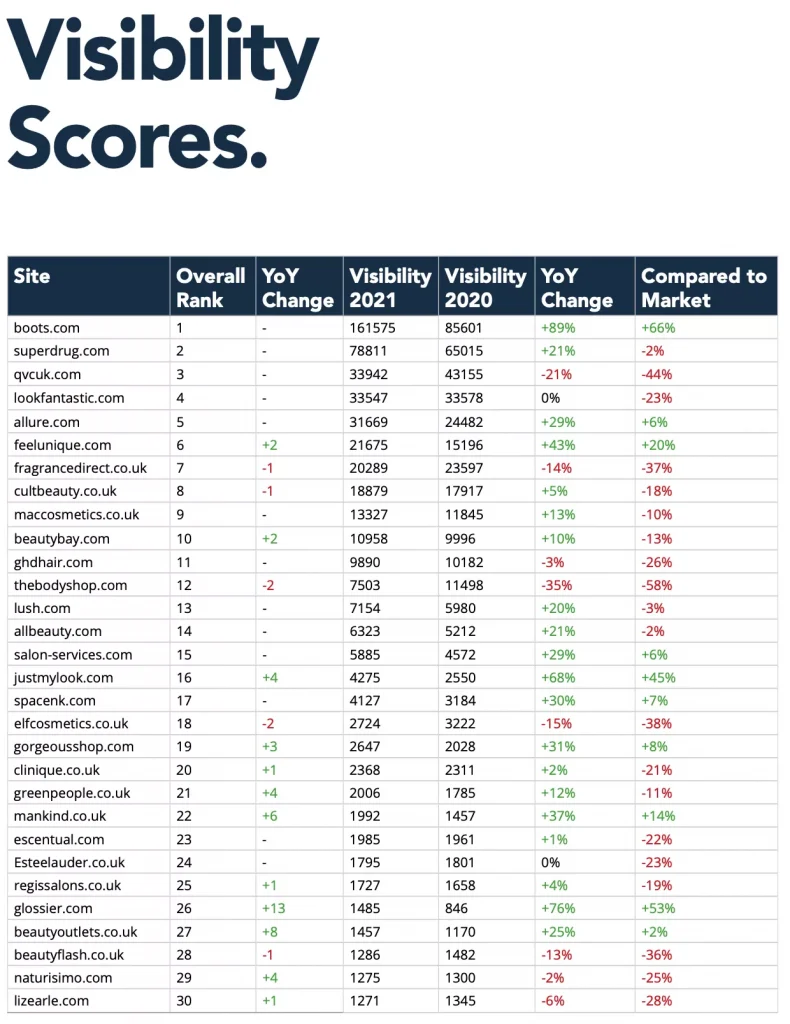 Visibility vs Authority
Authority is about the stature and reputation of your website. Search engines like high authority sites as they're loaded with trust-worthy signals and likely to provide useful services and content. Authority is measured through a metric called domain rating. The higher it is, the more chance you have to rank for competitive keywords and boost your visibility.
Search engines judge authority through a domain's popularity, size, and age. They use on and off-site signals to determine rank. By matching visibility scores to authority, it is possible to identify which sites are performing beyond their means. These are the ones to learn from. Authority is best achieved through link-building. But it's not about quantity. A few high quality links go miles further than loads of spam. Low authority brands who are ranking for high volume terms are the ones to watch. Target the keywords they perform well on for quick growth.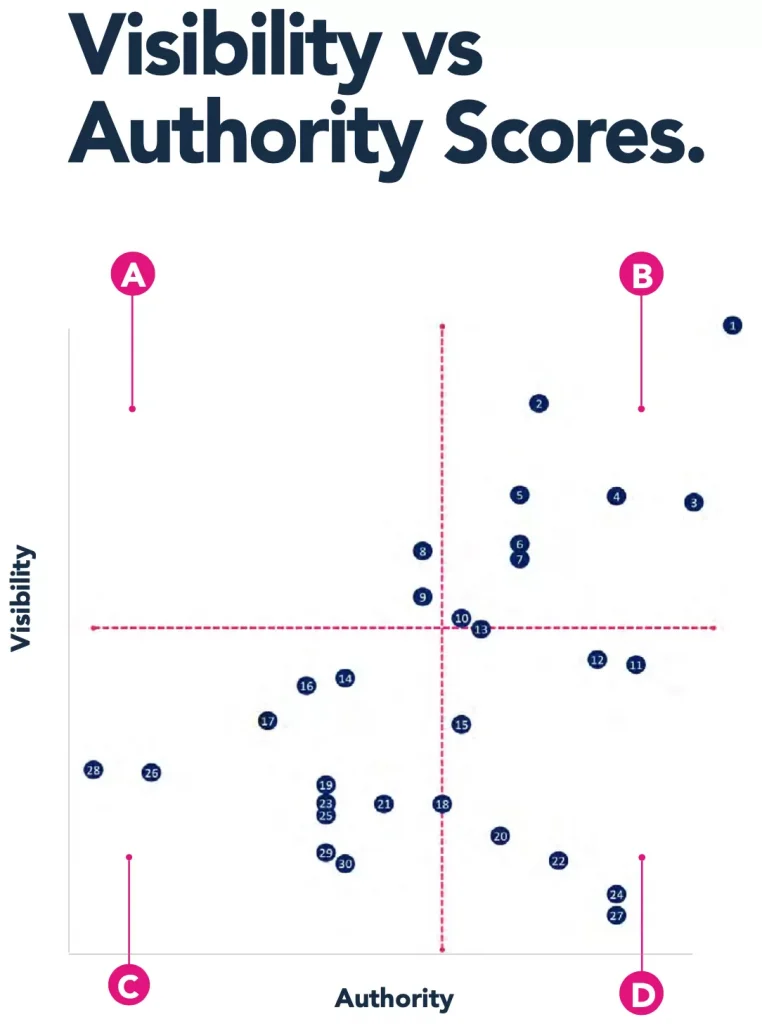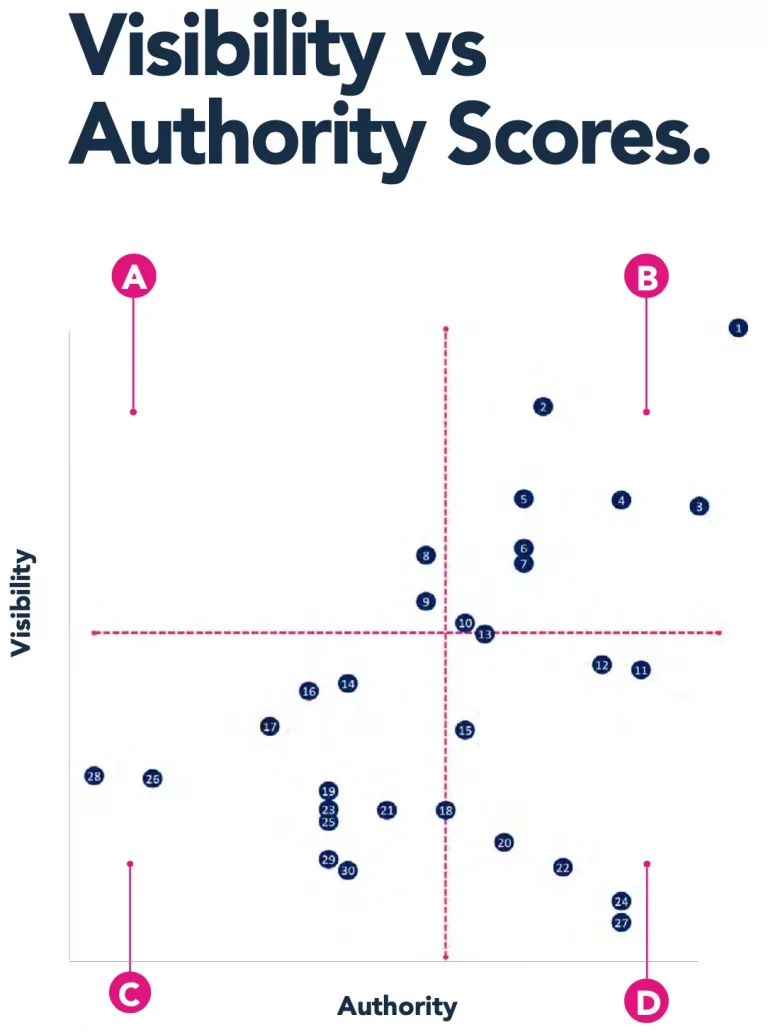 A, Those with high visibility but low authority have laid good foundations for their site and would benefit from increased search marketing activity to build on those foundations.
B. Hat's off to these guys, they've built their house right and have the search marketing strategy to expand. At this point, you should be thinking about solidifying yourself as a market leader.
C. Sites with low visibility and authority. Look on the bright side, there's a lot of room for improvement. Brands in this zone should consider urgently rethinking their on-site technical and structural setup, also their keyword strategy and off-site campaigns.
D. Low visibility, high authority. At school, these sites were the kids who 'had potential.' There are clearly some on- site issues holding these brands back. Whether those issues lie in content, structure, or tech, an on-site review is highly recommended.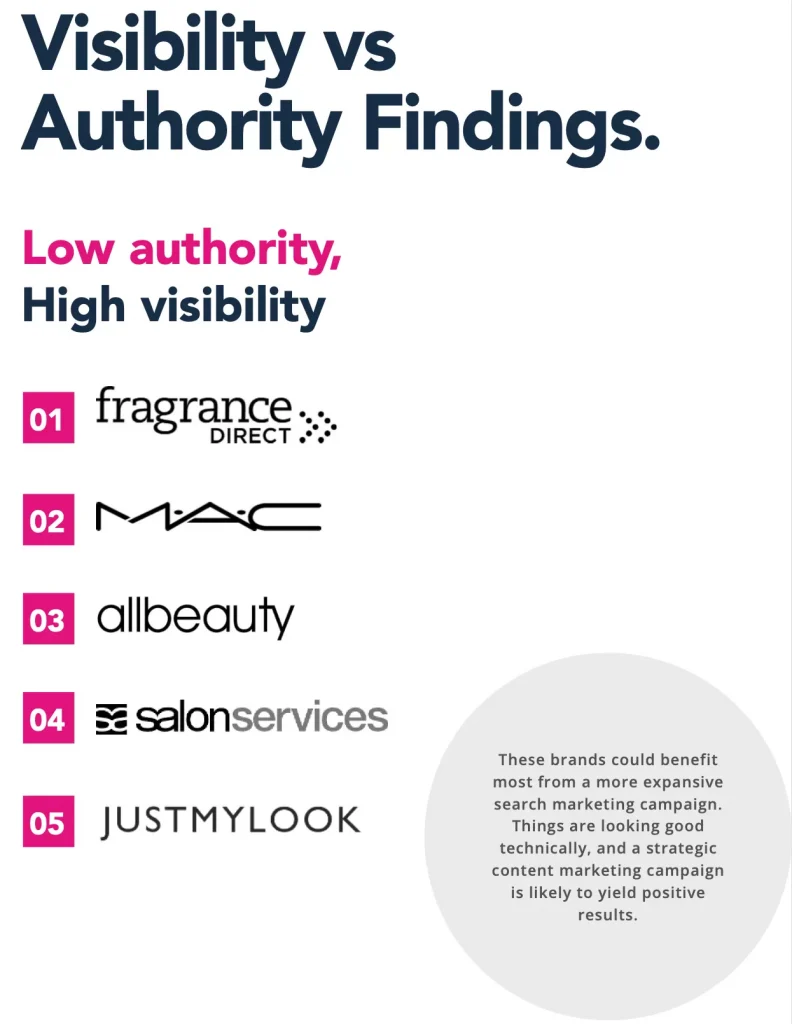 Page Speed
Perhaps 2021's biggest news in the world of digital marketing, Google have " announced a new ranking factor set to shake up the web.
Titled Core Web Vitals, this new ranking factor will centre around page speed. We're talking largest contentful paint (LCP) and first input delay (FID)
– in simple terms, how fast your site loads and how fast it can be interacted with. The first step is to check how you compare against the rest of the industry.
Luckily, we've got just the thing. Our page speed leaderboard shows which brands are lightning fast and those lagging behind.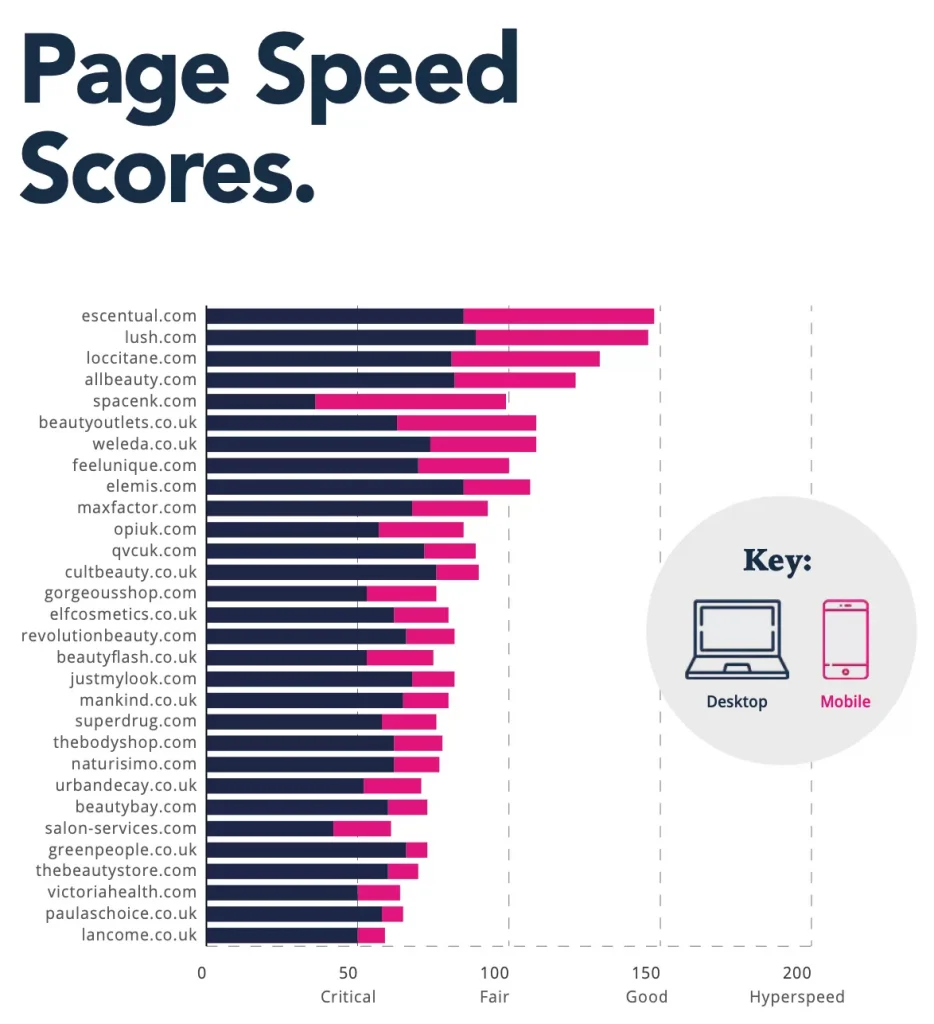 Search volume trends show how interest has changed for the products, services, and content provided within your industry. A downward trend means fewer people are searching. An upward trend means interest is on the rise and new opportunities are up for grabs. Either way, it's important to stay on top of when a search is high and low to help inform your strategy for search.
Keyword Trends. We've been keeping a close eye on what keywords people are searching for in the market, allowing us to see what is trending. Using historical search data, we're able to find trend patterns and identify opportunities ahead of the curve. Our search and content strategists continually monitor industry movements. From here, we're able to spot content and category gaps before they're deemed industry- standard.
High competition keywords
These keywords are the heavyweight belts, the golden tickets, the ones to tell your nan about. For top of market brands holding these positions, close monitoring and continued search marketing activity is needed to safeguard them. For challenger brands looking to weigh in, you best bring your A-game.
High competition keywords are typically sought after by big brands. We're talking those with brick and mortar stores & large brand reach.
Qualifying intent is more important than ever on these keywords. Providing the correct user journey upon first click is critical.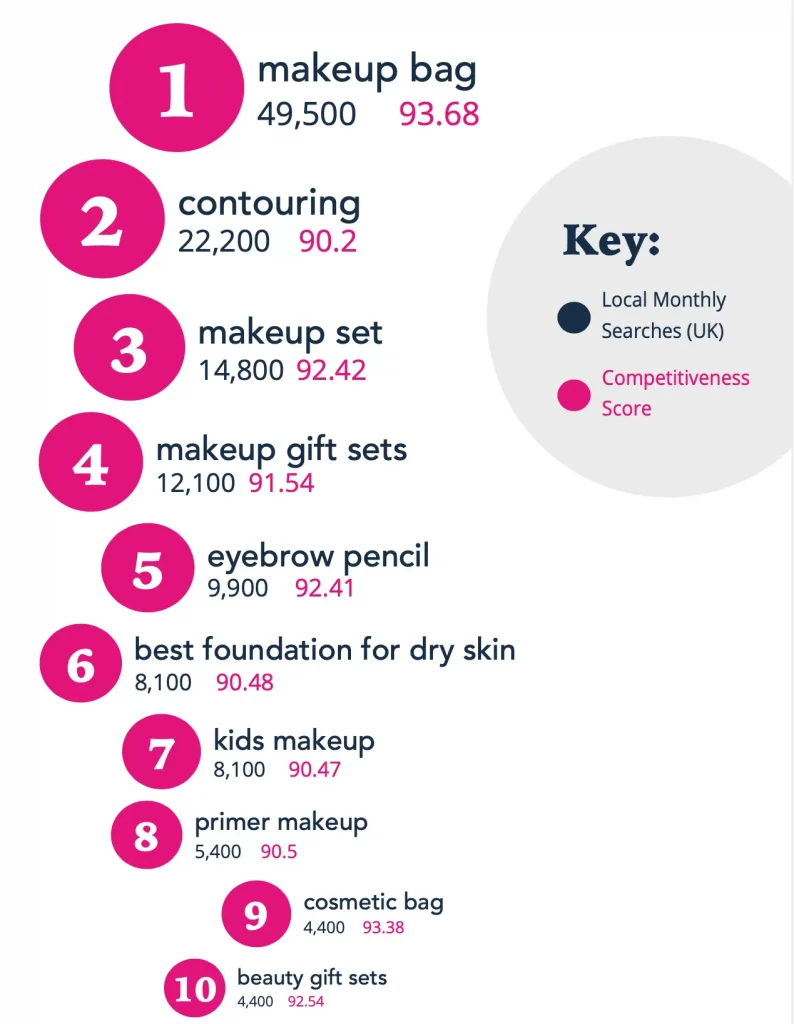 First introduced with the E-A-T Algorithm update in 2018, trust has since become a critical ranking factor. But there's no single score to judge trust. Instead, it's a holistic view of your website's expertise, authority and trustworthiness. It centres around both on and off-site signals. Think external review platforms, high-quality links, transparency over processes and policies, and plenty more.
Your Money Your Life (YMYL) / eCommerce brands are those most likely to see visibility drop as a cause of poor trust signals. Search quality evaluator guidelines identify how manual reviewers evaluate your site's trust-worthiness. Use these to get ahead.
Digital Brand Reach
Digital Brand Reach centres around how well recognised your brand is within the industry. To calculate this figure, we blend traditional search metrics with performance of social channels across the sector. This helps identify which brands are most prominent across a range of channels and those who are lost to the abyss.
Brand searches are a traditional measure. Owned social score is really important too. This identifies audiences you have access to. Brand searches are a traditional measure of how many people are searching for your brand name through search engines. Owned social scores are increasingly important in this hyper-digital world. Improving yours is key to cross-channel traffic acquisition.