Understanding the motivation behind personalisation. According to McKinsey, in the US alone, ecommerce saw 10 years' growth in the space of just three months, with 75% of consumers reporting trying different stores, websites, or brands during that time. In response, retailers have reportedly increased their investment in R&D, innovation and technology – with 40% reporting that they are now at a 'mature' stage in their adoption of artificial intelligence, according to a survey by O'Reilly Media.
This combination of greater consumer demand and greater competition – as well as a technological arms race – is likely to push up consumer expectations, particularly around personalised, seamless buying journeys.
The customer perspective
The evidence is conclusive: personalisation is something customers want. Accenture reported that 91% of consumers are more likely to commit to shop with brands that provide tailored recommendations, while research from SmarterHQ discovered that 80% of frequent shoppers will only buy from brands that prioritise a personalised approach. Additionally, SmarterHQ has revealed that 72% of customers will only engage with messaging that is curated.
The obvious consequence of this is that if brands fail to prioritise personalisation, they will, in all probability, suffer. According to a study by Adobe, two-thirds (66%) of consumers won't purchase from a site that doesn't speak to them directly, with 42% admitting that a lack of personalisation from brands actively annoys them.
However, personalisation in and of itself isn't enough: a SmarterHQ study found that almost two-thirds of consumers will stop buying from a brand if personalisation is executed poorly or invasively (i.e. if it triggers the 'ick' factor). Retailers therefore need to walk something of a tightrope – they can't afford to ignore the personalisation imperative, but they'll only be able to fully capitalise on it if the implementation and execution is absolutely spot-on.
All of which begs an obvious question: are brands currently living up to customer expectations when it comes to personalisation?
As things stand
While most brands appreciate the importance of personalisation, a great number are also aware that they need to be doing more. Research this year by consumer engagement platform Wunderkind, surveying 2,000 UK marketing and ecommerce professionals, found that though two-thirds (66%) of retailers consider personalisation to be 'crucial' to how they operate, many struggle to effectively identify website visitors in their CRM, limiting their personalisation capabilities.
The research found that four in 10 retail marketers can only identify 26-50% of website visitors, while 23% are only able to identify a quarter. What's more, 28% admit to having trouble identifying shoppers if they use different devices to visit the site.
Retailers are, understandably, keen to address these issues; more than half of marketers (51%) consider improving personalisation to be their top priority, while 2019 research by customer data platform provider Evergage found that 88% of marketers consider delivering better customer experiences to be the primary personalisation driver.
And, given that 68% of shoppers say they're unlikely to return to a site if the customer experience is unsatisfactory, it's no surprise that retailers are keen to find and employ the appropriate solution(s) quickly.
In terms of effectively harnessing personalisation, it's clear that, despite good intentions, there's still a significant divide between what retailers want to offer and what they're actually able to deliver. So how can they close this gap?
Data and the need for more
Without having access to rich data sets (specifically first-party or zero-party data, indicating customer preferences, interests, intent and past on-site behaviour) and the ability to apply this data in real-time, retailers find themselves facing an uphill battle when it comes to communicating with customers in a one-to-one way.
A recent report, Countdown to 2023, produced by Wunderkind and Retail Gazette discovered that almost half (44%) of marketers say that not being able to effectively understand consumer intent is a key personalisation challenge – with one in three (34%) admitting that they aren't able to determine whether a consumer is a buyer or a browser.
This is a challenge that digital-first bedwear and linen retailer Piglet in Bed partnered with Wunderkind to address. By implementing Wunderkind's real-time customer identification and data capture technology, Piglet can now better capture consumer opt-in data (email address or mobile number) at various on-site touchpoints, at different stages of intent, and via an array of prompts – and then send personalised, email and text message communications based on the customer's browsing behaviour.
As a consequence, the consumer benefits from personalised product updates, while Piglet in Bed can grow its owned database and ensure that communications are only sent out when they'll be most valuable.
Piglet in Bed now attributes 14.1% of its revenues to Wunderkind triggered email, has grown its addressable marketing lists by 5x, and has introduced more sophisticated automation to its email journeys.
"Owning an audience is far more valuable than renting one," says Piglet CMO Jake Newbould. "Not only can we ensure consumers receive content and offers that align with their preferences, but we feel somewhat less reliant on excessive digital retargeting expenditure with the likes of Google and Facebook when their auction prices can experience such volatility.
"This is preferable from both a cost management and customer engagement perspective. Because of our ability to capture data, we've also been able to introduce text as a communications channel, and that's delivering fantastic results for us.
"Owned audiences are critical for future growth. Being able to directly engage with consumers is powerful, and will only become more so as third-party cookies will inevitably be phased out."
How to take personalisation to your customers
It's widely appreciated that personalising pages on your ecommerce site encourage a great deal more custom, loyalty, and AOV as an immediate benefit, but then for some strange reason they then leave it at that. What is less appreciated is that stopping there is the same as sitting on a park bench, as long as you sit there someone is bound to happen by at some point. This translates into waiting for customers to come to you.
It is important to see what happens in realistic with many retailers, they get duped into believing segmentation is personalisation. Because lumping a load of people in a category together does not work. It is not personal it is just a smaller group of diverse tastes and interests. This is the equivalent of you sending an email to everyone who bought a red item, or a XL size, is painful when you measure the effect. Segmenting is marketing marginalisation.
The solution is predictive personalisation software (PPS). One such example is SwiftERM, which use data captured from each individual consumer as they visit your site, including what they look at, return to most often, etc. It then aligns this with both that individual's buying history and their perpetual purchases, to rank every SKU on your site by the greatest likelihood of imminent purchase. Instead of waiting to convince that person to buy a specific product, (this season's stock for example) it uses a predictive analytics algorithm to work out what has been achieved already, and simply capitalise on it.
Both Statista and McKinsey readily verify that this type of personalisation far and away out-performs static page personalisation on your site, and literally obliterates the generic email marketing that 99% of ecommerce merchants employ. This is not a clarion call to stop, but rather to be aware of what is needed to add to the mix to keep performing at the top of your game. It goes to your consumer, thereby often negating product price or indeed alternate supplier comparison. What's more it goes significantly further out-performing, triggered personalisation, omni-channel marketing and promotional email marketing combined. Thereby delivering the greatest possible ROI in ecommerce today.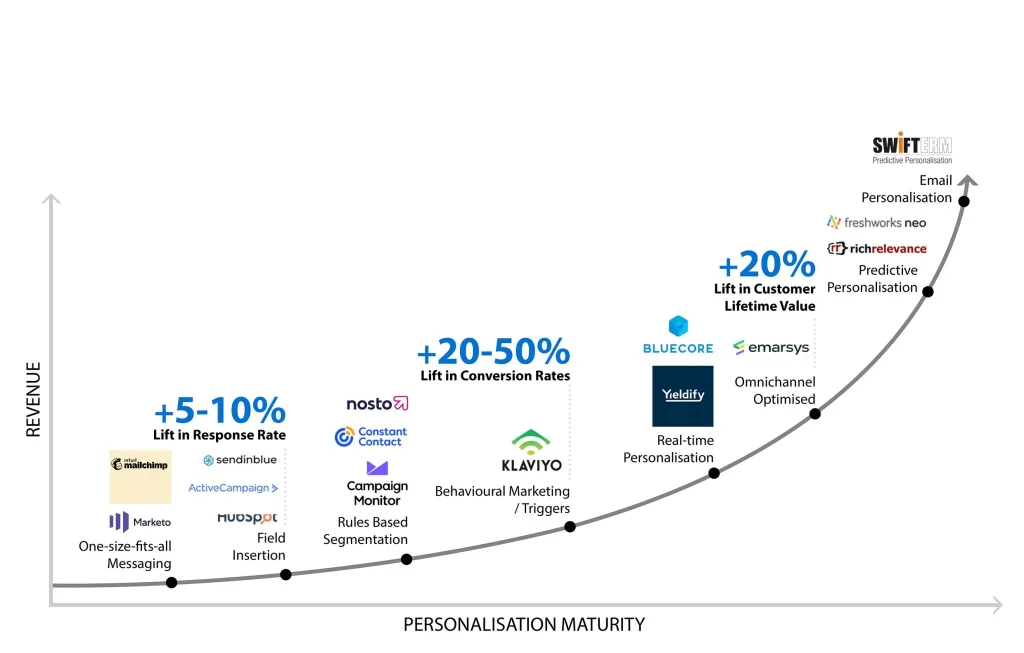 Three key takeaways
So, when it comes to the future of personalisation, what are the key things all brands need to keep at the forefront of their minds?
First-party data is vital
Without robust first-party data it's very difficult to effectively personalise the customer experience. Gathering this data is the first step towards being able to identify customers, understand intent and deliver bespoke, nuanced messaging. This approach pays dividends: research by PwC has found shoppers are willing to pay up to 16% more for personalised experiences.
Recognise the value of retention
Whilst new customer acquisition is always going to be a growth priority, it's important not to overlook existing customers. Bringing customers back to site with relevant, targeted one-to-one communications – for example, around basket and category abandonment, or stock-related updates – is a hugely effective (and cost-efficient) way to increase conversion rates and revenue generated from email. What's more, McKinsey suggests personalisation programs can cut marketing and sales costs by as much as 20%.
Time is of the essence
Earlier this year, Google announced that it was delaying its plans to phase out third-party cookies from its Chrome browser, granting a much-discussed extension to 2023. Still, this significant change – as well as Apple's latest iOS updates – has intensified the urgency to reduce reliance on cookie-dependent acquisition tactics and upweight investment in first-party data, owned channels and personalised customer experiences.