Top Fashion Retail eCommerce Trends happening now. Online shops need to adapt to frequent online shoppers and their purchase journey. According to Harvard Review, brands will continue to invest more and more in customer loyalty. Acquiring a new customer is anywhere from five to 25 times more expensive than retaining an existing one.
Furthermore, existing customers, on average, spend 67% more per purchase than new customers. It makes sense, trust needs to be earned, and if somebody is making an order from what seems to them like an unreliable web shop, they will definitely be less likely to risk and order more. In the first purchase, customers will likely be testing the overall experience, and it can be a huge deciding factor of any second purchase.
Covid19 crisis boost fashion eCommerce usage
During Covid 19 crisis, it has become clear that the future of shopping is based mainly on eCommerce. The abundance of online reviews in text and video format, ease of ordering, and the possibility of product return has increased the trust in online shopping during 2020.
The future of fashion sales channels is omnichannel, and by now, it is pretty clear the future will be in the online sale and not from in-store sales.
Brands like Zalando, Hugo Boss, and Inditex have experienced a drastic increase in online shop revenue during the height of the Covid-19 crisis.
Fashion and luxury fashion brands revenue dips in 2020
With the dip in consumer social gatherings because of the pandemic, fashion and luxury sales suffer. All major fast fashion, fashion, and luxury brands are reporting revenue losses in 2020.
Inditex (Zara etc.) revenue in 2020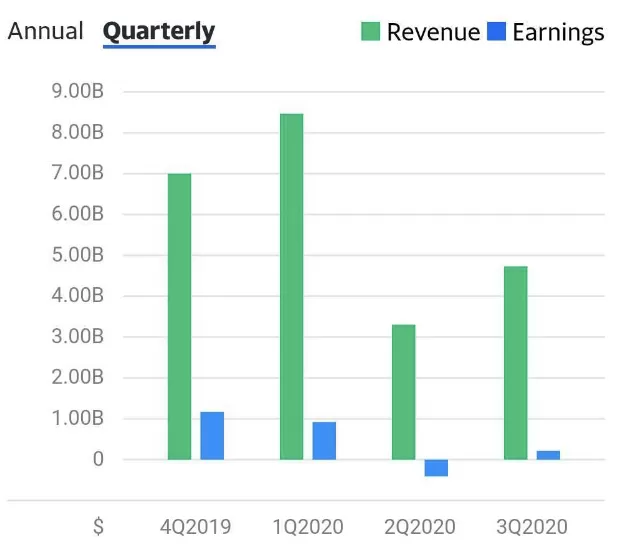 H & M revenue in 2020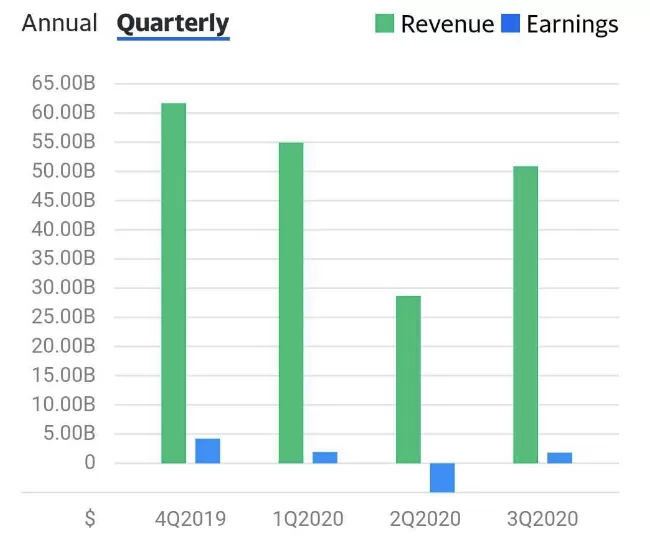 LVMH (Louis Vuitton Moët Hennessy)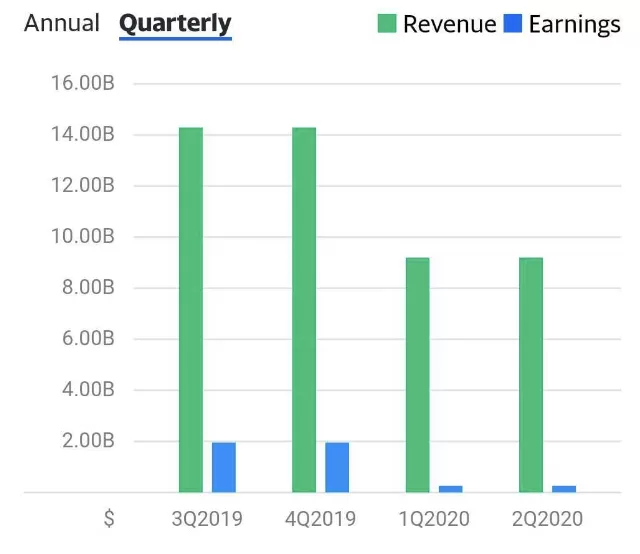 Fashion buyers do not socialize because of the Covid19 situation. As a consequence, the need for new fashion and luxury products fell. The second factor to consider, especially with luxury, is that consumer savings rose and spending fell because of the uncertain future.
Brands need to lower their operating costs and invest further resources into streamlining their eCommerce experience to survive.
Without a quality online experience, fashion brands face bankruptcy
Traditional fashion retailers that did not innovate could still keep afloat in the pre-pandemic era. Now, when the customers' focus rapidly switched to online shopping, years of stagnation and reliance on outdated marketing techniques have come to the surface.
A new situation threatens not only revenue but the complete viability and existence of a company.
At the end of 2020, the fashion world was struck with the news that UKs Arcadia Group, which owns Topshop, Miss Selfridge, and Dorothy Perkins, was hit hard by the pandemic, subsequently filed for bankruptcy.
Like other traditional High Street brands, Topshop has struggled with digital marketing and sales transformation, and digital innovation. Topshop has been completely overshadowed by online fashion platforms like Asos, Zalando, and even Zara and H&M that have a formidable online experience.
To survive, brands must invest not only into an online presence, but online presence with a quality experience. The quality online experience was offered by online-first providers like Pret-a-Porter, Farfetch, and Asos, and it includes:
focus on customer experience
free returns
no minimum free shipping
customer product feedback
etc.
Even online-first fashion brands face revenue turmoil
Online fashion brands like Pret-a-Porter, Farfetch, Asos, and Zalando are clear winners in this Covid and post Covid age, but they also face tough challenges in their 2020 earning report.
Farfetch revenue and earnings: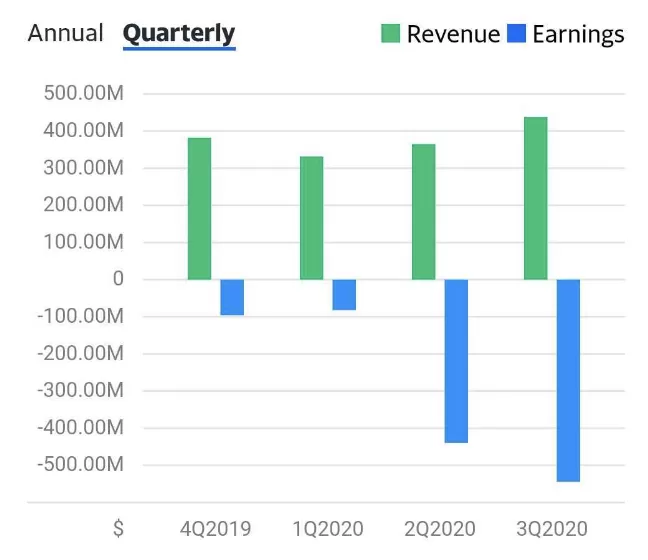 Zalando kept their revenue intact: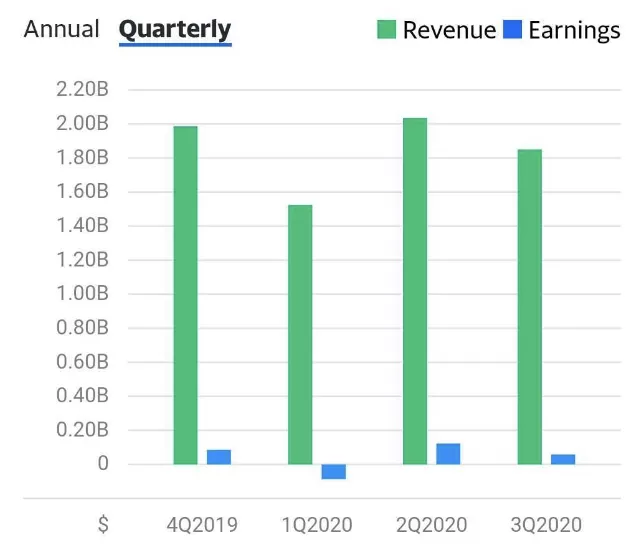 Asos kept the same revenue in 2020: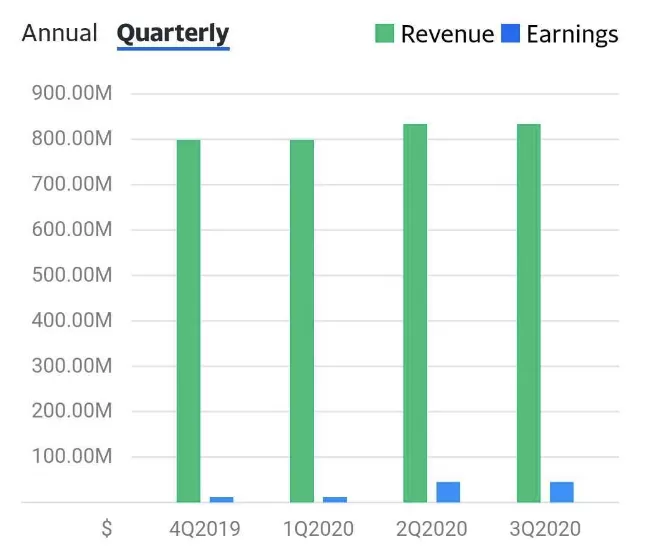 Digital fashion platforms are disrupting the fast fashion economy
Fast fashion has really lived up to its name. Brands like Zara, H&M, and ASOS reported growth year after year, but for how long? Online shoppers are starting to care more about their purchase experience, leading to a drop in site traffic across many fast fashion brands. According to a Gartner L2 report, Zara had 6%, H&M 10%, and Forever21 had 26% fewer web visits in 2019 than in 2018.
Why is that happening? The new batch of disruptors has raised the bar of digital sophistication, focusing on quality, user experience, and functionality, and threatened the fast fashion specialty retailers.
Reviews are the key to fighting high return rates
Asos, one of the biggest names in the online fashion e-commerce, recently tweeted asking their customers what they want to see in their app. Two of the most liked comment were about the reviews. People trust other people, simple as that. This is a sure way of fighting what is one of the biggest problems in the fashion e-commerce – high rates of returns. When you're shopping online, you need to find the clothes of the right size without the option of trying these clothes on before buying. Thats why he majority of online shoppers over-order to ensure they find the right size. After all, online shoppers are tasked with finding clothes that fit even though they don't have the opportunity to try these clothes on before buying. Some even take part in a social media challenge "snap and send back" whereby consumers buy simply for the purposes of posting an #OOTD (Outfit of the day) picture on Instagram, then return the item(s).
AR shopping
It's much more convenient to shop from home, but there is definitely some downsides to online shopping. When you're shopping for clothes online, you can't try on the clothes, feel the fabric or instantly know does something fit or not. The lack of physical connection often can lead to shopper hesitation and lead to fewer sales. But the new technologies like augmented reality and virtual reality can help to overcome this obstacle.
AR has been integrated in multiple shops with success. This technology doesn't offer a full immersive experience as VR, but it can overlay different digital images atop real-world surroundings, making the shopping experience engaging, unique and personal.
How many times have you considered buying something online, but you weren't sure where to put it or if it would look in a particular spot? With this capability, shoppers can easily visualize how the item will fit into their home, making their decision easier and increases the likelihood of a purchase.
Voice search is on the rise
Shopping while you drive? Only years ago, it seemed impossible.
But now you don't need to type something into a search box. Just do the talking and the virtual assistant will do it for you. A quarter of households in the U.S. now has at least one smart speaker, and people are starting to use them for shopping.
By 2021, research company Gartner estimates that brands that optimize their eCommerce shops with voice and visual search optimization will increase profits by up to 30 percent.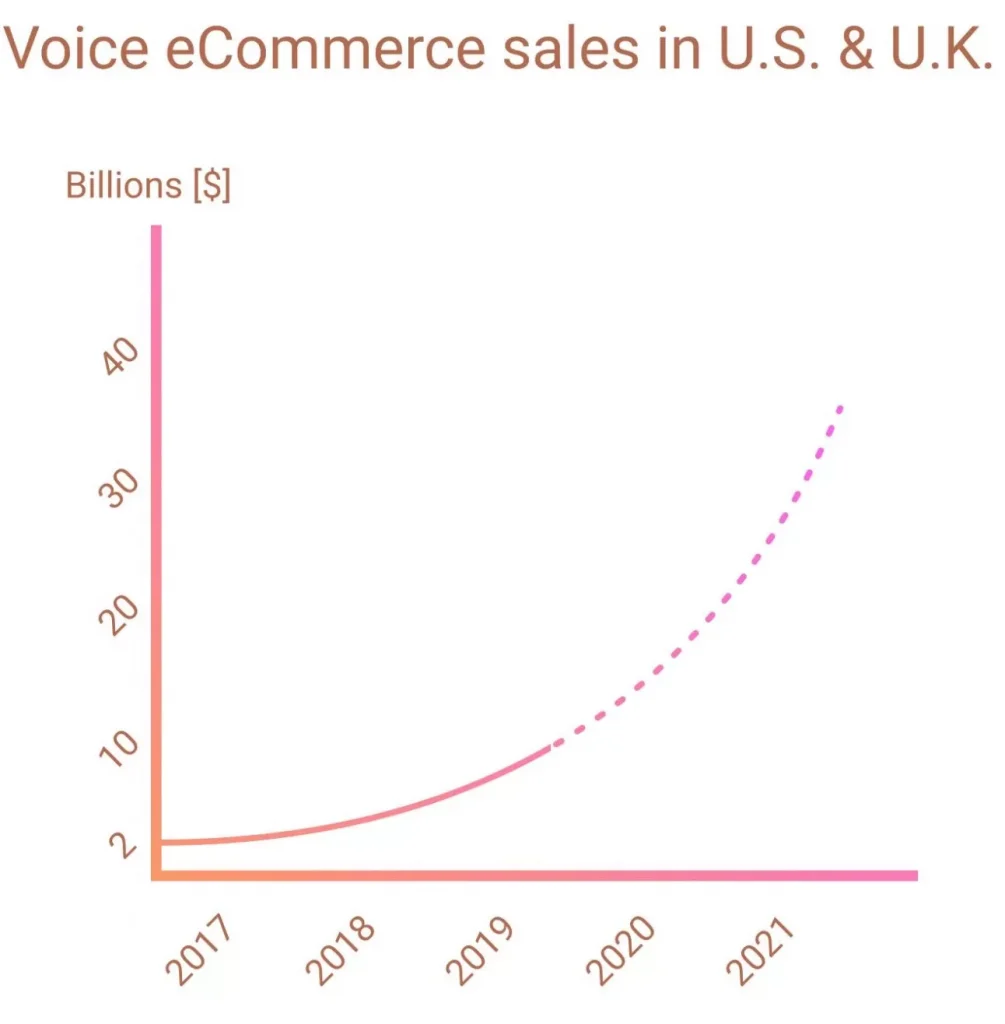 Voice search makes browsing and purchasing more convenient for shoppers and provides store owners with further insight into consumers' interests and buying patterns. But when we write, we know what exactly we need to type in, and voice searches are quite the opposite – creating lots of confusion for all the traditional SEO techniques.
Text-based keywords are shorter, to-the-point phrases while voice-based searches are more conversational in nature. What questions are people ask about your company or product? How are they phrasing those questions? Those are the things you should include in your website and the content you're creating.
Visual search is also on the rise, and we can expect to see something similar in eCommerce sites in 2021, where a user can take a picture with their phone or use an existing picture to search for something similar in the shop.
‍
Mobile is the new desktop
We live in a mobile world. With smartphones in their pockets at all times, more and more users are browsing and making purchase decisions on their phone rather than in front of a laptop. This reality is making an impact in fashion e-commerce — and it's time for brands to keep pace.
Many brands have started to make their websites more mobile-friendly, offering optimised page layouts for easier scrolling. And while offering a good purchasing experience on mobile tends to be the hardest piece of the puzzle to get right, stores are making it easier for users by storing payment information, or integrating with payment providers so that buying that new dress you've had your eye on can be accomplished with just a tap of your screen.
Video is still on the rise
Video is already pretty popular on eCommerce—but it's still growing.
There's no mystery why retailers are gravitating toward more videos—they can increase conversions, click-through rates, and web traffic. In fact, Forbes found that 65 percent of customers are more likely to make a purchase after watching a product video.
Shoppers are attracted to this advertising method because it feels more authentic and can provide valuable information. Dollar Shave Club experienced first-hand how effective video marketing can be when its unexpectedly funny first video received nearly five million views and generated 12,000 orders within the first two days of its release.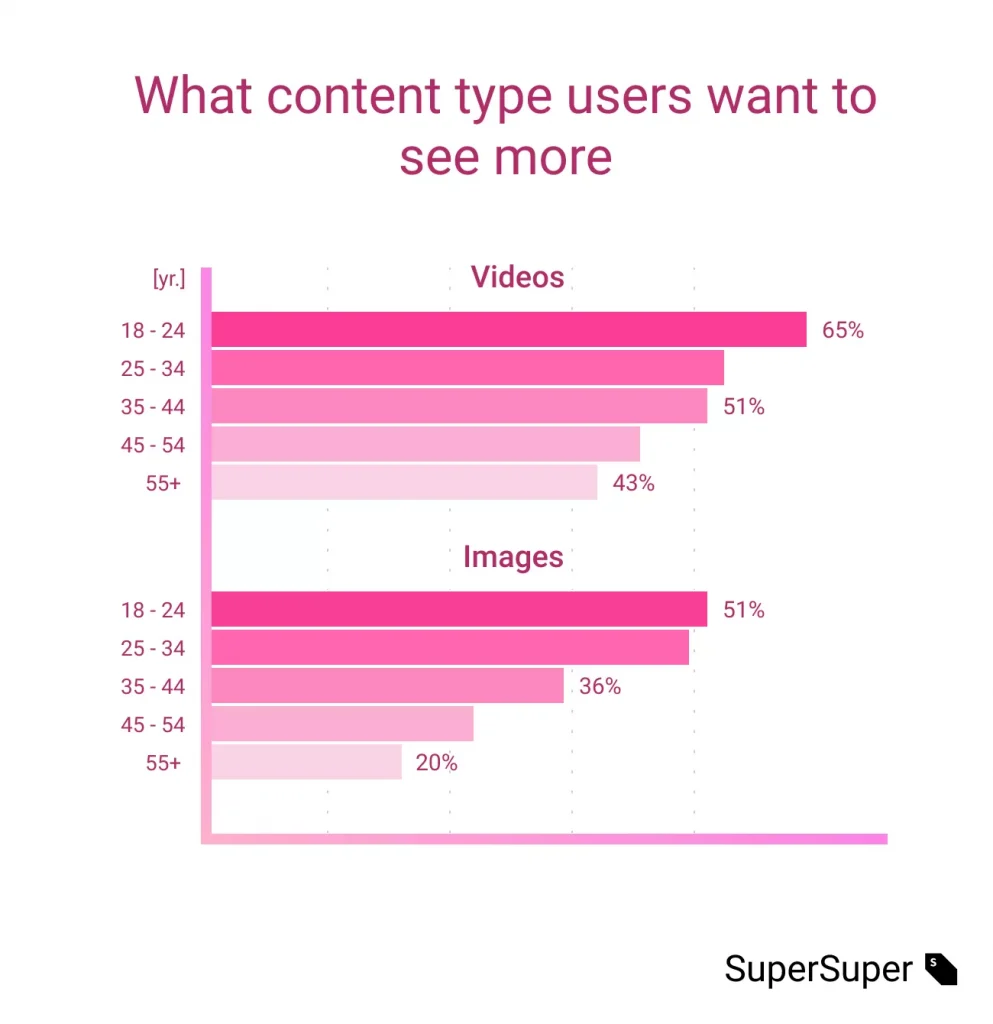 This format is so beneficial because it's very easy to share and elicits an emotional reaction from viewers. The Aberdeen Group found that companies utilizing video in ad campaigns boosted revenue 49 percent more quickly year-after-year than those that do not.
According to Cisco, video will be 82 percent of all internet traffic by 2022. That's up four-fold over 2017 and demonstrates just how important video will be to eCommerce (and all businesses) in the coming years.
Experiment with one or more of the following video formats and add embedded videos to your product pages or link to videos in your Jilt post-purchase emails to pique customer interest and boost revenue.
Product demos
Allow consumers to see the product from a 360-degree angle
Highlight and explain major features
Answer common customer questions
How-to videos
Delve deeper into a product's features and demonstrate how to use them
Popular video type for social media
Get customers excited about everything your product can do
User-generated customer reviews
Build trust in your product
Add a layer of authenticity to your reviews
Lifestyle
Build a narrative around your brand and tell stories about your product
Videography feels more like a movie or short film
Great for your social media platforms
‍
Shoppable ads on social media
Both Google and Instagram introduced shoppable ads in the past couple of months. We will only see more of this trend, making it super easy to shop while you're scrolling on Instagram. The photo-sharing social media platform is quickly becoming the central hub for branded fashion content and powerful user-generated marketing. In the fashion industry, it can be difficult to build trust. By turning to influencers, fashion brands can gain endorsements from trusted product curators who boast massive followings.
Not only that, but retailers could learn a thing or two from Instagram when it comes to shopping on mobile. The app has made the customer journey to purchase super easy with a native payment integration into the app.
In May 2020. Facebook introduced Facebook shop – further shopping integration to Facebook. Instagram also added on-platform checkout where the user can order the product completely through the social platform. This features greatly increased options for small business to stay afloat during Covid19 crisis where brick and mortar shops experienced lower traffic.
Brands are reducing wait time with the help of chatbots
eCommerce customers love to chat. According to one study, 51 percent are more likely to make a purchase if they can have a live chat, and 44 percent say having their questions answered in real-time is one of the most important features an eCommerce site can offer.
And that's cool… except it's a big ask for a small company, and an impossible ask for someone running an eCommerce business solo.
That's where chatbots come in. Rather than answering every question yourself in real-time, why not have a robot do it—or, at least, serve as an initial screener?
Chatbots certainly have its limitations as they are not smart as humans yet, but, some interactions can successfully be handled by bot (intro talk at least).
And chatbot technology isn't just available to companies that can afford AI developers or ones that have been building a secret army of robots in a sub-basement. There are plenty of affordable and simple chatbot apps available right now for both Shopify and WooCommerce.
‍
Increased number of DTC brands
DTC brands, which handle every single aspect of their business from design to manufacturing to sales and distribution, are on the rise. There have been a number of high-profile successes in the space recently, including Casper, Warby Parker, and other brands you hear advertising on literally every podcast—so now, lots of others are following suit
There's a strong appeal to running a DTC operation. Without a bunch of middlemen siphoning off any money, you can cut costs and increase quality, like The Black Tux did by manufacturing their own tuxedos for their online rental store. You're not at the mercy of major retailers, meaning you control your brand experience at every step. You "own" every single one of your customers and it's easier to gauge the effectiveness of your marketing.
That being said—DTC is still a tough game. Managing every single aspect of a retail business is a significant undertaking that requires capital, organization, and lots of talented, specialized employees. However, as more bespoke DTC brands gain serious traction and siphon off significant market share from the mega-retailers, it's a space that's undeniably worth keeping an eye on—or, in the most ambitious cases, joining in on.
Omnichannel experience
Amazon's success resulted in many physical bookshops being closed, but now, Amazon has another strategy. Amazon is going offline and there are now more than 50 Amazon Bookstores across the United States.
Those shops serve a bigger purpose than just selling books. You will find plenty of Amazon's gadgets in the store, such as Kindle and Echo. People can shop, try it out for themselves and give it ago before committing to purchase online. Apple has the same technique with their Apple Stores. Apple is probably the best example of what omnichannel means. Besides taking into account all the different channels used by their customers, everything is designed around the same principles to create a single, unified feeling. The physical stores' design reminds of the Apple products, and they allow you to interact with them at the store. Once you have purchased an Apple product, their own entertainment apps keep you engaged.
Tesla has also realised the importance of omnichannel, reverting the decision to close down its showrooms. Even though they realised that the last step of the purchase is happening online, they are also aware of the importance of showrooms. I mean, how likely is that you will buy a $50,000 car without checking it out first?
Personalisation
Customers seek which product will fit his or her unique needs; for example; a customer searching for a jacket will want to search a "Warm rain-resistant white jacket".
Implementing a personalised customer-first approach means avoiding sales pushiness, flashy banners and orientation on the actual customer needs and goals.
Various tools offer solutions for personalisation across offline and online touchpoints. New retail personalisation platforms like qubit.com offer tools to personalise the experience across channels and touchpoints.
Personalisation can be achieved by implementing new AI product recommendations, CRM tools, and by implementing a customer-centric environment. Every department must accept this new shift or risk being challenged by industry disruptors.
Ethical marketing
Brands are differentiating and gaining customer loyalty based on values and ethical marketing. Sales tricks and sneaky tactics will only bring short term results but completely destroy your reputation and retention. The goal is to offer the customer a solution that balances sales tactics and long term values.
Example: weekday.de "Re-think: animals"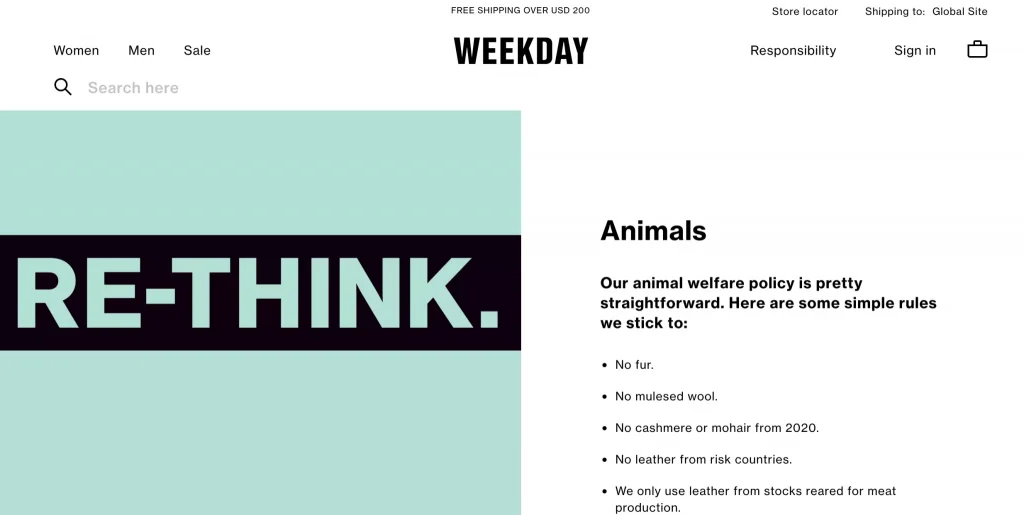 Weekday animal welfare policy:
No fur.
No mulesed wool.
No cashmere or mohair from 2020.
No leather from risk countries.
etc..
The Weekday customer feels connected to the brand cause and feels the brand "speak their language".
Summary
As technology and customer preferences continue to evolve, the eCommerce world is adjusting with it. That's reflected in the trends we'll see in the industry next year.