The whole world revolves around consumer data. Sounds like an exaggeration? It shouldn't! The omnipresent Internet of Things and the global digital revolution which accelerated during the pandemic mean that every day we produce tons of data.
Or to be more precise, 2.5 quintillion data bytes daily! That number is likely to increase significantly: as found out by IBM, as much as 90% of all data was created in the last two years. How much will we create within the next five years, then?
Data on its own means nothing. But when analysed, it can change everything. A recent report by Bain&Co reveals that large organisations which are already using data analytics gained a significant lead over the rest of the corporate world and are outperforming their competitors.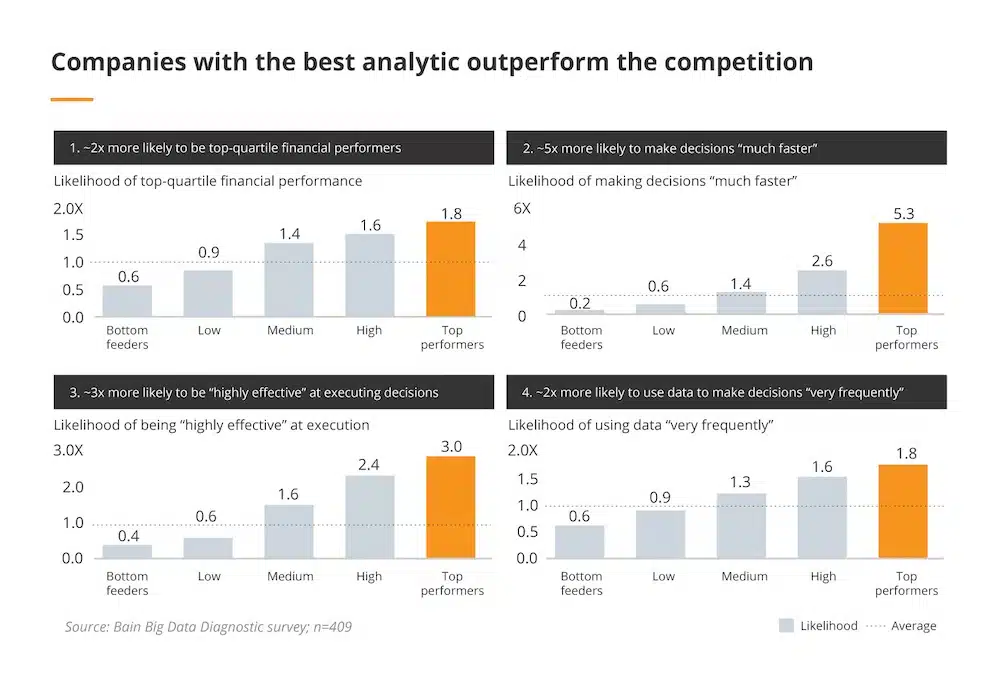 Today there are a lot of companies that gather data but do not do it regularly. It's possible that an organisation has loads of information saved in various formats and there is no idea how to use it. And the fact is that data is the true key to your company's development and future success.
Let's look into the reasons why consumer data is so important and why your organisation may be missing out if not using it!

14 reasons why consumer data is so important for your business

1. IT HELPS MAKE INFORMED DECISIONS
By analysing data, you create intelligence. And intelligence means knowing how to make the right decisions and how to grow your business.

2. IT HELPS STREAMLINE YOUR MARKETING STRATEGY
Knowing more about your customers, their needs, expectations, and decision-making processes can help you build your marketing strategy so that it becomes more targeted and cost-effective. The future of marketing lies in targeting, so being able to reach your target audience at the right time is a key to success.

3. IT ALLOWS YOU TO KEEP YOUR ORGANISATION HEALTHY
Data analysis allows you to monitor the health of the systems used by your organisation and to respond to challenges before they escalate into serious problems. It also helps you understand your vulnerabilities.

4. IT SHOWS YOU HOW EFFICIENT YOU ARE
Data analysis allows you to see how efficient your current strategy is. By analysing data, you will be able to establish whether your organisation is performing as you want it to and whether you need to make any additional changes to achieve the results you are after.

5. IT SHOWS YOU THE SOLUTIONS AND HELPS AVOID PROBLEMS
Analysing data helps you find the reasons for any problems you may have, as it shows you the connection between the things that are happening within your business and the results you are achieving. Knowing what's going on in different parts of your organisation means you can draw conclusions and find effective solutions to your problems.

6. IT GIVES YOU THE ARGUMENTS YOU NEED
If you need to convince your partners or the board to make a certain decision, having the right arguments is the best way to go about it. And there is no better argument than solid data showing relationships between the decisions that are to be made and results you are planning to achieve.
7. IT ELIMINATES THE GUESSING GAME
With data analysis, you don't need to rely on guessing when making changes to your organisation. It gives you information indicating which of the solutions you are inclining to go for is the best one.

8. IT MAKES GOOD USE OF YOUR MONEY
Knowing what kind of decisions and solutions will give you the results you are keen to achieve means you won't need to invest in things that are not worth the money. Data analytics equips you with knowledge of where to invest and when to expect to see the results of your investment.

9. IT ALLOWS YOU TO SET THE RIGHT GOALS
By analysing your data, you make the process of setting the right goals for your business and objectives for your staff much easier. After all, when you know what you want to achieve and how to do it, it is easier to see what to do to achieve it and how to convince others to work to that goal.

10. IT HELPS YOU IMPROVE YOUR BUSINESS AND THE LIVES OF YOUR CUSTOMERS
By analysing data, you will learn what to do to improve your organisation: its results, its goals, its atmosphere. But it will also help you establish how to make your customers' lives much better: giving them what they expect to get is the main goal for most businesses. With data analysis, it is easier than ever.

11. IT HELPS YOU PREDICT THE FUTURE
You can't see the future of your organisation in a crystal ball. But when using data analysis, you can see the trends and patterns in your business and in the whole sector, making it easier for you to know what to expect in the future. And when you know what to expect you can be ready for it before your competition!

12. IT HELPS GENERATING NEW IDEAS
Data that is accessible across your entire organisation means all your employees can view it. And that means many of them will feel responsible for it and may be encouraged to come up with new ideas, both in terms of doing business and running the organisation. Also, by analysing trends, it may be much easier for you and your team to come up with new products and services.

13. IT HELPS YOU UNDERSTAND YOUR BUSINESS AND CUSTOMERS
Data analysis shows you exactly where your business stands and what your customers think about it. It is therefore a great tool to fully understand your true potential and to unleash it for your clients. This in consequence gives you a great advantage on the market and may help you become the leading figure in your sector.

14. IT MAKES YOUR MANUFACTURING AND PRODUCTION PROCESSES MORE EFFICIENT
By analysing data related to your manufacturing and production processes you can clearly see where they need improvement and how to achieve it, meaning you can make those processes more effective.
Utilising ecommerce consumer data to maximum effect
Predictive personalisation generative software is available as a plugin to deliver use of data as it arrives on your site. instead of concentrating on CRO software which capably personalises products on site, you are now able to make phenomenal higher ROI than this, for each individual consumer, by utilising the data back to the consumer.
Consider fishing, you can sit on a harbour wall waiting for a nibble, or you can take a huge trawler out to surround and capture an entire shoal. The shoal in the analogy being product purchases, rather than, new consumer acquisition. This is the power of PPS.
To quantify the distinction, acclaimed research consultants McKinsey have undertaken multiple studies which illustrate that as much as a twenty fold increase is ROI is achieved, against all the other methods of ecommerce marketing combined. Including CRO, multi-media advertising, social media ecommerce, email marketing etc.
This distinction is offering the exact products that each individual consumer wants to see when they want to see it. They won't have to find your site, as their unique selection is presented to them via their inbox.

You might believe that data once used becomes redundant, but knowing a pattern, style, colour-way, preferred materials etc as well as the buying pattern i.e. how they arrive at each and every purchase that individual makes is key. It builds and essential and elaborate dichotomy of data, capable to perpetually increasing each consumer's customer lifetime value with you, and most importantly, perfecting each consumer's ROI. You spend less to achieve more.