The Yotpo consumer survey reveals that brand loyalty has changed and shoppers are actually becoming more loyal. It revealed that of 1,000 UK-based respondents across four different demographics — Gen Z, Millennials, Gen X, and Baby Boomers reveals that among the many changes in shopper behaviour, consumer loyalty has actually gone up year-over-year from last year.
Brand loyalty is on the rise
Consumers are more emotionally invested in their favourite brands now than they have been in the past, viewing the shopper-brand relationship as more than just a transactional exchange. This also helps explain why, in last year's survey respondents were over 20% more likely (compared to the year before) to spend more on a brand they're loyal to; it's no longer just about the money.
With around 25% of overall respondents — and 33.7% of Gen Z respondents in particular — saying they've become more loyal to brands to help support them during difficult times on consumer loyalty and buying behaviour.
But delivering on this brand loyalty can present challenges for brands, especially for those having to adapt quickly to the digital space as physical stores are shuttered and shoppers move online."Loyalty is becoming more important as more retailers open up both physical and digital stores," says Wassif Aziz, Co-founder of Retention Machine. "A challenge I've seen these retailers face, is that they've found it difficult to build out a loyalty scheme that works for both online and offline shoppers. So often the most loyal customer, who will be shopping at both your eCommerce and physical store, can't actually be captured and effectively rewarded for their loyalty."
Customers may be more loyal, but there's still a great deal of competition for that loyalty. These three strategies will help your brand deepen your relationship with shoppers.
Be vocal about the causes that matter to you
When asked if they were more inclined to be loyal to a brand whose values aligned with theirs, a whopping 82.0% of respondents said yes.
Being more vocal about your brand values can play out in myriad different ways, including:
Creating a page on your website that features a cause, charity or value that is close to your brand's heart. Essential oils brand Aromatherapy Associates, for example, proudly touts their B Corp Certification on a dedicated page on their site.
Offering important resources to help your shoppers get involved. Click on the "Activism" section on Patagonia's website, and, based on your location, you'll be shown grassroots environmental activist groups in your area.
Finding new ways to be a part of an important and ongoing dialogue. Intimately, which makes underwear for disabled folks that is both "functional" and "fashionable," has a section on their site called "Stories By You", where community members share stories, advice, tips, resources and more.
Enabling donation through your loyalty programme. Men's grooming brand Blind Barber integrated eCommerce donation solution ShoppingGives with their loyalty programme to incentivise customers to donate to Operation Underground Railroad by rewarding them with one rewards point per every US dollar donated.
"For some consumers, the disruption of recent times and the enforced move to digital has meant seeking new brands online. For others, it's been a case of remaining loyal to their tried and tested brands during such a turbulent time," says Elliott Jacobs, Director of Commerce Consulting at LiveArea. "And, whether trying to retain new customers or keep loyal customers happy, transparency is vital.
From communication regarding supply chain ethics, sustainability, diversity, or staff welfare, to providing visibility around inventory, delivery speeds, tracking, and returns, recent events have shone light on brand perception. Transparent, trustworthy and consistent communication across every touchpoint is as vital as ever, and a key loyalty consideration moving forwards."
Turn your loyalty programme members into VIPs
We asked survey respondents in last year and then again this what they wanted out of a loyal programme other than free shipping and discounts which, in today's world, are considered a low bar. Two distinct responses — "early access to sales" and "early access to new products" shot up considerably since last year — 38.3% to 56.0% and 28.8% to 46.0% respectively.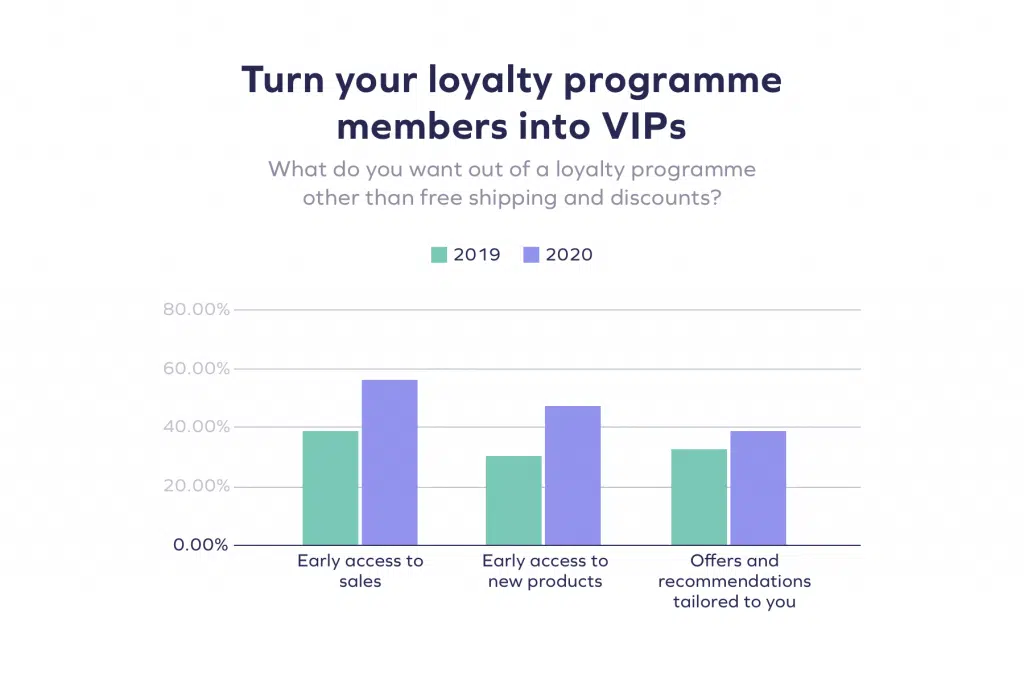 The main takeaway? Your customers actually do care about more than just free shipping and discounts when it comes to your loyalty programme; for many, getting a VIP experience has become significantly more important to them since last year.

What does this look like in action? Body positive bra brand ThirdLove created a tiered VIP loyalty programme, "Hooked," that is free to join, and focuses on customers' lifetime spend, so members can still get rewarded even if they purchase infrequently, as is often the case in the lingerie industry.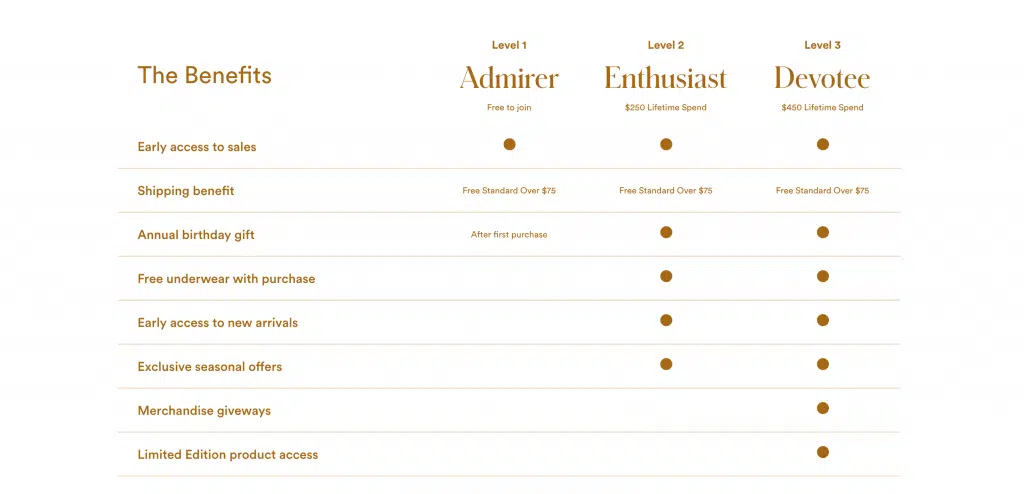 As members climb the tiers, from Admirer, to Enthusiast, to Devotee, they unlock rewards like "early access to new arrivals," "exclusive seasonal offers," "limited edition product access," "annual birthday gift," and other benefits that go beyond just the transactional, focusing instead on exclusivity and the customer-brand relationship.
"Loyalty within eCommerce has progressed, and is no longer just a 'click and go' addition to upsell post-purchase using a discount code as a carrot," says Liam Quinn, Technical eCommerce Consultant at Vervaunt. "With CLV in mind, it's much more effective for loyalty to be baked into all customer touchpoints (e.g. purchases, reviews, social engagement) and to reward loyalty with a variety of perks that aren't just discount codes, like free shipping, gift with purchase, and priority purchase on new product lines."
Replicate the in-store experience onsite
Creating an onsite experience that is as similar as possible to the one a customer might have shopping in-person is another essential piece of the puzzle when it comes to keeping your loyal customers engaged. You can do this by displaying reviews prominently across your homepage, product pages, and checkout page.
When shoppers land on organic skincare brand Green People's website, they are greeted by an onsite gallery filled with photos from Green People's Instagram feed, all with "buy now" options, helping to recreate the "discovery" experience that a customer might have upon walking into a store and taking in all of the products on display.
Top takeaways
Contrary to what many in the industry hold as common knowledge, customer loyalty is actually on the rise. This change in consumer behaviour is directly attributable to the impact of COVID-19 on the retail industry:
25% of overall respondents say they've become more loyal to brands to help support them during this difficult time.
67.3% of survey respondents said they'd join the loyalty or VIP programme of a brand they're loyal to (compared to in 58.5% last year), while 50.9% said they'd spend more on a brand they're loyal to even if cheaper options existed elsewhere (compared to 30.8% last year).
When asked what they wanted out of a loyalty programme, 56.0% of respondents said they wanted "early access to sales" (compared to 38.3% last year) and 46.0% said "early access to new products" (compared to 28.8% last year).
The key to building loyalty is to ensure that your customers — both the new and existing ones — have a stellar end-to-end buying experience.
"Customer retention should be a key focus for any brand, as retaining your customers is significantly more cost-effective than acquiring new ones," says Holli Barrett, Head of CX at Space 48. "The cornerstone of loyalty is a customer-centric approach where you offer a great experience and build trust with your shoppers. But that's just the beginning, you also need to ensure your customers feel valued and rewarded for their loyalty and that you leverage personalisation by creating offers you know will interest them."