The must have SaaS tools. The SaaS business model has continued to gain momentum since introduced over a decade ago. Software as a Service (SaaS) is the delivery of software applications by subscription through the cloud model. It quickly gained popularity due to the low cost.
For a nominal fee per user, organisations of varying sizes can quickly and easily deploy a wide range of applications. According to Statista, the market for cloud-based SaaS solutions is expected to reach over $171.9 billion imminently.
While some concerns still exist, many experts have concluded that in most cases, the benefits far outweigh the costs. Today, an application that can cost hundreds of dollars can be used for a small fee.
On top of that, SaaS marketing will also grow. So if you want to stand out from other companies, you need to adopt new strategies and try new tools to make your product more successful.
It's also important to pick your marketing toolkit that perfectly fits your SaaS needs, not just to follow the latest trends.
There's a wide range of SaaS services available on the market today that even entrepreneurs and small companies can afford to attract potential customers and increase sales.
What is SaaS?
Simply put, the SaaS model means that you don't have to buy and maintain computer hardware to install "desktop" software. The stability of the system is maintained by the developer.
Moreover, for SaaS, you don't need to buy a license and make 15-20% annual payments. The cost of software rental already includes a license and technical support.
SaaS Advantages and Disadvantages
SaaS Advantages
Available 24/7
Work on the go from your mobile device;
About 60% cost savings over "off-the-shelf" versions;
Automatic updates;
Strong data protection;
Full suite of licensed software.

SaaS Disadvantages

Internet connection required;
Not as flexible as desktop systems for offices.

A CRM system can be an example of a ready-set-go platform on the cloud to automate customer interaction. It's used by businesses of all sizes to increase sales, manage sales pipelines, track leads, manage customer interactions, and optimise marketing activities.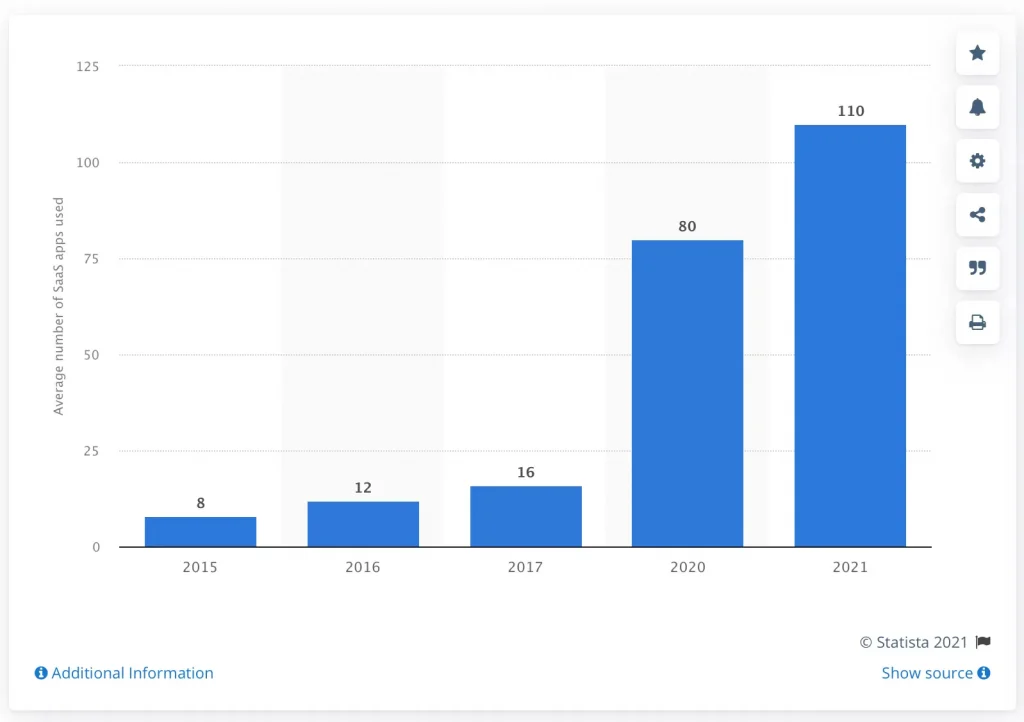 Top 15+ SaaS Services and Tools
Monday.com
With over 125,000 customers, monday.com is a work operating system (Work OS) that lets organisations of any size run all aspects of their work on one platform. monday.com's low-code/no-code building blocks — such as apps or integrations— allow companies to use the Work OS for everything from CRM, marketing, sales, R&D, and more.
monday.com's latest building block, work docs, let teams manage, share, and work on ideas in real-time without disturbing each other. The document management building block boosts collaboration and productivity with live objects that update in real-time whenever the data changes.
This means users can embed any Monday element, such as widgets, charts, and views into documents, so all team members stay updated.
Process Street
Is a free, powerful, modern process management platform.
Teams of all sizes, doing any kind of work can benefit from Process Street's intuitive no-code editor.
Use Pages to document your established team knowledge, & ensure the entire organization is, quite literally, on the same page.
Build Workflows that automate your daily tasks, integrate with all of your favorite work apps, and help you focus on the work that matters.
Process Street will help your team.
SEMrush
SEMrush is a very useful tool for web designers who not only design websites but are also responsible for their promotion and traffic.
Any website has to be engaging and attractive since it's built primarily for the client. However, search bots have to "like" it, as well. With SEMrush you can, in the shortest possible time, get your site in order, eliminate mistakes in content, and, thus, advance in search engine results.
With this software, you can quickly find unused keywords for a website or blog, assess the competitive landscape, detect and fix technical problems.
SEMrush is a very powerful tool with many useful features that will definitely be in demand when working on any web project. Using it for SEO research to help start your blog or business is key to your success.
You can also offer additional services to your clients, such as optimising web pages or selecting new keywords to help promote your site. If you use this tool wisely after the launch of your site, SEMrush will allow you to earn a little more than expected.
Of course, there are other tools similar to SEMrush, however, many of them are inferior to it in terms of a search query and keyword selection. SEMrush can quickly find your competitors' websites and get access to their statistics in just a couple of clicks.
Qualaroo
Qualaroo allows you to get valuable data about your target audience and optimize your marketing strategy. For example, you can find out which pages visitors spend the most time on, why they leave your site, or which pages have the least number of orders.
This service will help you understand why customers make certain decisions and use that data to increase conversion rates.
Qualaroo also offers the ability to create forms and surveys to collect real-time feedback about your product or service. There are many survey options you can choose from including text boxes, radio buttons, checkboxes, and more.
What's more, you can ask specific questions with each visitor's behavior in mind, and avoid displaying the same survey twice. All notifications about answers to your questions can be set up via email.
InVision
Thanks to InVision, prototyping websites has become much easier. This popular web page prototyping service has held its leading position in web design for many years. InVision has now become one of the largest SaaS services for team collaboration and rapid file sharing.
Its focus on collaboration and synergy has proven to be justified by the developers' hopes: the tool is used by thousands of project teams around the world.
If you are looking for a complete prototyping tool and, for some reason, do not want to use Photoshop, then InVision can be considered as a complete replacement.
The tool has all the functionality you need to quickly develop a framework for your future website or mobile app, regardless of the complexity or size. Once the initial design is ready, you can share your concept with clients.
You can show the architecture of the site, demonstrate a custom page design or UI/UX strategy.
SurveyAnyplace
SurveyAnyplace is developed to create interesting surveys and interactive questionnaires that help engage users. This tool is one of the best alternatives to SurveyMonkey with the same services, plus some new features that allow you to study your target audience in more detail.
With emoticons, images, and GIF animations, filling out questionnaires/surveys becomes more like a game. Moreover, a survey can be adapted to almost any device and embedded on a website, in any application, or on your Facebook page in a few minutes.
SurveyAnyplace stores all data combined and uses data visualisation tools to produce a detailed analysis that's easy to download in PDF or PowerPoint format. You can also use the tool offline in areas where the Internet connection is limited or unstable.
SwiftERM
Arguably the most rewarding aspect of ecommerce marketing is finding the SaaS that delivers the highest return of investment in the genre. The acknowledged pinnacle has long been personalisation solutions, although it is essential to make a distinction between this and segmentation alternatives. These disappear into insignificance in comparison to PPS. SwiftERM is predictive personalisation software (PPS) – defined as "knowing what each individual consumer will buy before they do".
Drilling into the future of personalisation means a lot more than creating a landing page, like dangling a fishing line in water and hoping for a nibble. Instead consider the alternative to this is a large trawler with a net, and this is predictive personalisation, where every SKU on your site, in ranked for each individual consumer in order of what a predictive analytics algorithm has calculated they will buy next.

Then personalise an email for that individual and send it to secure those purchases ahead of anything your competitors could do, or before the consumer spends their money on something else from an alternate retailer.
This service has been around for more than 7 years and, during that time, has managed to get rid of all the shortcomings inherent in "young" SaaS programs.
For freelancers working with international clients, SwiftERM can become a real panacea – it has everything to deliver significant additional revenues. For your convenience, the service is 100% automatic, not only not needing setting up, or anyone to run it, but elevates the data-accuracy and precision messages to avoid human error. The results a huge saving in staff costs, delivering a higher gross profit than any of the other SaaS product listed here.
Moosend
Moosend is one of the best email services that include advanced analytics, marketing automation features, and many other useful options.
The service has an intuitive and simple interface that makes it easy to create sales funnels, lists, build sequences, and automatically schedule newsletters at set times.
The newsletter generation process here is plain and simple, which means you don't need any special skills to create great content for your customers.
Moosend also provides a large number of analytics tools that allow you to check your email open rate and track interactions. The Heatmap feature also allows you to analyze where the emails were opened, plus, there's A/B testing functionality.
The best thing about Moosend is the ability to customize and add your brand to newsletters without much trouble.
Social Champ
Social media marketing is now THE way businesses market their products and services. As a result, almost every digital marketing strategy has a significant social media component that forms the foundation of the brand's marketing and promotion-related initiatives.
The downside of this hype is the increase in the requirement of social media management automation that simplifies the entire process and reduces the workload of the marketing teams.
Social Champ is a social media management tool built for businesses that need a simple yet powerful solution for managing their social media presence. The platform supports Facebook, Twitter, Instagram, Linked In, and Google My Business.
You can connect your social profiles to the platform and use the Publish feature to create and schedule great-looking posts in no time.
If you have created posts in advance, you can use the Bulk Schedule feature to upload & schedule posts for six months in a go.
Similarly, you can save your evergreen or seasonal marketing posts in Collections that you can deploy as a campaign without having to redo everything from scratch.
Hootsuite
Social media has become an integral part of our lives, and its importance only increases every year. Today, any brand that wants to strengthen its position in the market has to be present in all the major social media.
With Hootsuite, you can manage all your accounts in the social networks with a single admin panel. Note that you can do everything manually if you have few accounts. However, if you are running several projects at once, you'll need specialized software.
By adding all of your existing accounts to Hootsuite, you can automate your daily tasks. Your tweets, Facebook feed updates, and Pinterest pin can all be created and scheduled for publication in advance.
You can even use Hootsuite to track user interactions, which can help you detect the best content for your audience. Hootsuite's analytics toolkit also comes in handy.
The service offers tools to track mentions of your brand online. You don't need to do extensive market research – simply open the Hootsuite panel and see what users are saying about your site.
Optionally, you can always respond to comments without having to visit numerous social media profiles. With that said, if you are aware of the importance of social media and use it during work, Hootsuite will definitely become your number one time-saver.
Cloudflare
Today's popular and high-traffic sites need to use CDNs (Content Delivery Network), a geographically distributed server infrastructure to optimize the delivery of content to end-users.
The Cloudflare tool is one of the best on the market – it comes with a variety of useful features that are sure to come in handy for a webmaster.
You can use this SaaS service for free, however, its full functionality is only available by paid subscription. Cloudflare's global network is huge, allowing you to use CDN services regardless of the amount of content your cache.
Other Cloudflare products include SSL security, load balancing, and protection against DDoS attacks.
Hunter
Hunter is a useful SaaS service for finding available email addresses by the name of a person or company they work for. You can have 50 searches per month for free or install the Chrome extension and instantly get all emails available for the domain.
The subscription will get you 50,000 searches per month. Plus, you can export the results in CSV format and connect up to 20 Gmail accounts to send cold emailsusing Hunter Campaigns.
The advantage of this service is that it does not use any third-party databases or show emails that are already publicly available.
Hunter also includes other useful features such as email availability check, email tracking, mass features, technical search, and much more.
Usertesting
Usability testing is crucial when working on a website. Any designer knows that no matter how successful a site is, there's always something to improve in the interface or content presentation.
However, what works well for one site may be completely useless for another. Mindless use of successful solutions will lead to the fact that users will get confused and, as a result, leave the site without finding the necessary information.
The only way to find and eliminate errors is to conduct serious testing of all pages of your site.
Today you can find many services for online website testing. UserTesting is one of them. It's a very simple app, which doesn't hold the leading position on the market.
However, Usertesting offers the largest number of tests, the results of which can be accessed from one admin panel. Your site will be tested and evaluated by real people, and you can choose your own target audience size and form focus groups.
Better Proposals
Better Proposals is an online business proposal formation service that allows you to create a professional, easy-to-sign, and high-converting proposal in minutes with authentic digital signatures, payment options (PayPal, Stripe, GoCardless), and third-party integrations.
All commercial proposals made with Better Proposals and posted online are tracked and usually have a high conversion rate. You can see when your proposal was opened, downloaded, or redirected for further work.
You can also receive email notifications when someone views your file or makes a payment online.
Litmus
Building a website is not enough – you also need to make it popular with users, which can be challenging without a well-thought digital marketing strategy. Only this approach will ensure a return on investment (ROI) in development and promotion.
Litmus is a SaaS solution with built-in rendering mechanisms for the most popular email clients: Outlook, Gmail, Yahoo Mail, and other similar services.
The tool has existed for many years and now has its own functionality for generating emails directly in the browser. This is very convenient since the user can look through all the emails at once, without having to launch the mail client.
SE Ranking
SE Ranking is a platform with a user-friendly and clear interface, which offers a huge range of useful tools for companies of all business models and sizes. It's a great service for business owners, digital agencies, marketers, and SEO experts.
SE Ranking is known for its 100% accurate site position checking, which covers all major search engines, locations, and devices, including Google Maps and YouTube.
The service provides detailed information about your traffic and visibility in search results. Thus, you can make changes in time to optimize your SEO strategy, if needed.
In addition, SE Ranking allows you to perform a full site audit, identify weak spots, and get recommendations for each problem.
You can also take advantage of many other useful features, including site change tracking, keyword clustering, backlink analysis, promotion plan, White Label, and more.
DevSkiller TalentScore
DevSkiller TalentScore is a popular developer screening tool that companies can implement into their recruitment process to make sure their technical hires possess the skills required for the role. HR recruiters no longer have to rely on the honesty of a candidate's resume.
TalentScore presents tech candidates with realistic coding challenges that are automatically evaluated, allowing recruiters to automate the screening process and save their company hours of time and money.
ManageWP
If a designer or webmaster runs many WordPress-based sites, keeping all the logins and passwords in mind can be a problem. ManageWP will help with this problem. It's a relatively new SaaS tool that provides a single login to access all admin panels of sites that you work with.
The list may also include sites of clients who hire you on a temporary basis. The service is completely free by default, but you'll have to pay to get access to advanced functionality, i.e. backing up site content or advanced security checks.
Manage WP can be your one-stop dashboard for everything related to sites created with WordPress.
Matter
Matter is a free feedback software that helps individuals collect constructive feedback, grow with Kudos (praise), and achieve professional success — all within Slack.
More specifically:
Kudos: Giving public praises made easy with three fun templates for every occasion. Available for all workspaces.
Rituals: Add feedback to your weekly ritual. Start a weekly habit of sharing public praises and feedback with your team.
Slack Integration: From sharing public praises to continuous feedback, do everything and more all inside Slack.
What sets Matter apart is its Free Forever plan. Most feedback software requires a long contract, credit cards, etc. With Matter, the Free Forever plan includes unlimited seats and feedback, plus no credit card needed to get started.
Flatlogic Web App Builder
Many businesses build their applications with the help of web app builder. That is one of the most popular working models to optimize processes and resources. It helps to significantly reduce the time and costs of web development.
Web App Builder is a ready-to-use solution used as the foundation for further application development. It has a basic structure, admin interface, and data management option inside.
TimeCamp
Online timer is essential for is now a must-have for every business to maintain the highest level of time management.
Tools such as TimeCamp do the dirty work – track the employees' time, fill the timesheets automatically and have a wide range of reports that are significant for further productivity analysis.
But TimeCamp isn't just an ordinary time tracker. It's also packed with attendance management that allows companies to take the employees' absence under control.
What's more, its unique project tree structure with Tags is perfect for efficient time and task organization. You can also invite guests and show them reports as proof of work. Be sure to check their wide list of integrations or create your own one using a free API.
TimeCamp is available for web, desktop, mobile, and browser plugins. The free plan includes an unlimited number of users, projects, and tasks. Check it out!
Printful Pro
Printful is a printing and fulfillment company that helps people design and sell custom products online.
Printful provides print-on-demand and shipping services, but it also has a growing IT team that looks for solutions to improve its business. Currently, Printful offers a paid subscription package of SaaS tools for merchants called Printful Pro.
In order to create unique custom products, eCommerce store business owners don't have to rely on outsourced design and editing tools. Instead, they can find most of the design resources and tools on the website.
The subscription gives access to premium design maker features such as image background remover, marketing material creation tools, custom mockup maker, and it also offers a library of exclusive images, clipart, and other extras.
The design maker tool is constantly being updated with additional features and resources, and it's perfect for experienced online store owners and for those who just started out, and have no previous experience in product design.
Complish
Whether you're a remote, hybrid, or distributed, I'm sure you'd jump at the idea of having fewer, better meetings. With Complish, an asynchronous collaboration and communication tool, putting an end to pointless meetings is finally in reach.
Complish allows you to effectively collaborate with your team through daily check-ins and asynchronous collaborative discussions, allowing you to stay in sync, without all the distractions. In other words, no more endless Zoom calls.
Instead, build the habits and practices of high-performing remote teams, improve visibility, and create more team alignment, all through one simple tool – Complish.
ReadyCloud Suite
ReadyCloud is a suite of connected services designed to improve the way you work. It connects shipping, returns, growth marketing, and CRM into one system.
A robust solution, ReadyCloud makes it easy to manage customers, add notes and tags to profiles, create internal growth marketing campaigns via Action Alerts, automate returns, and more.
ReadyCloud connects to the most popular shopping carts and marketplaces, giving users one system to better manage customer service, fulfillment, and reverse logistics while keeping the team on the same page for a more streamlined workflow.
FAQ
Is SAAS Software Suitable for All Types of Business?
Small and medium-sized businesses often choose cloud software to reduce costs. Such businesses are often advertising, travel, and digital agencies.
Large organizations, especially those in niche industries, are more inclined toward systems administered in the office.
However, Aston Martin and TripAdvisor prove that SaaS services have something to offer even to large corporations to manage their businesses.
Can I Customise SAAS?
On-premises software is more flexible than cloud-based software. However, SaaS developers are consistently addressing this disadvantage. Whereas previously a business was completely adaptable to the software, it can now tweak the user interface, choose the type of data displayed, and ask the developers to add/remove some features.
Who Owns My Data?
Most of the service level agreements that are signed with a SaaS developer explicitly stipulate that it's the customer who owns the data. Moreover, many providers allow for exporting and backing up information at any convenient time.
If a SaaS company wants to keep the rights to the data, you should not cooperate with it.
Is My Data Secure?
Many SaaS developers are audited that their data centers are protected by the leading American standard SAS70 Type II. This means maximum protection against external intrusion and biometric access to physical media.
The data centers are guarded 24/7, have backup power and additional network access channels.
What Happens if Your SAAS Provider Goes Out of Business?
Usually, SaaS companies make prepayments to hosting organizations that store customer information. So in the event of force majeure, the data will be in direct reach.
Also, the provider's termination scenario is stated in the service level agreement. It says, as standard, that in this case, the client will get his or her data back in the agreed format.
What if My Internet Connection Fails?
Dependence on the Internet connection is the main disadvantage of SaaS. However, some developers have already introduced the ability to work offline, synchronizing that once the connection is restored.
Conclusion
SaaS for small businesses and larger organizations is a great way to dramatically reduce your investment costs without sacrificing functionality.
Since SaaS is a service that's provided through a web-based interface, the software is deployed in a data center and provided on a lease basis with regular payments.