The days of anonymous website data collection and nameless branding are long gone.
It's time to get personal. And get to know your customers better than Amazon or Google – because they want meaningful interaction and to feel you've created a unique bond.
And they expect it from you.
In fact, statistics suggest that 72% of customers are likely to engage with brands and messages customised to their specific concerns.
Even if you're a SaaS, ecommerce, or lead generation company that targets millions and millions of users daily, building a human-personalised touchpoint with every customer is necessary.
Automatically adapting your customer experience based on past behaviour is the way to get new customers and get them to come back time and time again.
It's the golden rule of marketing. Personalised emails, personalised advertisements, landing pages, email sequences…the list goes on. It's all about targeting your prospects/customers with the right message via the medium they prefer at that time.
And personalisation apps let you do just that.
That's why we scythed through the internet and reviewed some of the best personalisation platforms.
What is Personalisation Software?
Personalisation apps are platforms or SaaS that allow you to deliver a one-to-one experience for each visitor based on elements unique to the individual consumer. Some are worse than others relying on traditional, now outdated, phenomena such as location. The better ones rely on unique consumer behaviour, what they buy and what they click on, how long they look at something etc
Businesses use these tools to deliver a relevant message at the right time. For example, rather than get hung up on the old definition of personalisation name, age, location etc (groan) you can select as system that anticipates products for each individual consumer with the greatest likelihood of being purchased next across all your SKUs.
Personalisation solutions also help marketing teams increase revenue, boost customer retention, reduce abandoned carts, and enhance customer engagement.
What Features to Look For in Good Personalisation Software?
Every marketer knows the value of good personalisation software. Personalised and relevant content is proven to stun and amaze visitors and give you a leg up on the competition. But what do you look for in good personalisation software?
There are some features that stand out, making them easier to identify.
Utilisation of AI and Machine Learning – How can you ensure your digital platform is pumping out personalisation on steroids? That's where personalisation software, including AI and ML, kicks in. These are just fancy terms that pretty much mean "it helps you figure out your target market better," which is really what it all boils down to. Better still if it then uses this information for you.
A/B Testing – A/B testing is something that will help you further personalise your site and increase your conversion rate.
The Ability to Collect User Data – Your app should have the ability to collect customer data so that you can understand what your customers are interested in, whether they are prone to purchasing, their future plans, etc. It will help you personalise customer service and enhance your operations.
Customer Segmentation – Some personalisation apps are limited and still only able to segment and target your audience based on their preferences, demographics, location, behaviour, and more. But segmenting is not, as you know, personalisation.
For example, if you sell mp3 players and accessories, the software could segment your market into teenagers, young adults, and oldies; or new-generation mp3 players and old-generation mp3 players; or those who buy mp3 accessories and those who don't, etc. Understanding each of the most important types of customers is very valuable to you as a retailer because once you know who they are, you can tailor your business to suit them.
Built-in Editor – The editor will help you easily make changes to personalise your site, landing pages, ad campaigns, and more.
Finding the best personalisation software for you
We put together and independent panel of retailers and software providers for their top picks of the best personalisation software currently available
Best For: All types of businesses and marketers.
G2 Score: N/A
RightMessage is a website personalisation platform specialising in website design, digital marketing, and social media. It also improves the email conversation by automatically creating the right email at the right time based on recipient behaviour.
They help you monitor your audience by giving insights about your website visitors, what they are looking for, where they come from, and what they are doing on your website.
You'll also be able to uncover the conversion rates (based on different segments), what type of audience has the lowest conversion rates, and more.
We love how visual and easy to comprehend their statistics are.
You be the judge yourself:
Using the information unearthed, RightMessage helps you create personalised website elements like surveys, opt-in forms, quizzes, and even non-invasive CTAs to generate more leads.
They use their behavioural segmentation engine that tracks your visitors' activities and creates a unique visitor profile to create these website elements.
And if you're big on case studies, this tool will prove to be especially convenient.
They have a "Dynamic Case Studies" feature that ​​personalises the case studies based on your site's audience. For instance, it will show testimonials, case studies, etc., aligning with the audience on your website.
They also enable Account-Based Marketing (ABM), which includes the ability to address a returning lead by their name. Or you can even swap the generic "Buy Now" CTA buttons with "Upgrade" offers for specific visitors.
Not just your website and landing pages, RightMessage helps you personalise your email messaging as well.
Emailing your website visitors is probably the next step in your sales funnel, after all. And RightMessage can do wonders for your email marketing strategy if you use it in tandem with a sales funnel platform.
What they do is, after collecting all the behavioural and survey segmentation of the users, they will save all the data to your email marketing database. You can then use this data to craft relevant onboarding welcome emails to the visitors.
And that's not it.
RightMessage enables 2-way synchronizations with your email marketing software to gather information on visitors' past purchases. They again use this data to provide a hyper-personalised experience.
Other features include:
Creates dynamic sales pages for each visitor.
Personalised testimonials and case studies.
Detailed statistics.
Unlimited sub-accounts and websites.
Auto-segment affiliates by behaviour.
Craft product descriptions based on user behaviour.
Creates landing page variations based on targeted data and ads.
Cons:
Limited integrations. It doesn't work with Zapier either.
Personalisation is only available with the most expensive plan.
Pricing:
Pricing starts at $79/month for upto 10,000 visitors per month for the CTA plan and goes up to $179/mo for the Personalised plan. There's also a 14-day free trial.

Best For: B2C Ecommerce Retailers, with significant SKUs particularly Grocery, Fashion & Apparel, Wine, Petfood, Beauty & Cosmetics, Shoes, Books, Music, Cycles, Chandlery, Saddlery etc
G2 Score: N/A
SwiftERM is PPS, predictive personalisation software for email marketing. It is a Plugin SaaS solution that personalises product selection for each consumer, calculating the greatest likelihood of what will be purchased next for each individual, then populates and send automatically. The improvement to email conversation is enormous and as it is autonomously – so no staff required ever, it has a massively high ROI, and certainly one of the highest in marketing today.
It is ideal for enterprise retailers running alongside the office full of staff solely employed for email marketing, as it covers the bases of products less popular for promotional purposes, that but for being brought to the consumer interested, at the right time, would otherwise have been a lost opportunity. It is also the perfect solution for start-ups, as it can account for all the email marketing requirement for them from scratch.
Uniquely it covers all the metrics including higher AOV, which in turn maximises CLV, as loyalty skyrockets. But one of the most significant effects is that it drys up RoR, as consumers get what they want rather than selecting products on a whim.
We love how visual and easy to comprehend their statistics are.
You be the judge yourself: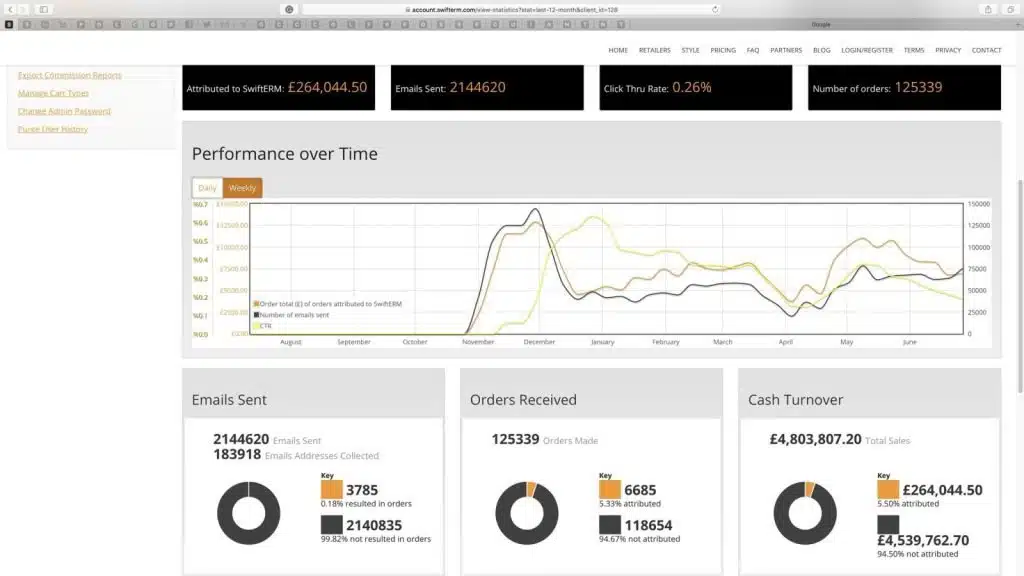 Attribution is click through purchases directly from the emails, plus those items offered for purchase, provided it is made within 36 hours of the email being delivered. Purchases made later in the week or month do not get attributed, regardless that the provocation to do so might exclusively be down to these emails, making the returns actually better than otherwise appreciated.
The stylesheet is based on billions of emails sent for some of the countries biggest retailers over decades of trials and testing.

They use a unique algorithm on individual consumer behaviour to perpetually update and maintain product selection to be able to deliver the greatest return always.
And if you're big on case studies, they provide many including opportunity to speak to other users.
The list of benefits:
Add an extra revenue stream to your store
Increase your average order value (AOV)
Maximise customer lifetime value (CLV)
Dramatically reduce your rate of return (RoR)
ZERO human involvement – no staff overheads
Cons:
Limited integrations to 76% of global platforms used.
Not yet available to run SMS (although it is planned).
Pricing:
Pricing starts at £100/month for up to 20,000 database captured consumers per month for the entry level and goes up in £100/mo per 10k users once it reaches 20k. There's also 30-day free trial, and the trial extends if the T/O achieved falls shy of 4x the potential monthly cost.
Best For: Mid-sized B2B companies.
G2 Score: N/A
Have you ever wanted to figure out what's going to get people engaged with your content? Mutiny HQ Personalisation software is designed to identify your visitors, then take that data and create real-time personalisation experiences based on their interests.
It has a streamlined, step-by-step process.
To start with, Mutiny integrates with multiple social media platforms and data analytics tools (including Salesforce, Marketo, Google Analytics, Clearbit, and more) to identify your website visitors.
They use natural language processing to identify and tag your audience based on their website activity, industry, size, ad campaign, and more.
And that's just the first step.
Next, Mutiny leverages AI technology to recommend the optimum audience segments for personalisation. The product recommendations depend on your site's behaviour and potential conversion rates.
Next, they'll suggest proven strategies that have worked for other B2B companies and will even write personalised headlines for you.
The fourth step includes editing, adding, or deleting website elements like CTAs, anything on your website, including CTAs, modals, surveys, and more.
And it doesn't require any rigorous work or coding know-how. Mutiny offers a visual editor and claims to support every CMS (Content Management System) and frameworks like React, Angular, and Vue.js.
Finally, you can analyze how your changes are performing using automatic hold-out testing. You can either let them optimise everything for you or test multiple variations manually.
You can also use Mutiny to create and customize personalised pages and ad campaigns for outbound campaigns.
Their integration with Slack is another bonus. For example, you and your team will directly get notified in Slack every time a target contact views your ad campaign or landing page.
Cons:
Limited customisation capabilities.
Pricing:
Not available on the official site.
Best For: Mid-sized and large enterprises.
G2 Score: 4.9
Intellimize helps you create a dynamic and personalised learning website using machine learning. It simultaneously tests various market ideas for your website to see what content and messages work the best.
What I liked the best about Intellimize is its use of Artificial Intelligence and Machine Learning technology. They run all combinations of experiences and data to determine what converts maximum leads without any human intervention.
It eliminates the need for A/B testing and rule-based personalisation. Both are greats ways to identify your audience and provide them with a personalised experience.
That said, marketers tend to bypass tens of essential rules in the process, and it all becomes a mess.
And apparently, that's what made Intellimize look towards machine learning.
Intellimize doesn't need any preliminary data – their machine learning automatically finds the best marketing strategy and then adapts to each visitor's experience. They use different data points, such as location, device type, day, time, the previous behaviour of the visitor on the website, etc.
To make their job easier, you can even share first or third-party data with Intellimize to personalise your site even better for unique visitors.
All of this ensues in personalised headlines on your website, messages, images, pages, layouts, and forms relevant to visitors.
However, note that Intellimize focuses solely on website optimization. You won't find any options to supercharge your email marketing content.
Finally, they don't cut any corners when it comes to reporting. You'll get access to campaign reports to identify the performance of your website before and after the optimization. You'll also be able to monitor parameters like traffic source, date and time, device, URL parameter, location, and more – from one dashboard.
Other key features include:
Features case studies relevant to the customer.
Shows relevant customer quotes, case studies, and reviews.
The ability to set optimization goals for your objectives.
Segments and filters your website visitors.
You can preview or pause your website optimization campaigns whenever you want.
Cons:
Steep learning curve.
Integration with third-party sites can be tricky.
Pricing:
Pricing is not available on the website. You can request a quote and a free demo.
Best For: A/B testing and multivariate testing.
G2 Score: 4.3
Optimizely is an all-in-one marketing platform for experimentation, recommendation, digital experience, digital marketing, and more.
It can be both a good thing and a bad thing.
Good, because you get so many functions under the ambit of a single platform.
Bad, because personalisation is not their sole focus. However, they do offer everything you need to personalise your audience's experience.
For starters, Optimizely takes not only your customer's referral source into consideration but also what they are likely to do next.
How do they do it?
They set goals and use machine learning to predict customer behaviour.
What's more, they provide one-click integration, allowing you to connect your Optimizely dashboard with your data channels. The Optimizely platform will extract data from your current platforms and test multiple ideas and combinations.
Finally, they will turn these data models into comprehensible customer profiles. You can then engage with your customers on a one-to-one basis and personalise their experience.
It primarily uses A/B testing, multivariate testing, and AI-based technology to help you personalise the customer experience.
The entire process doesn't seem as automated as Mutiny HQ and would require fair-share of human interference. However, Optimizely is a good option if you want to take advantage of its extensive suite of solutions.
All in all, you can use Optimizely to define your goals and set up awesome experiments that get more engagement, leads, or revenues.
Cons:
Various G2 reviews hinted at intermittent outages.
The UX could be more intuitive.
Pricing:
Quote-based.
Best For: Identifying user behaviour using A/B testing, heat maps, on-page surveys, and session recordings.
G2 Score: 4.2
A/B testing and then personalizing your landing page to improve its conversion rate and generate leads can be highly time-consuming and expensive.
And that's where VWO, one of the most popular conversion optimization (CRO) and A/B testing tools, comes into the picture.
Marketers use the tool to carry out A/B split tests on landing pages, blogs, email campaigns, or even complete websites.
VWO helps you conduct all the following tests and experiments:
A/B testing
Multivariate testing
Split URL testing
Server-side testing
Mobile app testing
Aside from the ability to run different types of tests, VWO helps you gauge specific user behaviour using heat maps, scroll maps, click maps, and even session recordings.
While click maps and scroll maps help you understand their scrolling and clicking patterns, session recordings allow you to track their precise movements on your website. You'll also be able to identify their friction points, mouse trails, and the entire buyer journey.
It's almost like you're sitting right beside your audience while they're browsing your website.
Nosey Parker, eh?
Well, all's fair in love and marketing!
And it's not like you're privy to your customer's most private thoughts. You just want to determine their interest area to provide them with the most personalised (hence, optimum) customer experience.
So, it's all in good faith and legal!
Then you have on-page surveys and NPS scores that will help you ask direct questions and see what needs to be edited on your site.
VWO also provides detailed analytics and reporting of all the tests conducted. You can even filter results based on different segments and channels.
Cons:
It's essentially an A/B testing and heat map platform – not a personalisation app solely. Though, you can use it to identify user behaviour and make changes based on their interactions.
Pricing:
Quote-based.
Best For: Large enterprises looking to enhance their conversion rate optimization.
G2 Score: 4.5
OmniConvert is a suite of tools for exploring, improving, and analyzing your marketing campaigns.
It performs A/B tests using multiple variations, segments audiences and optimizes customer journeys to help you optimize your website and increase conversion rate.
It also helps you unearth real-time data of your customers, including weather, geolocation, OS type, browser type, language, and more.
Another great part about OmniConvert is that it offers a built-in JS and CSS editor. The editor lets you create and modify website elements and even reuse previous codes between variations.
Other key features include:
CDN cache bypass.
Experiment debugger.
Advanced segmentation based on 40+ parameters.
Personalisation of cart total value, product name, among other on-page variables.
100 overlay and pop-up templates ready to use and customize.
You can even take their exclusive help, where they'll assign a data analyst to your Analytics account. The analyst will understand your visitors and interact with email, search, and social channels. They'll then perform the audit based on extracted data and results!
Additionally, they also have a suite of tools that makes complex ecommerce data easy to comprehend and visualize. You can also use it to generate insights and subsequently use the data to treat consumers differently on every channel.
Cons:
Some may find the tool a bit complex without inside help.
It requires extensive CSS knowledge at times.
Pricing:
Plans start from $167 per month, paid annually (or $320/month if you choose to pay monthly). The plan allows 50k views, A/B testing, web personalisation, advanced segmentation, on-page surveys, and triggered overlays.
Best For: Adding social proof to your landing pages.
G2 Score: 4.4
Social proof is the best way to convince people to buy.
If someone told me that 5,000 industry experts had installed the eBook I was about to install before me – it would strengthen my resolve to install and read it myself.
However, you need REAL social proof. Not the kind where you pay some stranger on Fiverr to place some Tweets and Facebook posts on your behalf; I'm talking about some REAL numbers.
And true to its name, Proof helps you do just that!
Here are some examples:
Adding proof to your landing pages helps you build visitors' trust and create urgency – leading to increased conversion rates.
You can use Proof to add the following elements to your site and landing pages:
The total audience that recently took action on your site.
Live visitor count.
Recent activity (live feed of visitors on your site).
Finally, you can run A/B tests to determine the impact of these "proof elements" on conversion. You'll be able to see your conversion analytics on their intuitive dashboard.
Proof also provides live visitor count notifications, hot streaks notifications, recent activity notifications, A/B testing, live chat support, and more.
Proof also allows you to personalise website text, images, and CTAs using ready-to-use templates, A/B testing, and data-driven reports.
You can further personalise customer experience based on visitors' traits and behaviour data.
Other key features include:
No-code visual editor.
Personalise web applications.
Drag and drop elements like top bars and CTAs to your site.
Flexible API.
Works with every website builder and single-page apps.
Personalised content appears under 60ms.
There's also a 14-day free trial, allowing you to see how the software works before making the payment.
Cons:
Limited personalisation features.
Pricing:
Starts from $66 per month, when billed annually for 10,000 unique visitors, unlimited domains, and unlimited notifications.
Best For: Medium and large-sized enterprises.
G2 Score: 4.4
HubSpot's Marketing Hub has a large set of features for marketers to personalise their website, web elements, and email campaigns.
You can run email campaigns that are specifically personalised to each visitor, use segment targeting to get a more diverse audience, personalise your website elements, and more.
HubSpot's core personalisation features include:
The ability to send personalised, time-optimised email campaigns.
Triggering lead capture pop-up (including exit-intent) forms based on customer behaviour.
Customize CTAs and other website elements based on each customer's journey.
There's a "Smart Content" feature that experiments with different versions of your content based on specific consumers' devices, referral sources, and more. For example, you could create variations for customers coming from different referral sources or devices.
In addition, HubSpot also provides marketing automation features and ready-to-use workflows to nurture and score leads, personalise email campaigns, automate cross-functional operations, and more.
Other key features include:
Account-based marketing.
The ability to run A/B tests.
SEO-optimized web pages and blog posts.
Campaign management tools.
Event-based segmentation.
Landing page builder and mobile-optimised templates.
The ability to track your performance after personalisation with built-in analytics and custom reporting
Cons:
The knowledge base should be more extensive.
Pricing:
Pricing plans start from $45 per month for up to 1,000 marketing contacts.
Best For: Mid-sized enterprises.
G2 Score: 4.3
Interaction Studio (formerly Evergage) is a Salesforce product that provides real-time personalisation and interaction management.
The tool helps you extract pertinent data on your customers and then use AI to deliver a personalised customer experience. It enables AI-driven optimization, cross-channel engagement, A/B testing, and analysis.
Once you have customer data, the tool automatically categorizes all products and content based on machine-learning recommendations. It segments data based on referring source, geo-location, weather, company, industry, and more.
Once you understand the business context, it recommends the most relevant products and content based on your customers' characteristics and preferences.
It's also an omnichannel personalisation platform and helps you guide customers along the optimum journey. Evergage guides each customer along the most appropriate path, triggering interactions where they are or in the channel they prefer, including owned, social, and paid media.
And not just that, it also helps you streamline your consumer's digital and offline behaviour. Salesforce's Interactive Studio assists you in interactions with call center agents, in-store associates, or at kiosks and ATMs.
Other key features include:
Real-time customer segmentation.
Gauge customer behaviour and trigger personalised messages via mobile app.
A/B test algorithms and optimize experiences.
Track metrics like sign-ups, purchases, downloads, and more
Predict future customer behaviour using data collected in a rich data warehouse environment.
Cons:
The platform is robust. However, it can be challenging to grasp all the information at once.
The user interface should also be more modern and easier to use.
Pricing:
Quote-based.
Best For: Individual users, small size and mid-sized businesses.
G2 Score: 4.4
Unbounce is a landing page builder that helps you create personalised, high-converting marketing campaigns without the need of a developer.
It offers various features to help you optimise and personalise your content and website.
For one, Smart Builder extracts customer data from over 1.5 billion conversions, allowing you to identify what layout, content, and headlines will help you convert your target audience.
The Smart Copy feature is an AI writing tool that can create content within minutes customised with your brand and target audience in mind.
Then there's the Smart Traffic feature that identifies customer behaviour and directs each visitor to the landing pages most likely to convert them.
Additionally, it lets you run A/B tests, integrate with your favorite CRM, and automate your follow-up emails using Unbounce's easy drag-and-drop interface.
Cons:
You might need a little bit of HTML and CSS knowledge.
Pricing:
Starts from $90 per month for up to 20,000 visitors and 500 conversions. There's also a 14-day free trial.
Best For: Freelancers, marketers, small size and mid-sized businesses.
G2 Score: 4.4
Just like Unbounce, Instapage is a drag and drop website and landing page builder that lets you create personalised website pages.
The platform is ideal for people who don't have time to create their own landing page because it allows you to design professional websites (and squeeze pages) in minutes.
When it comes to personalizing landing pages to cater to your audience's requirements, Instapage enables A/B testing and dynamic content. It dynamically directs potential customers to a relevant landing page for each ad. The tool aligns the landing page elements based on visitor-level data like keywords, firmographics, and demographics.
Other prominent features include ad mapping, detailed analytics, experimentation, and more.
Cons:
Limited personalisation features.
Not sufficient for creating a website with multiple pages.
Pricing:
Starts at $199 per year with no conversion limits.
That's a Wrap!
And that was our list of the 12 best personalisation software that can help you boost your sales and conversion rates.
Personalisation is crucial because today's customers are used to having what they want. They are even more selective about the brands they buy from…they want something that has meaning for them.
And that's where personalisation apps enter the picture.
However, the personalisation app you'll pick should depend on your requirements.
For example, if you want to run A/B tests and personalise your web pages yourself, you might prefer Optimizely and VWO. To create personalised landing pages with dynamic content, pick either Unbounce or Instapage. For email personalisation you would obviously pick SwiftERM.
Review the aforementioned personalisation solutions carefully and pick one that aligns with your requirements.