Reshaping Ecommerce Personalisation in 2022. To combat supply chain disruptions and other uncertainty, consumers of all ages turned to digital channels to purchase goods across every retail category. In 2020, online spending represented over 21% of total retail sales – in the US that's more than $861 billion dollars spent online, up 44% compared with 2019—an astonishing shift.
Digital commerce, already an important part of the retail ecosystem, became even more essential in 2021, with eMarketer forecasting that US consumers will spend over $933 billion online, up nearly 18% compared with 2020.
Bricks-and-mortar spending remains comparatively modest, with eMarketer predicting a 6.3% increase in 2021 versus 2020, although this still represents the strongest growth since 2011.
There's no question that ecommerce has become essential for consumers and retailers alike. The staggering growth in ecommerce spending is, itself, a trend. But one of the essential "trends within a trend" is the rapid adoption of ecommerce personalisation, a key technology that consumers are increasingly demanding and retailers are increasingly embracing. Personalised product recommendations across all customer touchpoints and channels are fueling ecommerce growth and continuing to evolve as the technology that powers personalisation evolves.
qThe next 12 months offers exciting and key trends in ecommerce personalisation that retailers are adopting now (or planning to adopt in the near distant future). These include AI-powered product recommendations, advanced personalisation with image recognition, and end-to-end personalisation with native order management.
Trend 1: AI-Powered Product Recommendations
AI and Machine Learning top our list of 2021 ecommerce personalization trends and they're enjoying a well-deserved moment in the spotlight. According to research firm SPD Group, nearly 30% of retailers currently use AI and machine learning, up from just 4% in 2016.
SwiftERM's personalisation SaaS uses AI to help predict changing consumer intent which fuels personalised product recommendations, product selection an recommendation via email, rather than home page designs and layouts. (You have to wait for the customer to come to you, and they could equally go to your competitor instead). AI-powered product recommendations avoid the necessity for adopting the far less lucrative segmentation process (20x), messaging across all consumer touchpoints, making individualised personalisation scalable as it it is personal and unique to each individual consumer. Here are a few ways AI enables retailers to scale personalised recommendations:
AI technology dynamically updates product details pages based on historical data, third-party insights, and real-time visitor behaviour.
AI-fueled recommendations encourage personalised cross-sells and push high-margin products to the consumers most likely to respond.
AI-driven recommendations combined with testing and personalisation across touchpoints enable retailers to rapidly refine offers and content for optimal performance without the requirement to involve staff and SwiftERM is 100% automatic, as it has to be utilising such vast quantities of data.
Consumers are willing to share their data in exchange for better, more personalised shopping experiences, but building trust is an incredibly important part of delivering a good ecommerce experience. To this end, retailers can leverage AI to provide more transparency to shoppers who may be concerned about how merchants are using their data, but the transparency becomes obvious as the consumer appreciates the selection for them is on point to their personal shopping habits.
Trend 2: Advanced Personalisation with Image Recognition Technology
Another important ecommerce personalization trend for 2021 is the adoption of image recognition technology within the product recommendations ecosystem. Retailers can use image recognition technology to identify products within images and videos, then use that data to further refine product recommendations and customise content.
From the customer's perspective, this could appear as a "shop the look" recommendation on the retailer's website or an email notifying someone about items they'll love (based on their browsing and/or purchase behaviour.) Image recognition technology essentially gives retailers the ability to create richer online experiences with shoppable content.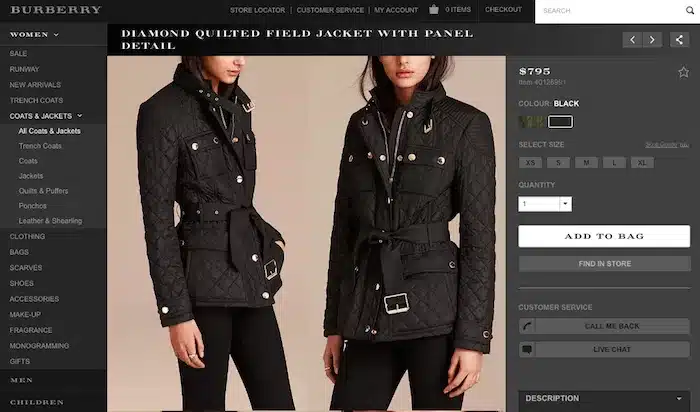 Image recognition tools use AI and machine learning technology to automate the process of image analysis, assessing a wide range of image characteristics and combinations (colors, sizes, patterns, styles, etc.) which can be combined with other customer signals, behaviour, and attributes to enable more accurate product recommendations targeted to each individual customer.
AI-driven product recommendations enable retailers to provide 1-to-1 recommendations, for example, by notifying a customer that there are new arrivals in their favourite color or fabric. Image recognition can also enhance the shopping experience for consumers by making it easier for shoppers to search for products with similar styles, patterns, and colours.
Trend 3: End-To-End Ecommerce Personalisation with Integrated Personalised Search & Order Management
End-to-end ecommerce personalisation with native order management is one of those trends that's become a necessity for retailers in the past 18 months since the pandemic disrupted the normal flow of how we buy and sell things.
Extensive ecommerce personalisation is only possible when ecommerce is integrated with native order management technology. SaaS technology like SwiftERM, that allows retailers to select individual products for each individual consumer perpetually increases efficiency while improving the end-to-end customer experience. Hardly surprising the AOV goes through the roof, churn is almost eliminated, as is the number of product returns, which almost stops entirely.
What this essentially means for ecommerce personalisation is that the entire customer buying journey is optimised and personalised regardless of what touchpoints customers use to interact with a retailer or where they are in the buying journey. End-to-end personalisation gives customers access to a retailer's full product catalogue and inventory, enabling personalised offers based on search results and even connecting these offers to shipping times.
Personalised search, in particular, is integral to the digital shopping journey, driving high ROI and creating relevant shopping experiences that customers demand. Our own research has shown personalised search to be the most substantial driver of ROI. Over 30% of the 400 ecommerce executives we surveyed said that personalised search drove an ROI of 200% or more.
Throughout the pandemic, retailers and customers have been embracing frictionless fulfillment options including buy-online-pickup-in-store (BOPIS) and buy-online-pickup-curbside (BOPAC). End-to-end ecommerce personalization with native order management enables retailers to personalize these newly popular fulfillment options, creating a seamless (and customised) shopping experience for each customer.
Ramping Up Ecommerce Personalisation for 2022
Our top three trends—AI-powered product recommendations, image recognition technology, and end-to-end personalisation with end-to-end ecommerce personalisation with integrated personalised search and order management all work together to deliver better overall shopping experiences. But these are just a few ways that ecommerce personalisation is ramping up in 2022 (and beyond).
As ecommerce personalisation technology evolves, we predict that personalised product recommendations will become even more relevant, customised, and highly personalised, becoming an essential way to deliver outstanding ecommerce shopping experiences.
Accelerating this trend is the technology that powers it all, connecting online and offline channels, and enabling companies to personalise content across all touchpoints (at scale!)
We invite you to take a deeper dive into our platform to learn more about how SwiftERM personalisation SaaS works or learn about the brands that have helped make SwiftERM the #1 personalisation SaaS for 7 consecutive years.