Personalisation championing the beauty industry. The cosmetics industry has historically promoted an idealised and homogenous portrayal of beauty. The idea that "we're worth it" – and that a single lipstick can make millions of women look and feel the exact same shade of special. 
No longer does the beauty industry solely cater to the mass-market. As Mintel states, "beauty is being redefined on a daily basis by consumers", and brands are increasingly catering to a diverse pool of consumers.
A couple of years ago, the Fenty Beauty brand launched with 40 shades of foundation, spurring on the rest of the industry to recognise that inclusivity should be standard, and individuality and self-expression celebrated.
Since Fenty launched, the beauty industry has also recognised the need for products and services that offer greater relevancy to individuals. Consequently, brands are now using deeper levels of personalisation in relation to both product and customer experience in order to engage consumers and ultimately drive sales.
Offering digital consultations for personalised products
The vast array of brands in the market means that consumers can easily feel overwhelmed and confused about finding the right products. This issue has become even more pertinent in the context of Covid-19, with shoppers unable to seek advice (and test products) in-store. Male shoppers are particularly underserved in this area, too, with 'male grooming' often being promoted as a blanket category, instead of one that recognises men as individuals, with different skin types and skincare requirements.
According to Mintel, 40% of British male beauty and personal care shoppers think it's difficult to know which products are right for them. This percentage increases to 56% among 16 to 24 year olds.
Fortunately, many brands now offer tools to help consumers to find the products they need, most often through online consultations. Tools like Kiehl's' 'Healthy Skin Routine Finder' narrow down products based on skin types and concerns. At the end, Kiehl's gives the user a personalised 'routine' of products that they can then buy online.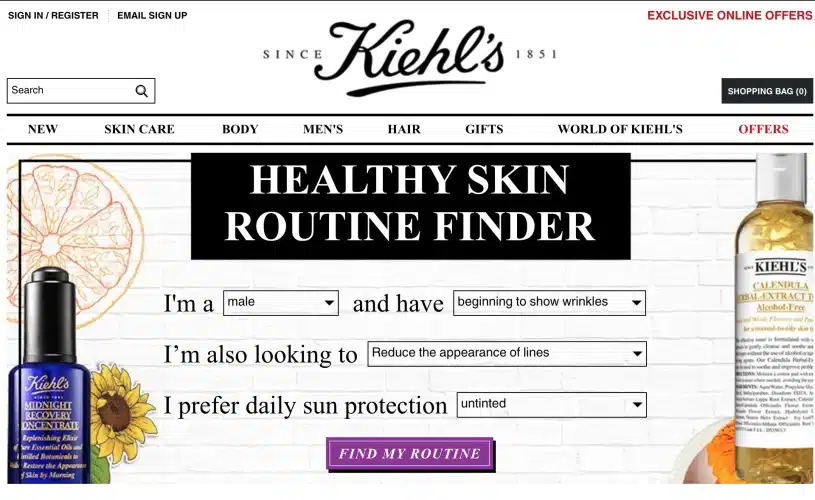 We are also seeing new and disruptive brands use more complex customisation, as well as position it as their USP. Geologie, for example, is a company that delivers personalised male skincare regimes based on the customer's specific skin profile.
Curology is a similar brand, one that uses a combination of machine learning and human expertise to create bespoke subscription-based products. Customers are asked to upload a photo of their skin using the Curology app in order for the brand to diagnose and provide the right skincare solution. In order to encourage long-term loyalty, customers can also tweak their subscription if they feel something isn't working, as well as chat to their assigned 'provider' (who is a registered dermatologist or physician who 'approves' which Curology products customers should use).
Curology uses the data it collects in order to inform future products and marketing. According to Glossy, the brand discovered that around 10% of its sales were coming from customers with ageing concerns such as fine lines and wrinkles. In response, it began targeting this customer demographic through personalised ads and email marketing.
Launching IoT-powered, smart skincare solutions
While consultations can offer basic personalisation, companies are also investing in the development of beauty tech in order to take it to another level. In 2019, Neutrogena launched MaskiD, a personalised 3D-printed face mask that is customised to suit the consumers' individual face shape. It is used in conjunction with Neutrogena Skin360, the brand's app that analyses skin pixels to inform the mask's unique treatment formula.
Japanese skincare brand Shiseido is another pioneer of beauty technology. One of its most innovative examples to date is Optune, a personalised skincare system that tailors skincare to the user's skin day-by-day, accounting for factors such as humidity and air quality, menstrual cycle, and mood. Then there is Proctor & Gamble's Opté beauty wand, which essentially acts as an inkjet printer for the face – it scans for imperfections before covering them with make-up as you run the device over your skin.
What these devices have in common is that they tailor product application (and results) to each individual based on different variables, much like a beauty therapist might. They're also designed to promote long-term loyalty, too, with the idea that customers will be inclined to 'top-up' on additional products as they've already invested in the kit.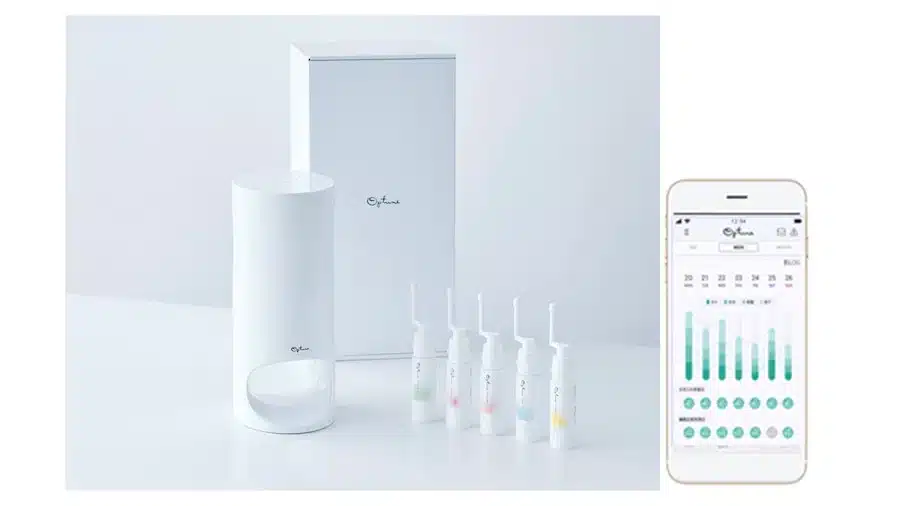 With smart beauty technology retailing at a high price point, some have questioned the demand for it. Raconteur highlights how previous innovations from Samsung and Kérastase are no longer available for purchase. This makes sense considering the continued popularity of drugstore and high street beauty (sourced from retailers like Boots and Superdrug); successful brands like The Ordinary and NYX are based on their affordability and accessibility.
But beauty smart technology isn't aimed at the masses. Instead, as Raconteur goes on to suggest, beauty brands are investing in technology as a way to differentiate themselves, and to promote authority and expertise in cosmetics and skincare (which in turn can help to attract customers).
Enabling customers to 'create' their own custom products
One area that is more directly in demand is DIY beauty, which is where consumers can get involved in the creation of personalised products. This also allows categories outside of skincare (such as fragrance and make-up) to integrate personalisation, aligning products with the customer's personality and unique style as well as their physical features. Bite Beauty, for example, enables customers to create their own lipstick, choosing the exact shade, finish, and fragrance they desire.
The DIY category has also gained traction during Covid-19, as brands have capitalised on a consumer desire for at-home beauty, as well as the wider wellness trend. Bite Beauty shifted to digital during the pandemic, allowing customers to interact with a 'Colour Expert' via video call rather in person.
One of the biggest benefits of this type of product customisation is that it offers customers a memorable experience, regardless of retail channel. Whether bought online or in-store, the end result (i.e. something that the customer has had a direct hand in creating) is the same.
Of course, offering customisation in physical retail stores has the advantage of additional experiential elements. Customisable skincare brand Loli Beauty allows consumers to mix together various components to create their own custom blend at home. However, its 'blending bars' (pop-ups located in retail stores like Barney's) also give customers the chance to smell and sample products, as well as have greater interaction with staff. According to Vogue Business, pop-up sales accounted for 34% of Loli's revenue for November and December, outselling brands like Beautycounter and CosRx during its pop-up at New York's The Strategist. This highlights how beauty personalisation can engage consumers in-the-moment as well as long-term.
There is an argument against custom-made beauty products, with some consumers perhaps favouring the simplicity and convenience of a brand producing and delivering a simple formula (without too much thought or customer involvement required).
Then again, with affordable brands and retailers (like Boots) already cornering the market on simplicity, it's understandable why personalised beauty is becoming a differentiating factor for disruptive as well as high-end beauty brands.
Personalisation equally applies to communicating with customers
It is with some consternation then, that while many retailers appreciate the uniqueness of skin tones and colours pertinent to each individual, they fail to extend this into what they communicate to their audience. Perhaps restricted by traditional segmenting of audience practises, created by marketing software ten years ago, it has become accepted and not challenged. Over the past decade, there are so many reticent to investigate new technology, offering what cosmetics consultations do naturally on a one to one.
Why would you want to lump together everyone in a bundle for marketing convenience when you can utilise predictive personalisation software, which maintains individuality, for each and every consumer. Gone is the need to batch process products by brand or colour. instead pertinent most likely purchases on a one to one basis is available for each and every individual on a database.
Consider for a second, the scale of additional revenue that would come from knowing every communication is on the money for each consumer. Conversation rates, open rates and ROI on each and every email skyrocket, like never before. If ever there was a time to look again at the technology on your site, that complements (not replaces) your existing email software this is it.