Must have apps for ecommerce success. If you operate an ecommerce business of any scale, you will know that there never seems to be enough time in the day to do all the necessary tasks.

You have to build an online store, source product, make everything eye-catching, market to your target audience, build traffic, manage your inventory, ship to your customers, and ensure that you keep sufficient financial records to keep the tax department and others happy.

Therefore, you need to take advantage of any technology that can ease these processes for you.
Check out our vetted solutions that can help you meet your goal in each area.
Product Sourcing
1. Jungle Scout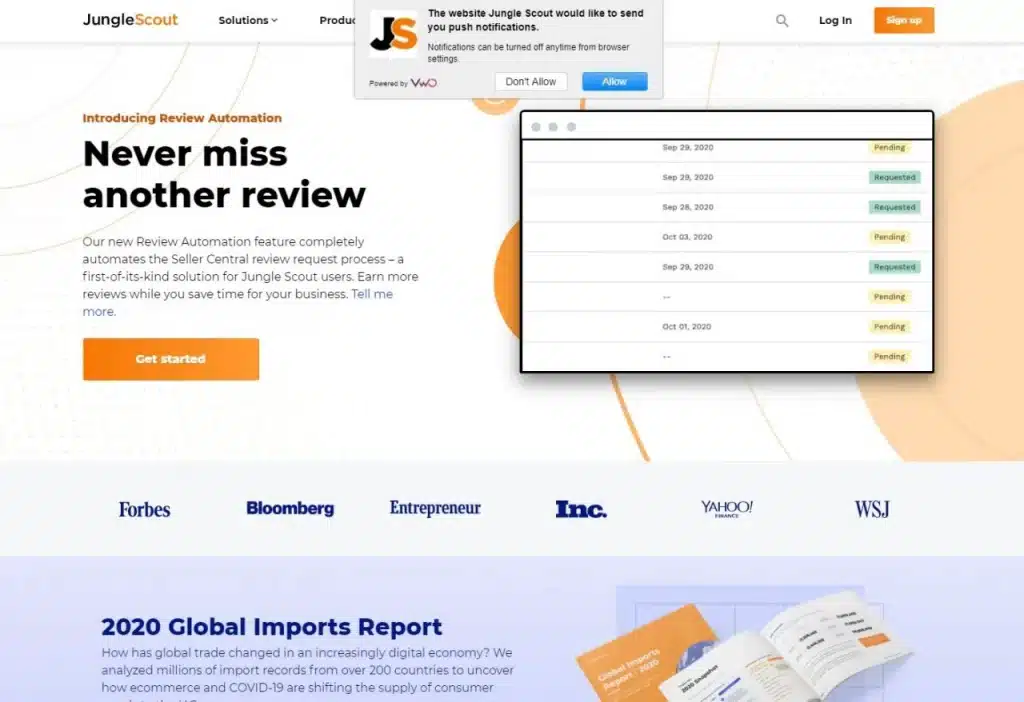 Jungle Scout helps you start, grow, and manage a business on Amazon. You can use Jungle Scout to make data-driven decisions and build a profitable Amazon business.
You can buy one of three plans:
Basic ($29/£20 mo.) – the essentials for jumpstarting your product research and Amazon business. You can track three products.
Suite ($49/£35 mo.) – all the Basic features plus Review Automation, the ability to add more users, access to more in-depth historical product and keyword data, the ability to track 150 products, plus advanced seller features
Professional ($84/£60 mo.) – all the Suite features plus you can track up to 1000 ASINs, use six months of historical data in Product Tracker and two years of historical keyword data, and the ability to track 1,000 products. You can include six users in this plan.
2. Maker's Row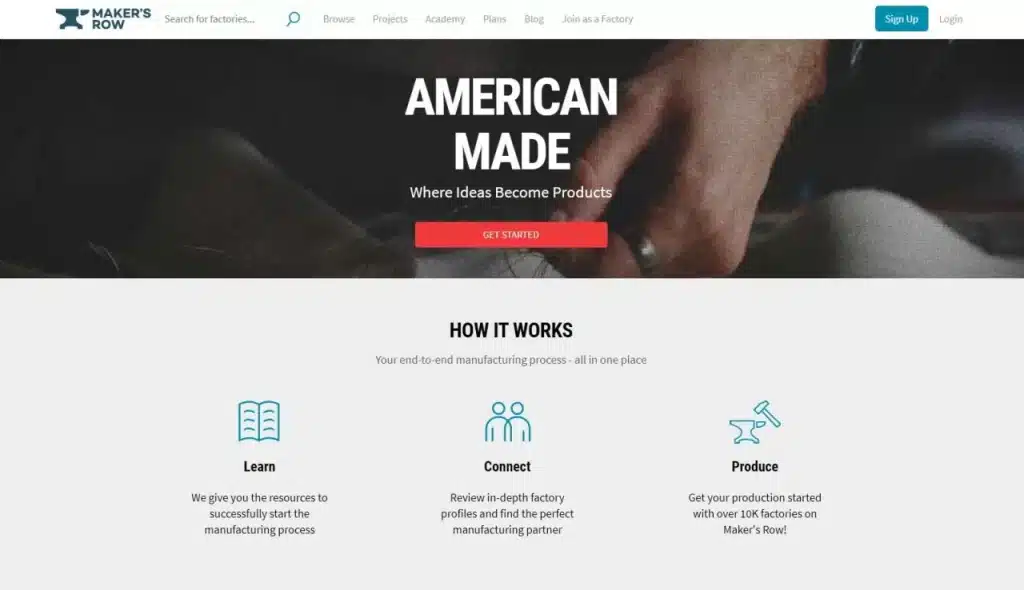 Maker's Row is essentially a vast community with 10,000 manufacturers, 100,000 brands, and 2 million products. You can use its search engine to browse through US manufacturers across dozens of industries. Search by location, response rate, or capabilities.
Once you have found suitable factories, you can message them from within Maker's Row. Message factories to request an estimate, book a consultation, or simply introduce yourself.
You can create a Project to organise all your product ideas and details, and then send your Project to your favourite factories as a reference. If you still can't find the right factory, make your Project public so factories can find you.
Supplier Directories
3. The Wholesaler UK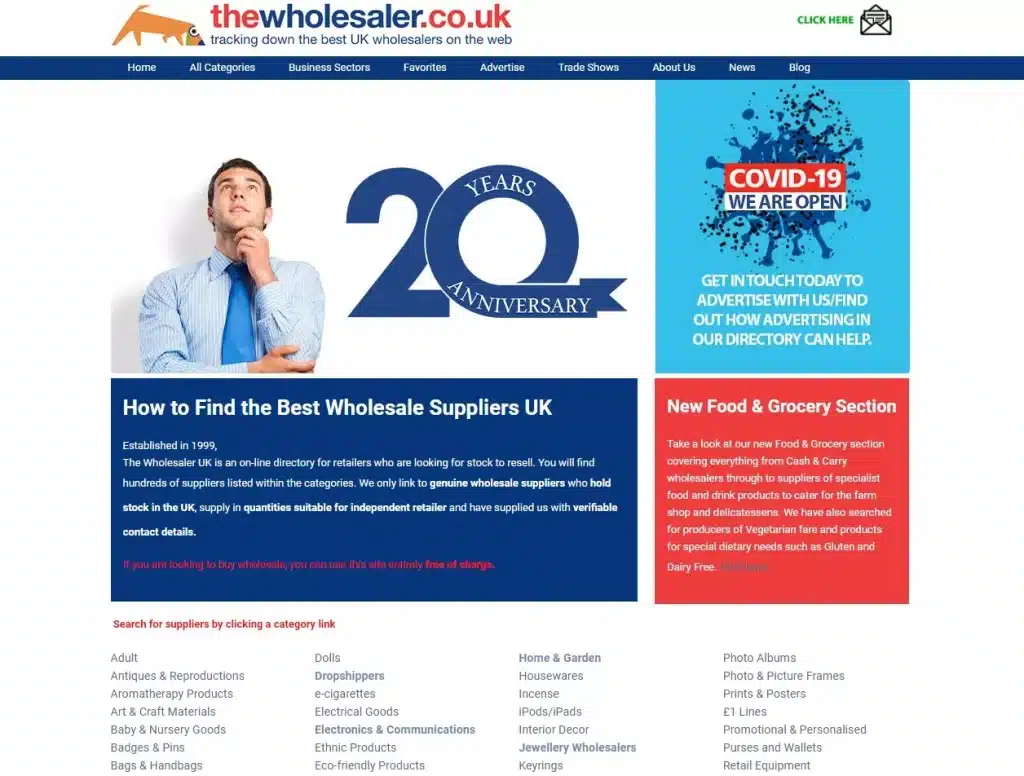 The Wholesaler UK is an online directory for retailers who are looking for stock to resell. It includes hundreds of suppliers listed within a large variety of business categories. Some popular categories, such as Health & Beauty and Electronics & Communications, break down further into sub-categories.
As the site's name indicates, this site is UK-focused, claiming to help you track down the best UK wholesalers on the web.
4. SaleHoo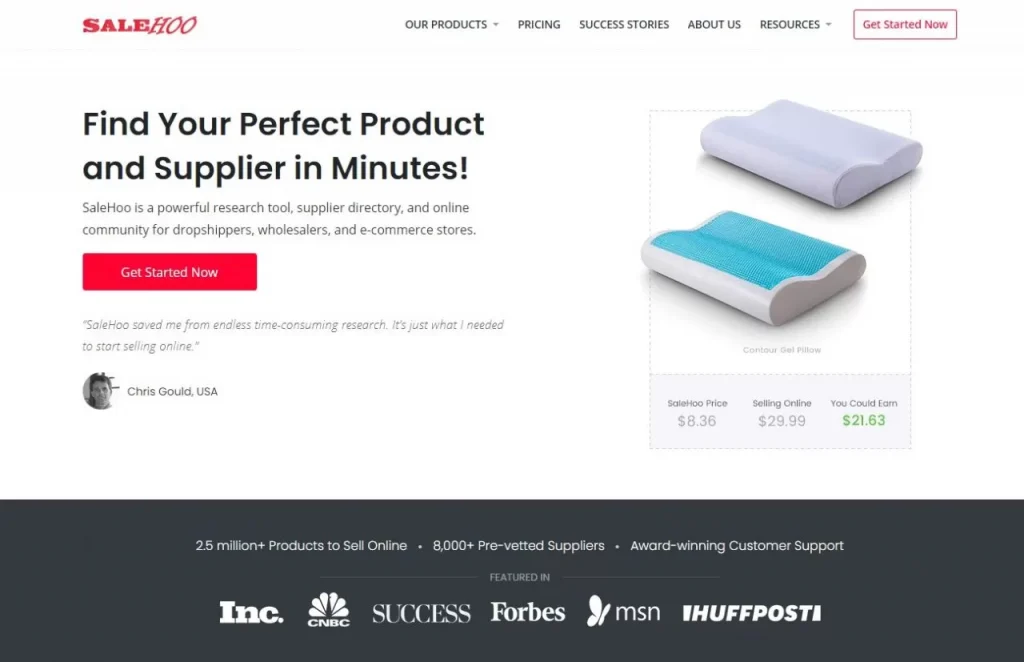 SaleHoo is a powerful research tool, supplier directory, and online community for dropshippers, wholesalers, and e-commerce stores. SaleHoo Directory gives you access to 8000+ trusted suppliers. A $67 annual fee gives you access to SaleHoo Supplier Directory as well as access to Market Research Labs.
The site also offers SaleHoo Dropship to automate your dropship store. SaleHoo Dropship lets you add trending products from AliExpress to your Shopify store in minutes. You can gain access to this for either $27/£20 mo. or $97/ £70 mo. depending on your needs.
Branding and Design
5. Looka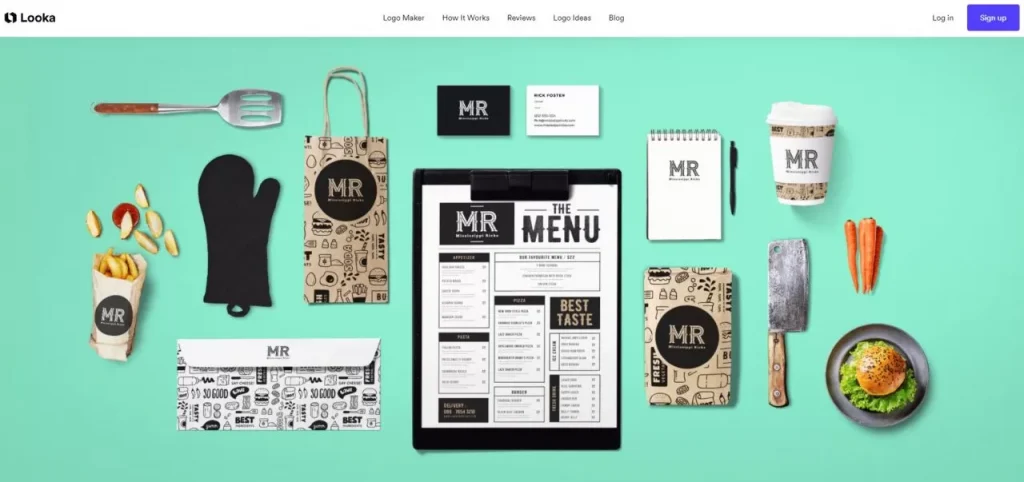 Looka is an AI-powered platform where you can design a logo and build your brand. You can make a logo in minutes. Looka's AI helps you create a logo that matches your vision — no design skills required.
With your logo design finalized, it's time to start building your brand identity. Looka's Brand Kit uses your logo, colors, and fonts to create hundreds of branded marketing materials instantly. You can choose from 300+ templates made to match your brand identity and industry.
Looka gives two pricing options:
Get a Logo & Brand Kit (monthly rate, although annual payment)
Get a Logo Only (one-time purchase)No matter which option you choose, you then select from:Basic – for testing the waters
Premium – for new projects and businesses
Business – for those who want it all, everything you need to build a brand Content Marketing6. BuzzSumo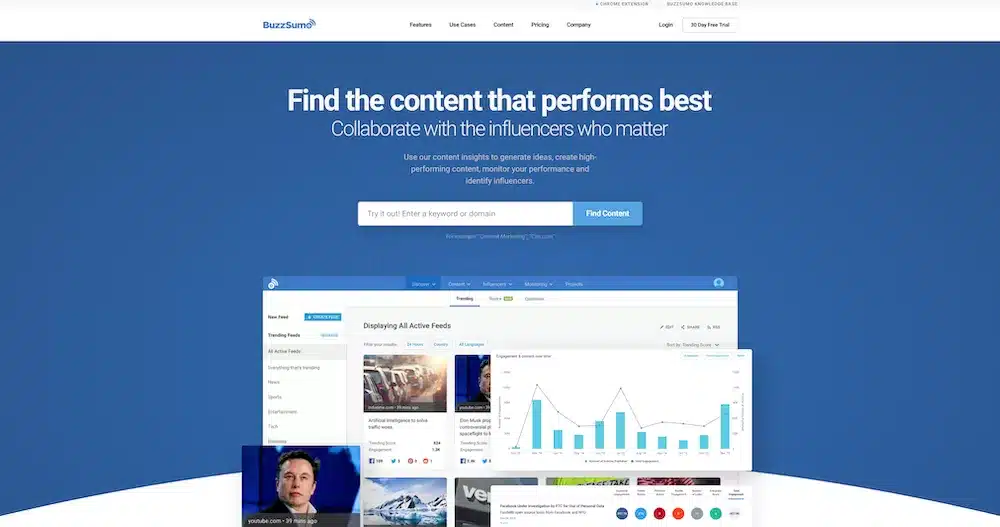 A common way to build traffic to your eCommerce site is to engage in content marketing. BuzzSumo can be an invaluable tool to help you find the content that performs best. You can use their content insights to generate ideas, create high-performing content, monitor your performance, and identify influencers.
Millions of marketers rely on BuzzSumo to reveal the truth about what content works and what sinks without a trace. The platform has four key components:
Discovery – explore high-performing content to gain more likes, links, and shares
Research – analyze billions of data points to sharpen your marketing strategy
Influencers – identify influential people for your campaigns
Monitoring – track comments and trends so you can respond rapidly and capture any opportunity
Email Marketing
7. Klaviyo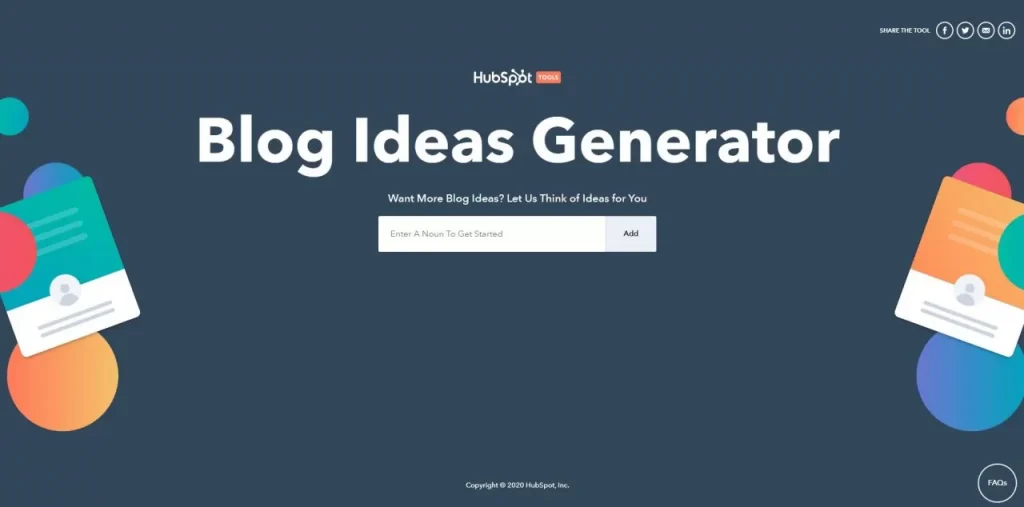 Klaviyo covers more than just email marketing. It describes itself as an eCommerce marketing automation platform. Klaviyo stores all your customer data, then allows you to build experiences across email and owned channels, measuring revenue results— not just opens or clicks. It integrates with all the major eCommerce platforms: Shopify, Shopify Plus, BigCommerce, Commerce Cloud, Magento, and WooCommerce.
You can use Klaviyo to set up automated email flows. Klaviyo makes it simple for you to map your customer journey end-to-end with their intuitive drag-and-drop builder. You can easily test and optimize automated emails – whether it's experimenting with different content, subject lines, or timing of emails in a series. Klaviyo lets you split and branch emails within a series so that you can send each customer down the right path.
From open rates to sales generated, real-time reporting is integrated directly into each flow canvas. You can easily see how different emails in a series compare to one another. You can personalise automated email sequences based on customer lifetime value, lifecycle stage, brand loyalty, and more.
Predictive Personalisation
8. SwiftERM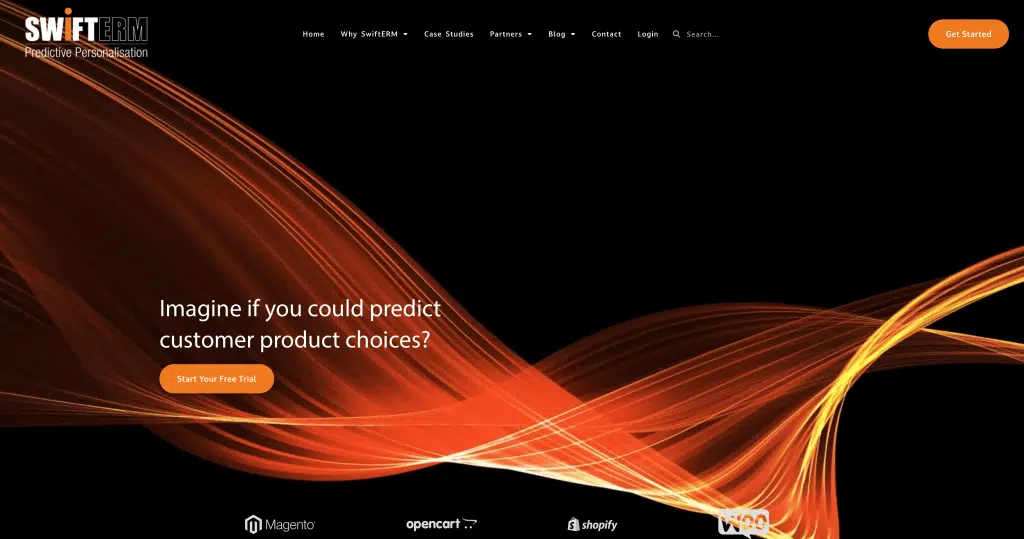 SwiftERM predictive personalisation email extension. Most ecommerce retailers engage in email marketing all the time, but many have not heard of an additional (supplementary) extension that runs totally automatically in the background, using a predictive analytics algorithm to calculate what each individual consumer is most likely to buy next. It populates an email and sends them their own unique propositions each month.
The reason it is so effective is that compared to ESPs, predictive personalisation offers a 21x higher return that the very best email campaign, and yet in runs in tandem with them, not against them. So you could choose Klaviyo above and SwiftERM as a great duo.
Predicts imminent purchases on a personal basis for each consumer
Completely automatically without any human input whatsoever, and therefore zero staff overheads.
An additional revenue source
Higher AOV, CTR, ROI, Loyalty, open rate
Lower churn, suppressions and most importantly ROR
Inventory Management
9. Veeqo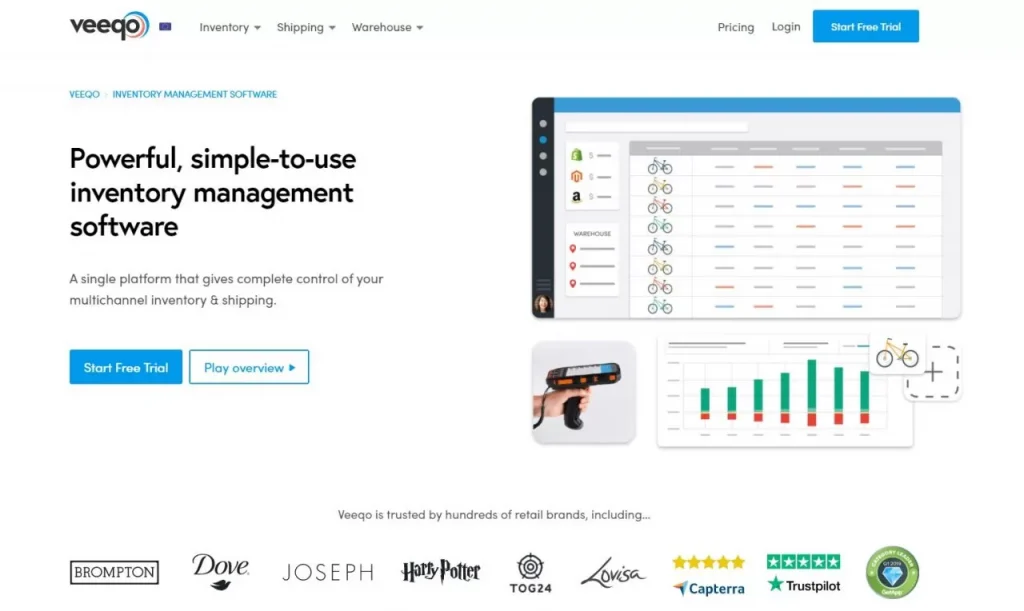 Veeqo provides a single platform that gives complete control of your multichannel inventory and shipping. You can use it to sync inventory levels across all your eCommerce channels and warehouses. Make a sale anywhere, and Veeqo instantly updates stock everywhere.
It helps you forecast demand by setting reorder levels per product or using past sales data. Then you can manage purchase orders and email suppliers for hassle-free re-ordering.
With Veeqo, you can put everyday stock tasks on autopilot. Create rules to set inventory levels per channel, tag orders, set preferred shipping carriers, route to warehouses, and more.
It also provides a single platform to easily ship every customer order from any sales channel – with discounted shipping rates and advanced order management.
You can pick and pack orders from any sales channel with perfect accuracy and lightning speed using the Veeqo Scanner, then bulk ship via one of 21+ carrier integrations.
Traffic
10. Recart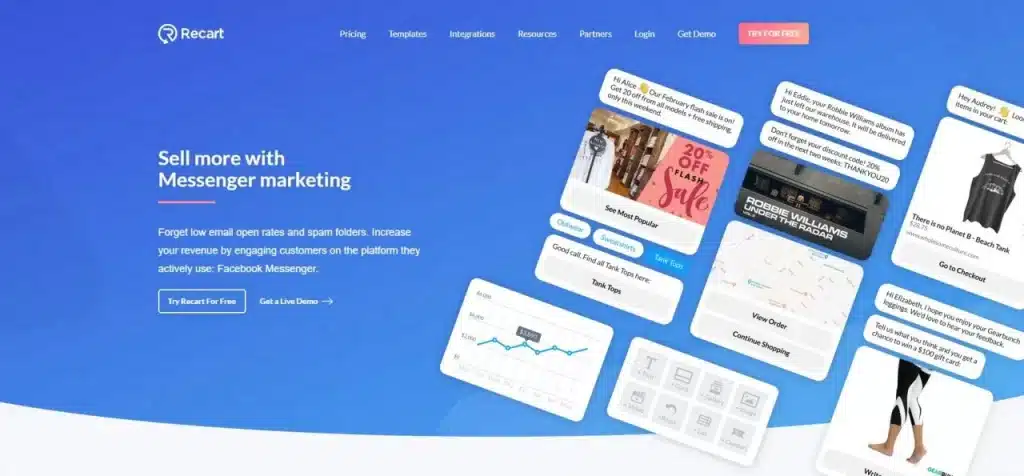 Recart assists you to build traffic to your site using Facebook Messenger marketing. You can launch Messenger Flows in minutes using Recart's pre-built templates. Trigger high-converting flows from Facebook/Instagram ads, m.me links, Sponsored Messages, or on-site pop-ups and sell more with Messenger marketing.
Pricing starts at $29/mo. for small businesses using Recart to generate up to $1,000 extra sales. Recart increases its price, the more it boosts your sales, up to $499/mo. for growing businesses generating more than $1m annual revenue who want to grow their brand.
SEO
11. Ahrefs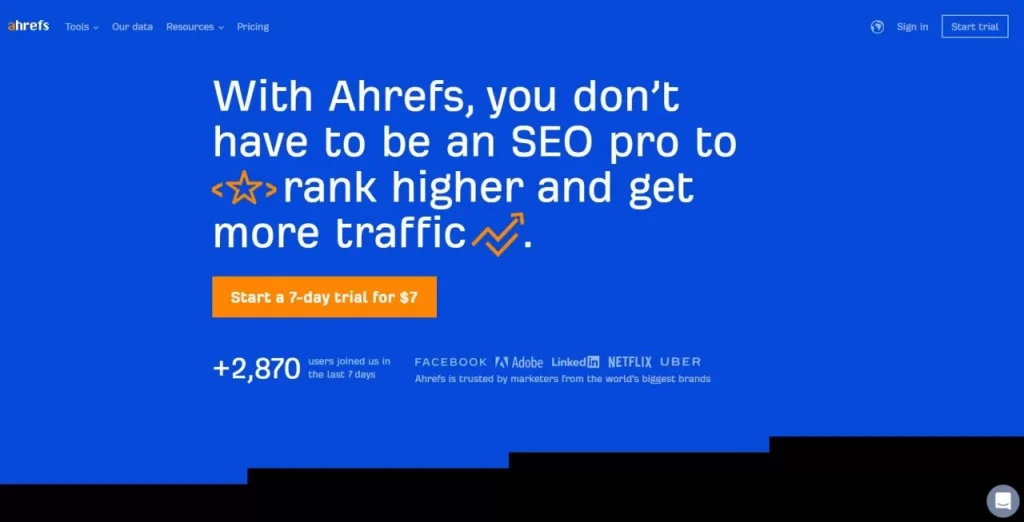 Ahrefs is a high-powered SEO tool you can use to improve the organic reach of your eCommerce store or other site. It is an All-in-one SEO toolset with free learning materials. It has five main components:
Site Audit – to optimize your website
Site Explorer – to analyze your competitors
Keywords Explorer – to study what your customers are searching for
Content Explorer – to learn from your industry's top-performing content
Rank Tracker – to track your ranking progress
Final Words
These are just a selection of app available, admittedly some of the best, all of which deliver significant returns immediately to your efforts. The mistake many new retailers make is wasting time waiting to realise expectations of their basic investment in the platform and website design. What they should be doing is implementing the adoption of highly productive additional facilities, and adopt the mantra of the already larger, successful counterparts, that they wish to emulate.