Zara always stay one step ahead. Zara is a bonafide pioneer of fast fashion, churning out new trends every few weeks for their 2,264 stores globally as well as for their e-commerce platform. They are quick on tech innovation and even quicker on customer reactivity, which helps to explain their surge in sales this quarter despite many fast fashion retailers' struggles due to Covid-19 this year. Their focus on customer experience and accessibility has made all the difference in their success.
But as consumer behaviors change due to technological innovations and shifting values, Zara must adapt their current strategy: What if there was a way to even better understand their customers, beyond sales data and in-person observations?

Trend forecasting is one solution, and it could allow Zara to keep close tabs on its customers' desires in real time. For a monolith like Zara, keeping up with the pace of trends and the brave new world of digitalisation is paramount: trend forecasting can ensure that the customer's place is always at the centre.
The race against trends: Zara's approach and what they do best
The big question is how exactly Zara's designers are able to create products that they know will appeal to customers. The answer is multifaceted: for one, store employees listen attentively to what customers want, what they don't, and what they're wearing, which enables each team to adjust styles, fabrics, and more to the trends of each geography and customer base.
Secondly, Zara is more reactive than its competitors: they design thousands of new styles annually, which they produce in small quantities to cycle them in stores every few weeks. Zara then analyzes sell-out to produces more of their successful products only, which keeps the customer coming back for styles that sold out too fast, or to see new styles altogether.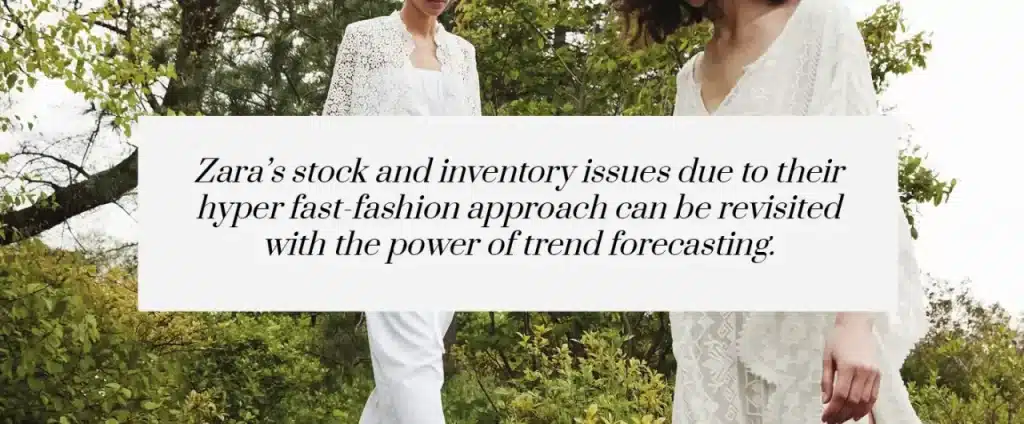 This is where trend forecasting comes in: it is the act of fashion trend forecasting including colours, fabrics, silhouettes, patterns, styles, and more. Zara's designers, however, work on the cuff, releasing new collections year-round and reacting to sales data to plan their products.

Trend forecasting gives designers the luxury of time, indicating which trends and products will be successful and when. Designers can choose styles and products on the long term, and in the correct quantities, to streamline the first steps of collection planning.
Better collections with trend forecasting
Churning out collections every few weeks is a surefire way to ensure that consumers keep coming back for new looks. But while this collection planning strategy is effective, it also creates both overstock and out-of-stock. Because Zara is constantly producing new styles and rolling out new collections, fiscal losses due to dead inventory are common, not to mention significant contribution to apparel waste.
Furthermore, their low-inventory strategy creates situations of out-of-stock when a product is particularly successful, leaving customers wanting what they can't have. The retailer is already aware of these problems: compared to 2019's first quarter inventory, 2020's inventory was reduced to accommodate lower demand.

But how to solve both stock issues at once in a lasting way? To do this, Zara needs a way to plan their collections with clinical precision, and the best way to do this is know what customers want now, but also in future.
For instance, zebra print was nowhere to be found at the start of 2018, at a time when leopard print had doubled in visibility in Europe. Nonetheless, zebra print was forecasted to experience a boom, and it indeed did, quadrupling in visibility in just one year's time.

Today, the print continues to be trendy, and it doesn't take a trend forecaster to tell you so, it only takes a quick look around at what people are wearing right now. So just imagine how practical this data could have back then, before brands had any idea of the success of the trend for the seasons to come.
his is just one example of the kind of data that can help merchandising and planning teams align with design teams to adjust quantities based on forecasted trend behaviors, taking into account high seasons and optimal launch times for any given product. This data is indispensable for a strategic collection planning that reduces overstock, prevents out-of-stock, and responds to consumer desires all while doing good by the environment.
Zara puts the customer at the centre
This year, Inditex announced it will be closing as many as 1,200 stores worldwide in a move to push e-commerce sales. Next year the conglomerate hopes to see online sales making up at least a quarter of total sales.
This is just one way Zara always strives to place the customer as their utmost priority. By providing consumers with online options, and even enhancing their in-store experience with digital solutions, Zara ensures that their customers keep coming back. But to draw them in the first place, the retailer needs to be sure to hit the nail on the head every time, and deliver products that their customers will want.
Trend forecasting can be a practical addendum to Zara's present collection planning strategy. The pictures and videos that consumers post, like, and share on social media are indicators of current and future trends, and this data is indispensable for brands with younger audiences such as Zara.

Quantitative analysis of social channels deep dives into consumer desires, and this technology can predict trends up to one year in advance. With trend forecasting, Zara's mission to keep the customer at the centre can only get better.