Realistically dictated by your set up, size and rate of growth, leading AI predictive personalisation marketing solution SwiftERM is available on MS Azure platform as an option. Enabling you to experience the full potential of operational functionality and additional benefits available to you by doing so. Enterprises across the globe are realising great success with business solutions powered by Cloud. This article offers an insight into those advantages.
They are redefining the way they do business with scalable & secure cloud-enabled enterprise applications. Globally, 90% of Fortune 500 companies are using Microsoft Azure to drive their business. Using deeply-integrated Azure cloud services, enterprises can rapidly build, deploy, and manage simple to complex applications with ease. Azure supports a wide range of programming languages, frameworks, operating systems, databases, and devices, allowing enterprises to leverage tools and technologies they trust.
Infrastructure as a Service (IaaS) and Platform as a Service (PaaS) capabilities:
Azure boasts an enticing combination of IaaS and PaaS services. IaaS enables enterprises to outsource their infrastructure on Azure and pay for what they use and PaaS lets them create their own web apps & solutions without having to buy and maintain the underlying groundwork. Top Azure consultants from the Microsoft partner community can work with Enterprises to leverage Azure PaaS & IaaS to build enterprise apps on the Cloud for accelerated business growth.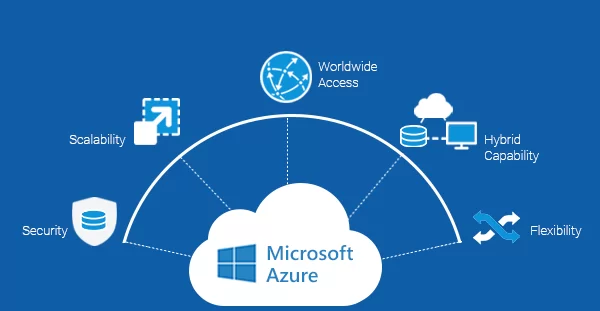 Azure platform security offerings:
Security Development Lifecycle (SDL) is an industry leading security process on which Azure has been designed. It comprises security at its core and private data & services stay safe and secure on Azure Cloud. Microsoft Azure offers the was the best compliance coverage of over 50 compliance offerings and is the most trusted cloud platform by U.S. government institutions. Also, it is the first to embrace the new international standard for Cloud privacy, ISO 27018. Thus, Microsoft guarantees the best in terms of safety for all operations and data on the Azure Cloud.
Scalability and Ductility:
Applications that run easily, unaffectedly and scale from 10 to 10 million users can be created without any additional coding by using Azure. Azure Storage provides ductile, safe, secure and performance-efficient storage services in cloud. It becomes simpler to change settings and use more processors for the application to use.
Unmatched Hybrid Capabilities:
Azure has hybrid capabilities that makes it unique. Azure facilitates easy mobility and a reliable consistent platform between on-premise and public Cloud. Azure provides a broader range of hybrid connections including virtual private networks (VPNs), caches, content delivery networks (CDNs), and ExpressRoute connections to improve usability and performance.
Integrated Environment with Other Microsoft Tools:
Organisations dependent on Microsoft tools like Office 365, Outlook and SharePoint invests in a cloud platform that impeccably integrates with Microsoft products. Use of Azure simplifies operations by using the same virtual on-premise machines like Windows and Linux.
Analytics and Intelligence capabilities:
Azure facilitates SQL and NoSQL data services and built-in support for digging deeper into data and uncovering key insights for improving business processes and decision making. Azure is the only cloud platform that offers Blockchain as a Service (BaaS), Machine Learning, Bots, and Cognitive APIs capabilities.
Choosing the right Cloud vendor is a very important decision for Enterprises. Numerous enterprises have witnessed accelerated business growth by choosing Azure as their cloud platform. Read the blog to understand why Azure is considerably a better choice compared to AWS.
Easy learning curve:
Familiar tools such as Visual Studio, ASP.NET, and programming languages like Visual Basic, C++, C#, etc., are used to develop cloud native applications, it is thus easy for consultants to develop cloud based enterprise applications.
Cost Efficient Platform:
Microsoft's pay-as-you-go model allows you to pay for what you use to build or expand resources using Azure services. This cuts down the IT administration costs to a minimum as infrastructure is taken care by Microsoft on Azure. It connects datacenters to the cloud effortlessly and supports 42 regions like no other cloud provider.
Interoperability:
Amalgamated applications can be developed for on-premises applications such as cloud database with Azure. Azure aids Internet protocols and open standards such as XML, SOAP, REST and HTTP. A software development kit for Java, PHP, and Ruby is available for applications written in those languages and Azure tools for Eclipse.
Identity & Access Management (IAM):
Te Azure platform offers secure IAM capabilities with Azure Active Directory service to enable right users to access the right information. With Azure, Enterprises can adopt mature IAM capabilities to reduce identity management costs and become more agile, thus supporting innovative business initiatives.
Other public cloud platforms such as Amazon Web Services and Google Cloud Platform also provide similar capabilities like Microsoft Azure. However, with the sheer speed that Microsoft is launching new components in Azure, it is apparent that it is scored higher in the market place. Trusted Microsoft partners SwiftERM are helping enterprises build scalable & secure cloud native applications by taking full advantage of the Azure platform.