You would think that luxury marketing would face an uncertain future, with record inflation, supply chain disruptions, headwinds from China's authoritarianism and the war in Ukraine sending several global markets spinning towards recession. Will luxury be immune?
Inflation, Covid lockdowns, supply chain disruptions: markets around the world are teetering on the brink of recession, and while luxury is relatively immune to short-term slowdowns, experts warn that the next five years will be more challenging than the last, demanding greater agility from brands.
The outlook for the global economy has "darkened significantly" in recent months, the head of the International Monetary Fund (IMF|) warned in July, and the World Bank forecasts that most countries are headed for a recession.

Earlier this month, the Bank of England warned the UK will fall into recession this year, and some argue that the US is already there after reporting a second consecutive quarter of economic contraction in July (it isn't official unless recession is declared by US non-profit the National Bureau of Economic Research).

The sharp economic downturn in many countries is driven by ongoing supply chain disruptions, which have triggered increases in freight and commodity prices, compounded by Russia's war on Ukraine, which has put pressure on energy supplies.
Customers around the world are feeling the effects: the Ipsos Global Consumer Confidence Index sat at 46.9 in July — its lowest point since May 2021. The six largest advanced economies — the US, Japan, Germany, Great Britain, France and Italy — have reached their lowest consumer confidence levels in more than a year, the index shows.

China was the outlier, improving by two points on June. Almost a quarter (23 per cent) of consumers across 12 countries surveyed by audience insight company Global Web Index (GWI) say they've been more price conscious about luxury goods in the last three months.
Luxury brands remain relatively bullish, but outlooks are less certain. In their first-half earnings, LVMH, Kering, Hermès and Prada pointed to a rebound in parts of China in June and July following the Covid lockdowns earlier this year and a boost from US tourists in Europe thanks to the strength of the dollar.

Still, Estée Lauder Companies last week warned that 2023 would be "volatile", due to record inflation, supply chain disruptions, the strengthening US dollar, risk of a slowdown in many global markets and headwinds from the ongoing Covid shutdowns in China (the Chinese province of Hainan entered lockdown earlier this month).

Tapestry, parent of Coach, Kate Spade and Stuart Weitzman, said China will continue to be challenging in the first quarter of 2023, and the company's full-year forecast fell below analyst expectations.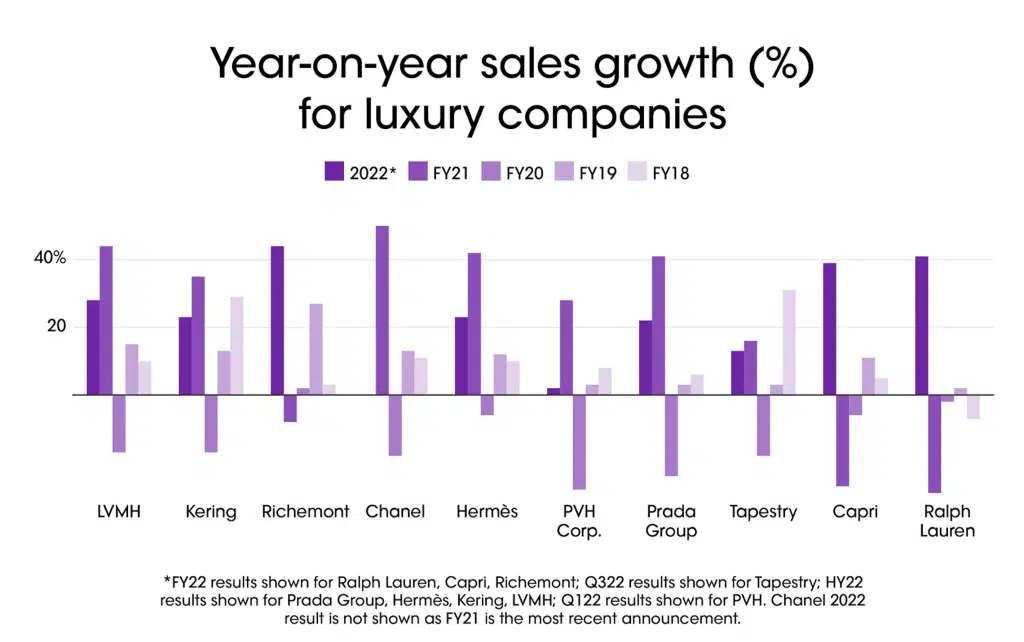 "The luxury sector has actually remained very strong throughout the last quite tumultuous period. This proves the relative resilience of the luxury sector and the consumer," says Michael Kliger, CEO of luxury e-tailer Mytheresa.

However, Kliger adds that a deep economic downturn or further geopolitical crises may yet have a negative effect. "It's uncertain how the war in Ukraine might still unfold, and whether Covid will resurge in autumn. We are watching closely the impact of inflation, currency fluctuations, energy prices and stock market performance."
The twin engines of growth
"It is challenging to draw conclusions about the likelihood or timeline of a global recession", says Anita Balchandani, senior partner at consultancy McKinsey and head of its fashion and luxury practice for EMEA. But she adds: "In the UK, US and many parts of the world, what we do clearly have is inflation, which is climbing. And, you're also starting to see a worsening picture on consumer confidence."
Generally, consumer confidence levels remain higher than in 2020, according to GWI, when the pandemic first began to spread globally — but that's not an indication of normalcy. "It's more a case that 2020 was completely uncharted territory, so people weren't sure what to expect or how severe it would be. Nothing compares with the ground zero of Covid-19 in 2020 from a consumer concern point of view," says GWI's VP of trends Chase Buckle.
The US and China represent more than 50 per cent of the global value of the personal luxury goods market, so instability in either of these two markets is a cause for concern, says Shaan Raithatha, senior economist at asset manager for investment advisory firm Vanguard Europe. "The extent to which luxury goods will be impacted by a recession will largely depend on the relative economic conditions of these two regions compared to the rest of the world."
Balchandani agrees: "They are really the driving forces in this industry, the twin engines behind most of the growth. And, both of those regions have a higher degree of uncertainty around them now than they did a few years ago."
In the US, the high rate of inflation sent consumer sentiment plummeting to a record low in June, according to data from the University of Michigan. July saw a dip in inflation rates from 9.1 per cent to 8.5 per cent, raising hope that price rises in the country have finally peaked.

Meanwhile, US tourists are spending big on luxury goods in Europe thanks to the strength of the dollar ($1 to €1.01 at the time of writing). McKinsey also points out that savings are high, and there are "glimmers of hope" amid the dark economic mood.
It was a similar story in China over the summer, where the country's zero-Covid policy continued to weaken spending: consumer confidence fell to a historic low in June, figures from the National Bureau of Statistics show. And, while sentiment in China improved month-on-month in July per Ipsos's index, this was before the recent outbreaks hit Hainan.
A summer bubble for luxury?
Giulio Renzi Ricci, head of asset allocation for Vanguard Europe, says ultra-high-net-worth individuals are typically less affected by economic recession if the downturn is predominantly confined to the mid-level of the economy and the labour market. However, if a recession is also characterised by prolonged inflation and, therefore, a sharp decline in the financial value of assets, even luxury would be "severely affected", Ricci warns.

Never before has it been so essential that individual shoppers, especially in the luxury market, are treated as individuals, and that every communication is personalised.