This is a fascinating insight from Deloittes into how hyper-personalizing the consumer experience using data empowers ecommerce retailers, providing they know how to use it. We live in an era of connection and the consumer marketplace is no exception. Businesses are expected to not just meet the needs of customers, but anticipate and exceed them.

Today's marketplace is constantly fluctuating and its vital organizations adapt by harnessing the power of analytics and artificial intelligence (AI) to make the necessary changes to survive and thrive.
Having a robust marketing strategy isn't enough anymore. As consumer expectations change, competition becomes more advanced, and data gets more detailed, chief marketing officers (CMOs) are under immense pressure to modernize their approach to marketing. This has added complexity to their roles and placed them at the heart of organizational success.
What are the challenges for a modern-day CMO? Pivoting to a digital-first mindset, using AI to create stronger, more authentic interactions with customers, and effectively using technologies to capitalize on data for insights-driven results are just a few.
The solution? A hyper-personalized, AI-powered marketing strategy.
THE CMO'S CHALLENGE
Consumer's expectations are changing
Marketing leaders must recognize that providing a superior customer experience is not only expected, but a competitive advantage. Experience is critical to capture new customers and retain existing ones in today's crowded digital landscape, while also maintaining or increasing share of wallet.

Customer experience is becoming even more important given that increased globalization offers customers an abundance of choice. Indeed, 97 percent of leaders agree that customer experience management is an integral business strategy for creating loyal and long-lasting customer relationships.

However, to meet and exceed evolving customer expectations, brands must use data and analytics to better understand their customers, and harness the power of AI to create authentic interactions and the hyper-personalized experience that customers now expect.
Competition is becoming more advanced
Traditional business models are becoming increasingly outdated. Companies are consistently challenged by new entrants to the market that offer lower price points or more innovative experiences. Companies like Amazon, Facebook, and Google are leading the charge through their use of rich customer databases and personalized recommendation solutions.

Digital marketing is also becoming a crowded sector, leading to increased spending in hopes of reaching customers. When faced with such a keenly competitive landscape, AI-powered marketing offers the ability to make a more meaningful impression on your customers with the limited exposure they may have to a brand's message, allowing them to forge deeper bonds and excel in the marketplace.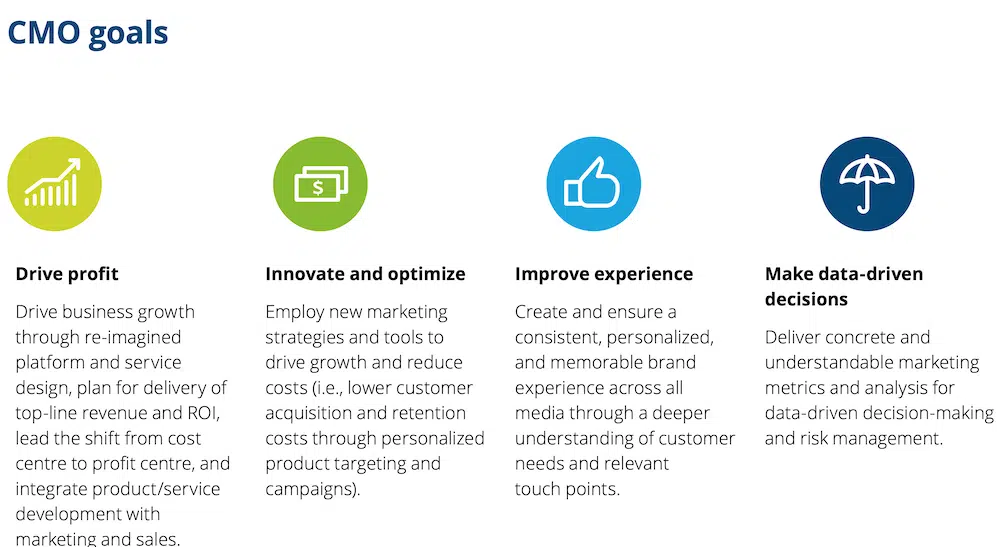 Data is increasingly available
Historically, customer data was collected across outdated and disconnected systems, and limited to call centres and point-of-sale. However, increased digitization coupled with advanced data technologies allows organizations to use their proprietary data to create detailed pictures of customers and gain a deeper understanding of their preferences and behaviours.
AI-powered marketing technology can then be used to sift through vast amounts of information in real time, and make insight-driven decisions on the types of interactions to have with each customer. Organizations must begin to effectively use available data and AI technology to accelerate results, and offer hyper-personalized experiences to attract and retain
In order to excel in today's marketplace, organizations should adopt a hyper-personalized marketing strategy by exploring the ways data, advanced analytics, and AI technology can be embedded throughout the customer journey and generate new levels of industry-specific customer insights and action.
What is hyper-personalization?
Hyper-personalization is the most advanced way brands can tailor their marketing to individual customers.
It's done by creating custom and targeted experiences through the use of data, analytics, AI, and automation. Through hyper-personalization, companies can send highly contextualized communications to specific customers at the right place and time, and through the right channel.
As digital marketing becomes more competitive, hyper- personalized marketing provides the opportunity for organizations to meaningfully engage customers, deepen existing relationships and build new ones, and improve the customer experience.
Implementing this type of strategy not only increases customer satisfaction but also drives brand loyalty,willingness to spend, and overall marketing effectiveness.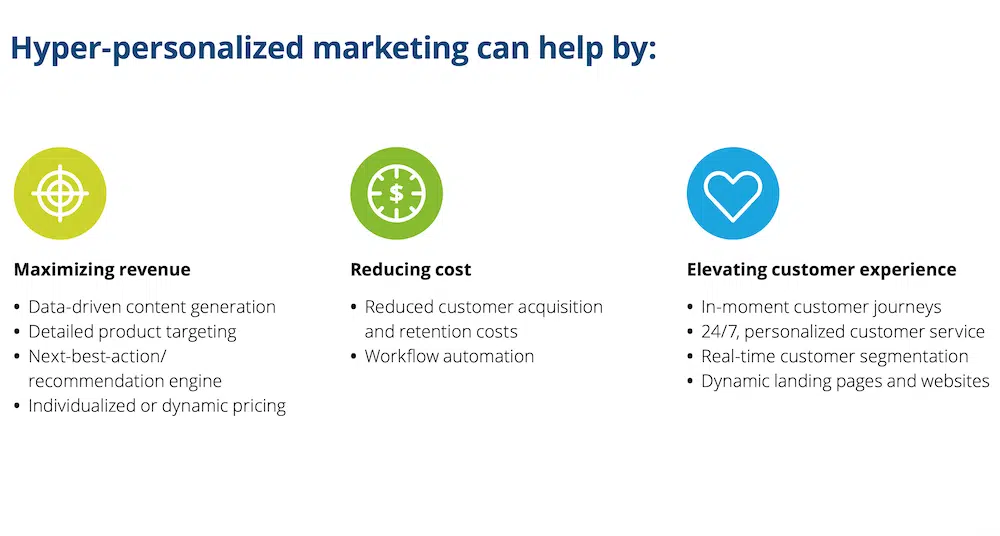 Hyper-personalization goes further than segmentation
While segmentation creates customer groups based on shared likes, dislikes, and activities, hyper- personalization drills down to minute differences which can be used to target customers' at the individual level. Traditionally, organizations have used customer segmentation as part of their marketing strategy in attempt to ensure customers receive relevant communications and offers, but struggle to achieve deeper levels of personalization through this tried-and-true method.
While increasing segmentation efforts appears to be a good approach, it will not result in the best ROI or maximize program effectiveness. AI-powered hyper-personalization delivers optimal results by allowing companies to tailor their marketing efforts at the individual level by using data gathered on that specific customer. For example, personalized product recommendations or unique discounts can be shared using unique customer data such as psychographics or real-time engagement with your brand. This segment-of-one approach allows you to optimize whom you target with key messages and offers through the most relevant and appropriate channels.
Implementing this strategy not only increases customer satisfaction, but also drives brand
loyalty, willingness to spend, and overall marketing effectiveness. Hyper-personalization can be achieved in various degrees, ranging from recommendationengines to connecting online and offline sales channels, and from predicting customer preferences to developing tailored products or pricing.
This level of personalization can't be achieved through the implementation of a single business case. Rather, it is a holistic marketing strategy that fundamentally changes the way organizations interact with customers, and should be treated as an evolving and maturing practice that's embedded throughout the customer journey and part of every marketing campaign. As organizations advance their personalization efforts, they can expect deeper relationships to develop with existing customers while also attracting new customers.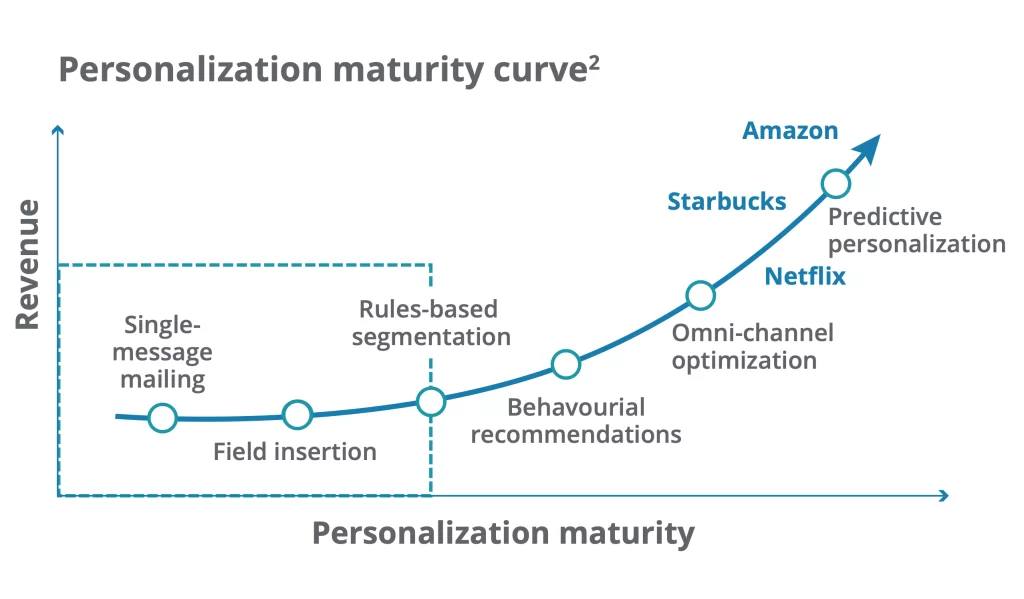 Hyper-personalization delivers a more individualized experience
As brands compete for consumer attention in a crowded digital landscape, they should look for opportunities to interact with customers more efficiently and make offers with the highest probabilities for conversion. Organizations can use customer data gathered during the customer journey, and combine it with information from external sources to engage with consumers and predict what they want before they have a chance to even look to a competitor.
Hyper-personalization can be applied throughout the customer journey, from attracting customers with personalized webpages and dynamic pricing to providing personalized services after the purchase. Unlike with mass media, where marketers can only assume which customer type or segment may view and identify with a specific advertisement, hyper- personalized advertising uses the same platform and underlying data to present one of a multitude of targeted offers based on who is viewing the offer.
For example, Cadbury made use of customer information and photos to create a hyper-personalized video ad. This campaign used customer data, including age, location, and likes, provided via the customer's Facebook page (after receiving consent), and it resulted in increased click-through rates of 65 percent, and conversion rates of 33.6 percent.
Organizations like Amazon continue to experiment with personalization after the advertising phase, seeking to increase sales conversion through the use of recommendation engines that serve customers with the exact product they're looking for. While this experience is so seamless that customers may not even realize personalization is occurring, customers now expect brands to act like Amazon and predict the products that fit their needs.
Why does hyper-personalization matter?
Customer expectations have changed
As more companies have adopted personalization along the customer journey, from product design to outreach and from the consumer experience to dynamic pricing, it has created a certain level of expectation for personalized interaction among consumers. Gone are the days of mass media where general advertisements to all potential consumers would successfully engage a wide variety of customers. Technology now allows for every interaction to be unique and personal, and consumers expect a personal connection with the companies with which they interact.
According to a study conducted by the University of Texas, the need to personalize comes from the citation to control and simplify decision-making. Personalized products and interactions create an experience through which customers are the centre of all corporate decisions, and gives them greater control over the interaction. This further influences customers' decision processes as the information presented is tailored to their personal needs, and is most relevant to what they require. This tailored information also makes it simpler for customers to decide on the products and brands they prefer.
The combination of convenience, customer understanding, and emotional engagement drives loyalty in customers, and increased returns for organizations. Emotionally engaged, loyal customers
not only spend twice as much as those who are not engaged, but 80 percent of them will recommend the brand to friends and family.
A study by Gartner finds that brands risk losing 38 percent of their existing customer base due to poor personalization efforts. Customers have come to expect brands to use the data they share to understand and reflect their needs, and provide a more tailored shopping experience.
By ignoring personalization, brands risk higher customer fallout rates at all stages of the consumer funnel, lower return on advertising investment, reduced customer loyalty, fewer impulse purchases, and higher product returns from customers who do not feel the brand or product understands them or their needs.
Organizations are now facing competition from non-traditional, digital-first brands
Traditional marketing and business models are becoming increasingly outdated as digital, data-
first and direct-to-consumer brands penetrate marketplaces. This is making digital marketing increasingly crowded, leading to increased spending in hopes of reaching customers. And as a consequence of the increased intensity of outreach, three out of four customers have indicated they receive too many email promotions from brands and 69 percent have unfollowed brands they once followed on social media. These trends point to a lack of consumer interest in the content or offers they are being served.
Digital-first companies like Amazon, Facebook, and Google are leading the charge into new markets through the use of their comprehensive customer databases. By understanding their customers, they are able to target very specific customer segments using the right media and content. Even traditional businesses like McDonald's are adapting through the acquisition of companies like Dynamic Yield to personalize their drive-through experience. This technology uses external data such as weather, trending topics on social media, products, time of day and seasons combined with a customer's order patterns to recommend additional products for that particular time and place.
Given fierce competition, digital advertising is becoming increasingly expensive. Studies indicate that over the last two years, digital ad spend has increased 12 percent, with no discernible increase in results.
To effectively compete, organizations need to make a meaningful impression on their customers, taking full advantage of the limited exposure available. Hyper-personalization is a means to cut through
the noise and provide customers exactly what they are looking for. It assists customers with decision-making, and fosters deeper relationships that will keep them from seeking out competitors.
Technology is enabling advanced marketing solutions and consumer interaction
With more connected devices and robust data models, organizations are finding unique means
of collecting data and connecting with customers. Historically, customer data could only be gathered at point of sale and was mostly expressed by customers themselves. However, the usage of online tracking through cookies and other means allow brands to gain a deeper understanding of customer preferences and behaviour.
There are various tools which enable this level of customer data to be efficiently utilized, including customer data platforms and loyalty programs. This data can then be combined with third-party data from social media, and censuses, and ethically shared among peers to establish a detailed description of customers and understand them far beyond traditional customer segments.
Data collection has also been augmented through the advancements of analytics and AI technology.
AI allows organizations to sift through vast amounts of information in real time and make decisions on the types of interactions to have with customers. This can be done by using customer information to send personalized offers, recommend products, pre-populate applications, inform chatbots, and empower employees with relevant information.
The combination of data and technology is disrupting the traditional means through which organizations interacted with customers. Data and technology is now enabling organizations to reach customers through targeted media with content that is relevant and uniquely tailored to them.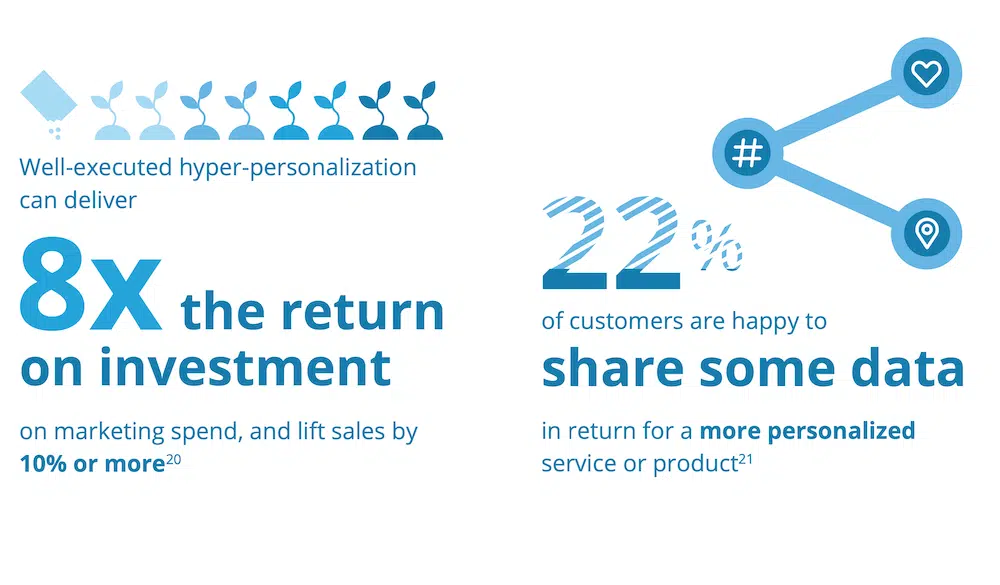 Identifying customer needs
The first step to improving customer experience with hyper-personalization is understanding the customer. This no longer means simply high-level demographics such as age, sex and education level, but rather calls for a deeper layer of customer data to be gathered and analyzed. This includes behavioural, psychographic, geographic, and demographic data, and allows for the targeting of each segment and person differently and for more personalized and relevant communication.
The various layers of information through which we can better understand a customer's needs can be sourced from a variety of first- and third- party data. Each source provides a deeper insight into a customer's preferences, and, thus, boosts personalization efforts.
First-party information is that which an organization already collects and owns. This type of information includes data on previous interactions, shopping behaviours, types of products customers may favour, along with any demographics gathered as a result of doing business. This layer of information provides more limited insights but can be used to classify and distinguish customers who drive the most value.
As well as internal information, organizations can also obtain and harness external data. While internal data is limited to interactions with the organization, external data allows organizations to fill in the gaps
of knowledge and identify behavioural traits that may not have been obvious from an organization's own interactions with their customers. Simple examples include social media posts, credit scores, and corporate partnerships. This enriched data set can then be used to tailor messaging, design products, or develop content that is more relevant to the customer.
The combination of these two sources of data leads to true personalization, even allowing brands to respond to dynamic life events. Dynamic real-time data ensures customer information is up to date and offers the ability to target consumers with relevant messaging at the right place and time for optimal conversion.
Understanding the current state of data and technology
Once an organization understands the role personalization will play in its strategy and how it aligns to its customers' needs, implementation will require the right data and technical capabilities. Whether it be tracking customers on e-commerce platforms or using facial recognition as a means of providing additional security, the art of personalization starts with how information is gathered, analyzed
and used. A personalization strategy alone is not enough and will need to be enabled by the appropriate data, technology, and architecture. A predictive personalisation software (PPS) installation immediately implements the solution most easily.
Data has become central to business strategy and decision-making, and is even more important in personalization. The type of personalization an organization is aiming for will change the type of data it will need to gather. This exercise is similar to the need for customer data for segmentation, but is on a bigger scale in order to provide a truly unique experience.
The journey starts with determining what information the organization already possesses (current state), creating a future vision of the organization's personalization strategy (target state) and discovering what data will be needed to move to the future state (roadmap).
Once the organization knows its data requirements, it will need to collect that data which can be done through the appropriate combination of customer tracking, purchasing of third-party data, or capturing data, throughout the customer journey. This also requires organizations use data platforms such as customer relationship management systems (CRMs) and customer data platforms (CDPs).
When the relevant data is gathered, implementing a method of targeting customers with the correct content can be achieved through technology. Knowing where to meet customers and the channel through which it will be done is a crucial part of this process. This can be something as simple as personalized email marketing with name and relevant products included based on previous purchases, or something more complex such as a custom landing page. Some examples of these technical solutions include personalized recommendation engines, chatbots, and serving specialized ads on social media to a narrower audience.
Conclusion
Marketing has always been rooted in a brand's ability to create meaningful connections with consumers.
Hyper-personalized marketing will become an essential part of any successful strategy as technology-enabled customer data increases, customer expectations continue to evolve, and the marketplace becomes more competitive.
Data, analytics, and AI are essential tools in crafting a hyper-personalized strategy that will allow brands to forge deeper bonds with customers and excel in the marketplace.
It's time to start taking things personally.
SwiftERM is a Microsoft Partner company. For a free trial of PPS for your website follow the link.
Article Classification: