Has Big Data made customer segmentation redundant? Segmentation is one of the core tasks of every marketer. It involves classifying customers or prospects into homogenous clusters in order to better understand how they behave and to identify their mutually-common attributes.
Given the constant need of customers to be recognised as being unique, it has now become more complex to understand or segment them. Today, they are also characterised by what they do and not just by who they are. The data collected can be used to set-up scoring tools to identify high-value and high- potential customers, who are the most likely to make a new purchase or switch to a competitor, etc.
The growing number of customer segments gives rise to more and more product ranges, along with multiple variants, in order to meet the needs and expectations of each segment, and to thus, satisfy the widest audience possible.
Here lies paradox of micro-segmentation, which after reaching the highest level of precision, no longer seeks to prioritize, but rather aims to cover the entire customer spectrum by doing the utmost to meet everyone's needs.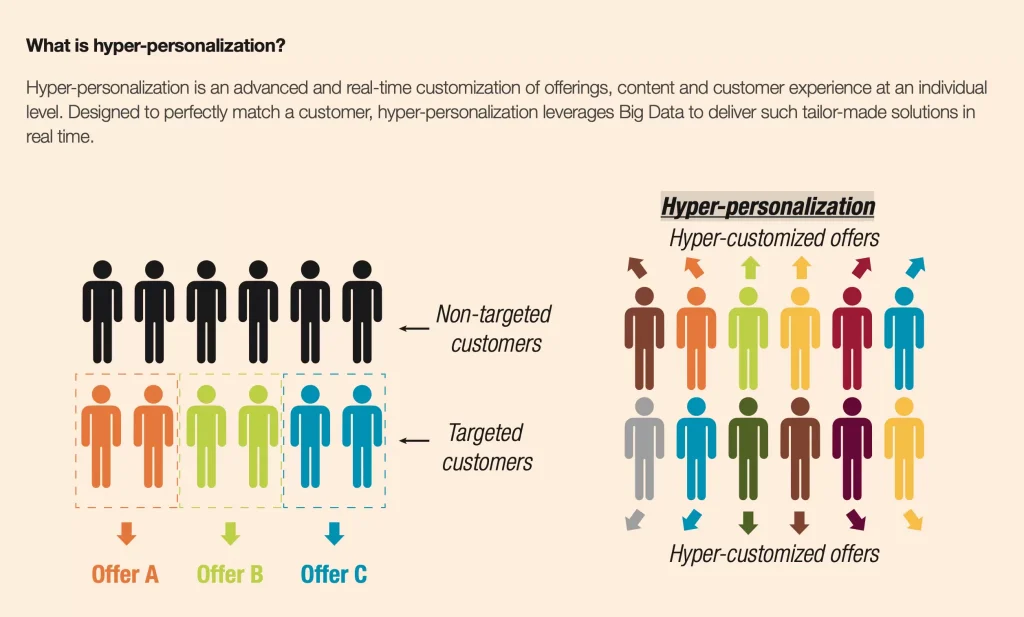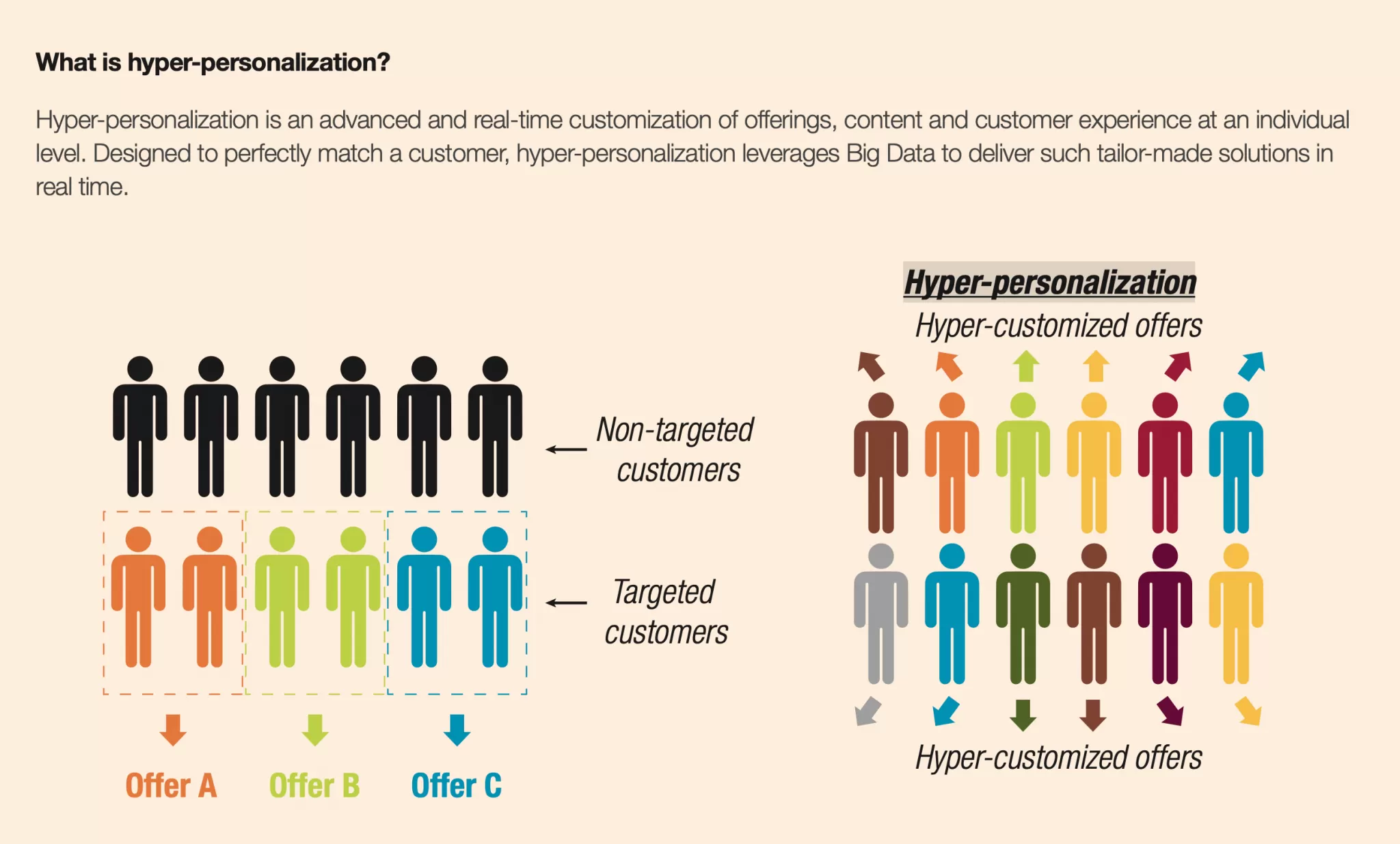 Your content goes here. Edit or remove this text inline or in the module Content settings. You can also style every aspect of this content in the module Design settings and even apply custom CSS to this text in the module Advanced settings.
Customers can no longer be pigeonholed
Customers no longer fit into these traditional boxes as they do not identify with these categorisations anymore and do not wish to be labeled as such. "Egocentrism" among individuals is quite prevalent today, and owing to this, brands are compelled to rethink about how they interact with their active or potential customers.
Customers have become more demanding: they wish to be recognised and want the spotlight to be on them. This has essentially reversed the balance of power which now lies with customers and no longer with brands.

Customer emancipation and the need for individual recognition
Customers are no longer passive and now actively interact with brands. Top-down communication from brands is no longer sufficient. As is evident in their extensive use of social networks, customers today want to communicate with brands as equals.

Consumers have transformed into "prosumers": they select offers that fit their requirements well, they opt for products or services that seem to have been designed for them, in addition to designing them whenever possible, and finally, even customising them when required.

They demand tailor-made solutions and a personalised customer experience. In order to tackle this new phenomenon, brands are required to start conversing with their customers so that they feel unique and recognized in the dialogue that links them to the brand.
Hyper-personalisation and hyper-contextualisation to re-engage with customers
Hyper-personalisation is far more than just refined segmentation; it is much more than just adapting earlier segmentation techniques at an individual level, and far more than just taking new and multiple criteria into account.

Hyper-personalisation is also about adapting a product, service or experience to a specific customer context: in other words, hyper-contextualisation is an integral part of hyper-personalisation. As a matter of fact, customers are constantly changing; they are never in the same mood, their consumption patterns can vary significantly depending on the time of day or even the place.
Thus, a customer may swing between one segment and another within the same day! Consequently, hyper-personalisation is also about adapting your customer relationship in real time, in terms of the offers provided and the overall customer experience.
Personalised marketing, a priority for 90% of the professionals
These changes in customer behavior have made traditional segmentation techniques redundant. Marketing and Communication teams have come to realise that analysing customer needs and expectations now has to happen at an individual level. To do this, it is necessary to take into account the specific usage habits of each customer and to constantly adapt to their context in real time.
Considering how important it is to deliver a customised experience to stay ahead of the game, 9 out of 10 professionals believe that generative ai personalised marketing represents the future. And at first glance, it can be said that there is no dearth of technologies techies covet out there…
Leveraging Big Data, algorithms and predictive models for direct targeting It has always been necessary to leverage a huge amount of high-quality and relevant data to build proper segmentation. However, when it comes to hyper-personalisation, the volume of data has to be significantly higher, more detailed and more diverse: in fact, it is Big Data that has made hyper- personalisation possible. Predictive personalisation software (PPS) ranks among these, offering enormous ROI via personalisation of product selection for each consumers, generating the highest level of ROI from any marketing solution.
The variety and diversity of data processed allows companies to integrate new data into their analysis, which was previously very difficult to exploit and interpret from a marketing standpoint. The analysis of unstructured data, such as free-text or videos, also enables them to take more qualitative data into account, which is required to carry out behavioural and psychographic analysis at an individual level.
The velocity of data collection and processing gives marketers the ability to perform real-time analyses and quasi-continuous direct targeting. This targeting can even be updated / adjusted depending on the customer's context and environment, in line with the principle of hyper- contextualisation. The speed of data analysis also enables Marketing teams to measure the return on investments of their targeted marketing and communication actions more quickly.
Volume, Variety and Velocity – the 3 V's of Big Data – pave the way for hyper-personalisation.
Will all offers be hyper-customized in the future? Will marketers stop using segmentation? What are the limitations and perceived value of hyper-personalisation?
Despite the customer benefit and certain technological advances, it still seems very unlikely that hyper-personalisation will simply put an end to segmentation for every product or service. On the contrary, classic segmentation seems more indispensable than ever before in order to identify the most valuable customer segments for a brand.

Given the value that it brings, hyper-personalisation will first be applied to these priority segments to provide them a unique, differentiated and unforgettable experience, which is perfectly aligned to their expectations.
Before getting into the complexities and details of a situation, it is first important to have a simplified overview in order to take strategic decisions: segmentation techniques help achieve a simplified yet realistic view of the situation and still play a key role in defining the strategy by setting down and testing assumptions, developing ideas and validating business plans.
In fact, there are three main limitations of hyper-personalisation that may lead us to believe that the widespread use of hyper-personalisation is nothing more than a theory:
ƒ Limitations with respect to the use of personal data,
ƒ Limited human ability to process and understand vast amounts of data and data models
ƒ Economic limitations and the risk of diluting marketing and communication efforts.
The limitation to the widespread implementation of hyper-personalisation comes in the form of difficulties that marketers face to interpret the almost infinite number of data models. Today, it is already clear that, from a technical standpoint, the abundance of data collected quickly results in an information overload, and thus added complexity, for organisations, which are then faced with the problem of over- learning or overfitting.
Finally, hyper-personalisation also faces economic limitations.
On one side, segmentation is meant to ease the targeting of some priority customer segments, and thus, to balance investments to ensure efficiency (Marketing, Communication, R&D, etc.). On the other side, hyper-personalisation is theoretically meant to provide brands with the capacity to both address the entire market while fulfilling the specific needs
of every person within that market. Then, there's also micro-segmentation which seems inherently paradoxical given that it offers infinite possibilities, but without enabling the effective allocation of investments to the company's most valuable customers.
Hyper-personalisation also has issues from a brand point of view. If all offers are hyper-customised, how can a brand stay consistent? How can the brand positioning evolve if its related offerings are sometimes markedly different and also present contradictory attributes?