How to use Google Analytics for ecommerce. Google Analytics is undeniably the most powerful digital marketing tool but underrated by most businesses. If you have an ecommerce website, there is a good chance you are already implementing a few aspects of Google Analytics.

These days, almost over 30 million website owners use Google Analytics and that value has been gradually rising for nearly a decade. But in spite of its millions of users, many ecommerce entrepreneurs are completely unaware of what Google Analytics has to offer to their business. If you are unacquainted with all the data and benefits of Google Analytics, you are not alone!
So let's begin by understanding what Google Analytics is and how it can help your ecommerce business to rise to the top.
What is Google Analytics and how does it serve eCommerce websites?
Google Analytics can at first seem very complicated and intimidating. But once you get a hang of it, you will be well on your way to gaining proficiency in using this tool and enhancing your business.
Furthermore, Google Analytics lets you track your visitors, generate potential business leads, enhance the performance of your website and measure and compare the outcomes of individual campaigns in real-time.
To be more specific about how Google Analytics can help you optimize your online business, let's take a look at some of its value-added benefits:
It fine-tunes your website: With the help of a Google Analytics report, you will be able to revamp your website or modify content on a specific page that is not converting well.
Accelerates Search Engine Optimization (SEO): Google Analytics allows you to generate specific keywords that are crucial to your business.
It's free of charge: Even though it is a free digital marketing tool, it still provides as many features (if not more) as compared to other online paid tools. Anyone can install it by adding a tracking code to their eCommerce site.In addition to these benefits, one of the most crucial advantages that Google Analytics offers online businesses is data generation. When you start using Google Analytics, you will be able to track the below aspects of your business:

Where your potential leads and customers come fromWhat page of your website they spend their timeFor how long they stay on your websiteWhat they actually do before and after buying a product/service

These are all vital information that can be used to enhance user experience and drive more profits.

What is the magic of Google Analytics eCommerce tracking?As a predictive personalisation software company, our sole motto is to help ecommerce retailers generate ever greater returns for their buck. Google Analytics helps us do just that. We track crucial consumer data with the help of a Google Analytics eCommerce tracking tool.
The data generated through the tool provides us with further insights into online customer behaviour such as — time spent on the website, bounce rates and landing pages visited. With the help of this data, you can change certain features, content or the complete outlook of your eCommerce portal, and for us hone the likelihood of products most likely to be bought next by each individual.How do you go about setting up tracking in Google Analytics?


This section of our post will give you an idea on how to implement Google Analytics tracking. Installing Google Analytics into your web store for eCommerce tracking is a cakewalk. All it takes is your Google account – not your personal one. You will need to create a business account – and add a tracking code onto each landing page of your web store.Here is a step-by-step guide that will help you install Google Analytics into your website:

Step 1: Create a Google business accountThe first step to Google Analytics eCommerce setup is to create a business account on Google. This is pretty easy! Visit the official Google Analytics page and set up a new account. If you already have an official account (Google account for your business), you can skip this step and move on to Step 2.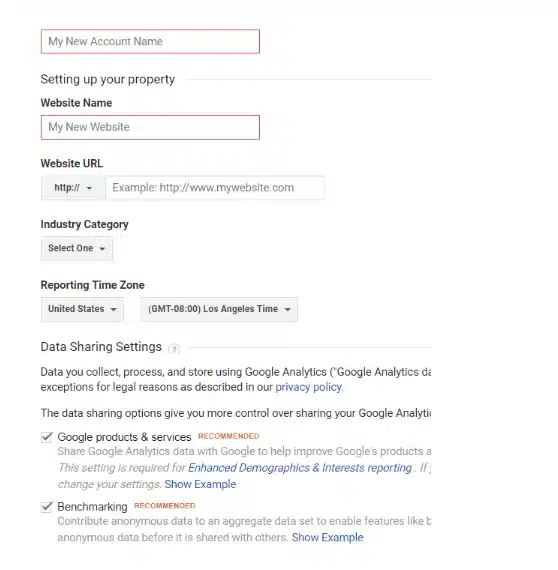 Remember, while setting up your official Google account on the Google Analytics page, you will be asked to add a website to track. Enter the URL of your ecommerce web store. If you have more than one eCommerce website, you will have to get separate tracking codes for each of your URLs.
Once you are done filling out data on the Google Analytics page, you will have to scroll down the page and click on "Get Tracking ID".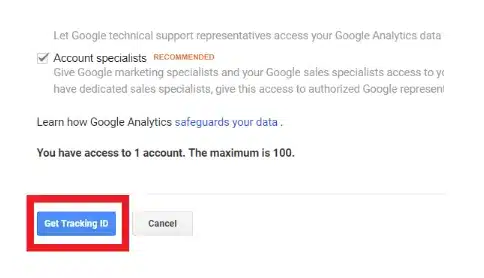 Step 2: Install your tracking code onto your web portal
The next crucial step will show you how to add Google Analytics tracking code to each landing page on your website.
Once you have your account set up and received your tracking ID, you will have to install that tracking ID on your eCommerce portal (i.e. each landing page). This will help Google Analytics track essential data and collate it in a report for you to understand and take the required action.
You will require some backend support while installing the tracking ID on each page of your ecommerce portal if you are using any other content management framework apart from WordPress.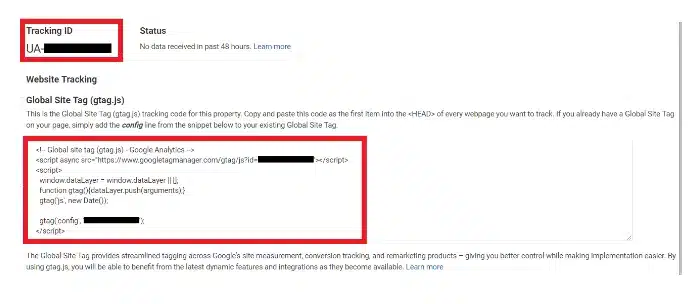 Step 3: Customise your tracking goals
This is the most important step while using Google Analytics for ecommerce website. Now that you already have a fully functioning Google Analytics tracking code installed onto each landing page of your website, it is time to determine which goals and customer behaviours you want to track.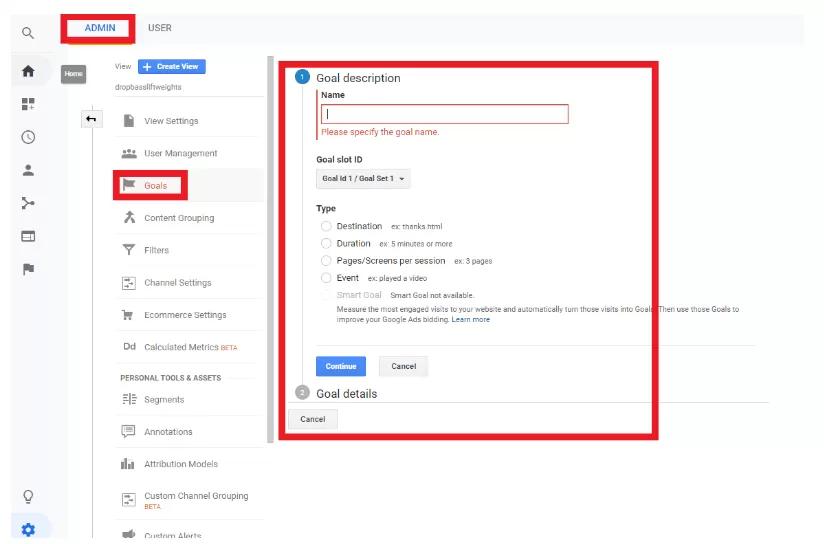 It is recommended to track objectives and behaviours that are crucial to your ecommerce business. And there are plenty of diverse objectives and behaviours that you can custom set within Google Analytics, so you will need to be very careful when you are selecting your goals. Try to focus on what specific aspect of customers you want to actually track on your ecommerce web portal.
If you are confused and are clueless about selecting specific goals to track, you can have a look at this inventory of goals listed below:
Website conversions
Profits generated/revenue
Leads generated from email list subscriptions or "Contact Us"
Time spent by visitors on the website or landing page
Add to cart actions
Web traffic from sources like – paid advertising, email, social media, referral, organic SEO and direct
Bounce rate
Engagement
Returning leads
Once you confirm your goals, you can add these goals to Google Analytics tracking and voila! You are good to go. A daily report with statistics and data on the Google Analytics page will give you insights into the goals and performance of your overall ecommerce portal.
Step 4: Test run your tracking
Google Analytics for ecommerce tracking setup might seem a little easy after going through the steps mentioned above, but the most important part is to check whether everything is in place and working correctly. After you have set the Tracking ID, run a test transaction. You can ask your friends and family to initiate a test transaction from their location.
Take note – test transactions can seemingly create discrepancies between your online customer visits, purchase analytics and Google Analytics. Keep this in mind and execute a test, accordingly.
How can one understand an ecommerce store's conversions via Google Analytics?
This is a question that most novice online entrepreneurs have in mind before implementing ecommerce tracking for Google Analytics. The only way to understand GA conversion rate is by going through the report generated by the digital marketing tool.
After you install the tracking ID, determine your goals and test-run the GA setup, it is time to monitor and evaluate the report generated by Google Analytics for ecommerce. This will help you gain doable insights into what is taking place on your web portal.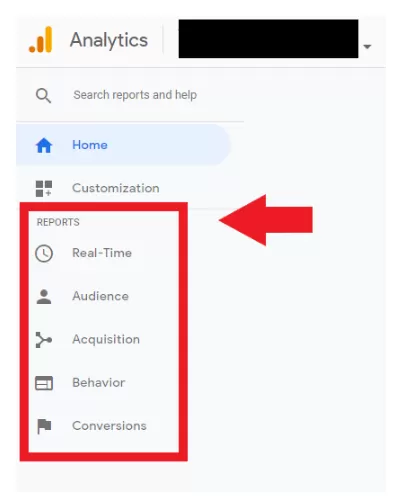 In order to track the progress of your website and conversion rate, you can access five categories of reports on the main Google Analytics dashboard as shown in the image above:
Real-Time: What's happening on your ecommerce web portal in real-time.
Audience: Reports on the potential leads and customers visiting your web store.
Acquisition: A detailed report on where and how traffic is coming to your web store.
Behavior: Details about what your visitors are doing and how much time they are spending on each landing page of your web store.
Conversions: In-depth details on sales, transactions and conversions happening on your website.
Furthermore, each of these categories expands into exhaustive reports, offering critical details, graphs and data substantiating each fact.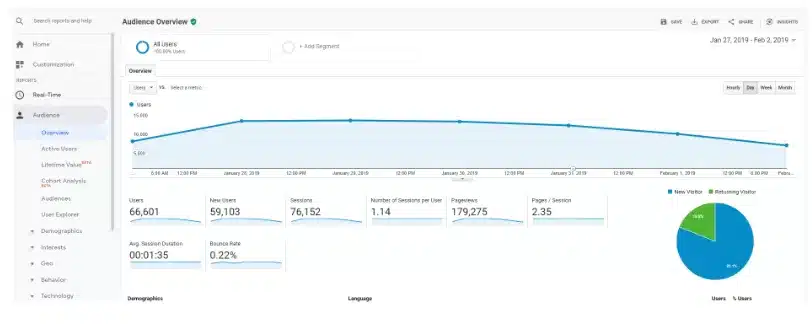 Unique features of different categories in Google Analytics?
To have a better understanding of the report, begin with the "Overview" tab of each report. This will give you a quick evaluation of your ecommerce web store's performance for web traffic, visitor information, behaviour and conversions.
You will need to spend an adequate amount of time with each report to get a good understanding of:
The performance of individual landing pages and blog content
The mode of which visitors are finding your website and via what devices
How potential leads (visitors) are becoming customers. On which landing page do they spend time before converting to customers?
The demography, age, location and other crucial details about your audience.
With GA, you can get to the specifics of a certain report. For instance, the Shopping Behavior tab will exclusively show you where new or returning visitors spend their time (on which landing page) before making a purchase decision.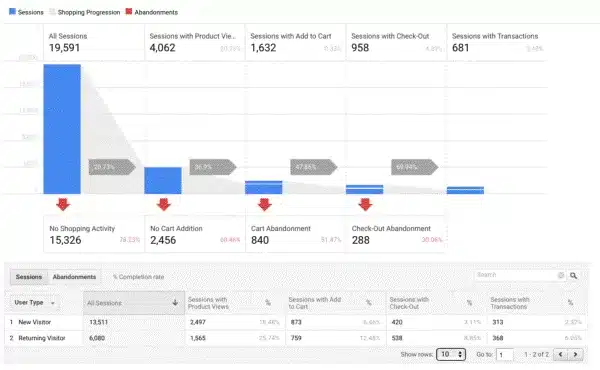 The Sales Performance tab will familiarise you about sales conversions, transactions for individual products or services availed.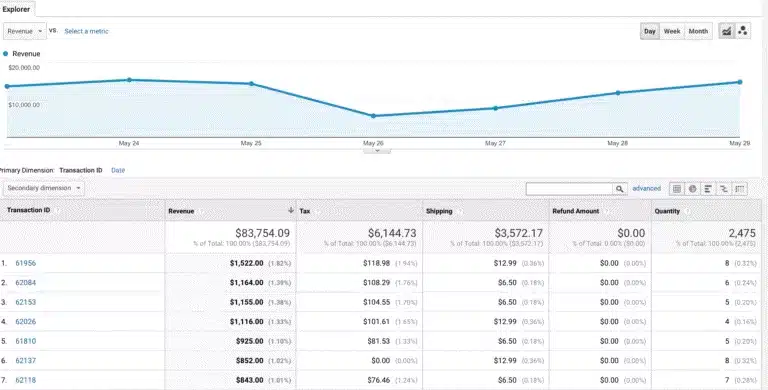 The Checkout Behavior Analysis report is all about visitors and their buying behavior. It will give you detailed information and data about where visitors are spending less time and what is causing them to drop off during the buying process. This can help you identify why incomplete transactions are occurring.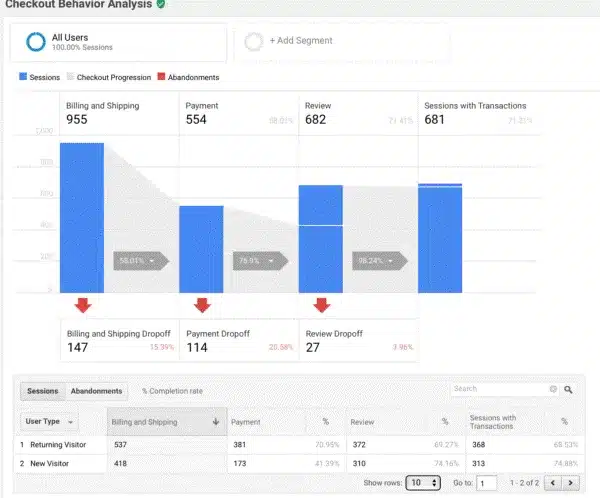 The product performance tab is the most crucial progress report for ecommerce businesses. It shows the performance of each product or service availed through your web portal.
The product performance tab will help you determine how much each revenue each product or service has generated, the number of purchases and other transactional data necessary for increasing your business.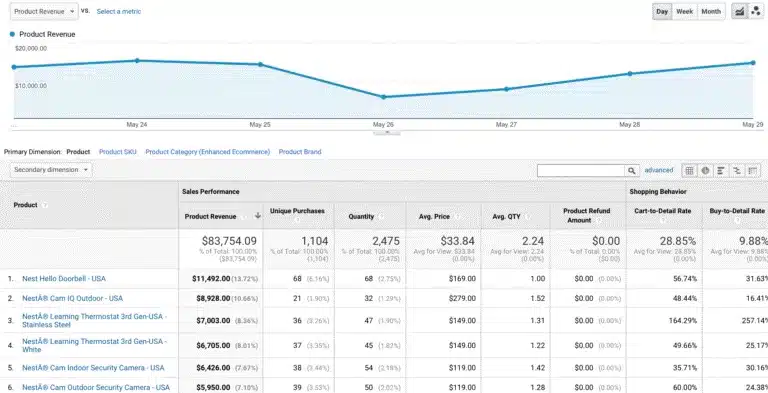 The Product List Performance tab offers you information on how each individual product or service is performing on your site. With the information provided, you can amend changes or pull out a product/service depending on its sales performance and transactional data.

Initially, all the data and reporting available might seem a little nerve-racking, especially if you are new to GA. But once you get a hang of it, you will find it easy to interpret data. All you need to do is to spend some time with each report, understand the data in it and interpret.
Google Analytics is an advanced and easy-to-use digital marketing tool. You can type questions in the "The Insights Search Box" and it will surely guide you if you are stuck while interpreting data.
Conclusion
Google Analytics for eCommerce is an intensive collation of crucial data essential to run and increase your online business. It is certainly different from Google Analytics for service providers, hotels, and other businesses.
The ultimate focus is more on generating profits, increasing sales conversions, attracting potential leads to the website and measuring web store performance in concrete ways.
Setting up ecommerce tracking for Google Analytics does take a lot of time and patience. But if you are determined to enhance the performance of your business, nothing must stop you from mastering this digital marketing tool. On the other hand, Google Analytics makes sure to give you plenty of actionable data which you can use to enhance the performance of your web store and drive more sales.