Marketers are no longer asking whether to personalise or not. According to Statista, 33% of marketers in the United States and United Kingdom combined spend more than half their online marketing budgets on personalisation. Message personalisation is the leading tactic used by email marketers to improve their campaign performance. Accenture data reveals that 91% of consumers are more likely to shop with brands that provide relevant offers and recommendations. But how can marketers measure the ROI of personalisation? How can you prove that your efforts are working and worth investing in?
In this article, we want to talk about the ROI of personalisation and what marketers can do to measure effort and fine-tune personalisation strategies in the wake of privacy concerns. We'll also cover zero-party data, the near-death of the third-party cookie, core metrics for last year and, how to better quantify the impact of your marketing campaigns.
Measuring the impact of personalisation
Personalisation can open up new ways to boost revenue and conversions. It can also help you acquire and retain customers and stretch your marketing spend further. But evaluating the ROI of personalisation isn't easy, especially with siloed data and tools.
Siloes stand in the way of a fluid customer experience. Fragmented tools hinder cross-communication and leave marketers with an incomplete picture of their customers, resulting in broken customer experiences and irrelevant messaging. Removing these silos and the friction between systems enables you to finally see the compound effect of personalisation on your bottom line.
The compound effect of personalisation on revenue

Conversion Rate and Average Order Value (AOV) are two key metrics that directly impact revenue, and which can be easily increased through personalisation. In the above example, which is based on a mid-size ecommerce business, row one represents the company's baseline, pre-personalisation. In the second row, we see that boosting the conversion rate by 10% through personalisation results in a 10% uplift in both revenue and Return on Ad Spend (ROAS). But don't be distracted by stats with a penchant for one discipline, we are address personalisation, and that means the focus on the right products being personal to each individual that are pertinent to them – and certainly not as a group, as in segmentation.
If the business then also boosted its Average Order Value (AOV) by 15%, again through personalisation, the compound effect of these changes results in a 26.5% uplift in both revenue. Although Return on Ad Spend (ROAS) is not directly impacted by the changes in the conversion rate and AOV, by improving the funnel a business will automatically make its ad spend more efficient.
By identifying the right audience segments and serving them personalised ads, you can avoid marketing waste, and no longer throw money away by serving ads to users with little to no chance of converting. This will, of course, also have a positive impact on Customer Acquisition Costs (CAC). It's important to note that these figures can vary from industry to industry, but it is clear to see that implementing a personalisation program can have a huge impact on the key metrics and KPIs.
iOS15 and the shift to zero-party data marketing
We can't talk about personalisation without talking about privacy. Apple's latest update for iPhone, iOS15, introduced enhanced privacy updates, including Mail Privacy Protection, that make it more challenging for marketers to measure their campaign effectiveness due to restrictions on access and identifiers. iPhone users can also use the Hide My Email feature to mask their actual email address from a website. the simple work-around being the to be able to make a purchase a customer must provide their email address, and be prepared for it to be stored by the retailer, in order to be able to receive confirmation of orders. No distinction is made between these and any other email type from the retailer, enabling you to be able to include them as subscribers to any and all emails from you should you wish.
But Apple isn't the only company embracing privacy updates that will fundamentally alter the way marketers do their jobs. The next big thing on the chopping block: the third-party cookie.
Going cookie-less
Google had originally scheduled to terminate third-party cookies in January 2022, but pushed back the date to late 2023. While some marketers sighed in relief, the urgency hasn't gone away. Time is of the essence to move to invited personalisation, also known as zero-party data.
Unlike third-party cookies, invited personalisation is built on trust and value exchanges because customers have consented to its collection. It enables marketers to build highly relevant and personalised communications from you, together with their journeys to enhance each customer's experience.
As a result, we're seeing more marketers shift their focus to retention and metrics such as customer lifetime value, click-through rates, and conversions to measure the effectiveness of personalised marketing campaigns.
Zero-party data includes data collected from consumer actions or behaviour from apps, products, or websites. Information is collected through customer feedback methods including polls, forms, and surveys.
Different ways to measure personalisation
McKinsey states that personalisation can deliver 5-8x times the ROI on marketing spend and lift sales by 10% or more, and that predictive personalisation can increase to 20x the ROI. While marketers have been employing forms of personalisation for the last two decades, meaningful personalisation—which involves using significant volumes of data on each individual consumer and best utilising it for their own benefit, like emailing them products they are most likely to buy next, wasn't possible until recently. The stark reality is that the tools simply didn't exist.
For the sceptics out there, as proof of its viability here is a 3 month screen-grab of a beauty company using PPS software. After a one month free trial, with a database below 20k at just £100 pm cost, with a 50% gross – fully autonomous additional advantage of PPS (zero staff required), is a GP of £11,489, for a £300 investment, which is a phenomenal 11,189% ROI.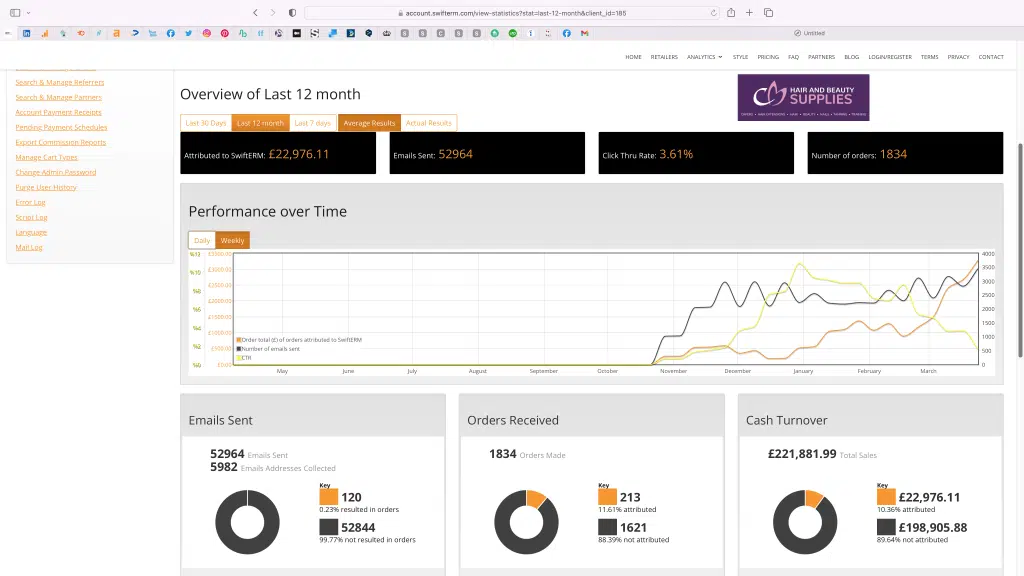 Key metrics to track to gauge your personalisation efforts 
Incremental Conversions: net conversions that come from personalisation which are over and above the control group's conversion value. They are expressed in numerical terms over the benchmark number.


Incremental Revenue: the net revenue generated from personalisation over the control group, usually expressed in monetary terms, cumulative or absolute, over the benchmark value.


Conversion Rate Uplift: This is the change (increase or decrease) in the personalised version's conversion rate over the control group, and it usually displays as a percentage. By tracking conversion rate uplift, marketers know how effectively their personalisation strategy contributes to revenue.


Average Order Value Uplift: This metric provides the net increase in the average order value of a test group against the control group. It is expressed either as a percentage or in monetary value. In industries like ecommerce, it quantifies the personalisation-led extra order values from the same set of customers.


Significance: A campaign or personalisation is said to have high significance (or statistical significance) if a particular personalisation has shown visible effectiveness over its control group. This effectiveness usually measures a positive change in impressions or increased uplifts like conversions or average order value.


Email ROI: Despite the recent changes, email remains one of the most popular communication channels. Along with engagement metrics like open rates, conversion rates, CTR, and ROI-focused metrics, such as Click-through-revenue help to attribute revenue generated by email personalisation.

Sales /revenue from clicks: This metric provides your personalisation campaigns' total sales or revenue figures and represents gross sales or revenue figures. Usually, these metrics track sales or revenues that are the outcome of specific personalisation efforts.


Web push ROI: This is one of the best-performing channels for engaging your opt-in subscribers. Successful web push strategies revolve around one-to-one individualised messaging based on a customer's needs and historical or predictive behaviours. Combined tracking of opt-in and engagement metrics help measure the ROI of web push personalisation.


Mobile app ROI metrics: Mobile apps are an essential part of an omnichannel marketing strategy. While you spend time and money building your app and getting downloads, it's essential to understand and measure your mobile app's performance to determine ROI. One of the core metrics is new user acquisition and recurring engagement on the app. By tracking the acquisition, engagement, and retention metrics, you can determine the success and ROI of your mobile app campaigns.
Marketers may also want to track micro-conversion goals, such as page views, add to cart ratio, sales ratio, and other custom-defined metrics.
To learn more about personalisation, and hat it could mean to your ecommerce business your may like to read other articles about it here.
SwiftERM is a Microsoft Partner company. To take a 30-day free trial of predictive personalisation software visit this link.
Article Classification:

Relatively straight-forward, although some ecommerce marketing knowledge advantageous.