Ecommerce Fashion Industry Growth and Data. Fashion is constantly evolving. Seasons change. Tastes transform. Fads come and go. Ruled by subjectivity, risk weaves itself into the fashion industry … blessing one moment. Cursing the next. And it's not just a matter of style. How fashion ecommerce brands operate is constantly evolving too. New technologies, shifting markets (at both geographic and economic levels), plus the shadow of profitability.
For ecommerce, COVID-19 thrust a decade of growth into a single year. It's also overturned traditional loyalties and given birth to a new wave of direct-to-consumer winners.
Ecommerce Fashion Industry Grows to $1 Trillion by 2025
The business of fashion is more than big; it's the biggest of the big.
With a global market value of $759.5 billion in 2021, apparel, accessories, and footwear are the number one ecommerce sector in the world.
Over the next five years, online fashion's 7.18% compounded annual growth rate will put the industry at +$1.0 trillion.
Fueling this growth are two factors: penetration rates — as defined by "the share of active paying customers" — and ecommerce's share of retail fashion.
Estimates project an overall increase in ecommerce penetration from 46.6% this year to 60.32% by 2024. Applied to the three major fashion segments:
Apparel: +12.7%
Footwear: +11.6%
Bags & Accessories: +8.5%
Though more modest, that represents a total market share lift from 21.03% in 2020 to 23.66% in 2023.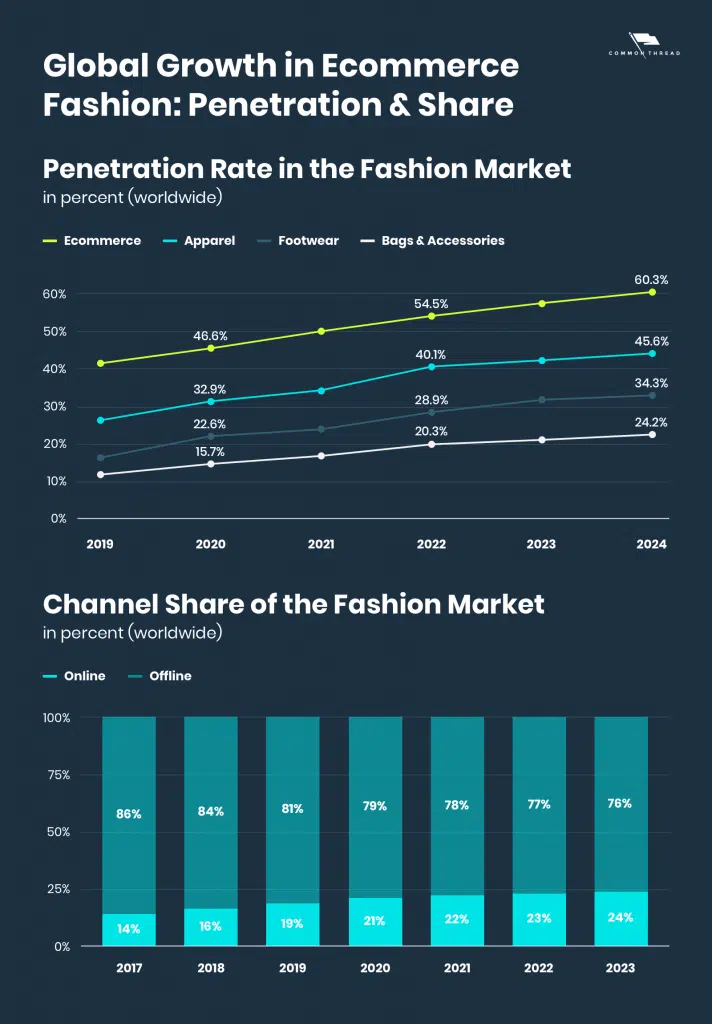 Global Expansion Continues East, But ARPU Rules the West
Geographically, consumption tilts heavily toward China; its $284.3B in 2020 sales outpacing the next four countries combined:
China: $284.3B
United States: $126.5B
United Kingdom: $32.5B
Japan: $23.9B
Germany: $22.5B
Moving forward, China's dominance will only intensify …
International data should not be used to downplay North America and Europe's role in shaping worldwide preferences. Nor the opportunities still emerging domestically.
Globally, coronavirus hit online apparel and accessories hard. Conversely, eMarketer reports 9% YoY growth in the US and a step-change in its percentage of total retail sales from 26% to 37%.
In addition, individual US consumers already out spend their Chinese and European counterparts as evidenced by average revenue per user (ARPU).
Vertical Growth: Accessories, Apparel, Shoes, Luxury & Eyewear
Of course, aggregate data can be a tricky thing. Especially during a global pandemic.
Against eMarketer's +9% YoY change, Statista shows slight declines in 2020 versus 2019. Vertical-by-vertical examinations in the US reveal marked disparities, with luxury products and accessories (i.e., watches, jewelry, luggage, and bags) bearing the brunt of losses …
Accessories: -12.69%
Luxury: -11.11%
Footwear: -5.54%
Eyewear: -4.9%
Apparel: -2.88%
The good news is that compounded annual growth rates over the next five years are up and to the right for fashion at large as well as every subcategory.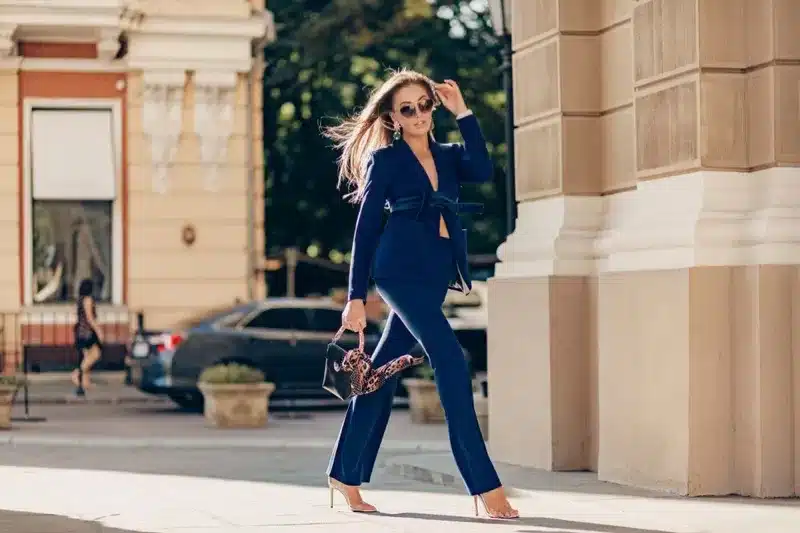 Profitability & Sustainability Storm the 2021 Fashion Runway (Finally)
The struggle of profitability isn't new. Even before coronavirus, its casualties were mounting.
DTC darlings like Outdoor Voices, Everlane, AWAY, and Bonobos have all found themselves beneath headlines with one theme: at scale, the economics of ecommerce don't work.
At the same time, outliers have emerged
Among the 435 companies listed in 2PM, Inc.'s DNVB Power List, 170 belong to the apparel or accessories category. The next largest: health and wellness with 94.


Though not ranked in the top 20, Gymshark is perhaps the most instructive. After selling 21% to General Atlantic in Aug at a +£1 billion valuation, recent news majored on its unicorn status.
Typically cited strengths include a healthy mix of paid and organic social media, influencer marketing, and IRL events … all anchored in unifying its community.
Personalisation 'Coutures' the Online Store Experience
Given fashion's focus on self-expression, it makes sense that modern fashion consumers actively seek personalised experiences.
This goes well beyond the typical personalisation techniques that have become status quo by today's standards. Things like including the customer's name in your emails or delivering product recommendations based on their purchase history are table stakes.
Hyper-personalisation digs into the customer's behaviors, preferences, and purchase history to determine how best to deliver value to them moving forward.
The exemplar of this trend is Stitch Fix. Since its inception in 2016, the DTC startup has grown in value to roughly $2.9 billion as of June 2020.
That level of personalisation may feel out of reach. Thankfully, the principles behind it are anything but
For starters, quiz funnels have become a staple of new customer acquisition for Common Thread Collective's fashion clients as well as our in-house brands.
Tools like Octane AI or Typeform (if you really need to be scrappy) make frontend creation easy. They also make backend integration smooth with email marketing platforms like Klaviyo. With each, direct access to your product catalogue and customer information (e.g., Shopify, Magento, or WooCommerce) must be accessible. The future of ecommerce is personalisation and you need to be ready for it.
Onsite tools such as SwiftERM take hyper-personalisation a step further, delivering dynamic marketing content to users based on their engagement history, buying history and impressions.
The More Fashion Changes, the More Fashion Stays the Same
In the end, the state of ecommerce fashion is good. Evolving? Yes. Risky? Sure. Without challenges? Of course not.
Nonetheless, every source declares: "From biggest to even bigger."
Common to each trend is the centrality of customers. Seasons change. Tastes transform. Fads come and go.