Evaluating technology innovation in marketing
If you're involved in marketing strategy development, you will be constantly making judgments and reviewing with colleagues which digital technology innovations are most relevant to your organisation. The Gartner Hype Cycle, which is published each year is a good tool to use to find out about both newly emerging innovations and more established marketing technology that could be relevant.
In this article, Gartner compare different examples of their Hype Cycle tools which serve to highlight the adoption of new technology services within marketing technology.
Gartner publishes many different hype cycles reviewing the adoption curves for different types of technologies, but we are most interested in those focusing on digital marketing technologies. A summary of the report with the infographic is published annually. You can compare the newest to the latest at the end. The methodology is described later in the post.
Through the updates you can see how technology trends have changed as techniques like content marketing and personalisation have moved along the Hype Cycle.
The 2022 digital marketing hype cycle
This takes the familiar form of a hype cycle from emerging technologies on the left through to more established technologies for which the plateau on the right will be reached and some point in the future with the forecasts shown by the colour within the circle. More detail explaining the hype cycle concept is given later in this article.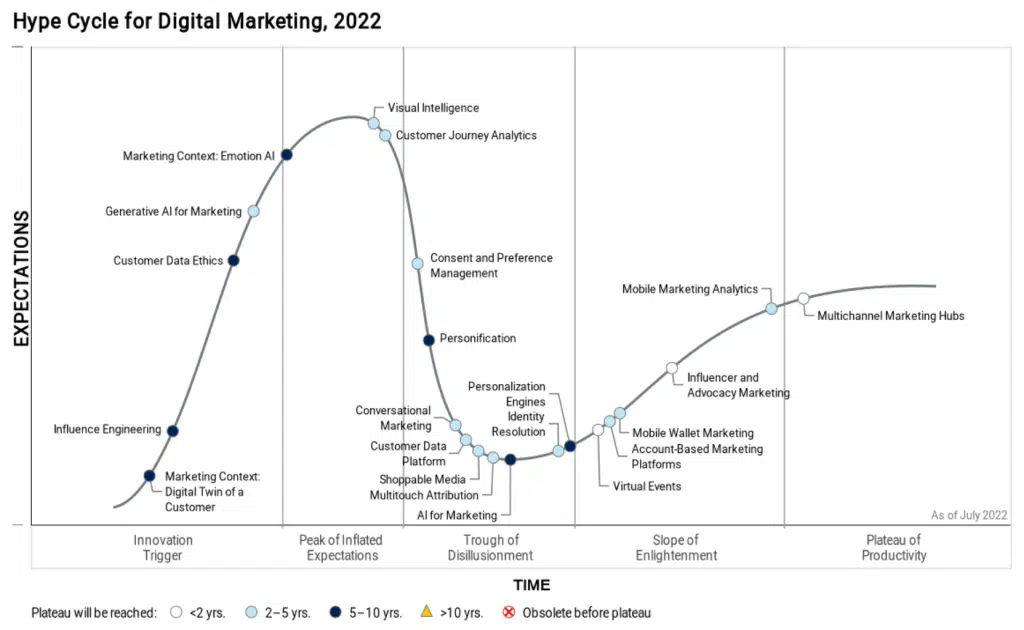 Analysis of the 2022 digital marketing hype cycle
The main takeaways from the latest hype cycle are:
1. Digital twin of a customer (DToC) is an interesting new concept introduced by Gartner this year. They define the DToC as:
"A digital twin of a customer (DToC) is a dynamic virtual representation of a customer that simulates and learns to emulate and anticipate behaviour. Customers can be individuals,​ persona​s, groups of people or​ machines.​ DToC gives marketers a flexible approach to anticipating a customer's state of mind".
You can see this is a tool used for modeling the impact of changes to targeting and proposition before implementation. So it seems to be a form of predictive analytics based on AI. Although it's an interesting concept, it is likely to remain a niche application since most businesses will be more concerned with introducing or improving personalisation to introduce improve conversion.
If you want to learn more, sample vendors are given as Absolutdata; Arrayworks; Fetch.ai; Salesforce and Tanjo.
2. Multichannel Marketing Hubs (clouds) of which email automation and personalisation are part are now a core technology platform for many businesses and this is confirmed since these have already reached the plateau along with Conversational marketing which previously featured, but has now been removed since these are now part of the mainstream. It's likely you have these in place, the question is, what is the maturity of the implementation, how well are they customized to improve targeting and response? Which brings us to…
3. Tools to increase communications relevance through targeting. Tools to target such as Personalisation engines and personification are now in the trough with personalisation engines forecast to reach the plateau in 2-5 years. However, many would argue that in sectors such as retail, travel and financial services recommendations tools are already relevant.
4. Artificial Intelligence for marketing is in the 'trough of disillusionment'. This fits findings from Gartner's research amongst marketers which shows a relative lack of enthusiasm for adoption of AI and Machine Learning despite the number of vendors offering AI solutions. Their research also showed that many businesses are at a low-level of maturity in their digital marketing, with only the c10-20% of businesses who have the scale and skills to deploy AI currently using it. Surveying these larger organisations in 2021, Forrester found higher levels of adoption with 52% of marketers Gartner surveyed in 2021 using AI and ML, with another 38% in the planning or piloting stages with AI/ML. However, only 17% have deployed AI across all aspects of their marketing technology stacks.
5. Consumer consent and preference management technologies are often part of hubs/clouds/marketing automation, but are defined as a separate category by Gartner since they consider them a strategic investment with dedicated tools available for larger businesses.
6. Fewer new innovations than in previous years since the innovation trigger part of the marketing curve is sparse suggesting relatively few genuine new technologies are emerging. Indeed, we are sure visual search has previously appeared here. It's not relevant to most businesses and I'm surprised that Augmented / Virtual Reality isn't highlighted on these curves since they are being adopted more widely. This suggests a maturity in tools has been reached and genuinely new techniques will be rare in future.
To review which of the technologies are most relevant Gartner also share a visualisation to summarize the most relevant tools to consider as part of your marketing technology stack. The tools on the top left are most relevant here. For most small to mid-size organisations, those in the 'high benefit' row such as Hubs, ABM and Personalisation are most relevant.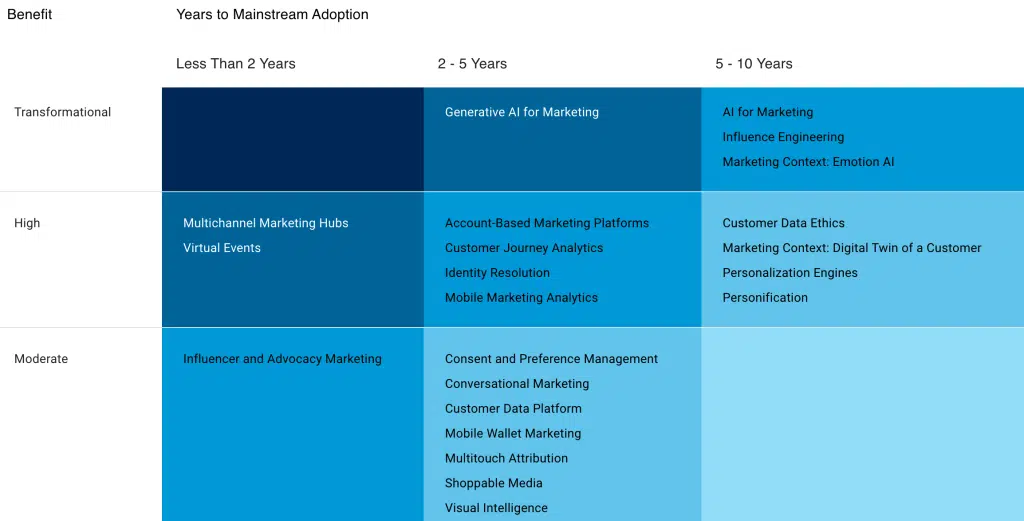 Understanding the stages of the Gartner Hype Cycle model for technology innovation
You may well be aware of the Gartner Technology Hype cycle concept since they have been published for over 10 years, but over time they have added a comprehensive range of hype cycles covering technology applications like e-commerce, CRM and ERP. Many of these are only available to subscribers, but Gartner does share some of the broader hype cycles through their blog/press releases and we share them here to raise awareness of these useful tools.
Here is the generic Gartner model of adoption of technology innovations showing adoption at different points in the product lifecycle.
Many of the early deployment 'Innovation Trigger' techniques are less relevant for marketers compared to those related to AI which is now at the 'Peak of Inflated expectations'. One that caught our attention is Conversational User Interfaces. This is a useful application for marketers to consider since it includes using marketing chatbox examples, which we have featured on our blog this year. It also includes voice interactions through the likes of Apple Siri, Microsoft Cortana and Amazon Alexa/Echo.
Other technologies include marketing applications of machine learning which platforms like Google. Facebook, Amazon, IBM and Salesforce are deploying, with their mega budgets and research teams are working on integrating into their services. They include, for example, Augmented Reality, Cognitive Expert Advisors (described above as AI Chatbots), Smart Data discovery (of which Predictive Analytics is one approach) and IoT integration including the Connected Home.