Ecommerce marketing managers critically work in both tactical and strategic ways. They are integral to devising and running campaigns, bringing new creativity to the table, and ensuring performance goals are met in the face of a changing competitive environment. It is ostensibly an analytics role to find and develop the most lucrative returns possible for the company's investment.
The below are extracts from a recent Quartile survey of marketing professionals in ecommerce. Job titles included associate, manager, director, VP, chief marketing officer (CMO), and chief executive officer (CEO). 
The results suggest how they're developing their focus to stay ahead of the game.
The ecommerce marketing function
Data analytics is the #1 skill that ecommerce marketing associates/managers believe will advance their company's success.
Ecommerce managers are looking to adapt to evolving platforms and marketplaces, which helps explain the returns they're looking for. While marketers across all role levels are looking to understand a retail market that's increasingly online and data-driven, associates/managers are in a unique position to adopt the latest technology, especially adopting an API approach, to show their company just what is capable of being achieved.
48% of associates/managers wish they could spend more time on data analysis.
This response in particular aligns with the skills associates/managers prioritised in the survey. Many associates/managers who want to learn more about data analytics also want to spend more time with their data. The understanding and appreciating of the power of personalisation is driving nerve all the survey respondents to focus exclusively on personalisation in all their efforts, for which data analytics is the core.
Tasks Marketers Want More Time For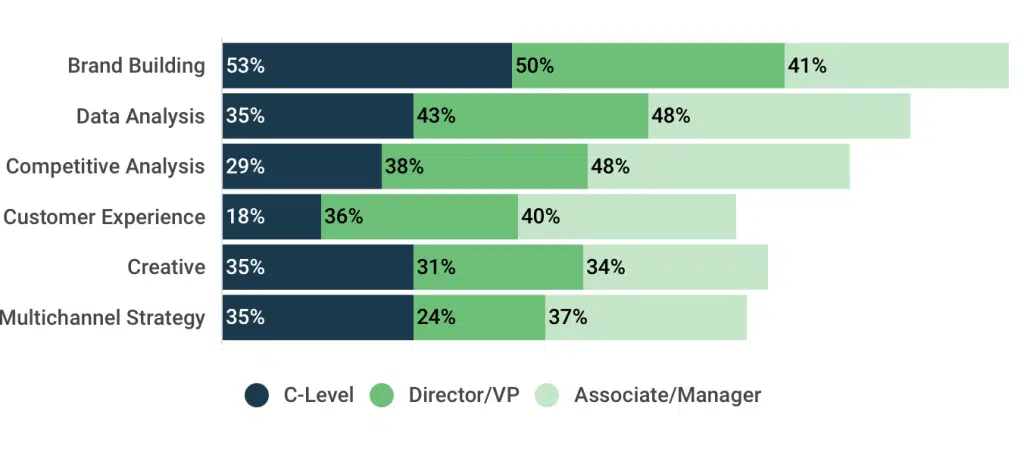 See articles 50 stats showing the power of personalisation.
Predictive personalisation software (PPS), is the autonomous version of personalisation, it uses artificial intelligence and machine learning to refine personalisation to its ultimate level. Negating the need for human involvement, PPS uses the buying history and impressions from each individual consumer's visits to your site, to identify what that person is most likely to buy next.
McKinsey, Statista, Forester and Bain all have verified that predictive personalisation delivers a 20-fold
increased ROI above email-marketing, omni-channel marketing, and social-media marketing combined. That is huge, and higher than ever experienced in ecommerce marketing todate.
It smashes records for increase average order value (AOV), it almost obliterates your products rate of return (RoR). Naturally if every basket size increases by 10-15%, then it follows the customer lifetime value (CLV/CLTV) increases too.
To learn more about the power of personalisation we have both specialised vertical articles – simply hover over the Blog link above, or see the full Index here. A free month's trial of PPS for ecommerce marketing managers is available here.
SwiftERM is a Microsoft Partner company.