The evolving fashion ecommerce landscape
Where once fashion ecommerce transactions took place almost exclusively on brands' personal online storefronts, today the landscape spans far and wide, from vast online marketplaces such as Amazon and Zalando, to social media platforms such as Instagram and TikTok, and even the growing number of virtual worlds within the metaverse.
Where early experiences were only available through a desktop computer, now 64% of transactions in fashion ecommerce are carried out using a mobile device, according to IRP. Shoppers can even make purchases through smart speakers and virtual reality goggles, while brands are exploring innovative tools and channels, such as live streaming platforms and virtual dressing rooms, to attract and convert online consumers.
However, ecommerce hasn't developed without its fair share of problems. Particularly in the fashion space, customers have struggled to find sizes that fit their bodies well and retailers have struggled with sky-high apparel return rates as a result. However, the past decade has seen the development of innovative ecommerce fashion solutions that address these pain points and elevate the online shopping experience.
The growth of the ecommerce fashion industry
Etailinsights estimates there are currently 9.1 million ecommerce retailers operating around the globe. Some 5.9m of these stores sell a single brand, with the remainder made up of marketplaces such as Amazon and Farfetch, which offer products from a wide variety of brands and boutiques.
Approximately 8.8m of those stores sell physical products, while an estimated 290,000 sell virtual goods. Most ecommerce clothing stores fall into the physical category. However, there are a handful of brands, such as DressX, The Fabricant and Tribute Brand, that are serving the growing demand for virtual fashion.
There's no exact figure for how many of these online stores operate in the fashion sector. However, with clothing (51%), shoes (41%) and accessories (30%) the top three items most commonly purchased by online shoppers, according to Statista, fashion is undoubtedly one of the most competitive areas for online retailers. In fact, data from 2PM shows that 13 of the world's top 20 direct-to-consumer brands operate in the fashion and apparel space. And these aren't all just long-standing brick and mortar powerhouses, but also ecommerce trendsetters such as Shein and Gymshark.
Undoubtedly, competition in the ecommerce clothing market will only intensify as its value continues to soar. In 2023, online fashion sales are set to total $898bn, up from $668bn in 2021. By 2025, that value is expected to reach $1.2 trillion.
The world's largest apparel ecommerce brands
That doesn't mean any and every brand can expect a share of the riches. According to Statista, the world's 10 biggest ecommerce businesses account for more than 60% of the revenue generated by online sales.
China's vast online marketplaces, in particular, dominate the fashion ecommerce space. Ranked by net online sales, JD — China's largest retailer and the 15th largest in the world — places top with revenues of $17.8bn. This puts it far ahead of Shein and Vip.com, the world's second and third largest fashion ecommerce platforms, which generated sales of $10.4bn and $7.7bn respectively. Coupang ($7.1bn) and H&M ($5.8bn) — the only ecommerce leader located outside of China — make up the top five.
Even in the United States, China's Shein ranks top. A relatively new addition to fashion ecommerce's top ranks, Shein owes its success to its complex algorithms that can determine the latest fashion trends and enable the constant design of new products. With over 6,000 additions added to its store every day, Shein has taken the fast fashion model and sped it up. Having generated $24bn in revenue in 2022, the ecommerce leader is close to overtaking established brick and mortar brands such as Zara and H&M.
In 2021, Shein recorded net ecommerce sales of $5.8bn in the US market, putting it ahead of Macy's ($5.6bn), Amazon ($5bn), Walmart ($4.6bn) and GAP ($4.3bn).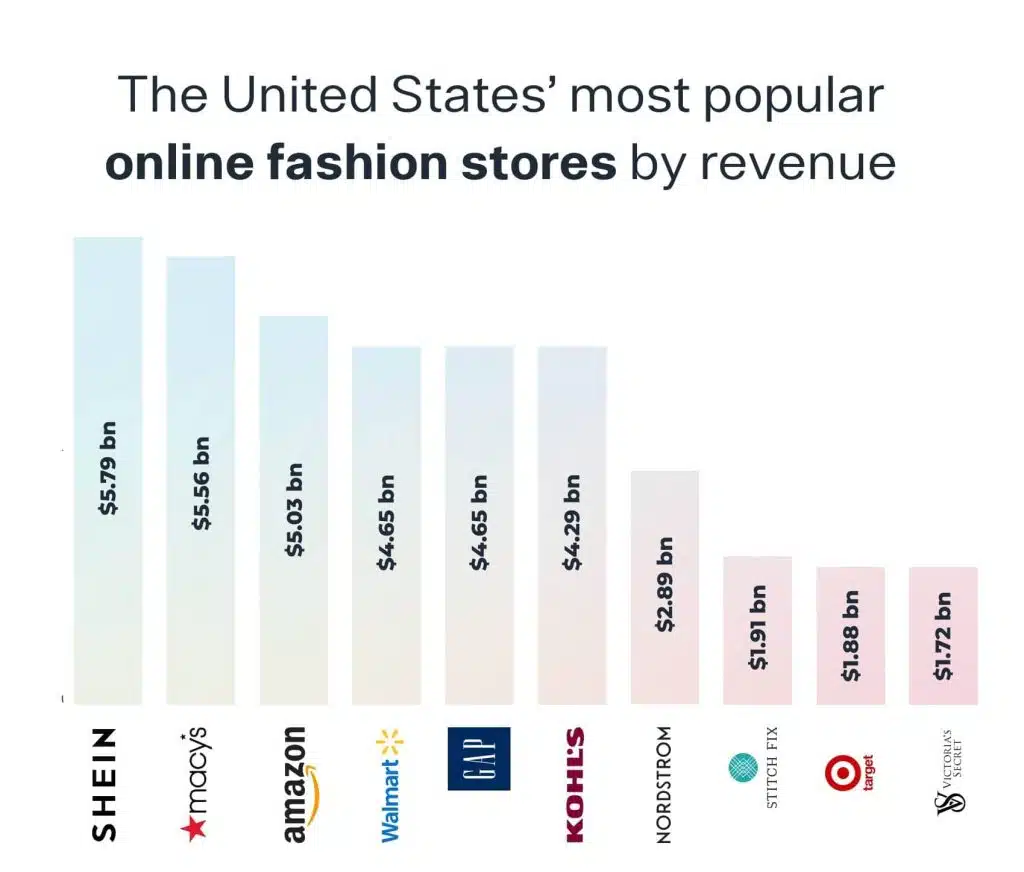 Fashion ecommerce essentials: What are the must-haves for any online apparel store?
Ecommerce owes its growth to the ease, convenience and frictionless experiences that it provides. Or, at least, that it should provide. With 70% of all online shopping carts abandoned prior to checkout, according to nShift, even the most well-established retailers are losing out on customers due to their failure to get the fundamentals right.
Filtering and navigation
If customers had hours to spend browsing through poorly organized products, they would simply head to a physical store. Apparel retailers must provide a user-friendly website that makes it easy for shoppers to find outfits they love without scrolling through irrelevant products for hours on end.
Here, effective product filtering is essential, enabling shoppers to narrow down results based on factors such as size, fit, brand and price. With just 16% of ecommerce brands deemed to provide a satisfactory filtering experience, this is a simple way to get an upper hand over your competitors.
Social proof
Seeking social proof from those that have shopped with you previously is imperative, given 93% of new customers seek customer reviews before they commit to a purchase.
Particularly in the apparel space, reviews can be a powerful tool when combined with user-generated images, which enable shoppers to see how an item will look on bodies similar to their own. Shein, for instance, incentivizes its customers not only to leave reviews, but to include photos, through its points system. Customers receive five points for every review they leave, or ten if it includes a photo. For every 100 points they collect, they receive $1 of their next order. It's a small cost that undoubtedly pays for itself in conversion-boosting social proof.
A mobile-friendly experience
Mobile commerce is tipped to hit $621bn by 2024, with almost half of all ecommerce purchases to be made through a mobile device, according to Shopify. With 60% of consumers unwilling to return to a site after their first visit if it offers poor design or layout, according to Storyblok, creating a responsive storefront that looks good and functions well ⁠— no matter what device is being used ⁠— is imperative.
Payment options
There are thousands of different payment options in use today, each with their own pros and cons. Retailers don't need to offer them all, but they do need to offer variety.
Many stores offer payments exclusively through credit or debit card. And yet, these methods are used for just 34% of transactions today (and that figure is expected to fall to 32%" by 2025). Some 49% of payments are made using digital and mobile wallets systems, such as Apple Pay and Google Pay.
Then there's the increasingly popular Buy Now, Pay Later (BNPL) options, which allow customers to buy items and pay back the costs over a length of time. In 2016, BNPL was the payment method of choice for just 0.4% of global ecommerce transactions, according to Statista. Today, it's used for more than 3% of online purchases — and growing.
But what do shoppers really want? How to appeal to the modern consumer
Basic functionality and features that offer ease and convenience are a necessity for online shoppers, but getting the basics right doesn't set a brand apart from the millions of other online retailers.
According to McKinsey, fashion industry executives rank brand differentiation as one of the top three opportunities for apparel retailers in the year ahead — and here's what consumers are looking for most:
Personalisation
A one-size-fits-all ecommerce experience simply isn't good enough for modern apparel shoppers… It goes without saying that customers living in hot climates don't want to browse a selection of coats, and failure to recognize each shopper's individual needs and desires can cost ecommerce businesses dearly. In fact, more than 80% now expect retailers to accommodate their preferences and 50% of all purchases are driven by personalisation. It is important to understand the motivation behind personalisation.
Size, fit, style, color, climate, age, gender, ethnicity and many other factors influence a particular customer's purchasing habits. From ad campaigns to product recommendations and post-purchase emails, shoppers expect their entire experience to be personalised using the vast amounts of data that retailers collect.
Predictive personalisation is the cutting-edge of this technology, understand more about your consumers next most likely purchases, likes and dislikes, as dictated by their actions rather than their whims and impulses. Do not confuse this autonomous solution with simple email or CRO personalisation, and PPS delivers 20x the revenue of all other marketing components combined, according to McKinsey.
Diversity & inclusion
Some 75% of young consumers state they would boycott brands they deem to discriminate against particular races or sexualities according to McKinsey. They don't care how strong your brand name is or how many years you've served the market. If your business lacks social awareness, they will soon find somewhere else to shop.
Brands can show their commitment to improving D&I not only through the products they sell and marketing materials they release, but also through the ecommerce experience they provide. For instance, with 26% of Gen Z shoppers stating brands should avoid using gendered language according to Voxburner, simple measures — such as adding 'gender nonconforming' product filters and ranges — can show young consumers that you're listening to their concerns.
Sustainability
Consumers want to shop sustainably (and not only the TikTok generation). According to Bain & Company, 65% of fashion consumers across all demographics care about the environment. However, identifying sustainable options poses a major challenge, with a third of Baby Boomer and Silent Generation shoppers stating that they struggle to find sustainability information for brands and products.
The solution to this is greater transparency. From clear product descriptions that inform customers of the materials and processes used, to product passports that offer insight into an item's origins, leaders in sustainable fashion are open about the impact of their items. With 72% of shoppers stating that transparency is important or extremely important, according to Nielsen, brands will be rewarded for their honesty — so long as they're taking steps to reduce their impact.
Experience
To set themselves apart, retailers must find creative ways to enhance the traditional ecommerce customer journey. Many customers don't want to scroll through product lists, add an item to their cart and checkout immediately. They want experiences that go beyond the norm, and engage, excite and entertain them.
The likes of H&M and LV have invested heavily in gamified shopping experiences, for instance, which engage shoppers through mini-games and collectible items. Alternatively, retailers such as Nordstrom have implemented a virtual styling service where customers can book a video call with an expert to discuss their style and preferences, and receive tailored style advice.
In exchange for a customer experience that goes above and beyond, shoppers are happy to pay a premium of up to 16% and are more likely to return to a store time and time again, according to PwC.
Fashion eCommerce solutions and technologies for trend-setting retailers to consider
So how can retailers give shoppers what they want? Thankfully, there are an abundance of innovative fashion ecommerce solutions and technologies for brands to call upon, designed to support the apparel industry in delivering the ultra-inclusive, eco-friendly and highly engaging experiences that modern consumers desire.
Virtual fitting rooms
For 43% of consumers, the inability to try before they buy is the primary pain point that puts them off online shopping, according to Statista. Given the importance of size and fit, this is particularly problematic in the apparel space.
Virtual try-on technology replicates the physical fitting room in the digital world, enabling consumers to 'try on' apparel products by visualizing them on a avatar that shares their appearance. Using this technology, they can evaluate how different colors, patterns and styles will look on their body before they complete a purchase.
Synthetic media
Gen Z consumers command over $360bn in disposable income, but targeting them often proves difficult. They're not like past generations — they live online, shop mindfully and are quick to turn their backs on brands they deem unsatisfactory.
Synthetic media (content created using algorithms that learn from audio, video, photos and text to generate realistic media), such as virtual influencers, allow brands to target young shoppers where they frequent most: social media. Utilized by big-name brands such as Yoox and Prada, these computer-generated characters mimic human influencers, but without the physical limitations and in a way that brands can control entirely.
AI chatbots
According to LivePerson, 83% of shoppers require assistance when shopping online, but waiting days for an email response hardly aligns with the speedy and convenient experience that ecommerce customers seek. For over half, failure to provide immediate support will put them off of making a purchase.
The solution is an artificial intelligence chatbot that can effectively communicate with customers when live chat support is unavailable. These rapidly-developing solutions are capable of answering customers' queries and helping them to find the products they desire (without delay).
Retail media networks
As governments tighten their data privacy laws, fashion ecommerce marketing is becoming more costly and less effective. Today, brands have to spend three times the amount they did in 2013 to acquire a customer, according to McKinsey.
With brands required to rethink their marketing strategies, many are turning to retail media networks (RMNs) — retailer-owned advertising platforms that sell ad space on their websites and apps. Allowing brands to reach highly-engaged consumers when they're in a purchasing mindset, 79% of US apparel executives rate the performance of RMNs as superior to other marketing channels.
Social commerce
Today, the likes of Facebook, Instagram and TikTok allow users to purchase goods directly through their platforms, so why would young consumers bother visiting an ecommerce store when they can make purchases directly through the apps that they frequent most?
According to SproutSocial, 98% of shoppers plan to make a purchase through social media this year. Likewise, social commerce is expected to generate $3.4T in sales by 2028, growing at an annual rate of 28.4%. To capture a share of this revenue, brands must make use of tools such as shoppable posts, in-profile storefronts and live streaming.
Measuring ecommerce success: KPI benchmarks for fashion e-commerce brands
No two fashion brands are the same and metrics will vary considerably depending on a range of factors, including product categories, price range, customer demographics, location and more. That said, by measuring their own metrics against industry benchmarks, brands can gain insight into how they're performing and assess whether changes may be necessary.
Customer acquisition cost (CAC)
On average, the cost of acquiring a customer in the fashion ecommerce space is estimated at $129 by Shopify. This includes advertising costs, marketing salaries, commissions, bonuses and any overhead required to capture and convert new customers. How to get new customers is the bane of everyone ecommerce fashion retailers life, and therefore essential to get right.
Conversion rate
On average, fashion ecommerce conversion rates stand at 2.2%, according to Oberlo. However, LittleData found that the top 10% of stores achieve conversion rates of up to 4%, while the worst performing 20% maintain a conversion rate of just 0.4%.
SwiftERM is a Microsoft Partner company. Free 30-day free trial of our award winning predictive personalisation software is available here. Totally autonomous AI solution, with guaranteed results.