There are multiple insights into the forthcoming year for selling wine by ecommerce. But let's face it, the big players are not going to give away their strategies and implementation plans to enable you to better compete against them. You have to best predict what you can, and implement your own campaign.

What the intuitive ecommerce wine retailer can do though, is gather all the information they can to best predict how the market will be and add to this the information which is already in the public domain to use to your best advantage.
New data from the IWSR predicts that alcohol ecommerce sales will grow 34% between 2021 and 2026. The growth follows value growth of 12% in 2019 and 43% over 2020.
And while this is positive growth, it's a hit from the channel's previously expected trajectory. The IWSR formerly predicted that the value of alcohol ecommerce would rise by 66% between 2020 and 2025.
With on-premise returning to normal numbers, ecommerce is slowing. The slump is caused by a weaker macroeconomic outlook and a return to pre-pandemic purchasing habits.
New IWSR data shows consumer drivers for purchasing online are starting to shift, with shoppers 'favoring trusted brands' and 'strong value propositions.' With the cost of living increases and a recession looms, consumers are traditionally assumed to prioritise value. A distinction between the discerning wine buyer and those who buy wine as part of grocery shopping, helps to differentiate which of these two groups this effects.
Wine Market Size & Opportunities
The global Wine market size was valued at USD $363,690.79 million in 2023 and is expected to expand at a CAGR of 5.06% during the forecast period, reaching USD $489,161.91 million by 2027.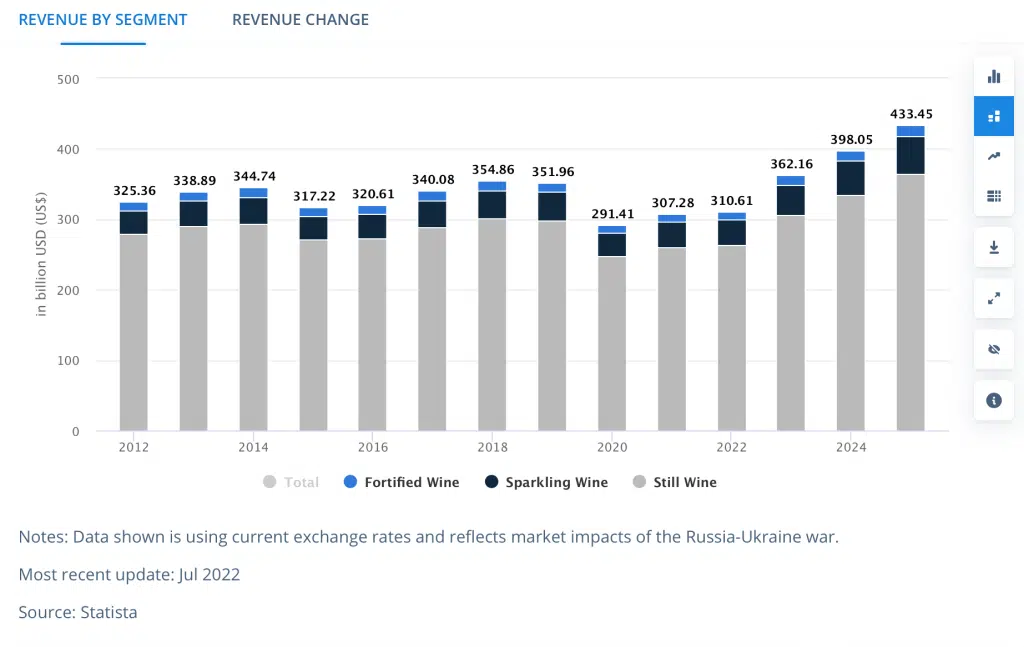 How are you going to grab your market share, how are you going to grow and how are you going to prosper?
What guarantees success for wine ecommerce in 2023
There is no magic recipe for success, but what will inhibit profit and growth most this coming year will be any inability to adapt to the ever-moving-feast that is technology available for wine ecommerce. There is a perpetual array of technologies which in the past have been the exclusive domain of the great and the good.
But the internet, by its very nature, is a level playing field, which translates into "why the hell aren't you doing it too?" It doesn't matter that a consumer has been buying their wine from a favourite supplier for decades, loyalty now wains; even big wine retailers mess up. You have to grab the opportunity to push the door open when they do. If you don't try, they will turn that tide and take your business instead.
In an age of ability to implement strategies that out performs all others, you need to know what will deliver the greatest return today, and then implement it. Read all you like, but if you do nothing about it, hope alone won't save you.
Personalisation: consumers are not segments
Do you like being herded like cattle? No nor does anyone. Even today you can subscribe to an array of email software providers that advocate "segmentation" as the best way to generate ever greater profits. But how do you think mailing all red wine buyers with the an offer would compete against offering the exact bottle, from a specific Chateau and year that the individual receiving the email adores, at exactly when they want to buy it? Segmentation doesn't work, personalisation is the way forward.
The answer, substantiated by all the leading research companies including Forrester, Bain, Statista and McKinsey, is twenty times the return. This marketing strategy is called predictive personalisation software (PPS) and it is taking the ecommerce industry by storm. If you haven't installed it by the time your competitors have, you are going to have some serious problems.
PPS is autonomous software, meaning it runs without human intervention whatsoever. it watches what each wine buyer buys, looks at, comes back to on your site most often etc. A machine learning AI algorithm watches how each person does this over and over again, and uses it to predict a ranking of all your products, that person is most likely to buy next.

At exactly the right time, it sends that individual an email, capturing the maximum return possible. Now multiply that by your entire database. 20 x the return, zero overheads – purchase cost = max GP.
You don't have to pay for staff, you don't have to spend hours wondering what your customers would be most impressed with. If you are unique and personal to them, no one else can get a look-in.
It is PPS that the big-boys are adopting to use against you. But this is readily available and exceptionally good value software.
Omni-Channel marketing: don't wait for them to come to you
Your customers are forever becoming replaced by ever more tech-savvy ones from younger and younger generations. You may be a stalwart to traditional values, after all the wine industry is as old as the hills, buy your consumers are not. They like their tech, and they use their tech for everything. Some people never have their phone out of their hands, we've all seen it.
If your consumers use Tic-Tok, Instagram, Twitter etc so should you. Are your products and shop listed there? Why should they come to you, they don't know you? And while you might be the perfect company for what they want, if they've never heard of you, and you're making them go out of their way to find you, you can bet your bottom dollar they won't bother.
This article on social media marketing is worth a read. Indeed you may be interested to read our comprehensive guide for ecommerce wine retailers.
SwiftERM is a Microsoft Partner company. If you'd like to a free trial of PPS software for your wine ecommerce store talk to us today.