Ecommerce trends – the cosmetics industry. The beauty industry has always been at the forefront of eCommerce innovation and reinvention, and this year has been no exception. From clean beauty to hyper-personalised skincare and AI cosmetics solutions, beauty retailers are always looking to enhance their customer experience.
With all that's going on, we decided to deep dive into this ever-changing world and provide you with our top beauty ecommerce trends that will continue to push the beauty industry forward in 2021.
Inclusivity is invaluable
In a survey conducted by market research company Nielsen, findings showed that in America beauty aisles were finally beginning to reflect diversity. The number of unique color ranges has grown seven times as fast as product lines as a whole, whilst the number of unique colors of foundation sold had grown three times as fast as the rate of new general product development across foundations.
The need to find oneself is becoming increasingly reflected in consumers seeking value-driven products they can relate to in terms of individual personalities and lifestyles. Global Cosmetic Industry data showed sales of multicultural beauty products surging at a pace double the conventional market and companies that are embracing inclusive styles and lines are seeing their efforts rewarded in their annual revenue.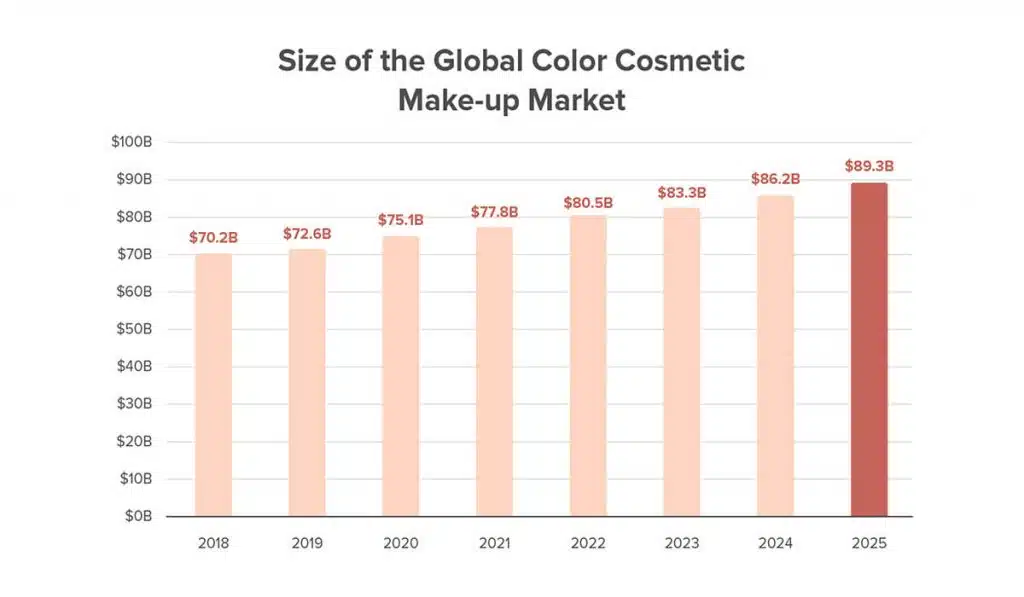 (Source: Common Thread)
Too Faced, a brand that prides itself on innovative makeup products and has a wide range of lines saw a huge annual turnover of $350m in 2019, whilst Illamasqua, a beauty brand whose tagline encourages the consumer to "Express your individuality" saw their profits rise to their largest yet at $50m.
Meanwhile, a newcomer on the block, Black Opal Beauty, generated $15 million worth of sales by identifying a huge gap in the inclusive market – the under representation of undertones. Derek Wanner VP of Sales & Marketing for Black Opal explained: "Ethnic consumers not only had beauty aspirations but buying power left untapped by a beauty industry that did not cater to the diversity of skin tones and undertones."
Black and Ethnic Minority women agree that whilst the introduction of a range of different colors is a positive start, lines with an extended shade range are presenting new problems to address: Quantity over quality, and more specifically, undertones that have not been addressed as well as they could be, even with the influence of a brand like Fenty.
"As a person of color, you can still see a brand have about 50 shades and not take into account the different undertones and all the different things," Kimberly Smith, co-founder of the Brown Beauty Co-Op told Retail Dive. "It's not just about the shade itself or the complexion color, it's really a little bit more than that. I think brands do a disservice when they don't take the time to understand what it is that we need in our color cosmetics."
VR, AR and tech partnerships
In October 2019, Perfect Corp, the world's leading AR company partnered with the Chinese eCommerce giant, Jack Ma's Alibaba group, and integrated its YouCam Makeup AR virtual try-on technology into Taobao and Tmall Alibaba online shopping experiences. This brought new virtual try-outs to consumers in China. Just six months into using Perfect Corp's AR technology, Alibaba revealed they had increased their conversion rate by 4x.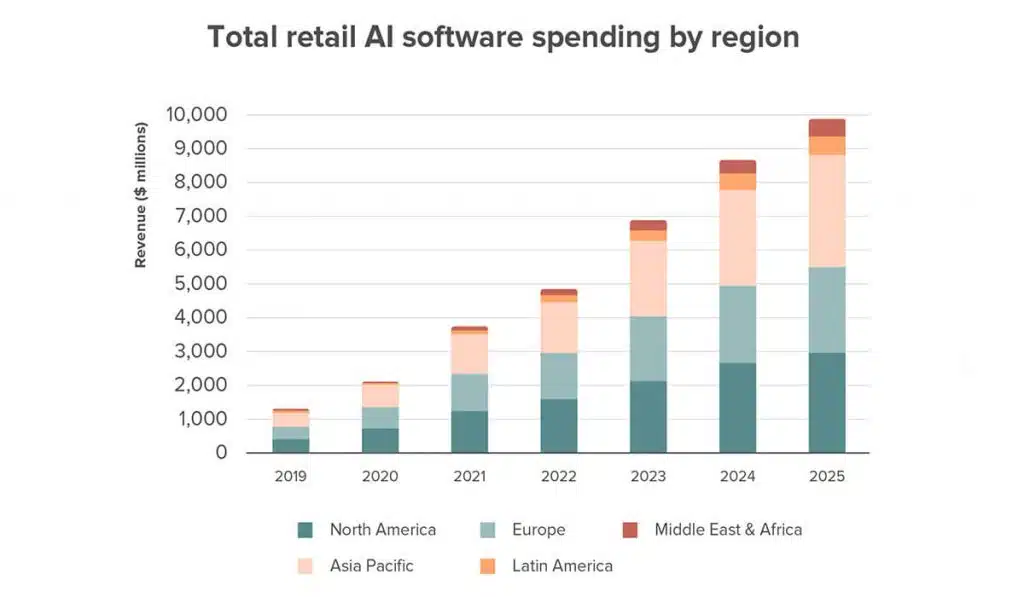 (Source: AI Business)
Since then, new technology in the beauty industry is coming on leaps and bounds, immersing AI, AR, and VR into household brands like MAC, NARS, and L'Oreal.
Such is the effect on L'Oreal, that L'Oreal India managing director, Amit Jain, recently stated that as a result of the market impact and ever-changing consumer habits exacerbated by the recent global pandemic, the firm's CEO had set a global mission for the brand to "evolve from a beauty to a beauty technology company."
And he's not alone. In Malaysia, skincare brand Nutox partnered with Ministry XR to create a 'skin analysis tool' powered by deep learning and computer vision, in order to give customers a hyper-personalised experience when shopping for skincare goods – something difficult to buy without trying on samples in-store. 
The tool is made available to "anyone with a smartphone to analyze their skin and identify major skin concerns such as wrinkles, hyperpigmentation, texture, and dullness."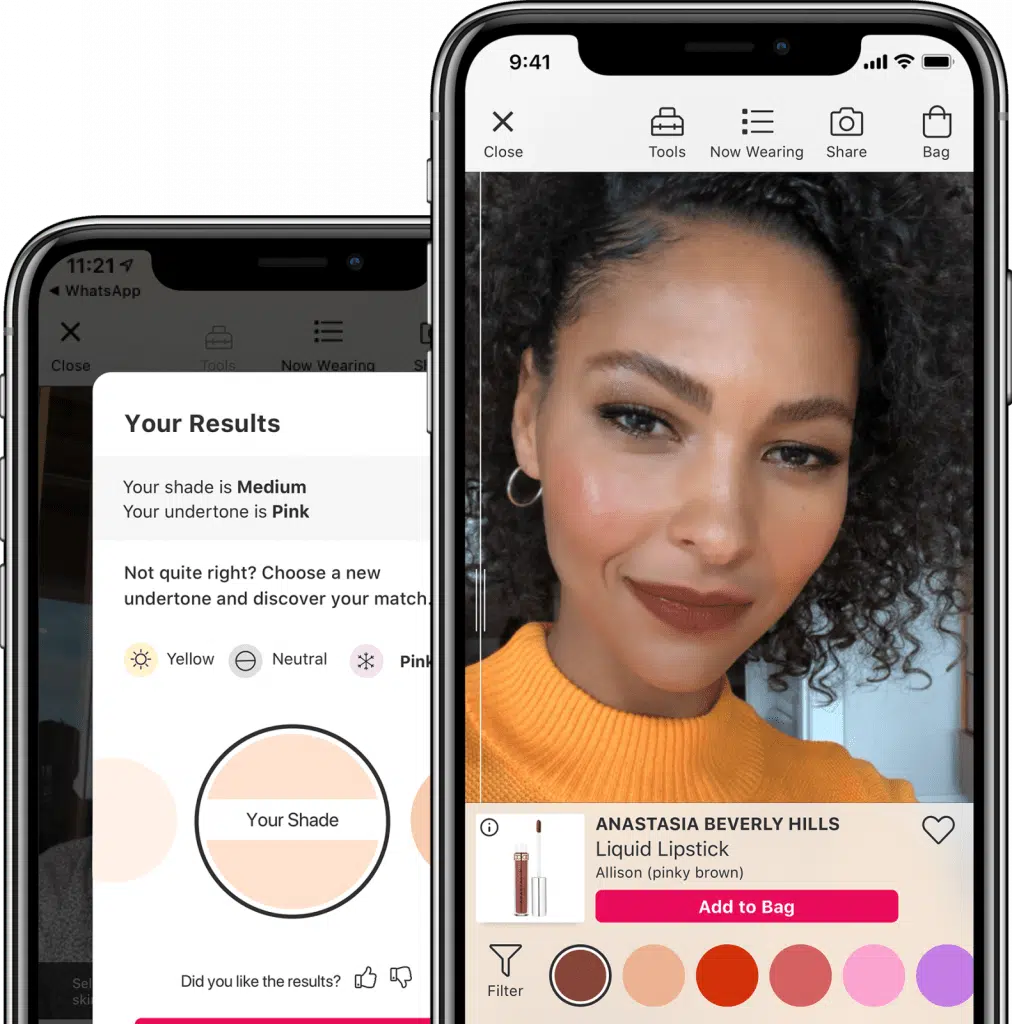 (Source: Ministry XR)
Nutox found through the deployment of the AR tool they were able to engage with their consumers, added value to their brand, and drove ongoing conversion and sales, with consumers visibly changed by the experience – voting the company more than just a skincare brand.Facebook's Spark AR studio also adopted the rise of the interactive experience.
Popular social media platforms Facebook, Instagram, and YouTube incorporate its technology into banner advertisements that allow consumers to click and virtually try on makeup products without ever leaving their app. Brands like Chanel, YSL, Charlotte Tilbury, and Maybelline now too offer VR try on services across their website and mobile apps.
Beauty subscription services
A report from Royal Mail forecasts the value of the subscription box market to grow 72% by 2022, and data from across the globe appears to agree.
First Insight's recent survey on subscription boxes reported that 25% of American consumers (both men and women) are currently receiving a subscription box, and another 32% of respondents plan to subscribe in the next six months.
Meanwhile, in China, Shingetsu Research revealed that women were more likely to dominate the market by 2027 due to the surge in the working population, the changing female shopping preference toward convenience, and the popularity of subscription boxes available for apparel, beauty, and hosiery.
In the beauty eCommerce industry, examples such as Birchbox and Glossybox have displayed just how successful the subscription box business model can be. In a research study of 5,000 US consumers conducted by McKinsey, the study found that curation services – subscriptions which aim to seek and surprise by providing new items or highly personalised experiences – received 55% of total subscriptions, and were by far the most popular, suggesting a strong desire for personalised services.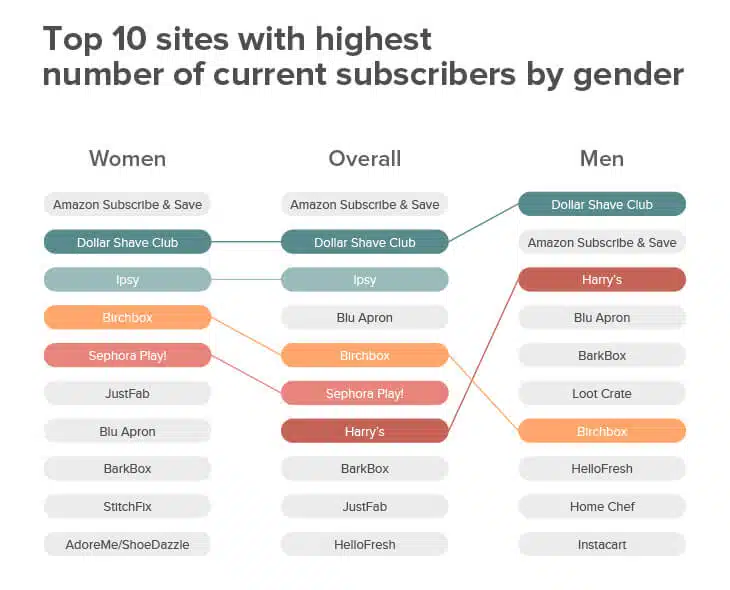 Beauty subscription boxes and men's grooming services have been identified as offering the largest growth opportunities in the market, so it's no surprise it's attracted the attention of brands and retailers such as P&G (Gillette on Demand), Sephora (Play!), and Walmart (Beauty Box).
Beauty boxes cater to the replenishment needs of their subscribers, but additionally offer the excitement of getting to try out new products. As the McKinsey study concluded, subscribers surveyed wanted something new and innovative in order to continue subscribing, and consumers (particularly curation subscribers) expected personalised subscriptions to become more tailored over time.
FabFitFun is one example of a subscription service ticking these boxes. The subscription box is curated around product recommendations in the field of beauty, health, and interior design. The brand has been growing 300% a year and as of 2018, generated $200 million in annual revenue. 
To minimize its "churn" (the percentage of customers that opt not to renew), FabFitFun has integrated value – more specifically, content value, as a driving force in its business model. A magazine accompanies the products in the box and explains how to use them.
To keep subscribers engaged between deliveries, there's an active FabFitFun message board on the brand's website where members can discuss recipes, weight loss, and decorating tips. The company hosts a members-only TV station and has just launched a daily Facebook Live show where viewers can learn about products and get other lifestyle content.
For FabFitFun, they're conquering the art of personalization and new experiences by heavily investing in the brand outside of the box. As the subscription box service continues to grow, expect to see more brands keep the excitement alive by utilizing social media and content marketing to drum up a sense of brand community.
Natural, clean, and transparent beauty
Consumers are now seeking brands that are as transparent in their ingredient list as they are natural in their products. Whilst clean beauty has been a rising buzz across the industry since 2018, it is still a controversial, confusing, and ever so enigmatic subject that can present more questions than answers.
For example, both the FDA and EU vary on their banned ingredients – the FDA ban 11, the EU ban 1,328, but more brands are beginning to emerge from the confusion with minimalistic and transparent approaches as consumers continue to pay eagle-eyed attention to the ingredients list on the back of the packet.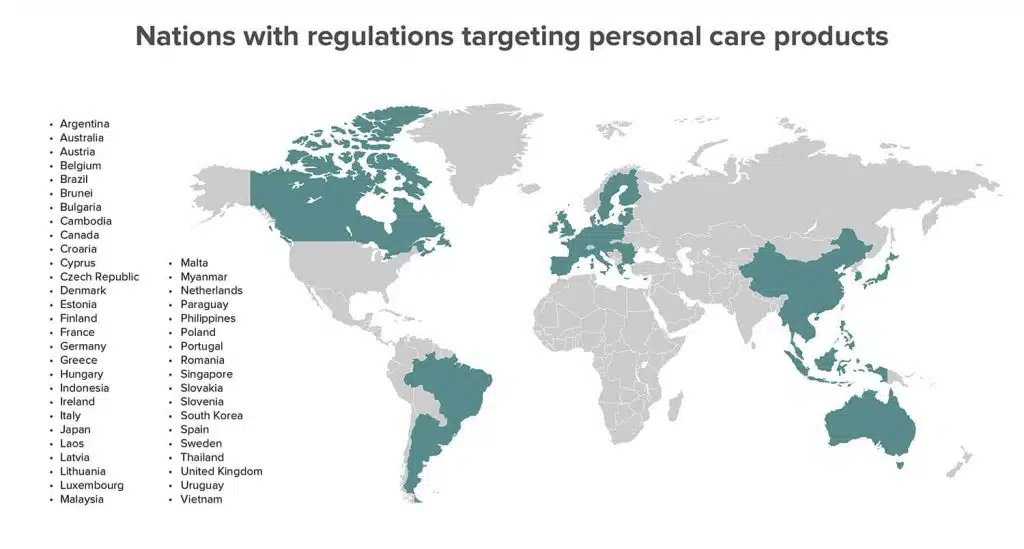 In a Neilsen research study, the company found that beauty industry consumers are flocking to more natural and objectively simpler products. But rather than simply accept brands' definitions of what's natural, consumers are deciding for themselves.
While sales of cosmetics claiming to be natural have declined 1.2% over the last year (on par with cosmetics as a whole), sales of cosmetics free from parabens have grown 2.3%. Additionally, sales of cosmetics products that are both free from parabens and claim to be natural are growing 12% – five times as fast as those just meeting the paraben-free specification. 
One example of this is American cosmetics brand Kiehl's, who reformulated their Ultra Facial Cream to remove parabens and experienced a sales bump of $5 million. The increase helped it climb into the top five U.S. prestige skincare brands of the year.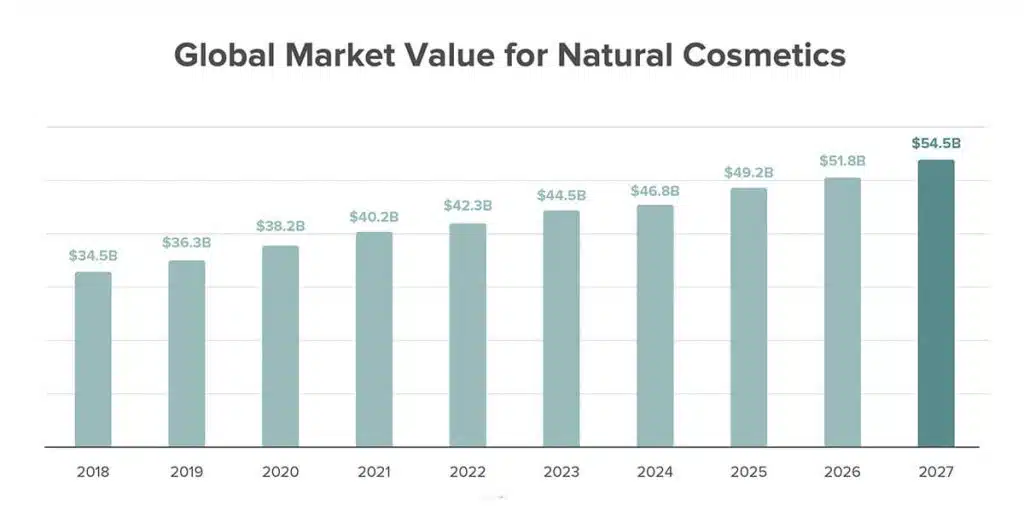 (Source: Common Thread)
A Harper's BAZAAR poll of more than 1,000 women across all ages, races, and ethnicities, discovered more than 60% of women would be willing to spend on new brands if they were offering natural products. New sustainable brands also attracted the interest of 55% of those surveyed.
The eagerness to try something new if it is clean is enabling the rise of new niches, such as blue beauty, a concept referring to products that aim to protect the oceans and water supplies (such as One Ocean Beauty, which partners with charity Oceana).
Meanwhile, there are new audiences being reached too: Florence by Mills, the makeup brand founded by actress Millie Bobbi Brown, prides itself on promoting and producing its clean beauty products and is helping to spread the message across social media platforms by specifically targeting Generation Z – the generation who do want to take a stand against socio-economic, political and global issues such as climate change.
Other brands like From Molly With Love, Biossance, and Beautycounter specifically list the ingredients that DO NOT appear in their products, before listing the ones that do.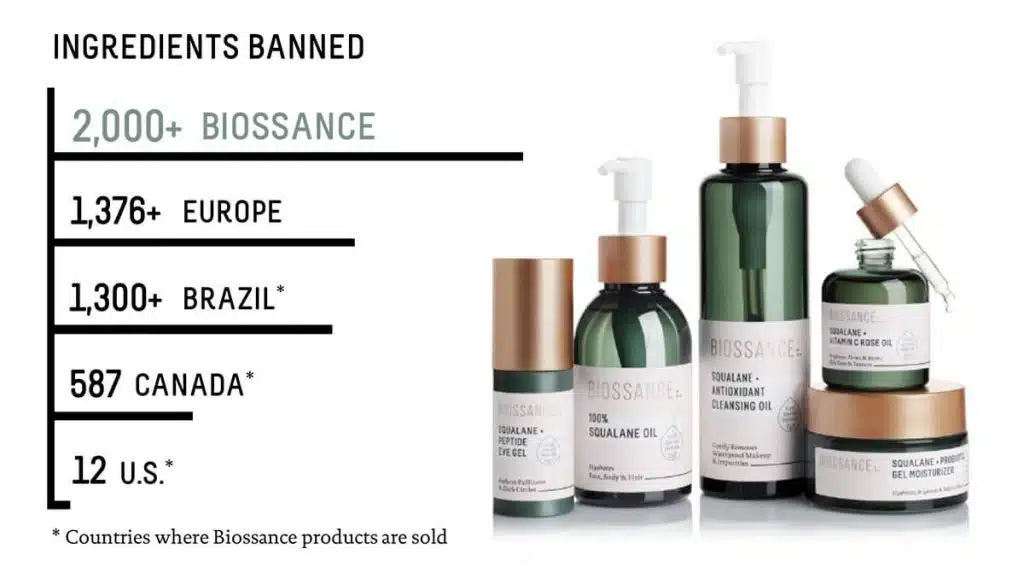 Leveraging big data for new product development
"The next big idea in beauty is community," stated Jennifer Goldfarb, Ipsy co-founder at WWD's Digital Beauty forum in February 2020. "The brands that will win in the future are the ones that can activate their customers, their followers, their fans, and really bring them into their brand, help them build the brand, product development, marketing, all aspects of the business."
How is that achieved? Enter: The rise of big data in the beauty industry, collected through questionnaires, search term data, and spending habits.
Household name Olay transformed their 2016 downward trajectory, sinking through years of familiarity and staleness, by implementing digital strategies into their workflow and developing a deeper understanding of what their consumers were really looking for.
In association with Procter and Gamble, the brand launched Olay Skin Advisor, a web-based, data-collective tool meant to help people understand the right products for their skin.
To date, the Olay Skin Advisor has collected more than six million data points, which have significantly impacted product development.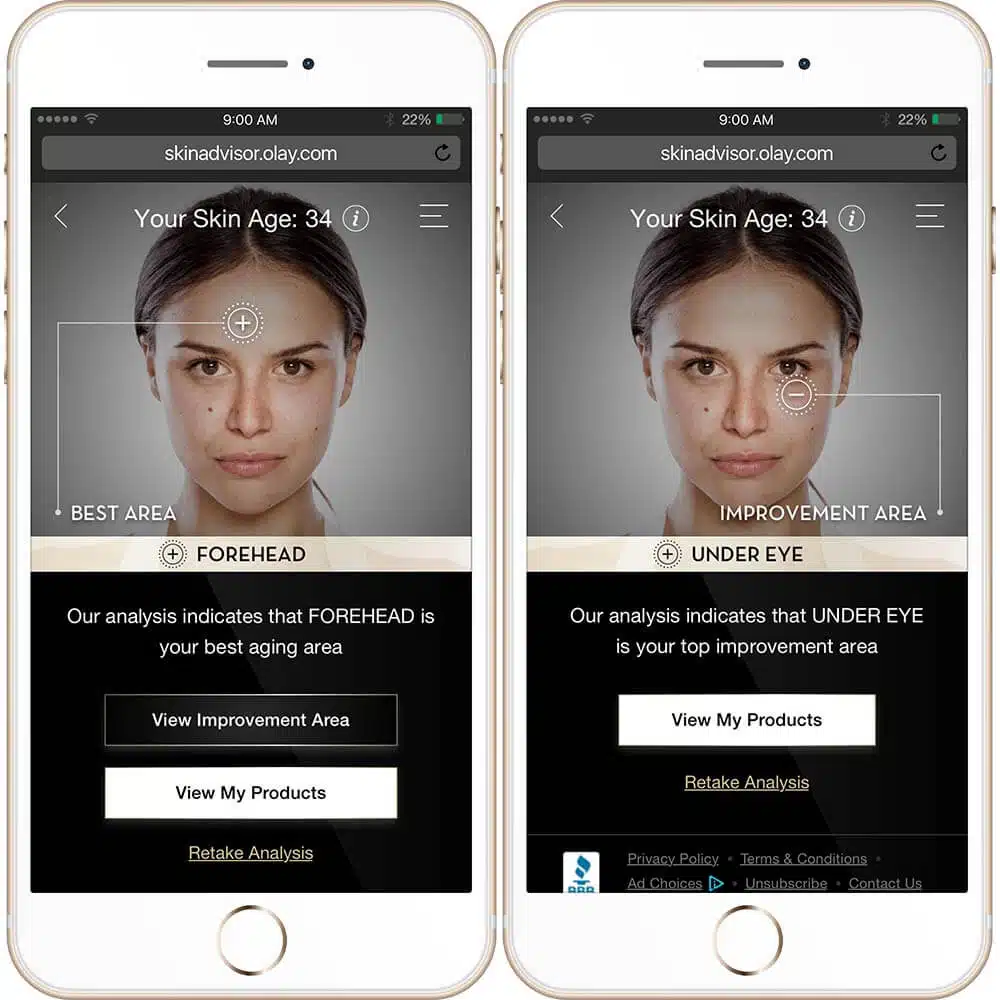 For example, Olay learned that a big percentage of consumers actually desire fragrance-free skin-care products. So the brand subsequently launched scent-free versions of its Olay Whip facial moisturizers, which have become "just as big" as the original. Olay has continued the strategy for future products, including Olay Retinol 24 after the brand saw retinol was the number-one searched ingredient and decided to create a new product based around the query.
Across the beauty industry, more brands are embracing the use of data collection and analysis and watching it exceed their development processes.
Proven, a beauty startup simply analyses data gathered freely from the world wide web and uses an Artificial Intelligence engine to digest thousands of reviews, evaluate over 20,000 ingredients, and peer review thousands of specific scientific articles. Thanks to its massive database and machine learning, Proven has programmed an entire bespoke beauty regime for its individual consumers.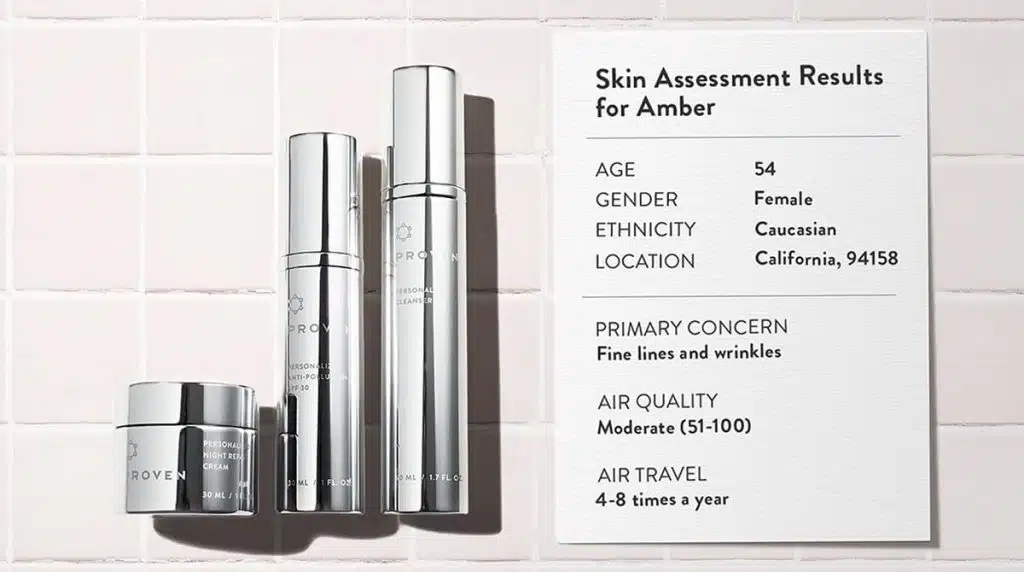 (Source: Proven Skincare)
Meanwhile, Prose, a custom haircare business, has a team of in-house data engineers based in Paris that aim to understand similarities between customers, and what ingredients can be tweaked in order to maximize satisfaction. The business says it has been able to increase satisfaction by 30 points, to about 90%, in the past year.
Influencers are an investment
Influencer marketing has been part of beauty eCommerce strategies for the past few years, and it's not going anywhere soon. The British Beauty Council's 2020 Value of Beauty report found influencer marketing had once more given the industry a notable boost in economic capacity, expanding on a 2017 study, which found for every $1 spent on influencer marketing, brands secured a return of investment of around $11.45.
Within the rise of influencers, and now micro-influencers (influencers with smaller fan bases, traditionally 100,000 or under) the beauty industry and its advertising outlets have finally found a return of investment in renewable resources.
Harvard Business School reported that global spending on influencer marketing has risen from an estimated $2 billion in 2017 to about $8 billion in 2019, with one forecast showing that spending is expected to jump to $15 billion by 2022.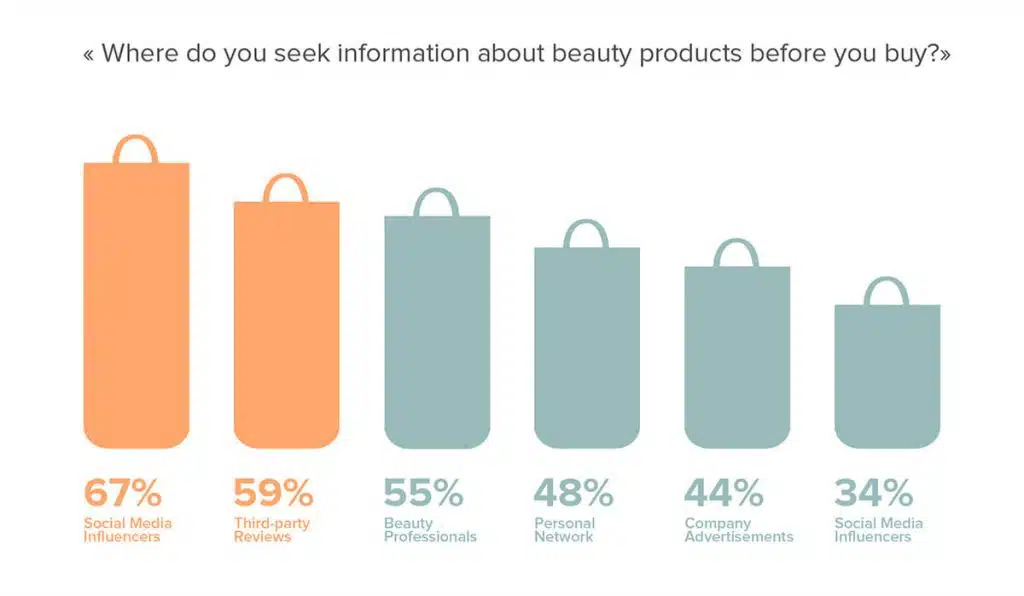 (Source: HBSWK)
These findings are reiterated in the likes of beauty giant Estée Lauder now spending 75% of its marketing budget on influencers, whilst L'Oréal allocates 30% of its media spend to digital channels. 
A significant initiative from L'Oréal has been its 'Beauty Squad' campaign, where a number of influencers created YouTube videos and articles for both L'Oréal's website, social channels, and their own channels, tapping into a combined influencer reach of 5.5m.
Ipsy, the beauty subscription service, enlists beauty influencers and brand ambassadors to create videos that demonstrate how to use the products in the bag after its co-founder, Michelle Phan, was a beauty influencer who saw first-hand how beauty-obsessed consumers loved watching videos of people unboxing new beauty products and demonstrating how to execute new styles.
Ipsy's influencers generate millions of dollars in YouTube ad revenue for themselves, which they then share with Ipsy and which Ipsy return by making those beauty influencers a cornerstone of its business, offering services to help emerging influencers connect with Ipsy's large audience, and by creating a plush studio where influencers can create videos with high production values.
However, data suggests that there could be a new trend in the influencer industry: Authenticity.
Forecasting past 2020, Mintel suggested that "beauty brands and influencers that showcase authenticity will stand out in this crowded landscape." In addition, taking a more honest approach will help bolster trust among skeptical followers. 
Their claims are supported by the Harvard Business School study conducted by MBA Graduate Alessia Vettese. In her study, Vettese surveyed 250 self-confessed "beauty enthusiast" women, of which 43% said they'd only purchase from influencers who openly disclosed their endorsement deals.
Vettese places the importance surrounding this on "consumers actively seeking out influencers who share the same skin tones and even skin sensitivities, and then those consumers want to trust that influencers actually believe in and use the products they talk about."
These new values of transparency and relatability pave the perfect path for the up-trend of the just as influential micro-influencer, who consumers often feel they can build a personal connection with through regular, more personalised interaction.
Brand partnerships
Recent market analysis by AdNews revealed that collaborations in any industry were up to "30 times cheaper than digital advertising" due to the ability to tap into already existing audiences. 
In the beauty industry, this rings especially true: Whenever a unique makeup collaboration is released, a slew of social media posts and reviews convert excitement to product sales. Often, these products are seen as collectibles to their audience (Andy Warhol x NARS is a standout example) and generate a large demand for similar releases within the beauty industry.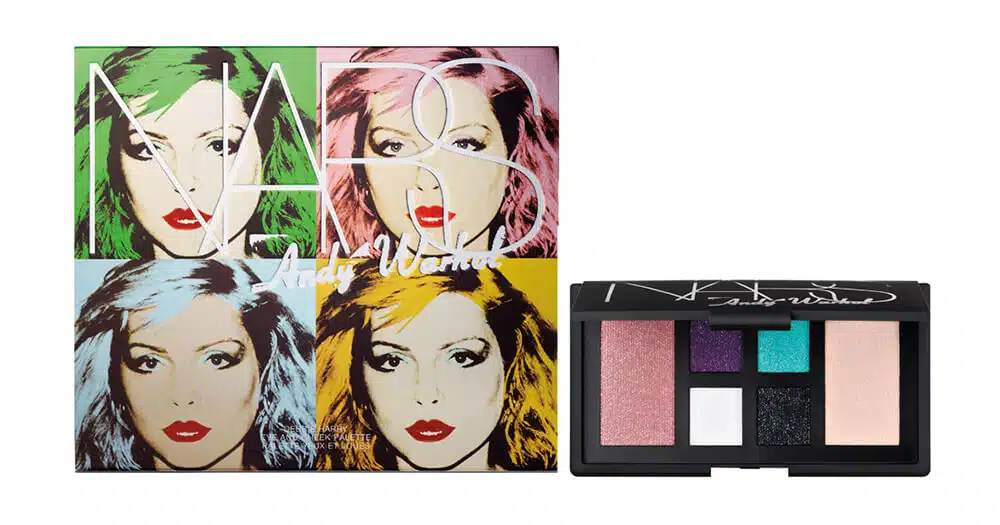 (Source: The Beauty Rebel)
So, when interests such as a favorite childhood snack or television show are combined with makeup and beauty, joining the existing audiences of both brands together in a marketing move called co-branding, more customers are attained with a potential reach – even appealing to those who wouldn't typically be interested in makeup.
This business model was most recently fully utilized by both Cheetos and Hershey. Cheetos captured enthusiasm amongst consumers were the newly released Cheetos-themed eyeshadow and bronzer palettes as well as an XXTRA Flamin' Hot lip gloss kit.
Likewise, this past January, the Hershey Corporation coordinated with the Korean beauty brand Etude House to create chocolate bar-themed products. The line featured two eyeshadow palettes, one with Hershey's Creamy Milk Chocolate bar packaging and the other mimicking the packaging of a Cookies 'N' Creme bar. As a result of the line's unique product and packaging design, it was met with stellar reviews for its "collector's item" quality and quickly became a best seller.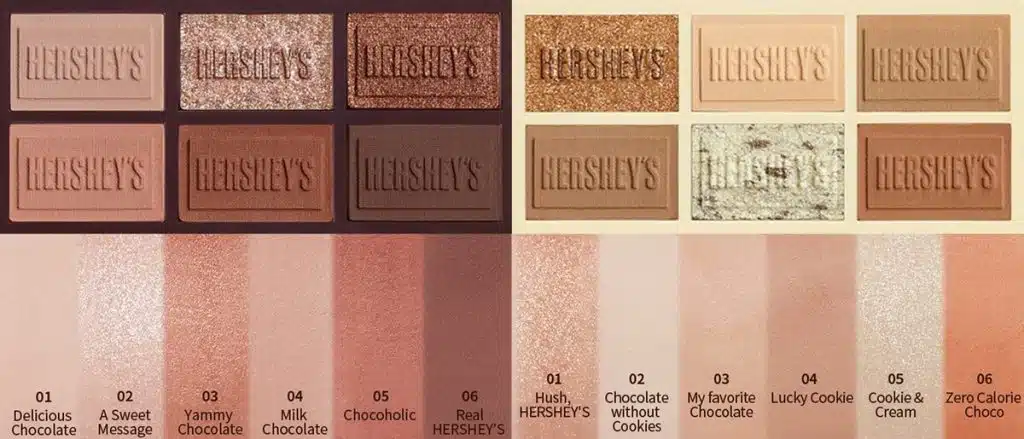 (Source: Etude House)
In 2020, and well into 2021 this beauty eCommerce trend is set to continue with brands such as Coca Cola partnering alongside eyeshadow giant, Morphe, whilst MAC branched out into new territory by announcing a collaboration with popular Chinese online multiplayer game, Honour of Kings, and Mentos lent their name to a new range by K-Beauty label Innisfree.
It's not just large brands taking advantage either: With digital advertising becoming an ever more convoluted space, co-branding with influencers is a new, effective way of combining two sets of audiences and generating excitement as well as sales and brand following. 
Colourpop released numerous collaborations with YouTuber Kathleenlights, who boasts over four million subscribers, along with multiple collaborations from smaller influencers. The makeup brand launched solely on social media and developed such a cult following that their popularity as a small brand skyrocketed them into selling at both Sephora and Ulta.
Morphe released eyeshadow palettes with the likes of YouTubers James Charles and Jaclyn Hill. In 2017, one million Jaclyn Hill x Morphe palettes were sold, whilst a year later James Charles' palette sold out ten minutes after its release.
As influencers continue to take hold of the digital and collaborative space, more startup brands are beginning to make use of audiences readily available to them.
Hyper-personalised skincare
A recent Epsilon online survey of 1,000 consumers between the ages of 18-64 found the appeal for personalization within retail is high, with 80% of respondents indicating they are more likely to do business with a company if it offers personalised experiences and 90% indicating that they find personalization appealing. 
This continuing desire for personalization and connection with brands has allowed a new form of hyper-personalization to blossom in the beauty eCommerce industry thanks to AI technology and a two way, data-driven conversation.
There are already numerous examples that began to emerge in quarter four of 2019: Neutrogena introduced MaskiD – a 3D-printed face mask tailored to your skin's needs, based on data collected from a selfie; La Roche-Posay announced its stick-on My Skin Track pH patch, which tracks pH levels and prescribes targeted products via an app on your phone; SkinCeuticals displayed made-to-measure Custom Dose correction serums.
At the same time, Mintel Research found that Google searches for 'microbiome' (the microorganisms on and inside your body) increased by +110% year-on-year in 2019. The rise in these searches suggests the facial skincare market is being driven to move towards hyper-personalised skincare with beauty giants such as Johnson & Johnson already installing a dedicated microbiome platform.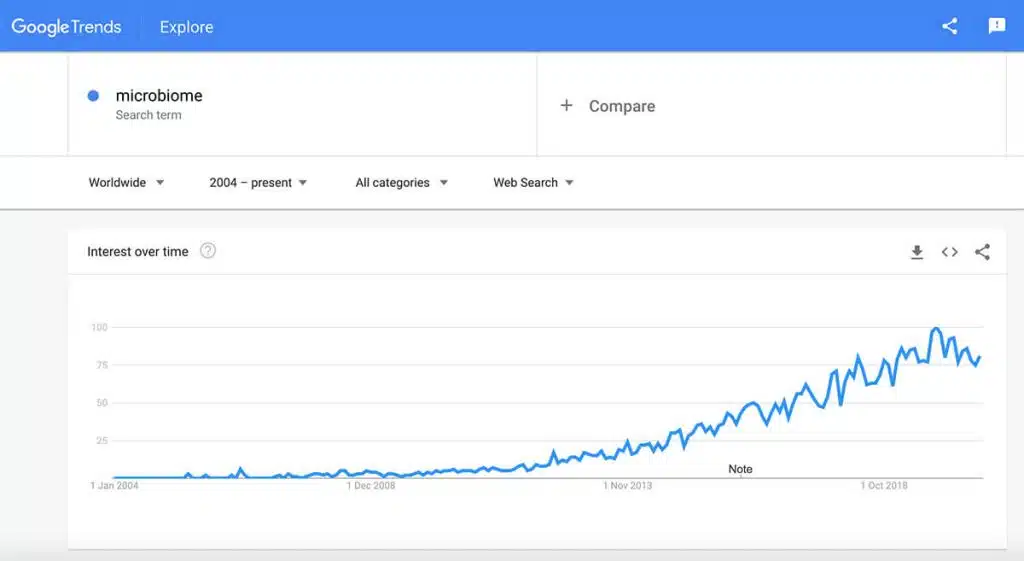 IIn the highly competitive beauty eCommerce industry, hyper-personalization is a way of ensuring brands can stand out by allowing consumers to make informed decisions based on their preferences, not flooding them with endless options. Using technology to help customers fulfill their needs allows for brand loyalty and repeated sales.
One company utilizing data to make a personal connection is Prose, whose customers take a 25-question online quiz in order to determine their best custom formulations and product regimens. Questions range from hair type and scalp conditions to environment and lifestyle habits and lead to 135 data points that the company can use.
The desire for personalization is so high that after a study revealed that 40% of British male beauty and personal care shoppers found it difficult to know which products are right for them, Geologie was born: A male skincare subscription service that offers men a personalised regimen determined using a quiz that asks a range of questions, including ethnicity and location. 
Now more than ever in a more data prevalent world, consumers are willing to have a conversation with their chosen brand if they feel as though their wants will genuinely be listened to and adapted.
Beauty eCommerce: What's next?
Beauty brands are in a unique position to build strong personal bonds with their customers, and there's a lot that can be learned from how they've done this to date. Check out our personalisation articles from the index below.
These beauty eCommerce trends give us a taste of where the industry is headed, and ideas on how you can leverage them.